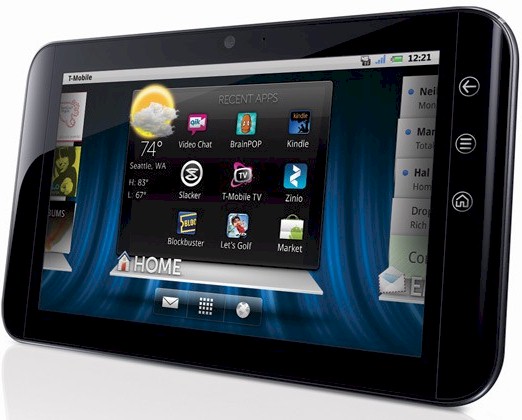 At a Glance
Product
Dell Streak 7 Wi-Fi (Website)
Summary
7″ Android 2.2 Multimedia Tablet
Pros
• Speedy Tegra 2 internals
• Standard size SDHC slot
• Good cameras (in proper lighting)
• Dell Custom UI works well
Cons
• Atrocious battery life (3.5 to 4 hours under moderate use)
• Poor viewing angle range
• Capacitive hardware buttons too easy to accidentally press.
• Can't charge off USB port.
The Dell Streak has been the little tablet that for the most part gets overlooked by the mainstream press. It's a decent little hardware bundle in a lightweight package. However, can it stand up to the 10″ Android tablets and the mighty iPad?
Hardware
I picked up the Dell Streak 7 Wi-Fi, recently launched on Amazon. The only difference between the Wi-Fi and the normal Streak is the lack of 3G modem. Otherwise, it's a fairly standard Nvidia Tegra 2-powered tablet.
Internals consist of the Tegra 2 Dual Core T20 running at 1 GHz. Dell has never officially released the amount of RAM available. But judging by the amount available according to underlying Linux kernel, we can safely assume 512 MB of RAM.
Connectivity is in the form of 802.11n (2.4 GHz Only), and a full GPS receiver is onboard to power Google Maps. Twin cameras are also packed in; a 5 MP rear camera with flash and front-facing 1.3 MP camera for video calls.
The standard three Android hardware keys are available on the front, although all are capacitive touch keys (something I gripe about later). Twin speakers on either side create an excellent stereo sound effect in landscape mode, which is how Dell has constructed the device to be used.
The screen itself is a 7″ TFT Corning Gorilla Glass panel. Internal storage is spec'd at 16 GB, with a full, not micro, SDHC slot that is good for up to 32 GB of extra storage.
Overall, the hardware is looks good on paper, easily standing up to the iPad 2 and besting Apple's baby in a few categories (GPS, SD slot, stereo speakers, and cameras). But as we've come to find out, hardware specs don't mean as much as they might in a laptop or desktop. The Streak runs Android 2.2, with a custom Dell interface overlaid, so let's see how it handles itself.
Out of the Box
Unboxing the Streak is reminiscent of unboxing an iPad. Dell has copied Apple's lead very closely here, with the box being only as big as the Streak itself, and all the components layered underneath the device. But Android departs from the Apple way with its ability to be set up and activated without being first tethered to a computer running iTunes.
Unfortunately though, Froyo is still a phone OS, and expects a 3G connection to be up and running. So I had to cancel setting up my Google account until I got to the point later in the setup where it asked if I wanted to connect to a wireless network.
Other than the connection glitch, everything proceeded smoothly with the setup, and I ended up at the Dell custom interface. Dell's home screen shows your most recently used Apps, although "Google Search" seems to be perennially stuck in the #1 position, even though I've never opened the App. Gmail was there as well, so I opened Gmail to invoke the account wizard.
Gmail setup proceeded normally, and synchronization was soon running. One of the things Google says it syncs is wireless settings, so I would have thought the wireless settings from my rooted Nook would have been synced, but apparently not.
The Streak ended up having the same exact issue my Nook had connecting to my wireless AP ( D-Link DIR-825). I suspected the problem was the DIR-825's "Auto" mode for WPA/WPA2 I was using to support older devices. So I forced the connection to WPA-only, and the Streak could magically connect.
Dell ships the Streak with about 70% of a charge, so after playing on it I needed to charge it. The proprietary charging cable looks a lot like my iPad's sync cable, but a tad different. The USB charger is like the Nook Color's and iPad's, with a USB connector for the cable to plug into. But the Streak would not charge from the USB port on my Mac or Windows machines and also would not charge from the iPad's USB charger. So you'll need to lug the charger around with you.
In Use
Using the Streak made me realize that the 7″ tablet form factor is the one for me. And the Streak is quite speedy compared to my Cyanogenmoded Nook Color, although it does cost $120 more. Dell's skinned interface works well, and provides a good "home screen" experience. Even though you don't get a "stock" Android interface, you still have access to the full Android Market.
The cameras also work well, although it was tough to get a good exposure in low light, which I've shown in the gallery. I generally found myself trying to get more light on the subject. The flash worked in some scenarios, but in most it's not strong enough to be of much use. Given enough light though, the rear camera took very nice photos, while the front facing camera was usable for quality photos.
The interface is generally fairly fast, although for all the power of the dual core Tegra 2, Froyo still wasn't as smooth as my iPad 1. The web browser was definitely faster at loading pages though, and pinch to zoom was nearly as smooth. Flash 10.2 was available as an update, and played both video and the obligatory Flash ads nicely.
I tried out Qik video chatting, which worked well. Skype does not support video chatting from the Streak at this time, although audio calls were loud and clear. I noticed that Skype didn't keep track of my chat conversations very well, and would lose bits of the conversation and regain them later. I'm unsure if that's Dell or Skype, but I'm guessing it's Skype.
This was where those capacitive home, back, and "right click" buttons showed that actual buttons would have been better. I found myself constantly sliding my thumb over top of the home button, as shown in the photo below, which would knock me out of whatever app I was in. It was annoying to say the least.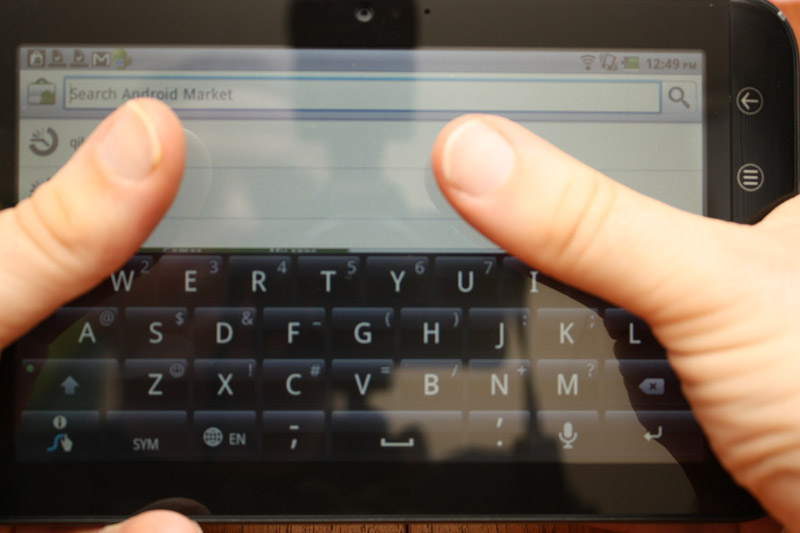 Text entry using the Swype keyboard was cute but it more often hindered vs. helped. The Swype keyboard offers suggestions for what it thinks you are trying to type. But when I tried typing "Asus", I couldn't because you can pick only from the list of suggestions.
That said, when I wasn't accidentally closing apps, typing on the 7" screen was very nice, since my thumbs could easily reach across it. My hands are rather average sized, so smaller hands still might not have as easy a time. But it is definitely easier than on a 10" tablet.
I downloaded the Pandora app, which I pay for, and was treated to some really nice audio quality. I don't have many devices to compare to, but it definetly puts my iPad 1 and my Nook to shame, let alone my iPhone 3GS.
Profile view of Dell's Streak 7.
Custom "dock" connector, which is also used for charging.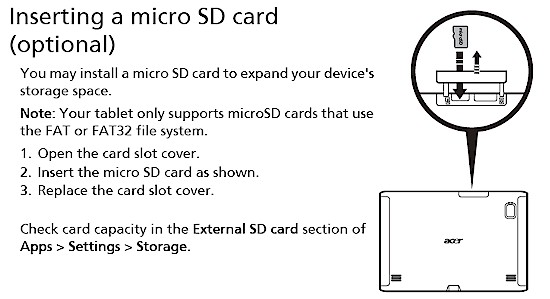 You get a full-sized SDHC slot. You can see where a SIM card should have gone if this were a 3G Streak.
Power and volume buttons.
3.5 mm headphone port, with a view of the left speaker.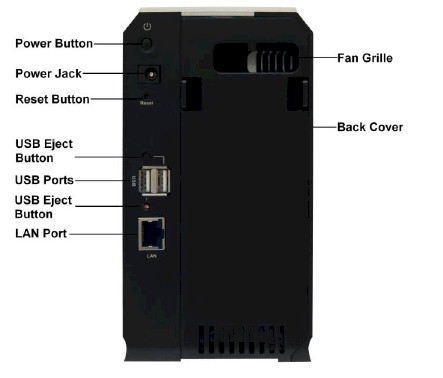 Big camera and flash are visible on the rear.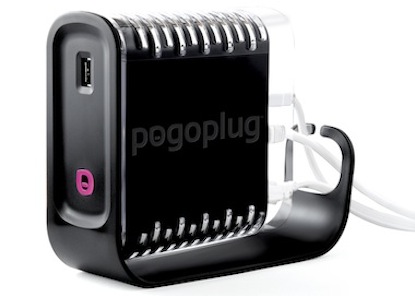 Front view showing the capacitive buttons.
USB charger and proprietary USB cable.
The Streak has a fairly decent screen when viewed head on.
Tilt it away from you and you can see the colors begin to fuzz and go dark.
Lying flat is the worst. The camera does a better job than the human eye here, but you can see the overall greenish color.
The front-facing camera is functional, but won't take any memorable photos.
The rear camera does well outside.
The flash is fairly useless.
But without flash it takes even darker photos.
Dell ships the streak with Evernote pre-loaded. So I popped into my account and proceeded to play around with some things. The iPad version of Evernote is superior to the Android version, but it was usable and I made some edits that were synced into my account.
Like other reviewers, I was woefully unimpressed with the battery life. It is a smaller device, so I expected battery life to be worse due to the lack of space available for a large battery, but I averaged about 3.5 hours before having to plug in. That's nearly unusable for a portable device.
The TFT screen proved equally problematic. The left-to-right viewing angle in landscape was decent at about 170 degrees, but top to bottom was very strange. Tilting the device away yielded about 15 degrees until the screen changed colors and started going dark. Tilting the device toward me was fine for about 80 degrees and then it faded again.
This means Dell has a backlighting issue, and probably is only backlighting one edge of the screen. Tablets have this issue because the display can really be used in any direction, although Froyo limits users to three directions. I've tried to illustrate this problem in the gallery photos of the devices.
Hackability
No Android review would be complete without discussing the hackability of the device. The Streak 7 has been around for a bit in its 3G version, so there's a very straightforward way to "root" the device, found here. It utilizes a very popular root called superOneClick. This will open root access to the device, allowing many apps (like several screen shot tools) to be loaded.
There is a dearth of aftermarket ROMs. I'm unsure why, but my guess would be the T20 chipset from Nvidia. It's still relatively new, and running on only the latest tablets, many of which haven't had source code released for them yet. Unfortunately, this means there's no way to back out of Dell's custom Android skin. It's not really too terrible though, and worked fine for my uses. I'm sure we'll see at least Cyanogenmod being ported to it within the next couple months.
File system access isn't locked down too much, thankfully. I downloaded Astro file manager from the Market and it showed me that all the stock Linux directories are in place, and I could browse around inside them. I didn't root the device, though, so I couldn't make any changes to anything owned by root.
Closing Thoughts
Dell's Streak 7 is a nice tablet, but there are some design issues with it that keep it from being great. It confirmed with me that a 7" tablet is definitely usable. The wide-screen aspect ratio means extended typing will probably happen in portrait mode, as most of the text is covered by the keyboard in landscape.
I'll still probably end up returning the Streak, though. The abysmal battery life is to blame for that. Maybe if the device got 5 hours of life before charging, I could live with the knowledge that it's a smaller device. But 3.5 hours of use before having to plug in just isn't enough. Combined with the annoyances of the capacitive side buttons, the sub-par (but still better than the iPad 2) camera performance and poor viewing angle range and I really can't justify keeping it around when I've got a decent 'Droid tablet in the rooted Nook Color.
Before I close, I'm going to climb onto the soapbox for a bit to comment on Android's Cloud connectivity. Overall, I find that for being a Google OS, Android's cloud connectivity is mediocre. For one thing, I'd like to see Google launch a better interface than a mobile website for accessing Google Docs, since editing documents offline will be a reality on a Wi-Fi-only tablet.
And for some reason I can't use Google Voice on my Streak, which I can only assume is because it's missing a 3G radio. I use it fine on my iPad though, so that shouldn't be a requirement.
Android's overall cloud connectivity needs improvement and "mobile presents a challenge" is getting to be an old argument. iOS has been around nearly four years now, and Android is coming up on three. Device hardware continues to get better and faster, so hopefully Honeycomb will take better advantage of these devices once it sorts out its issues.