At a glance
Product
Toshiba Thrive (AT105-T108) [Website]
Summary
Another 10″ Honeycomb Tegra 2 tablet whose main claim to fame is full-size HDMI and USB ports and SD slot and removable battery
Pros
• Full complement of full-sized ports
• User replaceable battery
• Not as bulky as you might think
• 8 GB flash option
Cons
• Same video performance as every other Tegra2 tablet
• Power switch placement
Typical Price: $499 Buy From Amazon
Features
OS
Android
OS Version
3.1 Honeycomb
Weight
1.6
Width
10.75
Height
6.97
Thickness
0.62
Battery
2030
CPU
nVidia Tegra 2
CPU Detail
Dual Core 250 @ 1 GHz
RAM
1024
Flash
8
Flash Options
16, 32
SD

Y

uSD

N
Screen
Size
10
Resolution
1280×800
Touch
Capacitive
Introduction
Toshiba dubbed its entry into the 10" Tegra 2 Honeycomb tablet race Thrive. I'm not sure that it or any other Android tablet is going to do that anytime soon. But Toshiba has endowed the Thrive with some unique features that may give it at least a fighting chance, i.e.:
Full sized HDMI and USB 2.0 ports
Full-sized SD card slot
A replaceable battery
An assortment of colored back covers
A lower-cost 8 GB version
Aside from the features above, Toshiba otherwise stuck pretty much to the current Honeycomb tablet playbook for the rest of the Thrive's design. This means it is yet another nVidia Tegra 2 CPU / 1 GB RAM tablet. As such, it performs just like every other Tegra 2 Honeycomb tablet on the market.
So I'm going to keep this review pretty short and focus on the things that I think make the Thrive unique. If you want a review that's more blow-by-blow, check out Brad Linder's review over on Liliputing.
Hardware and Features
I purchased the 8 GB version (AT105-T108) from Amazon for review. I appreciate Toshiba's thinking that since they have included an SD card slot and USB port that they could offer a lower-capacity version for the more frugal buyer. It's a lot cheaper to buy your own SD memory vs. paying the $100 to go from 16 to 32 GB that all tablet manufacturers, including Toshiba, think the market will bear. Still, the 8 GB Thrive is $30 more than a 16 GB ASUS Transformer, which continues to offer the best value in a 10″ Honeycomb tablet.
Like most other tablets, the Thrive's 802.11b/g/n radio tunes in the 2.4 GHz band only so can't take advantage of less-crowded 5 GHz spectrum. The Bluetooth radio, which I didn't try, supports 3.0 + HS. The spec sheet doesn't mention 3G or 4G WWAN support and there haven't been any announcements from carriers on this point, either.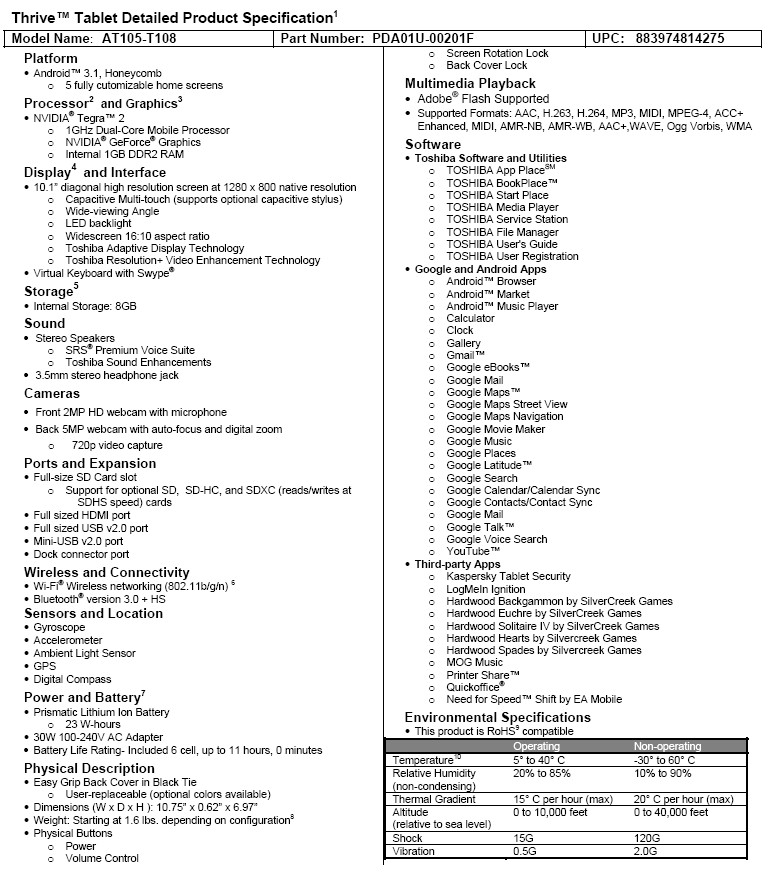 Toshiba thinks the Thrive's natural orientation is portrait, or at least that's how it named all the port and control diagrams in the user manual. The Front callout diagram is shown below so that you can get oriented to the other views shown in the gallery. I mainly use tablets in landscape mode, which for the Thrive would be rotating the orientation shown below 90 degrees counter-clockwise.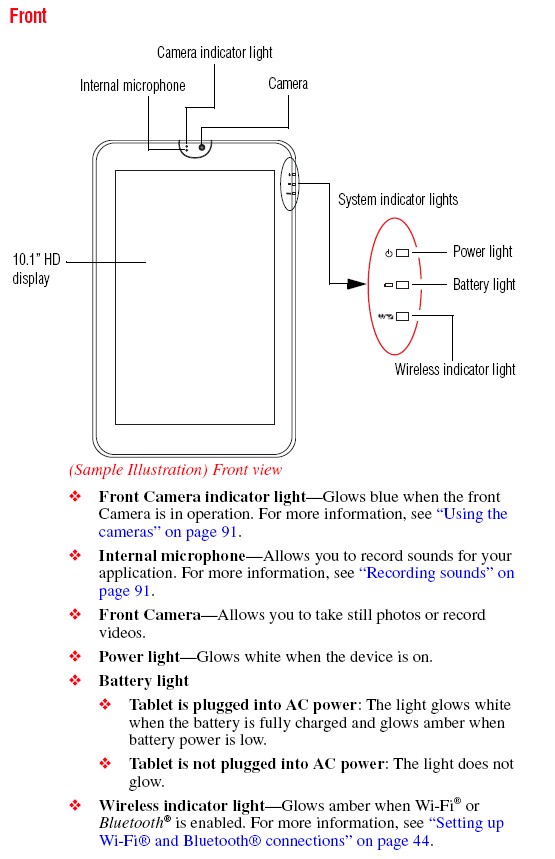 The Thrive has the battery-eating "haptic" feedback I found in the Acer A500 and Samsung Galaxy Tab 10. And like the other tablets with this feature, it will occasionally burp the buzzer now and then, such as when unlocking the screen.
I like tablets that can charge from a USB charger so that I can minimize the number of things I have to lug with me when I travel. Unfortunately, not only does the Thrive not charge from USB, but its power adapter is almost as big as the one for my x220i ThinkPad — complete with detachable cord! Definitely not road-trip friendly.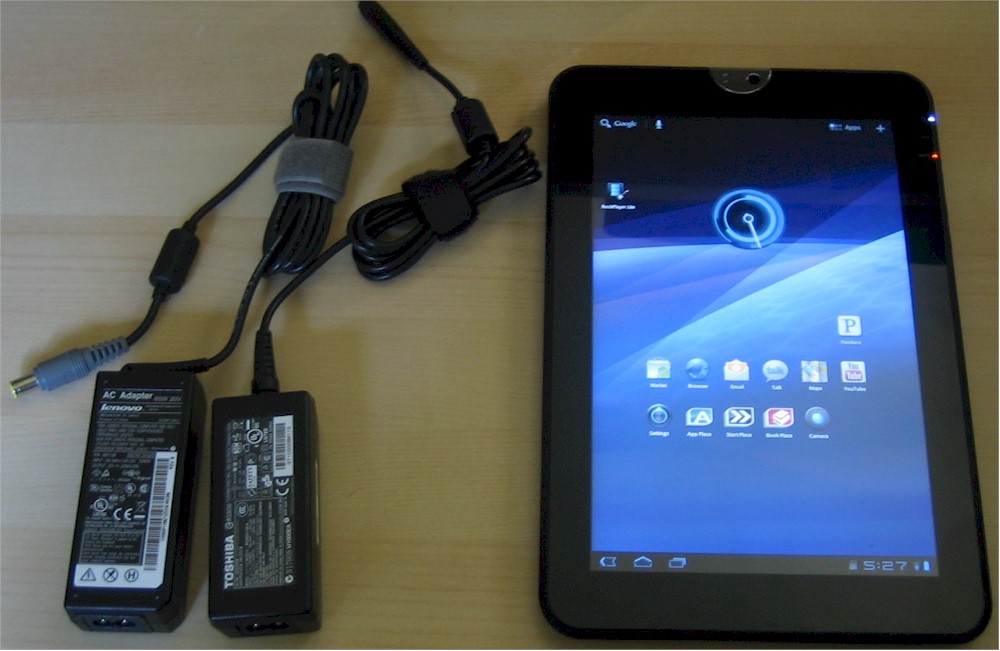 In Use
Screen
Size
10
Resolution
1280×800
Touch
Capacitive
Cameras
Front
2
Rear
5
Flash

N
From the descriptions I'd read of the Thrive, I expected to haul a honkin' big thick slab o' tablet out of the box. But in person, the Thrive doesn't really seem that much beefier than pretty much any other 10" Android tab I've handled. Except, of course, for the Samsung Galaxy Tab 10.
With its rubberized back and thicker format to house its complement of full-sized ports, the Thrive is designed for utility, not sex appeal. Oh, Toshiba tries to give a bit of a nod to fashion with six optional ($) different-colored rear covers. But this is a techie's tablet, not a fashionista's.
The 10.1″ 1280×800 screen is active matrix TFT, so its brightness falls off a bit if you place it flat on a table for viewing. But viewing angles both up and down and side to side are plenty wide enough and will provide satisfactory viewing for all but the pickiest. Still, you'd think Toshiba could have fit a kickstand into all that extra depth. I guess tablet makers don't want to piss off the cover and accessory makers too much.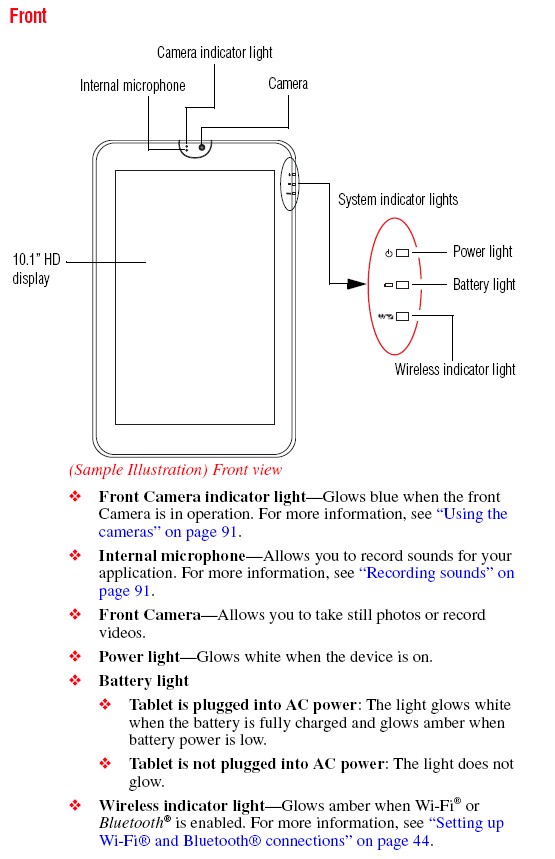 Front view of the tablet.
Rear view of the tablet.
The 'right' side (top when used in landscape) holds the controls you'll use most often
The 'left' view (bottom when used in landscape)
The 'top' view (left when used in landscape) shows the rear cover lock. Removing the back cover isn't quick or easy.
The 'bottom' view (right when used in landscape) is where the full-sized ports are.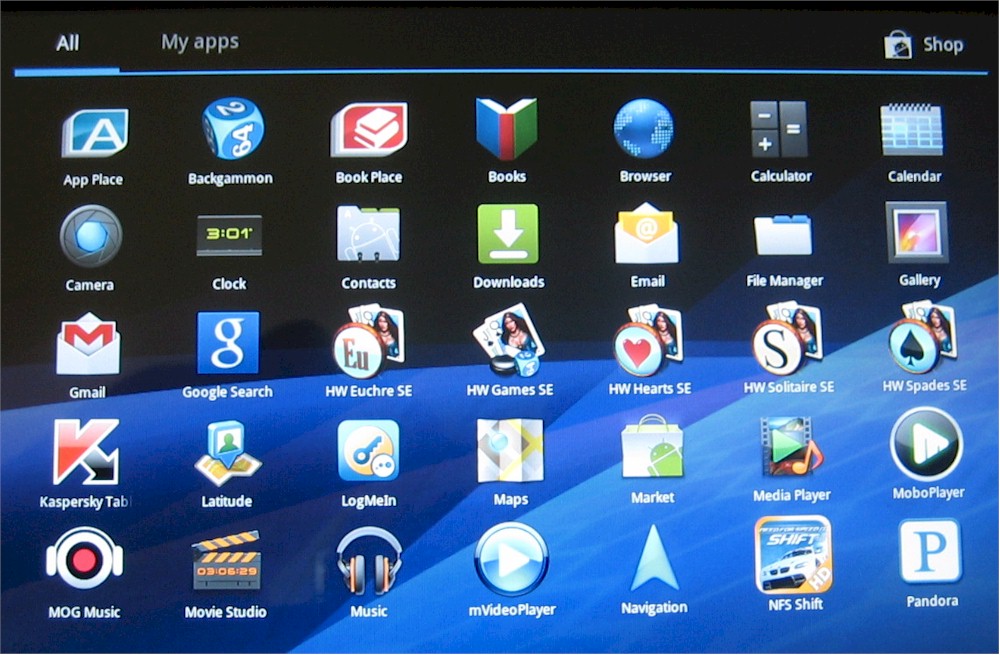 View of the installed apps. Note Pandora, mVideoPlayer, MoboPlayer, RockPlayer, RockPlayer Lite and VPlayer do not come installed by default
More installed apps
File manager browsing the internal flash memory. You can't access system files
File manager accessing files on inserted SD card
I have to point out one design "feature" that was a constant aggravation. Other reviewers have mentioned the somewhat annoying front panel power, battery and wireless indicators. For me though, the relative placement of the power light and power switch drove me absolutely buggy.
My finger constantly went for the space right behind the power light, where you'd logically think the power switch would be. But no, as the photo below shows, Toshiba not only moved the button to the right, but didn't provide any tactile feedback to help guide your finger home. So every time I needed to turn the tablet back on, I had to pick it up.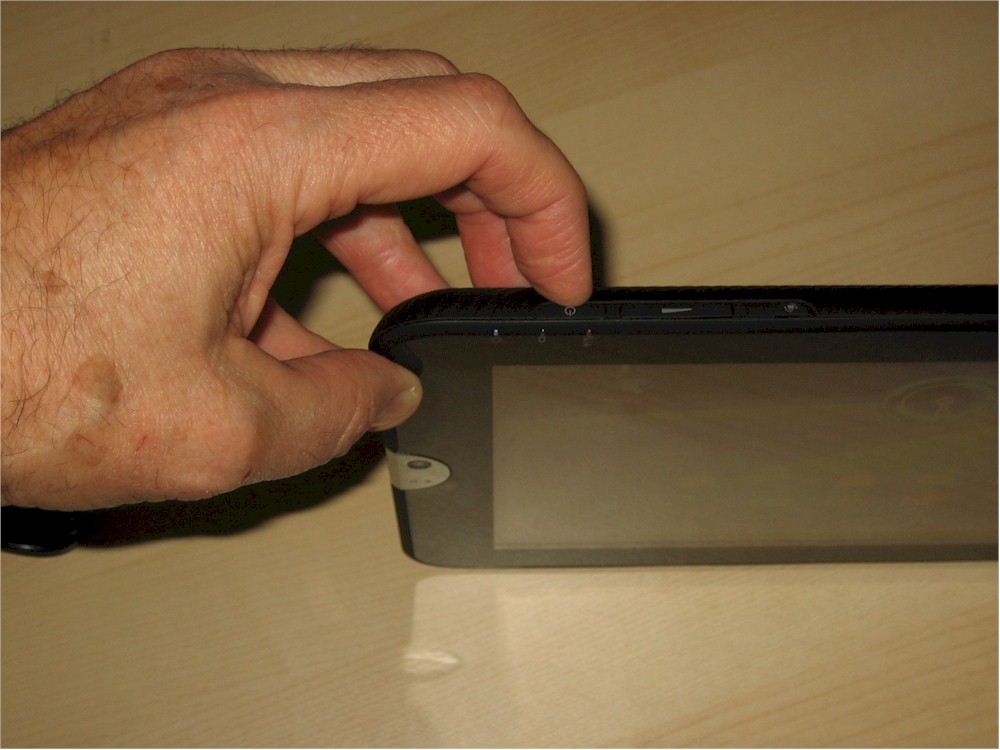 This is one area where the iPad got it right by putting one of the most often used buttons right on the front screen. It looks like Lenovo is taking a stab at putting hardware buttons on the front of its upcoming ThinkPad Tablet and not charging extra for it, either.
Aside from that, the Thrive drives like all the other Tegra 2 Honeycomb tablets I've tried. 3.1 doesn't make a big difference and I suspect 3.2 (when it comes) won't either. Liliputing's review has benchmark results if you think they'll help you pick a better performing tablet. But I wouldn't bother looking at them, since there really isn't any practical performance difference among Tegra 2 Honeycomb tablets.
Battery
I don't run battery tests, but here's a summary of the results other reviewers have gotten.
| Review | Battery Life (h:m) |
| --- | --- |
| Engadget | 6:25 (video loop, Wi-Fi on) |
| thisismynext | 5:28 (website and image loop, Wi-Fi on) |
| Laptopmag | 6:35 (continuous web surf, 40% brightness) |
| AllThingsD | 5:30 (video loop, Wi-Fi on) |
Battery life reports
The consensus seems to be that Toshiba's "up to 11 hours" claim is pretty optimistic. Still, unless you plan to watch streaming video all day with brightness set above 50%, you'll probably get a solid day's use from the Thrive.
I experienced the wake-from-sleep problem once in the three weeks that I've been lightly using the Thrive. Battery rundown during sleep seemed a bit better than other tablets I've tried, lasting about three days before the tablet sounded off with its "plug-me-in" warning.
One of the Thrive's differentiators is its replaceable battery. The Thrive is the only tablet so far that you won't have to send back its mothership when the battery wears out. Given the hassle of getting the cover off and on, however, I doubt most users are going to be buying an extra battery to swap in on a regular basis.
I abandoned my attempt to remove the cover when the last edge (the one near the confusing cover lock) would not easily come free. As other reviewers have noted, you really do feel like you're going to break something when removing the cover (at least the first time).
Applications
The good news is that Toshiba has bundled a few useful apps with the Thrive, many of which you can see in the screenshot below. (Hey, Android guys, when are we going to get a friggin' built-in screenshot feature?!)
The included file manager doesn't let you access any of the Android system files. But it lets you read and write to content folders on its internal flash and anything on whatever SD or USB drives you attach. So navigating directly to files you want to read, watch or play is easy. Check the gallery for a few blurrycam shots of the file manager in action.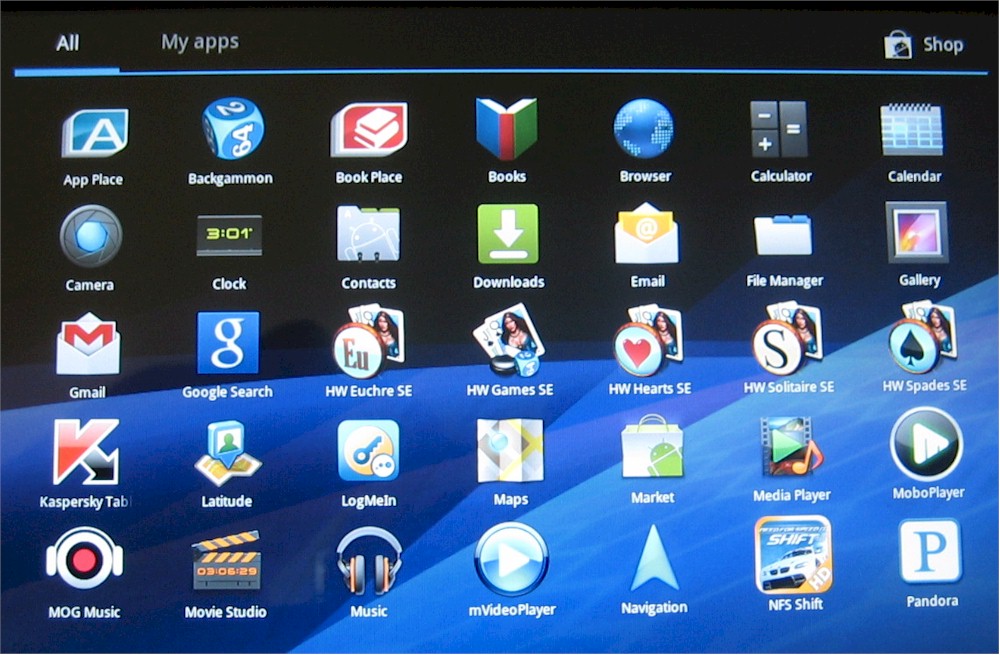 I got momentarily excited by the Media Player app, which included UPnP / DLNA capability. But the excitement didn't last long when I found that none of my test videos would play. More on that shortly.
Toshiba's App Place is yet another vendor attempt to preempt the Android Market, which you also have full access to. As frustrating and badly designed as the Market is, no one, even Amazon, has yet come up with something better. Start Place is an Associated Press news reader that doesn't allow any customization. Book Place is an e-book store powered by Blio that will make you wonder why (aside from revenue share) Toshiba bothered to include it.
If you're a Swype keyboard fan, you can dig into the Language and Input > Keyboard Settings and enable it. The other useful include is QuickOfficeHD, which opens (but doesn't let you edit) MS Word, Excel, PowerPoint and Adobe PDFs without a hitch.
The Application screenshot above and in the gallery show the other apps installed, which are mostly trialware. Note that I downloaded and installed the following apps: Pandora, mVideoPlayer, MoboPlayer, RockPlayer, RockPlayer Lite and VPlayer.
Audio and Video
I used my standard set of music and video files to test the Thrive's media handling. The.MP3 and.M4A test music files played without problem and so did the Pandora app. The sound had enough volume but was too tinny to my ear for any sort of extended listening.
For video, I don't bore you with the details other than to say that the web video I tried played the same as on other Tegra 2 tablets, i.e. mostly good, but with its share of hiccups, all of which I can't say are the tablet's fault.
Especially after seeing the video quality that the HP Touchpad with its Qualcomm Snapdragon CPU can provide with the same test content, I've reached the conclusion that I'm never going to see great HD video results from Tegra 2 based tablets.
The nut of the problem is the limited video formats supported by the Tegra 2's hardware decoding. I'm not exactly pushing the limits with my test content, folks, which consists of pretty standard stuff as shown in the table below.
| Format | Content |
| --- | --- |
| 640×480 MJPEG 30 fps | Canon digicam SD AVI |
| H264 MPEG4 1280×544 24 fps | Apple "720p" trailer |
| H264 MPEG4 1280×720 23.980275 fp | Blue Man Group "Up to The Roof" video |
| H264 MPEG4 1920×816 24 fps | Apple "1080p" trailer |
| H264 MPEG4 1280×720 30fps | Canon digicam HD AVI |
Local video playback test content
The Thrive's specs list both H.264 and MPEG-4 as supported file types. But I know that means little due to all the variations in encoding rates, containers, etc. that exist. But I'd at least expect someone to have a decent player with software decoding.
So far, however, I've tried mVideoPlayer, MoboPlayer, RockPlayer, RockPlayer Lite and VPlayer and none have successfully played all the files on the Thrive or any other Android tablets I've tried. Toshiba's Media Player app also failed miserably, showing only the Canon digicam HD AVI file in its video list and then failing to play the file when I tried it.
Closing Thoughts
Toshiba get points for effort by giving the Thrive some unique features in its replaceable battery and selection of full-sized ports. So if those things get you excited and you don't mind spending more than you have to for a 10" Android 3.1 tablet, then by all means buy the Thrive. But ASUS's Eee Pad Transformer still remains the least expensive and best buy in a 10" Android Honeycomb tablet. So that's still my recommendation.
Buy Thrive from Amazon