At a Glance
Product
LG N2311AZ-BF 23" Cloud Monitor [Web site]
Summary
PC-over-IP monitor for VMware environments
Pros
• Improved desktop security
• Reduced use of desk space and power
• IT operational efficiency
• Can also be used as a regular monitor
Cons
• Poor documentation. Manual out of date and lacks examples
• Wired only, no wireless option
Introduction
In this review I'm going to look at LG's 23" Cloud Monitor (N2311AZ-BF). This monitor is a 23" display with a built in PC-over-IP (PCoIP) chip that enables connection to a networked computer to provide the full functionality of a desktop computer without the CPU, hard drive, memory and other components typical of a PC.
To better understand this product, let's start with a discussion of the technology built into the Cloud Monitor. LG has built this monitor leveraging technology from a company called Teradici, as well as software from VMware.
Teradici provides the internal hardware with its Zero Client chipset. The PCoIP chip runs VMware View software that enables the Cloud Monitor to connect to a remote PC, typically a Virtual Machine (VM). All you need at your desk is the Cloud Monitor, an Ethernet connection, power and a USB keyboard and mouse. The neat thing is the end user can still have the same computing experience as obtained from a dedicated PC.
As shown in the picture below from Teradici's website, the combination of this technology enables the rendering solution to sit in a data center or in the cloud, with only the images transmitted to the Zero Client device at the desktop.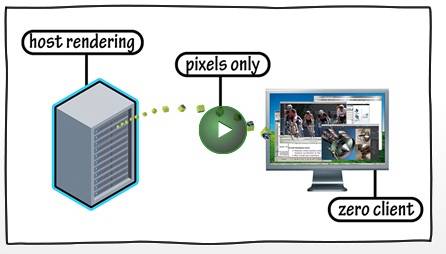 How Zero Client works
There are numerous values to this solution. Without a computer tower or enclosure, more physical work space is available at an employee's desk. Noise from computer fans are eliminated and heat and power consumption at the desktop are also greatly reduced. Device management and security is enhanced by centralizing computing power and putting the operating system, data storage and software completely in the control of the IT department. PC administration is now simpler, too.
There are other ways to use the Cloud Monitor without a VM, which I'll touch on in this review. But the greatest efficiency is gained when it is used with VMware View software connecting to a VMware Virtual Desktop Infrastructure (VDI) environment. A discussion on VMware is beyond the scope of this review. But take a look at this series of articles for some basics of virtualization.
Monitor
I'll start by covering the physical monitor. When used in PCoIP mode, processing power in the Cloud Monitor comes from the Teradici chipset. Teradici has several chipsets available in its Zero Client PCoIP product line. The chipset in the N2311AZ-BF uses the Tera1100 processor. Features of this processor are:
Two independent display output channels.
10/100/1000 Ethernet media access controller.
High definition audio serial link.
Four USB ports with device authorization.
Peripheral management interface.
Full encryption between host and portal.
An obvious advantage for a Cloud Monitor is lower power consumption than a full desktop computer that typically has a 200W or greater power supply. LG's specifications state the N2311AZ uses between 25 and 40W. The N2311AZ comes with an external power brick, but can also be powered by an optional 60W UPoE adapter.
The N2311AZ measures 23" diagonally with a 16:9 aspect ratio and maximum resolution of 1920×1080. LG touts the N2311AZ's In Plane Switching (IPS) capability, which makes the monitor easier to see from wide angles. The monitor has a pair of built in speakers for audio playback, too.
The monitor has ports on the bottom and left side of the panel. The ports on the bottom, shown below, include D-sub in and out ports, a DVI out port, two USB 2.0 ports, a 10/100/1000 Ethernet port, and the power port.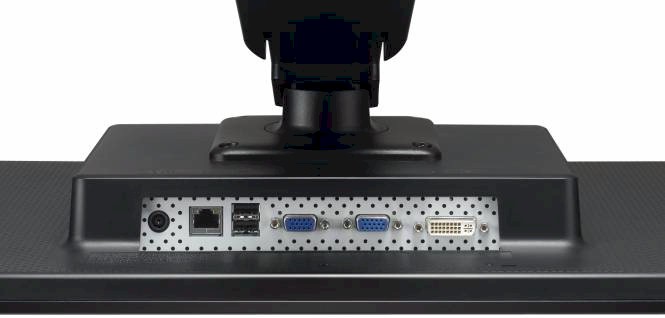 Monitor bottom ports
Dual screen display with the LG is supported when in PCoIP mode. Using the D-sub out port, the image on the LG can be mirrored to another monitor. Using the DVI-out port, you get a true dual screen display when connected to your VM or other remote machine.
The N2311AZ does not have wireless network connectivity, so requires an Ethernet connection. I've used VMware View software from my laptop remotely over a wireless connection, so I was surprised to see Teradici's Zero Client chipsets don't include wireless functionality.
The ports on the left side of the monitor, shown below, include two more USB 2.0 ports as well as audio out and mic in ports.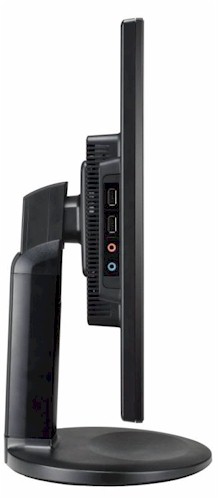 Monitor side ports
Monitor – More
The N2311AZ can also function as a monitor connected to a PC. As an LCD monitor with LED backlighting, the LG N2311AZ is beautiful. I found the display clear and the images crisp. I used the N2311AZ as a computer monitor connected to my laptop extensively while writing this review and I can honestly say it enhanced my computing experience!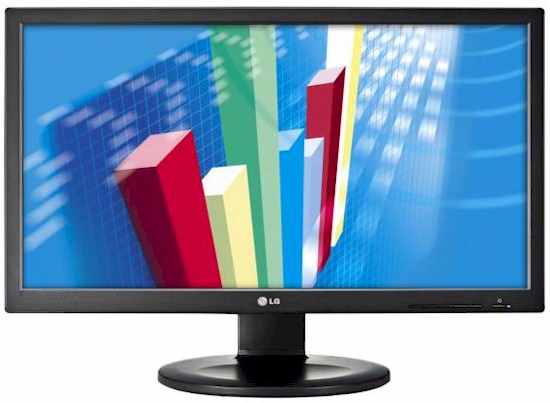 Monitor image
Positioning the monitor is quite flexible. The base of the monitor swivels; it has what feels like a spring-loaded support that allows for raising and lowering the monitor. Plus the angle and tilt of the panel are easily adjusted by hand if desired. The LG Cloud Monitor can also be wall mounted using an optional wall mount bracket.
You can even pivot the monitor 90 degrees! Pivot the monitor, then adjust Windows resolution to Portrait mode and you get a vertical screen running at 1080×1920. Viewing web pages in this mode was surprisingly useful, shown in the screenshot below. With the monitor vertical, more of a web page is on the screen, minimizing the need to scroll up and down. Further, the monitor takes up less desk space in this mode.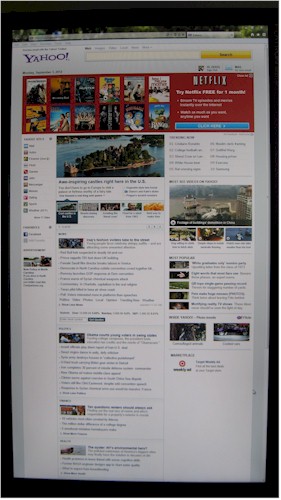 Portrait mode
Configuration
The LG has three configuration utilities. First, there are five menu buttons on the bottom right of the monitor that provide options for accessing a menu, adjusting volume, auto detection, selecting monitor input and exiting the menu. Second, when the monitor is in PCoIP mode, but prior to connecting to a VM, there is an on-screen menu that is controllable via the monitor's keyboard and mouse. Third, when the monitor is in PCoIP mode and connected, you can access the device from a web GUI via its IP address.
At first glance, the on screen options menu and the web GUI provide many of the same configuration options. However, there are significant differences between the two, so I've created summaries below of each menu's options.
The on screen options are available prior to connecting to a VM via a menu labeled as Options in the top left of the screen, shown in Table 1.

Table 1: Onscreen menu options
The web GUI has more configuration options, shown in Table 2. Note, the web GUI is unsecured and accessible without a user name and password. On the other hand, the device doesn't store sensitive information, so it doesn't seem to be a huge security risk.

Table 2: Browser menu options
Overall, I was disappointed in LG's documentation for the product. The menus in the manual don't match the software on the device and the details in the manual don't cover the full device functionality. Further, the manual is lacking examples and details. I would expect more from a large company like LG.
For example, the LG manual I downloaded from LG's product page shows a menu for Remote Desktop Protocol (RDP) options, yet I couldn't find this option on the device. I poked around Teradici's website and found in the firmware release notes that RDP is not supported in the Zero Client software since version 3.3. I'm sure Teradici had their reasons, but I would have left RDP support in the device because it adds to its overall capabilities.
Further, the web GUI is not documented at all in the manual. For a product introducing new technology, I would think the product manual would try to provide as much detail and explanation as possible. Specifically, explanations of the key connection/session options would have been useful.
After poking around the LG and Teradici websites, I found the most useful source of information for the LG Cloud Monitor to be Teradici's PC-over-IP administrator's guide found under the documentation section of the Teradici support website. To access this website, you have to set up a free account and login.
In Use
The PCoIP chip provides the computing power to connect the Cloud Monitor to a cloud VM, PC, workstation, or server. There are seven connection types with this monitor. Here's a brief description of each connection type:
Direct to Host – This option enables a Cloud Monitor to connect to a PC/workstation running a PCoIP Host Card.
Direct to Host + SLP Host Discovery – This option simplifies the Direct to Host option by using Service Location Protocol (SLP) to discover available PCoIP Hosts on the same subnet.
View Connection Server – This option leverages VMware View Client software to connect to Virtual Machines running in a VMware environment.
View Connection Server + Auto-Logon – This option is essentially the same as the previous, with the ability to save the user name and password for the connection.
View Connection Server + Kiosk – This options is useful in an environment with a large number of Cloud Monitors where you simply want them to power and connect to a specific VM, without user input.
View Connection Server + Imprivata OneSign – This options again uses VMware View Client software, but enables authentication through the Imprivata OneSign system, a simplified authentication system targeted at health care providers.
Connection Management Interface – This option is used to connect with an external connection management server.
The View Connection Server option is the most straightforward. This option is used to connect the LG Cloud Monitor to a VMware Virtual Desktop Infrastructure (VDI) environment. More simply put, the VMware View is software running on the PCoIP chip, which facilitates connecting to a Virtual Machine housed in a VDI environment.
I use VMware View Client software (ver 4.5) regularly with my day job to connect to a VM. This enables me to use my laptop and corporate VM at the same time. Unfortunately, I was unable to get the LG monitor to connect to my corporate VM. The problem may have been our corporate VDI configurations which likely have not been configured to support a PCoIP solution.
Fortunately, LG provided a VMware environment I could use for testing the Cloud Monitor. Below is a picture of the LG Cloud Monitor (on the right) connected to a Windows 7 VM and running in Dual Screen mode. The monitor on the left is an ASUS VE228 21.5" LCD/LED display.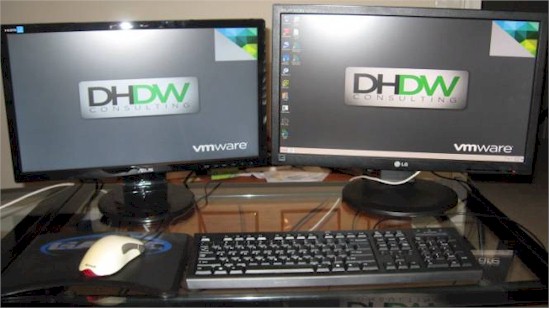 Dual screen mode
The key thing about this image is what you don't see. There is no PC on the desk, on the floor or hidden out of sight. With a Cloud Monitor, a VM, an Ethernet connection, USB mouse and keyboard and optionally a second monitor, I have a complete desktop computing solution. It is completely quiet and energy efficient, with no fans, CPUs, hard drives, or other components on the desktop.
I used the Cloud Monitor with a Microsoft Optical Wheel Mouse and a standard keyboard made by HP. All buttons and the wheel operated as expected on the mouse. The keyboard also worked as expected, including the Num Lock and Caps Lock indicator lights.
Bandwidth Use
As I explained earlier, the LG Cloud Monitor accesses computing hardware over an IP connection. Only screen images are transmitted to the monitor.
Teradici optimizes bandwidth utilization between the LG Cloud Monitor and the VM using a multi-codec solution. Teradici's website explains "the PCoIP protocol continuously analyzes and decomposes image elements – graphics, text, icons, photographs, video, etc – and compresses them with the right codec for each and every pixel. Intelligent image decomposition and optimized image encoding using multiple codecs enables efficient transmission and decoding, and saves your bandwidth."
Since I was testing the Cloud Monitor to a remote VDI, my connection was over the Internet. Communication is secured between the Zero Client and the VM using AES 128-bit or Salsa256-bit encryption.
My Internet connection typically runs about 12 Mbps downstream and 600 kbps upstream. I used the Cloud Monitor to simultaneously surf the Internet to multiple websites, play a YouTube video, run MS Word and check email over the web.
I found bandwidth can be an issue when using the Cloud Monitor over a WAN connection. Remember, Internet media you're seeing on the Cloud Monitor is actually being received by the remote VM and then transmitted to the Cloud Monitor. At times, I observed full screen web video from sources like YouTube were choppy on the Cloud Monitor. However, web video in a reduced window size was much smoother.
Using the Cloud Monitor over a LAN environment with greater bandwidth is most likely much less an issue. (Further, should employees be watching full screen YouTube videos at work?)
Using Wireshark, I was able to measure bandwidth utilization with the LG's default settings while in dual screen mode. Bandwidth consumption measured over a period of 330 seconds, shown at the bottom of the below summary screen, averaged ~1.37 Mbps.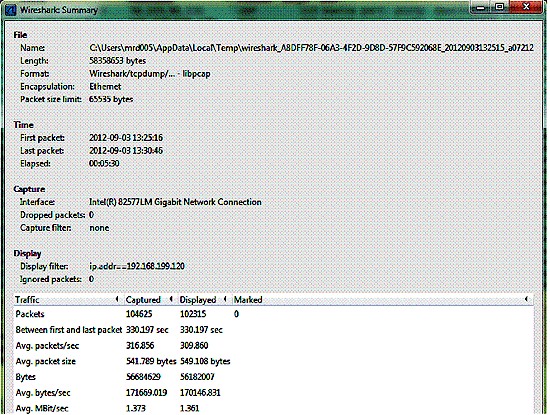 Figure 7: Wireshark bandwidth use report
Bandwidth utilization on the Cloud Monitor is adjustable. The figure below shows the web gui menu for adjusting utilization. As you can see, the maximum limit to bandwidth utilization, a target and a minimum can all be customized. Setting the target and floor values allows the Cloud Monitor to reduce and optimize bandwidth utilization when network congestion (packet loss) is detected.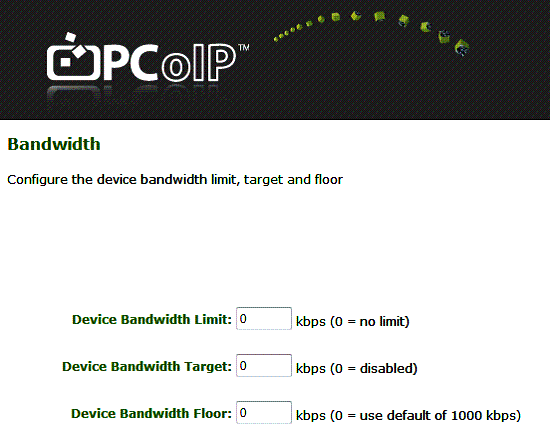 Bandwidth use adjustment
Comparison and Pricing
Competing products to Cloud Monitors include All-in-One PCs as well as other monitors with the Teradici PCoIP chip. All-in-One PCs have the advantage of being independent of a network, whereas a PCoIP solution is dependent on the network. If the network is down, the LG Cloud Monitor is just a monitor… with nothing to display!
All-in-One solutions are a complete PC with a CPU, hard drive and memory all built into the monitor, have a similar space saving advantage as the Cloud Monitor, but come with a higher price tag. For example, list price for the Apple iMac starts at $1199, while a Windows All-in-One PC such as the Lenovo ThinkCentre M92z starts at $799. Further, All-in-One PCs lack many of the efficiencies and manageability advantages of the Cloud Monitors.
Teradici provides a list of monitors that include its PCoIP chip and Zero Client solution. Currently, GVision, LG, and Samsung offer Zero Client monitors with varying features. In Table 3, I've put together a chart of those monitors along with some key specs. All pricing is from pricegrabber.com.
| Brand | Model | Screen Size | Max Resolution | Touch Screen | VMware Ready | Price |
| --- | --- | --- | --- | --- | --- | --- |
| GVision | CP12EX | 12" | 1024×768 | Optional | No | * |
| GVision | CP15BX | 15" | 1024×768 | Optional | No | * |
| GVision | CP17BH | 17" | 1280 x 1024 | Optional | No | * |
| GVision | CP19BH | 19" | 1280 x 1024 | Optional | No | * |
| GVision | CP22BD | 22" | 1920X1080 | Optional | No | * |
| LG | N1910LZ-BF | 19" | 1280×1024 | No | Yes | $332.97 |
| LG | N2210WZ-BF | 22" | 1680×1050 | No | Yes | $458.00 |
| LG | N2311AZ-BF | 23" | 1920×1080 | No | Yes | $468.04 |
| Samsung | NC190-1 | 19" | Not listed | No | Yes | $515.69 |
| Samsung | NC220 | 22" | 1680×1050 | No | Yes | $487.75 |
| Samsung | NC240 | 23.6" | 1920×1080 | No | Yes | $571.58 |
Table 3: Comparison table
*GVision's products were not listed on pricegrabber.com, however, GVision lists several partners who sell/distribute their products.
As you can see from Table 3, the LG N2311AZ is less expensive than Samsung's 23" product, and only the LG and Samsung solutions are VMware ready.
Conclusion
Teradici targets its PCoIP products toward Government and Healthcare, Education, and Financial industries, as well as Enterprises and Media/Entertainment organizations. By centralizing all computing hardware into a data center or cloud, PCoIP solutions can increase desk space, save power, improve security, and generate administrative efficiency.
I can't see a Cloud Monitor replacing mobile computing solutions such as laptops, tablets and smart phones. But perhaps the Cloud Monitor is the harbinger of the end of the corporate desktop PC? Time will tell.
It's always interesting to examine new technology and the LG N2311AZ-BF Cloud Monitor didn't disappoint. The monitor itself is quite impressive. And the built-in PCoIP solution provides a complete computing experience for employees without the PC.
From an IT management standpoint, it is easy to see the advantages in replacing desktop PCs with Cloud Monitors. Personally, if I had the choice between having a desktop PC or an LG Cloud Monitor on my desk, I'd choose the Cloud Monitor!