Introduction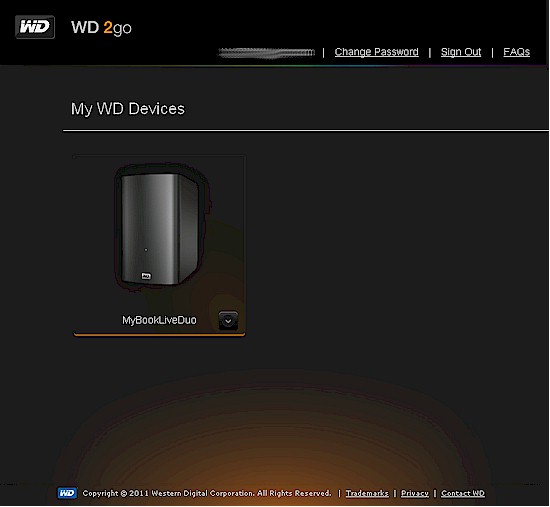 At a Glance
Product
WD 2go Personal Cloud [Website]
Summary
Remote access cloud service for WD NASes
Pros
• Extremely easy setup
• Web, iOS and Android access options
Cons
• Requires paid app for iOS file download and sync
• Web access is Windows only
• No Android upload/download options

• Hard to keep track of which features are supported where
Our recent SmallNetBuilder review of WD's My Book Live Duo noted that the company had replaced its MioNet remote access system with a new "personal cloud" approach dubbed WD 2go. I was never a fan of MioNet, finding it too clunky and requiring paid upgrade to do much of anything useful. WD 2go is a completely refreshed approach, offering easy setup and access via web portal and iOS and Android apps.
Like Pogoplug and Iomega's Cloud Edition NASes, WD 2go takes a "private cloud" approach. This just means that files stay on your personally owned and operated device, which is the "private" part. The "cloud" part is comprised of a hosted web portal at a fixed URL and software in the NAS that stay linked so that you don't have to worry about UPnP, port forwarding, dynamic DNS or any of the stuff that makes non-techies' eyes glaze over.
Note that WD 2go supports only My Book Live NASes. Older My Book World and ShareSpace products won't work.
App Access
WD has made it very easy to enable access through its web portal and via the iOS and Android apps. Authorization is granted separately for these two methods, but the methodology is the same. Figure 1 shows the start of adding access for an iOS or Android device. You select a user (in this case the default admin account), then hit the Get Code button.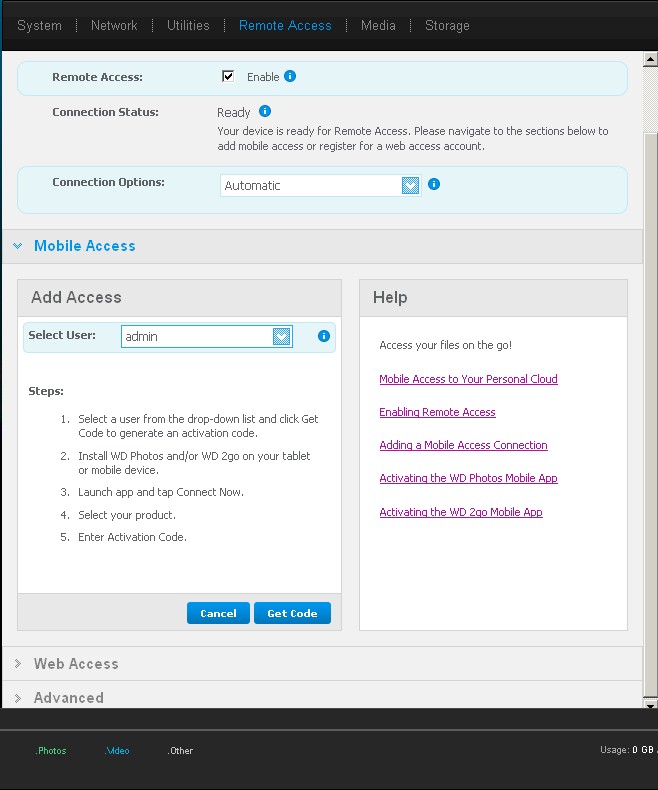 Figure 1: Mobile access account add
This generates a 12 digit code (Figure 2).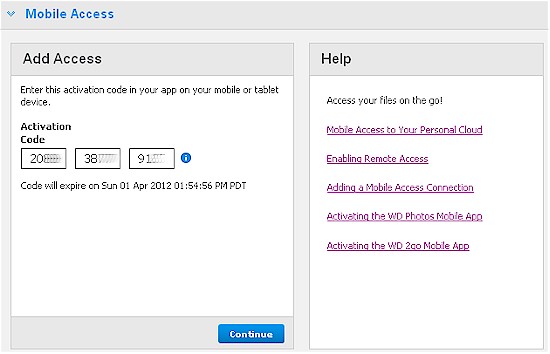 Figure 2: Mobile access code
You then download the app onto your iOS or Android device and enter that code, shown in Figure 3 for an iPad.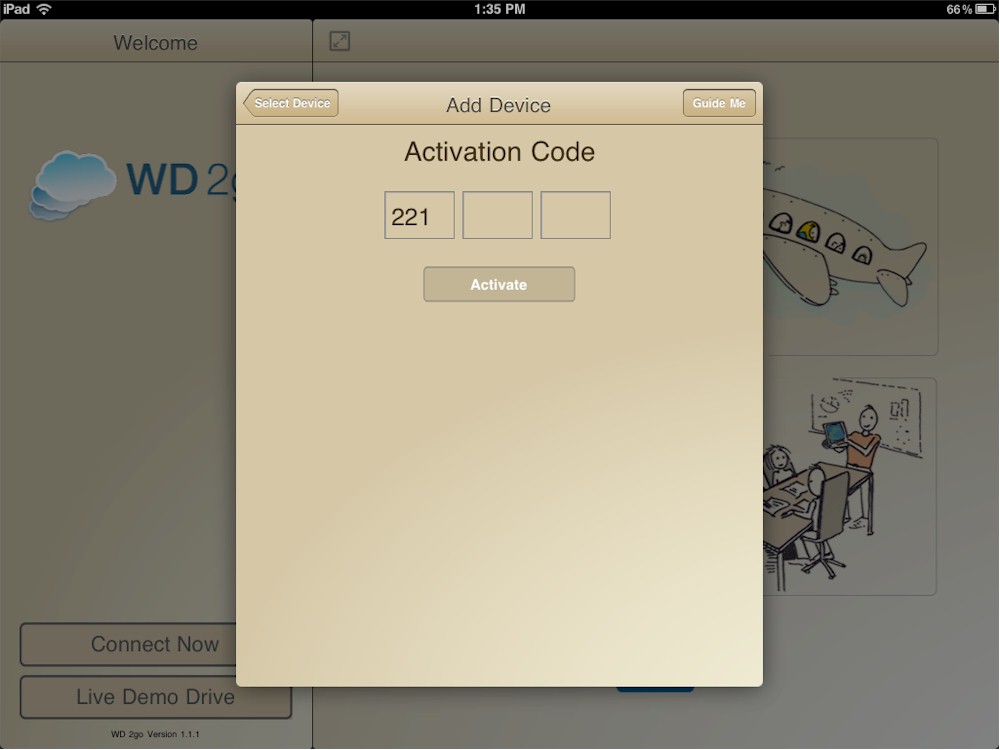 Figure 3: Mobile access code
When the code is accepted, the shared folders you have access to will be shown (Figure 4).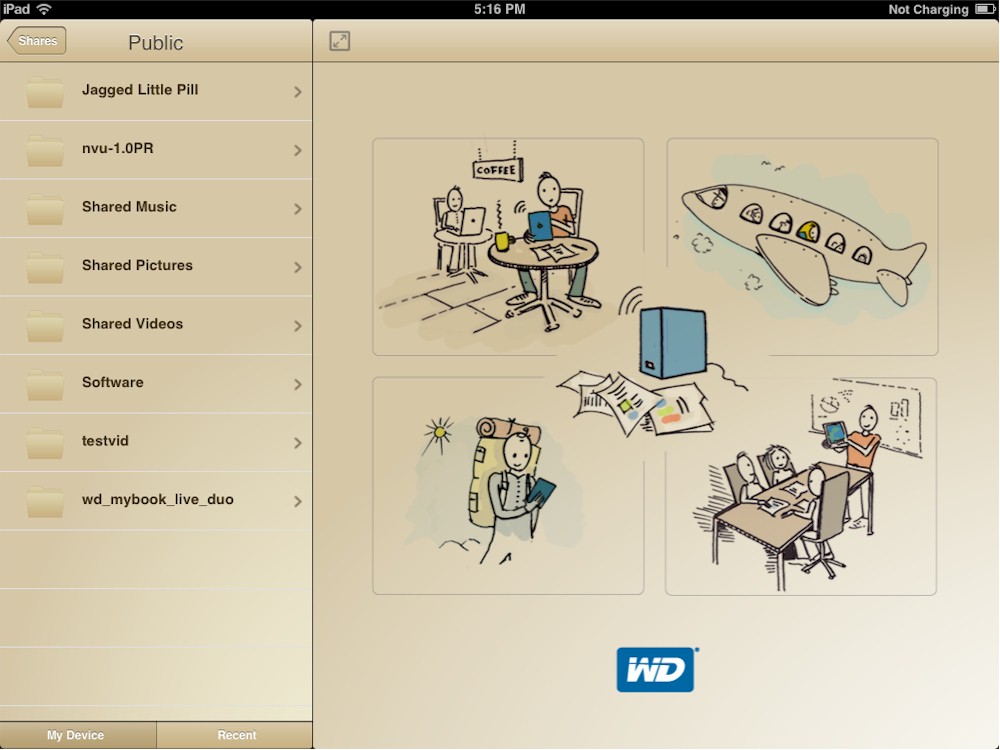 Figure 4: Shared folders in the iOS app
Apps – In Use
Remote media access seems to be high on the list of things people like to do with private clouds…or at least the folks making these products think so. So I tried playing/viewing music, video and image files using the iPad and Android apps. As near as I could tell, the two apps have the same look, feel and functions. The main difference is that the Android app throws up a selection of different players for each media type. The iPad app, just opens the file…if it can.
In Figure 5, I browsed to a music file and played it on the iPad app. Nothing fancy here, no album art or spiffy graphics.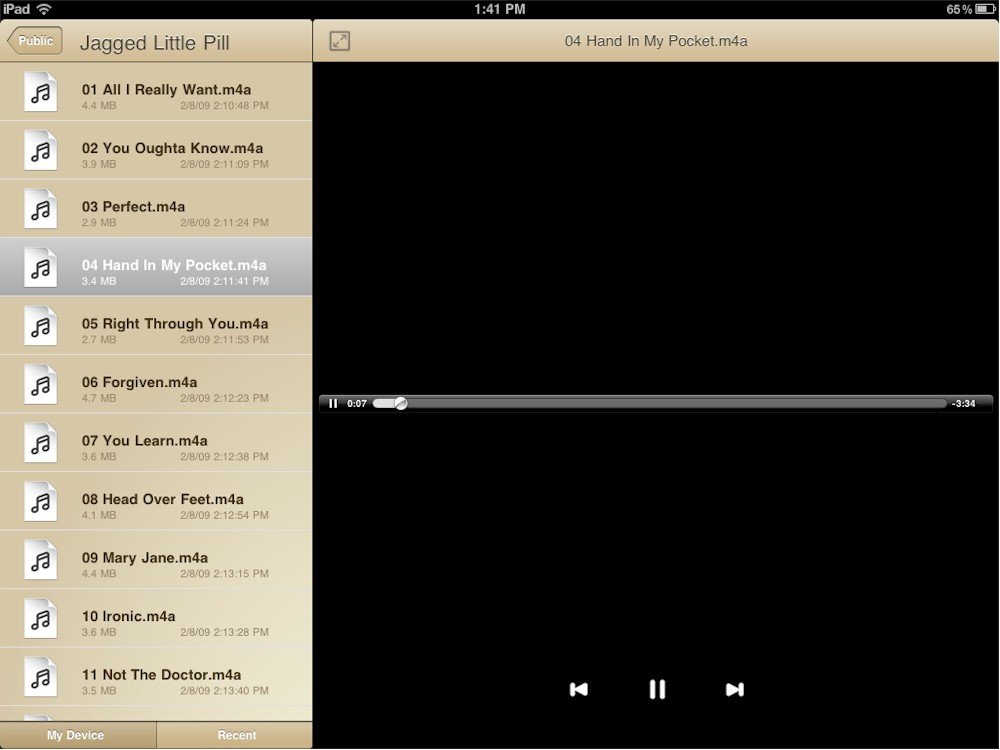 Figure 5: iPad app playing music
Figure 6 shows the same file played on the Android app using the native music player.
Figure 6: Android app playing music file
Figure 7 shows a 720p Quicktime file playing. The iPad was connected to an otherwise idle 802.11n network with a strong signal, so I didn't experience any glitches. Once the WD 2go cloud establishes the connection, traffic appears to flow directly between the WD NAS and file-access device. Unlike Pogoplug, there are no trancoding options offered.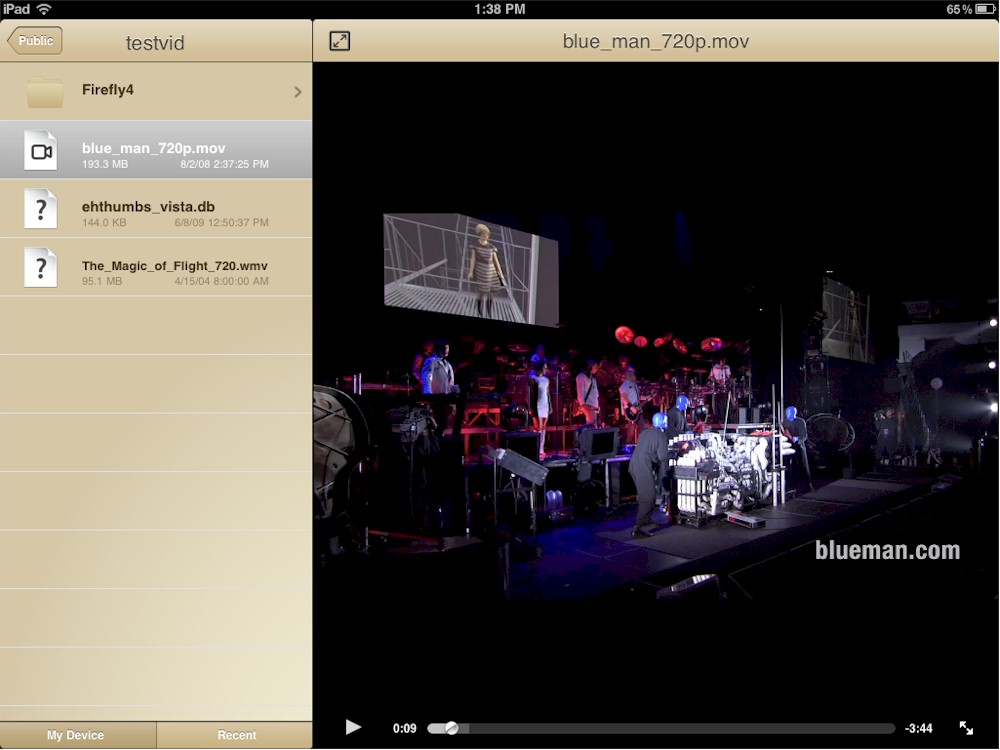 Figure 7: iPad app playing Quicktime video
Figure 8 shows what viewing a JPG image looks like. The iPad app offers a no-frills viewer with no slideshow features. Oddly, the Android app does include a slideshow feature. It lets you control page timing and transitions, however.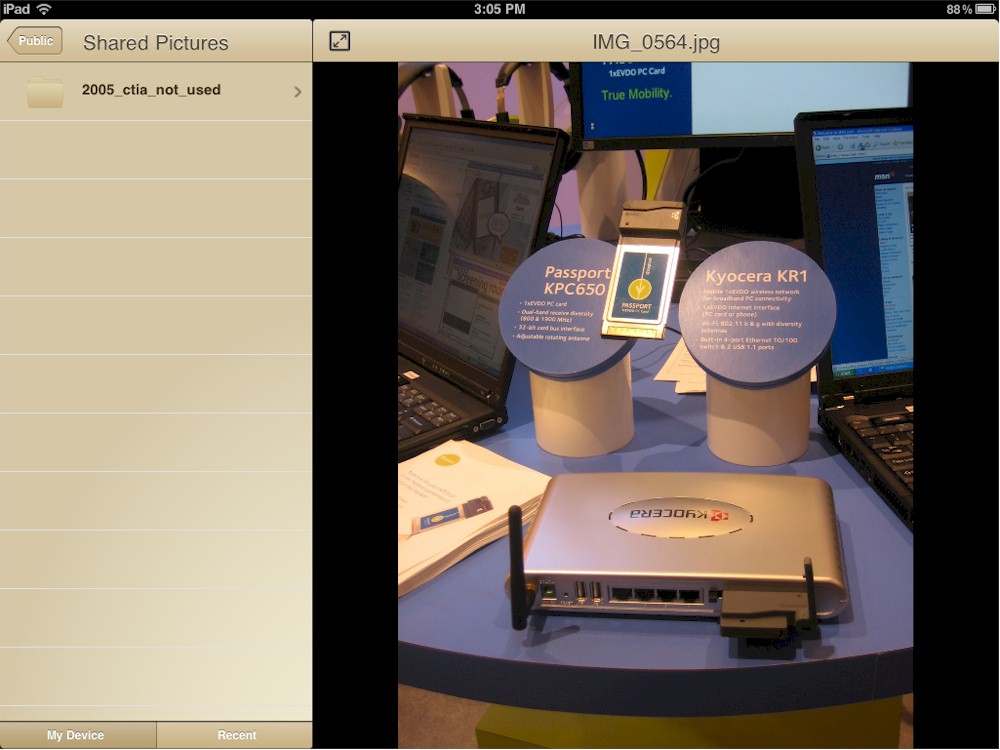 Figure 8: iPad app viewing picture
WD Photos
If you want fancier picture viewing features on iOS, you need to download the WD Photos app. Figure 9 shows the fancier interface with different sorting options plus search and date filter features for navigating large photo collections.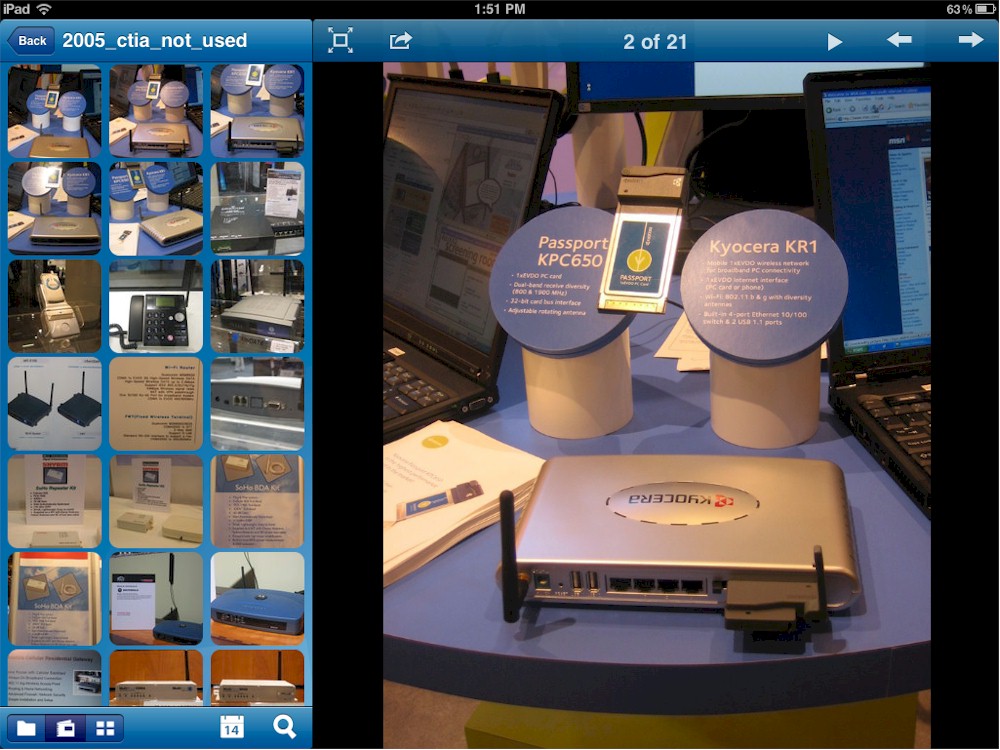 Figure 9: WD Photos iPad app viewing picture
When viewing a photo, share options include email, assigning to a Contact, adding to the Camera Roll and uploading to Facebook. Slideshow settings include timing and four transition types.
If you want to upload a photo, you tap the little camera icon highlighted in Figure 10.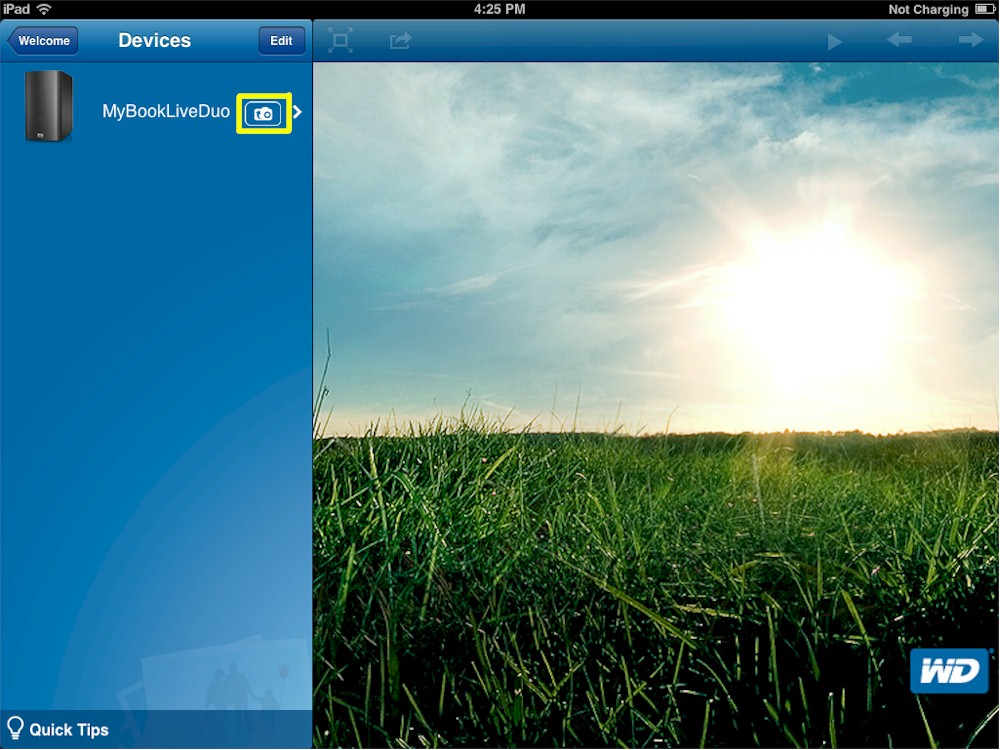 Figure 10: WD Photos picture upload icon
Tapping the icon presents options of taking a photo/video before uploading or choosing from your iPad store. Figure 11 shows upload file selection with two files selected.
Figure 11: WD Photos picture upload file selection
I didn't like that you were forced to enable Location Services in order to upload pictures. It's nobody's business where my photos are taken. Especially when I pay for a private cloud.
Web Access
If you have neither Android nor iOS device, you can use WD 2go's web portal to get at your files. But it doesn't work like you might expect. Instead of providing a navigable in-browser file and folder view, Web access uses a combination of login portal and Java app. I tested Web access from a Windows XP SP3 system.
You start by hitting the Web Access menu on a My Book NAS (Figure 12). You enter a user name and email address and then click a link in a confirmation email that is sent.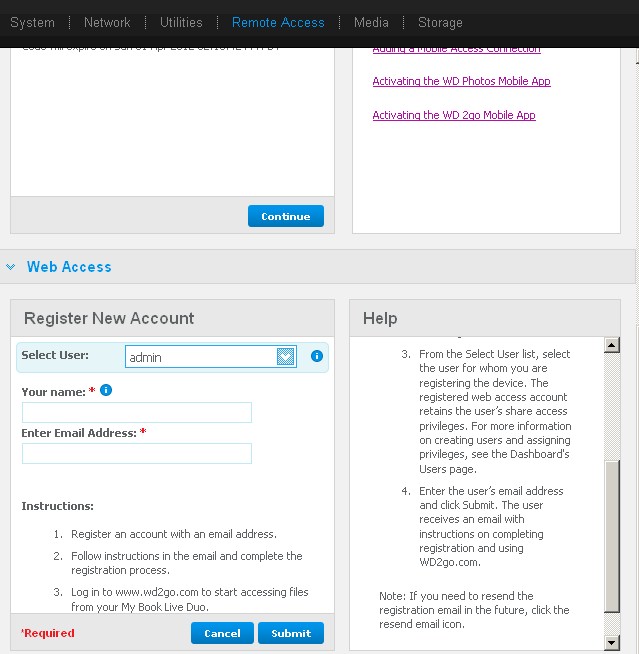 Figure 12: Web Access account registration
The link takes you to a page where you create a password (Figure 13).
Figure 13: Web account password creation
To access your My Book Live shares, you go to wd2go.com and log in with your credentials (Figure 14).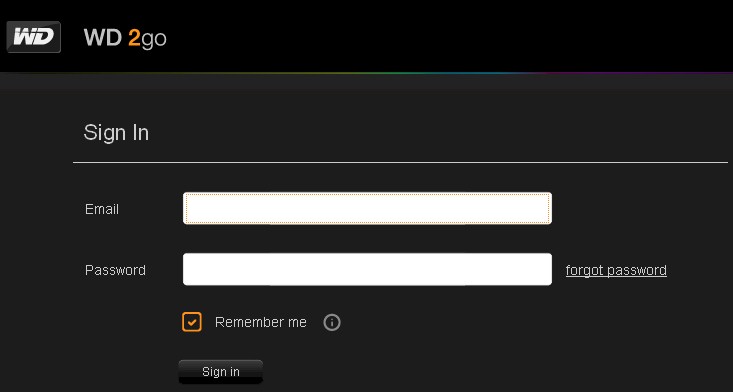 Figure 14: Web access login
You then get the device view, click the dropdown and select View shares (Figure 15).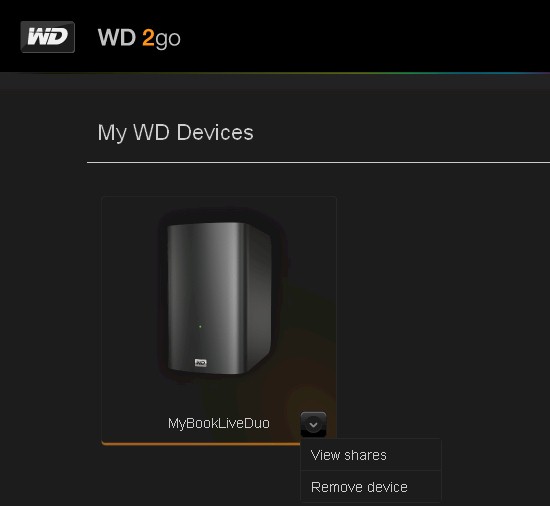 Figure 15: Web access devices
This takes you to the Shares page (Figure 16) and downloads a Java app that launches when you click the Open in Explorer button.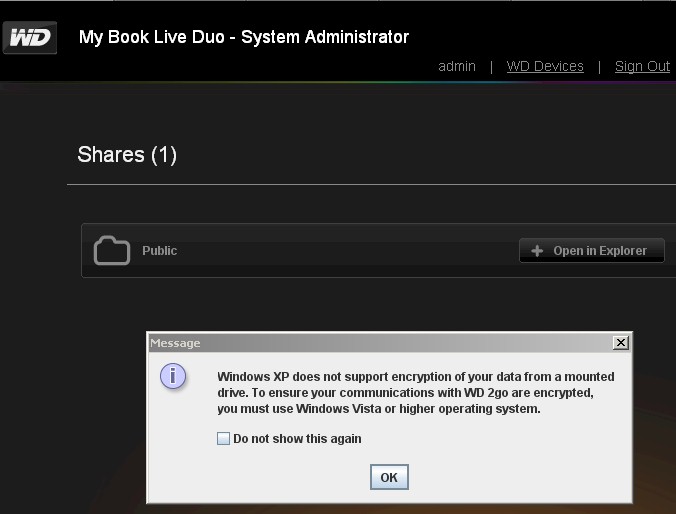 Figure 16: Web access Shares page
After the Java app does its thing, an Explorer window automatically opens (Figure 17) showing all the folders in your share. At this point, you have full access to your My Book Live share, just as you would on any other mapped drive.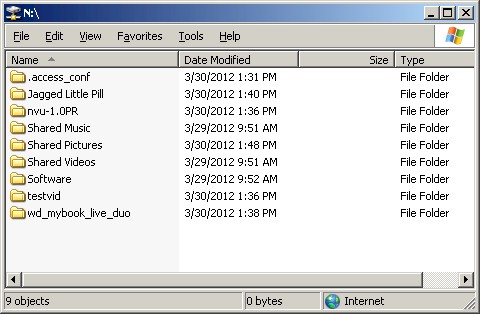 Figure 17: Web access mapped drive folders
Figure 18 shows the WD 2go mapped drive in My Computer.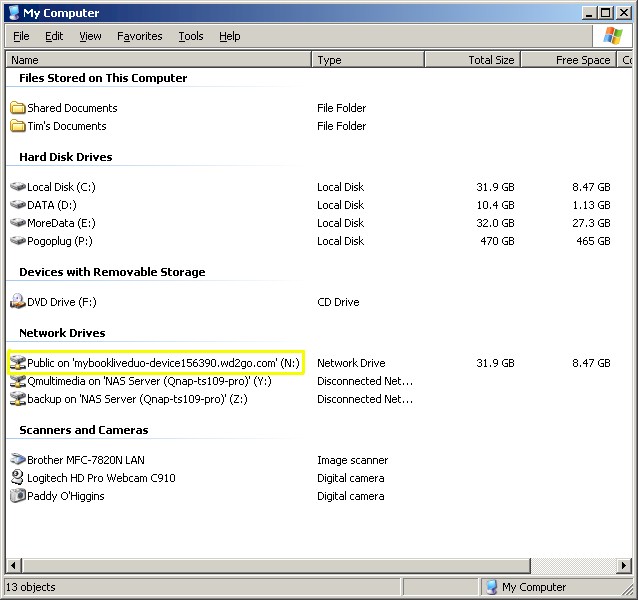 Figure 18: Web access mapped drive
My Internet connection was going through its usual late afternoon severe throughput reduction when I tried a few test drag-and-drops. The slow response sure looked to me like the transfer was going through the cloud vs. being locally re-routed between the computer and My Book Live Duo that were sitting right on the same LAN.
Closing Thoughts
Kudos to WD for making remote NAS access just about as easy as it can be. If you have used an enter-a-code system to get a Roku or other device linked to your Hulu+ or Netflix account, you can get WD 2go up and running, no sweat.
The hard part about WD 2go is figuring out the limitations for each platform it supports. With Android, file access is strictly read only and you can neither up nor download files. For iOS, the same limitations as Android apply to the free app, but you can spend $3 and get download privileges, sync features and more file sharing options. $3 isn't that big a deal in the scheme of things, but it makes you wonder why WD didn't just bundle the features into the free app.
Web access is even more convoluted. The good news is that your My Book Live share will behave just like a mapped drive. The bad news is that this feature appears to work only on Windows systems. Seems like it would have been a lot simpler to provide an in-the-browser interface like other NASes provide for web-based access.
In all, I think that Pogoplug provides easier-to-use consumer "private cloud" remote access, and more fully-featured apps with consistent features for both iOS and Android. Pogoplug's downside is that you need to run an app to get mapped drive ease-of use. But Buffalo's CloudStors (Solo, dual drive) combine local NAS convenience with Pogoplug easy remote access and may be a better alternative than the My Book Lives if you don't mind lower NAS performance.