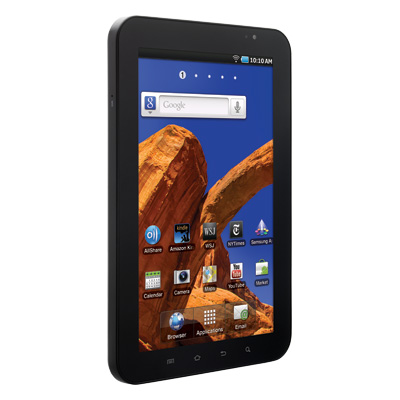 At a glance
Product
Samsung Galaxy Tab 7.0 WiFi (GT-P1010/W16) [Website]
Summary
A big Android experience packed into a small seven inch tablet.
Pros
• Convenient size
• Easy to use OS
• Responsive virtual keyboard
Cons
• Pixilation on video and pictures
• Power button is located in a bad spot
Typical Price: $425 Buy From Amazon
Features
OS
Android
OS Version
2.2 (Froyo)
Weight
0.84
Width
7.48
Height
4.74
Thickness
0.47
Battery
4000
CPU
Other
CPU Detail
1GHz A8 Cortex
RAM
512
Flash
16
Flash Options
32
SD

N

uSD

Y
Screen
Size
7
Resolution
1024×600
Touch
Capacitive
Introduction
Samsung's Galaxy Tab is almost ancient by mobile device standards. But even though it's not yet a year old, it's one of the more popular seven inch Android tablets. Late last month, the Wi-Fi only version I'm reviewing today was finally released, freeing buyers from the clutches of cellular companies.
The Samsung Galaxy Tab WiFi took me by surprise. I wasn't sure a smaller Android tablet would be impressive compared to larger models. But it turns out I was completely wrong. The Galaxy Tab WiFi also showed me that first impressions could be (and usually are) false. This little dynamo has some very nice features and can hold its own against its larger competition.
I always pay close attention to a product's packaging and the Galaxy Tab makes a good first impression in this regard. The small box solidly cradles the Tab while wasting little space and providing room for the USB cable, charger, instruction manual and headphones resting underneath it.
Hardware
The tablet itself weighs in at just under one pound (13.6 ounces). After my time spent wrestling with Acer's W500 Iconia, this lower weight was a welcome change. I really noticed it was easier to use for longer periods of time.
The Samsung Galaxy is like Ryan Seacrest—tiny, unassuming and very good at what it does. Powered by a 1 GHz Samsung Hummingbird (ARM Cortex-A8) processor and with 512 MB of RAM and running Android 2.2 (Froyo), this tablet is ready to impress. Measuring at 7.48" X 4.74" and 0.47" thick, the Galaxy is extremely easy to hold and carry.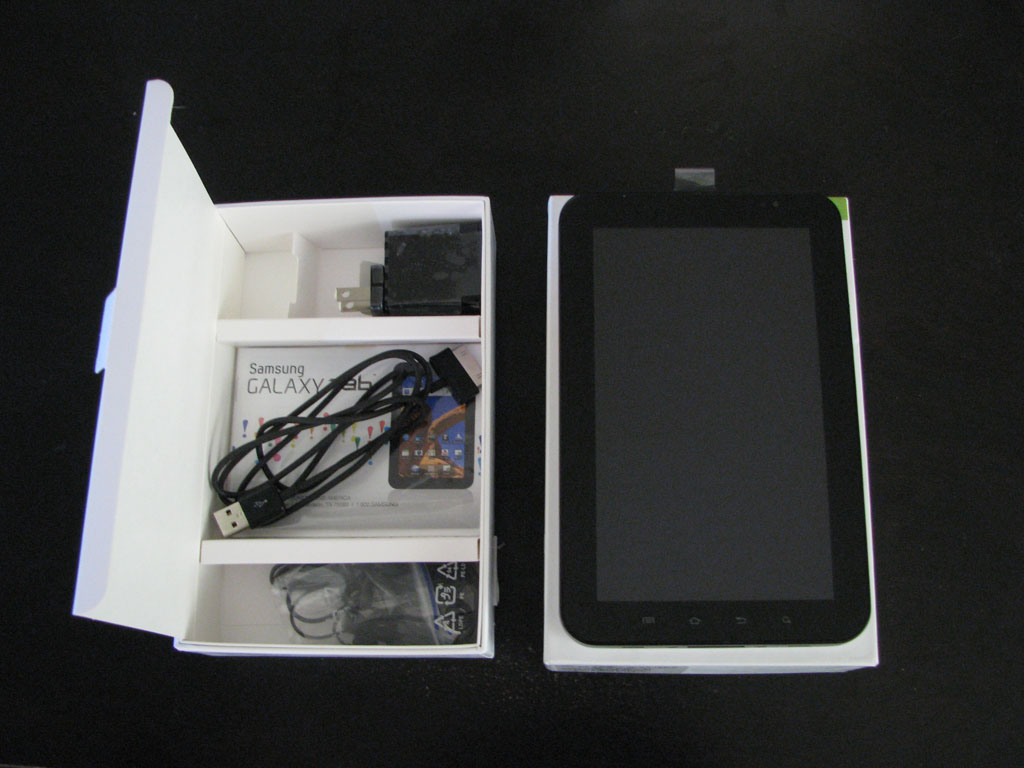 Unboxing
Do these small dimensions hinder the ability to use this device? The quick answer is no. I found that the screen size does not hinder use, and actually enhances it. Because this is a smaller tablet, it's easy to handle and does not become cumbersome when reading for extended periods of time. It is easily held in one hand and can be transported in a purse, small bag, jacket pocket or even in your back pocket.
The Galaxy comes in only one 16 GB memory configuration, but up to 32 GB more can be added via a microSD slot. Connectivity options include one USB 2.0 port (via a cable adaptor), Bluetooth 2.1 and dual-band 802.11 a/b/g/n Wi-Fi.
Pictures can be taken through a front mounted 1.3 MP camera or from a rear mounted 3.0 MP camera that provides auto-focus and a flash.
Crisp and clear. Those are the best words to describe what the screen looks like when it is powered on. The seven inch surface area encompasses a 3.54" x 6.05" 1024×600 pixel display that is surrounded by a black border. Initially, this sounds small and not very useful for a computing device, but that is just not the case. Viewing angles are impressive. When tilted in any direction, there is little fade or washout and the screen remains clear and easy to read.
In Use
On the bottom of the black border there are dedicated buttons for settings, home, back and search. These are easily placed and blend nicely with the design. The power and volume controls are located on the top right of the tablet.
Tapping the screen yields a vibration (haptic feedback) that acknowledges your input. This feature can be turned off but I found it to be quite useful. If you are familiar with Android phones, the initial setup is very similar. When first powered on, the device can be unlocked by sliding the correct input across the screen. Once on the home page, you are greeted with icons that open some of the preinstalled apps like Google Maps, The New York Times and your calendar.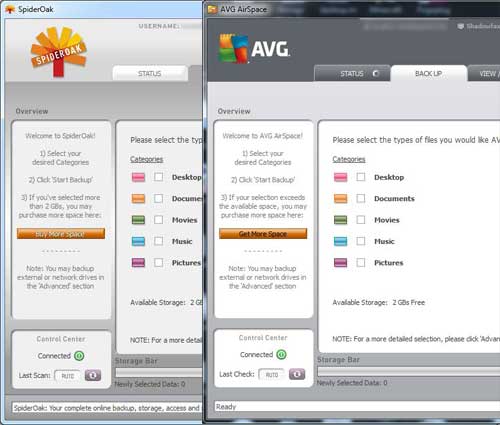 Home Screen
The home and navigation screens pop with color and clarity. By using Samsung's TouchWiz 3.0, the Galaxy provides a very pleasing display that rivals even the best tablets on the market. All of the application icons are easy to read and all of the settings icons are easy to understand. If you are a novice user, you should have very few issues learning how to navigate this operating system. Compared to other tablets I have worked with, the Samsung Galaxy just seems easier to use.
Navigating thorough this version of the Android operating system is very intuitive. For those that have not worked with Android OS, it will not be difficult to understand. On the bottom of the screen there are quick launch icons for your browser, application screen and email. Applications screens can be navigated by sliding the entire page left or right. There are five screen spaces that are displayed when the Galaxy is unlocked. You can customize these screens to hold any shortcut or icon you prefer. There are three application screens that house additional icons for applications you download. All in all there is plenty of space for organization.
Connecting the device to different wireless networks was a snap. By accessing the settings option under the applications window, I was able to search for and seamlessly connect to Wi-Fi. Browsing the internet is also a breeze. The Tab supports WEP, WPA and WPA2 wireless security, so there should be no issue accessing any wireless network you come across.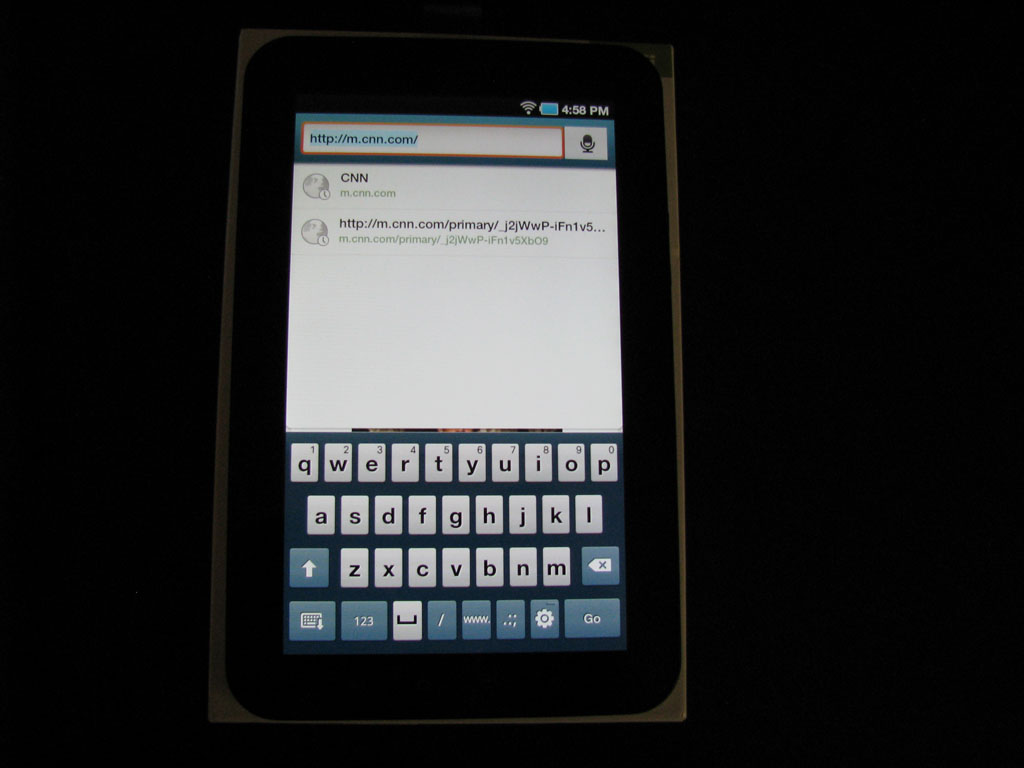 Virtual Keyboard
Once connected to the internet, clicking on the browser icon allows Internet access. Even with the smaller screen, I found that typing with the virtual keyboard was accurate and a much more pleasant experience than I expected. It is easy to hold the tablet with both hands and "thumb type". The keyboard automatically pops up when you click on the URL bar or any other field that requires text input.
In Use – more
Cameras
Front
1.3
Rear
3.0
Flash

Y
Connectivity
Wi-Fi

Y

Dual-Band

Y

3G

Y

4G

Y

Bluetooth

Y

uHDMI

N

HDMI

N

USB

N
One major highlight is that battery life is outstanding. The Galaxy uses a Li 4000 mAh battery. Even though I did not run a full battery test, I was able to use the Galaxy for several hours over the course of three days without having to charge it. This is a welcome advantage over its more power-hungry rivals.
The Galaxy has access to the full Android Market without needing to be rooted. So you won't run out of apps to use or try anytime soon.
Media
This tablet is one of the best I have seen at providing focused, high resolution images. I was pleased with both indoor and outdoor snapshots from the 3.0 MP rear-mounted camera that came out great on the first try. Picture taking is a breeze. Just click on the camera icon, point and shoot.
The auto focus feature worked well and there are many photo options that enthusiasts can play around with. The only drawback I noticed was the screen produces a lot of glare when used outside. Inside, glare is not an issue.
Watching video turned out to be a little bit of a challenge. Mpeg4, H.264, H.263, Divx/XviD codecs in 3gp(mp4), wmv(asf), avi(divx), mkv, flv formats are supported and Adobe Flash 10.1 comes installed. But I was blocked from both Hulu and Netflix, the former due to licensing issues and the latter due to Android's lack of DRM (which Netflix is starting to address).
HTML 5 videos from NY Times did play but produced very poor results. HTML5 video from html5video.org did provide a viewable experience, but nothing close to what I was hoping for.
Viewing videos from CNN, CBS, and NY Times produced pixilation and freezing. Some sites worked better than others with CBS providing the best quality and NY Times producing the worst.
Here is the side view and port layout for the Samsung Galaxy Tab
Here is the back and bottom view of the tablet.
Picture quality is nice even with no flash.
Picture quality is improved with the use of the flash.
Here is a more in depth outdoor picture.
Even if the video stream were not broken or frozen, video viewing wasn't pleasant. HD video either in 720 or 1080 was choppy and not very watchable without long buffering times. Of the several movies and videos I tested, none where very clear and some were downright unwatchable. This was particularly disappointing because the overall display quality is very nice.
Samsung's proposed solution is to use its built in Media Hub application. After signing in with an account, you can view TV shows and movies. I found the quality of these video to be far superior to the videos I had tested through the browser. I am unsure of the differences, but it was evident that Media Hub is the best way to watch videos.
There is also access to a built in YouTube application that works well. Netflix is not available for this tablet. You can download an app to manage your Netflix queue, but you cannot watch movies directly on the tablet.
Some of the same issues mentioned above also applied to most still images I viewed on the Internet. Many of the pictures I viewed were saturated and showed distortion and heavy pixilation. I noticed these blemishes in pictures with resolution as low as 539 x 377. These imperfections seemed to increase with higher resolution photos. Oddly, built- in wallpaper images look great. But when trying to view comparable content via the browser, I could not replicate the same quality. I tested these same pictures on another computer at the same time and found that it was the tablet that was the problem.
Sound can best be described as okay. I was not blown away by the quality through the internal speakers, but it works well enough in pinch. If I were going to listen to music for any length of time, I'd use headphones or connect some speakers.
Closing Thoughts
The Samsung Galaxy Tab WiFi exceeded my expectations. Although I was disappointed with the audio and browser based video quality, the number of positives still outweigh the negatives.
The key question is whether spending $350 for a seven inch Android 2.2 tablet that will never get an upgrade to Honeycomb, let alone Gingerbread is a good buy. Even if it is one of the better (best?) 7 inch Android tablets out there.
You could roll the dice and spend $500 on the newer HTC WiFi Flyer and hope that HTC eventually releases the Honeycomb upgrade they are hinting at. Or if you don't mind moving up to a larger, heavier 10 inch format and spending $100 more, the Acer Iconia A500 Tab or hard-to-get ASUS Transformer will move you up to a Honeycomb based tablet.
But if you want a quality seven inch Android tablet and don't mind it running Froyo, the Samsung Galaxy Tab 7.0 WiFi is pretty much the way to go.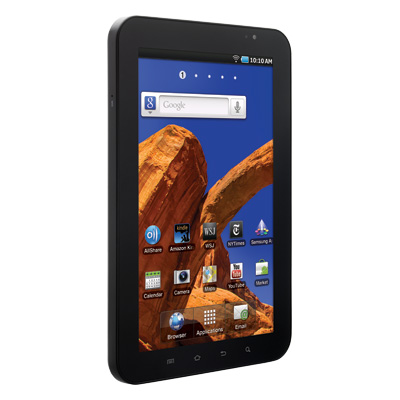 Buy Galaxy Tab 7.0 WiFi from Amazon