At a glance
Product
Viewsonic ViewPad 10 (VPAD10_AHUS_05) [Website]
Summary
Dual-boot Android and Windows 10 inch tablet that seems to get everything wrong.
Pros
• Good sound
• Several connection ports
• Windows OS supports Flash
Cons
• Upgradable only to Android 2.2
• Windows OS is not easy to use
• Feels cheaply made
Typical Price: $508 Buy From Amazon
Features
OS
Android
OS Version
Android 1.6 / Windows 7 Home
Weight
1.94
Width
10.8
Height
6.7
Thickness
0.57
Battery
3200
CPU
Intel
CPU Detail
Pine Trail N455 1.66GHz
RAM
2048
Flash
16
Flash Options
32
SD

N

uSD

Y
Introduction
I was excited to review the ViewSonic ViewPad 10. After all, it has two separate operating systems and several more connection ports than other tablets. My first thought was this tablet is going to be different and fun to work with. It turns out the ViewPad 10 does stand out from the crowd, but for all the wrong reasons.
I should have been tipped off this tablet was going to be disappointing once I opened the box. Unlike other packages, this one was cheap and flimsy. The tablet was wrapped in a protective cloth and sat on top of the plastic shielding that housed the power cord, instruction booklet and software CD.
Weighing in at almost two pounds, I found the ViewPad 10 is cumbersome and difficult to use for longer reading or browsing sessions. The quality of the 10.1" screen leaves much to be desired and the overall feel of the device is that it was thrown together.
Hardware
At first glance, the ViewSonic ViewPad 10 looks on par with other tablets of the same architecture. There is a shiny black reading surface that looks nice and a brushed metal backing.
When held horizontally, the extended right side of the tablet houses the power, home and back buttons. These are used for general navigation purposes and to choose which OS to boot into. The left hand side of the table holds a 3.5mm headphone jack, two USB 2.0 ports, a mini VGA port and a Micro SD card reader. It is important to note that all of the tablet ports are on this side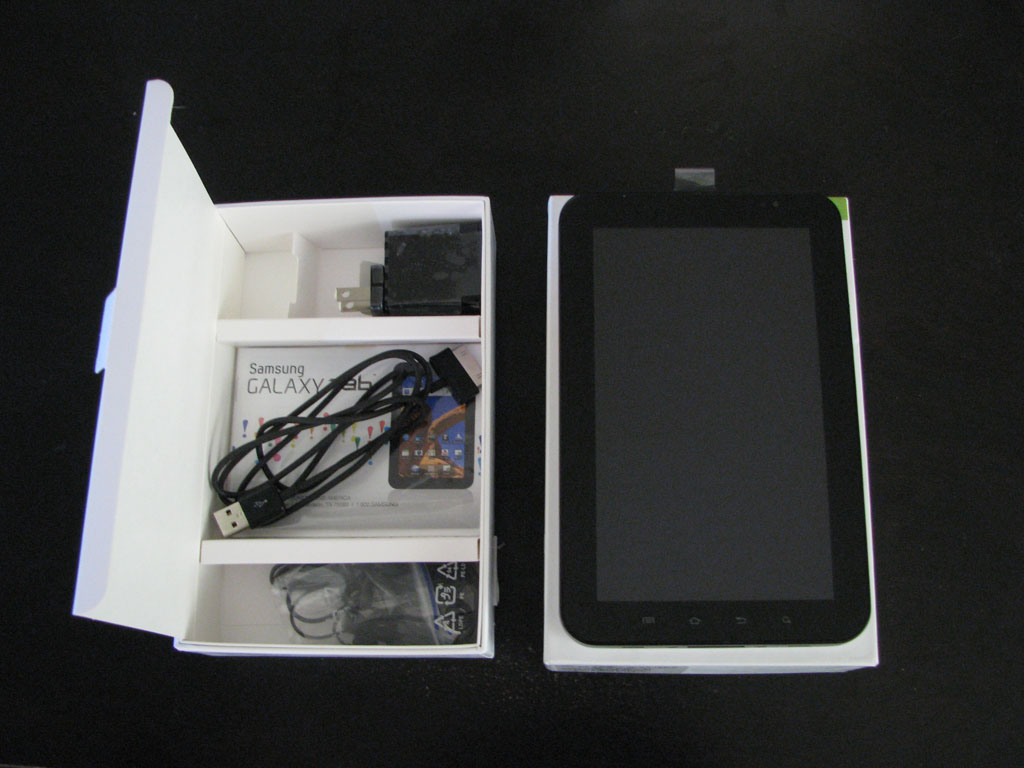 Unboxing
Powered by an Intel Pine Trail N455 1.66 GHz processor and 2 GBof DDR3 RAM, the ViewPad does have the power to handle everyday use. The model I reviewed, VPAD10_AHUS_05, came with Windows 7 Home Premium and Android 1.6 (!) installed with an internal 16 GB SSD (Solid State Drive). ViewSonic's website shows there are two different models. The other version, VPAD10_APUS_05 has Windows 7 Professional and a larger 32 GB SSD installed.
The 10.1 1024×600 LCD display provides a barely adequate viewing experience. The viewing angle is quite narrow in comparison to other tablets that boast the same resolution. When tilting the tablet in any direction, the display quality is severely diminished. This takes away from being able to use the device for reading as it hampers your ability to adjust the viewing angle.
Visually, the quality of the display is sub-par and far below what I would expect from one of the pricier tablets on the market. There are pixilation issues that are noticeable and the color does not seem as vivid as most tablets I have worked with.
Another curious design flaw is the camera and how it is used. Most tablets offer front and rear cameras to facilitate video chat and taking pictures or higher quality videos. Apparently the engineers at ViewSonic forgot about this. The ViewPad 10 only has one front facing 1.3 MP camera. It is underpowered, has no flash and is virtually useless for taking photos.
Connectivity is provided through a single band 2.4 GHz 802.11 b/g/n radio and Bluetooth. 3G and 4G WWAN options are not available. Power is handled by a Li-ion 3200 mAh battery rated for 4 hours of continuous use. The enclosed power cord separates into two pieces and provides roughly six feet to work with.
In Use
Screen
Size
10
Resolution
1024×600
Touch
Capacitive
Not fun. That is the best way to describe the clumsy interface and horrible controls that you have to endure while using the ViewPad 10. Out of the box, the ViewPad 10 can be booted into either Windows 7 or Android 1.6. Both options are not optimized for tablet computing and present many challenges that most people would rather not bother with.
Holding the tablet is uncomfortable. Along with the heavier weight, the edges are not rounded and the ViewPad has a tendency to dig into your hands with its rough edging. Holding this device becomes laborious and viewing angles make adjusting the reading plane next to impossible. The screen is barely visible when used outdoors and the front of the tablet attracts unwanted fingerprints.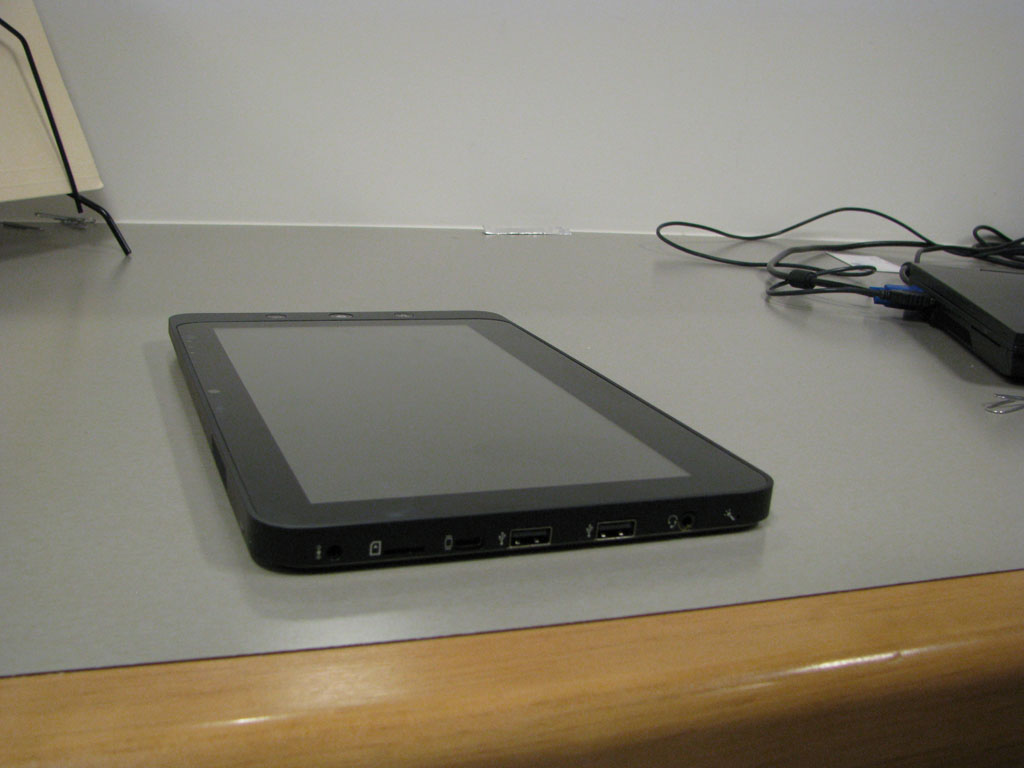 Tablet Ports
Booting into the desired OS is not straightforward and requires the input of the control buttons on the tablet. If you mistakenly boot into the wrong OS, you have to shut down the tablet and try again. I feel this interface could have been done better.
Wireless connectivity is not difficult, but it is handled differently depending on OS used. Some users may find it complicated to find the same desired features on two separate platforms. Internet connections need to be configured separately as do other customization features. If you customize one OS, those settings do not transfer over to the other.
If you decide to use the 1.3 MP camera, you will need to store your pictures on another form of media like a micro SD card. For some strange reason, the ViewPad will not allow you to store your pictures locally. Simple functions found on almost all other tablets are mysteriously missing on this device. This makes it harder to use and frustrating to troubleshoot.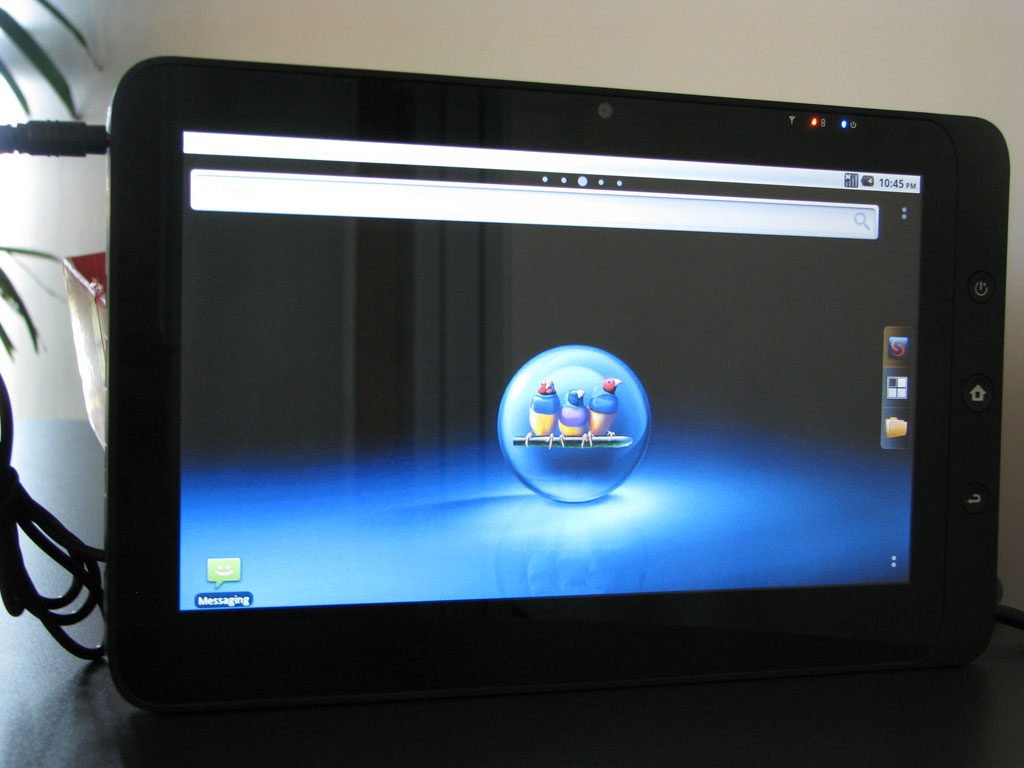 Android Home Screen
In Use – more
Cameras
Front
1.3
Rear
N
Flash

N
Connectivity
Wi-Fi

Y

Dual-Band

N

3G

N

4G

N

Bluetooth

Y

uHDMI

N

HDMI

N

USB

?
Using Android 1.6, everything from the onboard graphics to web browsing is horrendous. This OS was designed for cell phones and is considered ancient when compared to newer Android versions, so even having it on a tablet is questionable.
The good news is that the Android OS can be upgraded to version 2.2. The bad news is that you can't update directly on the tablet; you first have to insert a memory card and save the installation files. Even though this upgrade makes a considerable difference, it is far from being the ViewPad's saving grace. There are no plans for further upgrades, making Android 2.2 the highest version you can use with the ViewPad 10.
Once updated, there are noticeable improvements like the screen layout and the web browser. But even with Android 2.2, I was first unable to view Flash enabled sites like Hulu. I was instead prompted to upgrade Flash, which also had to be installed to SD card memory.
Howevr, once Flash was installed, I was still unable to view any Flash related content. I did some research and found out this tablet has a laundry list of incompatibility issues that include problems with Flash, Android Market applications and viewing video. When testing, I was not able to find any problems with Android Market, but did notice other issues when trying to view different types of media.
Maybe Windows 7 Home would provide a better result. As it turned out, using the ViewPad with Windows was better. But this isn't saying much because Windows is generlally very frustrating to use on tablets. So all I really did was improve from horrible and unusable to bad and barely usable.
First, I noticed the control issues. It is hard to navigate and get accurate "taps" when working with Windows in a tablet environment. It took two or three tries to get it right almost every time I tried to tap on a desired link or menu option.
Curiously, when you tap on a URL bar the keyboard does not pop up. Instead an icon of a keyboard pops up and you have to tap the icon to get the full keyboard display. I can't think of any good reason why this involves an extra step, and I found it annoying and unnecessary. It also slowed down the process of web browsing as each search input followed these steps.
The tablet, in general, is slow. Both Android and Windows OS had an inherent delay between tapping on icons and the time it took to open programs. Typing on the virtual keyboards also required time to respond correctly. Browsing is also delayed, especially on graphic-intensive websites. This was the equivalent of working on older computer technology; it took time to get to where I wanted to go.
Battery life is atrocious. I was able to work on the ViewPad for only about 3.5 hours before I had to charge it. Considering the price tag of or roughly $650, the least ViewSonic could have done was include a decent battery. When compared to the iPad2, the ViewPad falls short by about 8 hours of run time. When taken out of the box, the tablet was about 90% charged.
Media
Unfortunately in Android OS, Flash is out of the equation. So I switched my focus to HTML5 and HD video. Surprise, more problems. HTML5 content from NY Times and HTML5video.org would not play. Pages froze and I was not able to get any video to work.
I got the same result when trying to view my own imported movies. Imported pictures did display nicely and I had no problems viewing pictures from the internet with resolutions up to 1280×720 even though the overall display quality was not that impressive.
When trying to view HD video, I was prompted by the web browser to upgrade the software. Again I put in the memory card and tried to install the latest version of Skyfire. Going through this process crashed the tablet. Again, I headed to the internet to see if this was a known issue. Just like with Flash, Skyfire upgrades seem to be problematic. I tried multiple times with the same result. Maybe using Windows OS would be better?
Windows does allow Flash content and I was able to view videos on Hulu after upgrading the Flash software. I had to use a USB keyboard to accept the upgrade pop-up because the touch input would not work correctly. The upgrade also had to be stored on an external memory card. HD video ran when viewed at 480p but became choppy and suffered long buffering times. Any HD video with a higher resolution enhanced these issues to the point that some videos became unwatchable. Videos were tested from YouTube, CNN and CBS.
The same HTML5 videos that failed to work on the Android OS did play correctly in Windows. Videos tested from NY Times and HTML5video.org worked surprisingly well. I noticed lower buffering times and a smoother display when compared to HD video content that was not HTML5. Importing my own mpeg videos and pictures also produced decent results. HD pictures with 1920×1080 resolutions were viewable with some pixilation and color issues.
The backing is made of brushed metal.
The Windows keyboard is a nice size but not very responsive when used.
The Android keyboard uses the entire lower half of the screen and is not responsive when touched.
Outdoor pictures are horrible. There are no controls to change the picture settings.
There has to be something that works well on this tablet, right? It turns out audio may be the best aspect of this device. Actually this may be the only feature that I did not find to be a problem. Sound is clear and volume levels are high enough to provide music throughout multiple rooms. At higher volume levels, distortion was not a problem.
Closing Thoughts
On paper, having two operating systems and multiple inputs seems like it should be enough to push this tablet to the front of the line. Unfortunately, this device fails in almost every aspect of what seemed to be a promising idea.
The ViewSonic ViewPad 10 encompasses everything you want to avoid in tablet computing: Inflated price; poor software functionality; incompatibility issues; problematic hardware and sub-par performance.
If you are looking to spend around $650 dollars for a tablet, take a look at the Motorola Xoom or the iPad2. Actually, if you are in the market for any tablet, regardless of the price point, staying away from the ViewSonic ViewPad 10 would be a good idea.
Buy ViewPad 10 from Amazon