Introduction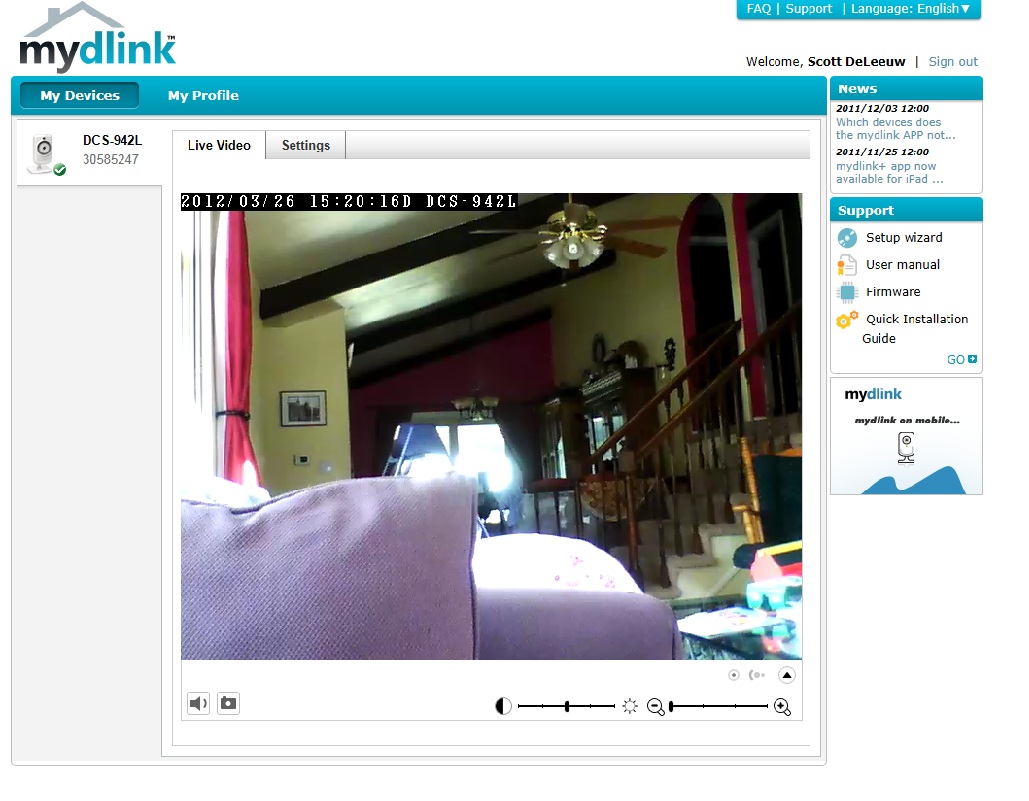 At a Glance
Product
mydlink.com features for D-Link IP cameras [Website]
Summary
Basic remote viewing for D-Link IP cameras with no recording features
Pros
• No router port forwarding or dynamic DNS required if your uPnP is enabled on your router
• Remote live viewing anywhere with internet access
• Web, iOS, Android access
Cons
• Cloud features are extremely limited
• One minute timeout without UPnP
• Frame rates drop significantly through the cloud
• If you have multiple cameras or an iPad, the iOS / Android app is not free ($0.99)
mydlink.com is D-Link's cloud portal that primarily supports its line of inexpensive IP cameras. I just posted a review of the features of the DCS-942L cloud-enabled day/night IP cam on SmallNetBuilder. This article will be taking a look at mydlink.com's IP camera features. Tim previously reviewed mydlink.com's general features and its support for D-Link's DIR-605L Cloud router.
Setup
Setting up the DCS-942L with mydlink.com was a snap. The included Quick Install Guide and CD-ROM walked through exactly was was needed to get it going, almost making it too easy. At the end of the install, the camera's live view was shown, along with a mydlink number, admin account name and password in clear text! (which I've removed). The install also placed a link to the camera's cloud portal on my Windows desktop and in Windows My Favorites.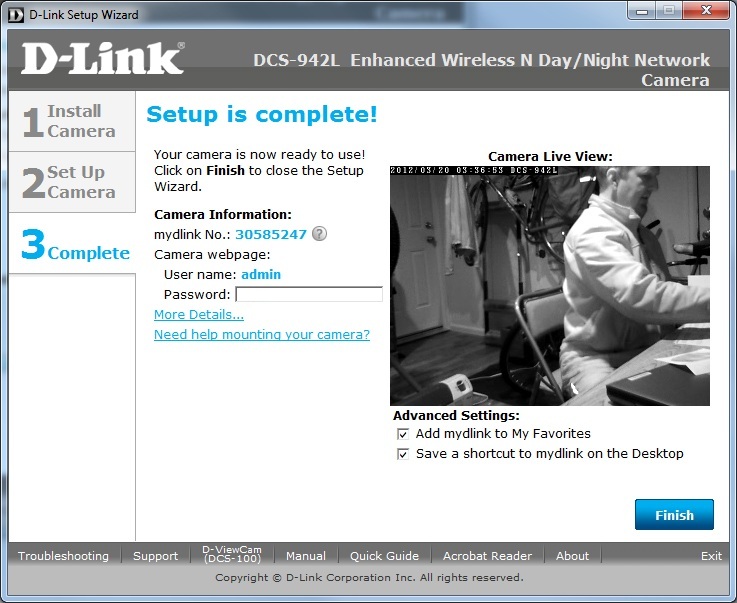 Figure 1: mydlink.com Wizard Information page
Features
With only the DCS-942L registered in mydlink.com, the front page goes directly to the camera's live video, with audio enabled. I had opened no ports on my router during setup, but the connection had successfully negotiated its way through my router and cable modem and stayed very stable.
The Live Video page shown in the image at the top of the page does not have many options, only mute, shapshot, brightness and zoom. Curiously missing is the ability to record live to the computer you are using. Snapshot works for a still image, but it simply pops the still image to a new browser window, which you can then right-click and save.
You can try out the mydlink.com portal here. I will warn you that the sound on the sample site is very close to the sound from a real camera within mydlink.com, so be sure to turn your sound down.
A feature mydlink.com should have is to allow a small amount of free video and snapshot storage on mydlink.com. It makes sense to be able to record at least a little bit of footage to the cloud with a cloud-enabled camera! Premium plans for those needing more storage could be an advanced option, much like DropCam has.
One of the advantages of mydlink.com is that no router configuration is necessary. But using the Live Video function away from the house was where I found some router configuration may be needed based on how your home network is set up.
If uPnP is disabled or not supported on your router, the Live Video feed through mydlink.com is limited to one minute at a time. After one minute, Live Video disconnects and you'll have to reconnect again. D-Link's manual did indeed allude to this, however the Quick Install Guide did not.

Figure 2: mydlink.com Live Video time limit without uPnP enabled
The Settings page of the camera provides the camera name and model number, the mydlink number, MAC address, and activation date. Not a whole lot to it and you can't change any settings here.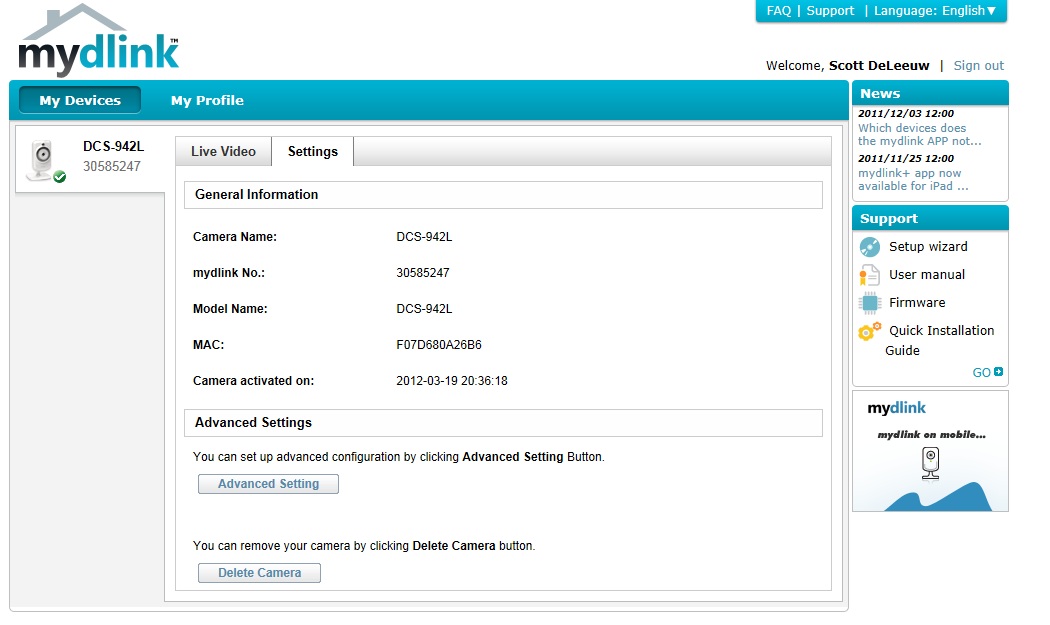 Figure 3: mydlink.com Settings page
My testing showed little success with the camera's Advanced Setting (sic) button, which is basically a link back to the camera's local admin interface. Clicking this button more often than not produced the "Unable to access your device" screen shown in Figure 4. Other times I received a message about a problem with security, which would give me the option to connect anyway.
Figure 4: mydlink.com Advanced Settings error message
Sometimes that message would eventually get me to the camera's local network address, other times it would simply fail. I found D-Link forum posts on the same issue, but none that had any real solutions.
D-Link provides aps for Android and iOS devices. mydlink lite supports one camera and is an Android / iPhone app. It can be used on the iPad, but you have the little iPhone type screen. The mydlink+ app, which costs $0.99, supports more cameras and comes in iPhone, iPad and Android flavors. mydlink+ takes snapshots, lets you mute sound, zoom in and watch fullscreen.
To be honest, I find it odd when manufacturers have an app that can only be used with their product, yet needs to be purchased in addition to the purchase price of the item. I wouldn't pay to use this app just for viewing the camera. I would get something like IP Cam Viewer, which provides more features and supports dozens of cameras from a wide range of companies.
There is one other thing to note about the mydlink.com live video. In my feature review of the DCS-942L, I noted that the camera held a steady 30 fps with my Blue Iris software, which was monitoring two other IP cameras and a USB webcam set up as an IP cam. In Figure 5 below, note that the framerate through the cloud is about 10 fps, significantly lower. This may be the reason that no video recording function is provided in mydlink.com, as the quality of the video would be very choppy.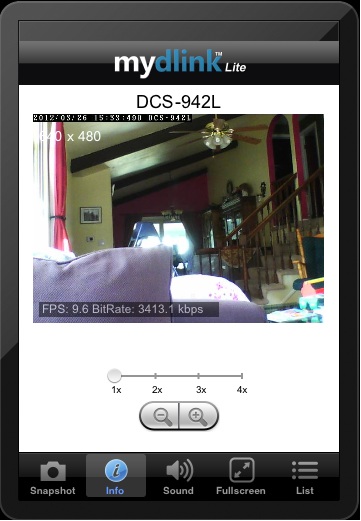 Figure 6: mydlink lite iOS app
Closing Thoughts
The DCS-942L was very easy to get connected and required little computer skills to get live viewing via the cloud. Options for limited free storage in the cloud, with paid plans for more storage, could set D-Link apart from their competitors. Currently there isn't even a live video recording option on mydlink.com, even to the machine you are using.
If those features are important to you, a product like DropCam may be a better option. mydlink.com has supported the company's cameras for a few years now. But it still seems very much an unfinished product.