Introduction

At a Glance
Product
NortonLive Rescue Me [Website]
Summary
Slightly defeatured and skinned version of Support.com's free PC Health Check
Pros
• Extremely easy to set up
• MacOS version gets you a live tech for $5
Cons
• You pay $5 for something you can get for free
• Windows scan is not very deep
• No details given for malware found
Whether you're new to personal computing, or have been involved with computers as long as I have, undoubtedly you're familiar with the Norton brand. Most likely, you think of Norton as an antivirus company. But long before the Norton brand was attached to antivirus products, the name was synonymous with PC Utilities. Back in the day, Norton Utilities was the "go to" product to fix all of your PC problems.
Now, Norton (actually Symantec) is offering a suite of cloud-based services to help you solve not only your Windows or MacOS problems, but virtually all of your personal tech-related problems including: initial setup; virus, spyware and malware removal; smartphone setup and more. Table 1 summarizes the products under the NortonLive brand.
| Service | Cost | Description |
| --- | --- | --- |
| Rescue Me | $4.99 | Basic diagnostics to identify problems and perform minor tuneup |
| PC Quick Start | $69.99 | Setup and register computer, transfer files from old computer, install software, connect to your wireless network |
| Smartphone quick start | $39.99 | Basic phone setup for email, chat, social networking; synchs media content; setup network connections |
| Expert Installation | $39.99 | Remove old software, install and configure your new Norton software |
| Spyware and Virus removal | $99.99 | Detect and remove spyware and viruses; stop popups; fix security problems |
| PC Power Boost | $69.99 | Fine tunes Windows settings, improves speed, frees up memory and hard disk space |
| PC Jump Start | $109.99 | Installs and configures your Norton software; removes clutter; improves speed |
| Ultimate Help Desk | $19.99/month + $49.99 one time setup fee or $199.99/year | Unlimited expert help with your computer and peripherals including mobile device setup, printer setup, network setup, and help with your MP3 player, digital camera and DV camera |
Table 1: NortonLive Services
Each of the services works the same way. First, you call into the NortonLive Service center and purchase the service. Next, either you will receive a link and instructions to download and run software to perform your purchased service or a technician will remotely connect to your computer and perform the service as you watch. For this review, we decided to try out the "Rescue Me" service for both Windows and MacOS. We purchased the service just as any consumer would in order to evaluate an unbiased customer experience.
Rescue Me – Mac
My first "Rescue Me"experience was on my Mac. I wasn't having any particular problems with it, but I was curious to see what NortonLive would find. After taking my credit card information, the NortonLive agent connected me with a technician. I was than instructed to download a small program that would provide the tech with remote control of my Mac.
Once connected, the technician explained that there wasn't any software for the Mac that would run diagnostics. Instead, he would manually check out my Mac. The only utilities that he used were utilities that are provided as part of MacOS. For reference, my Mac is running 10.7.2 (Lion).
First, from the Application\Utilities folder, the technician launched the Disk utility and verified that there were no issues with the boot disk (Figure 1). Next, he checked System Info and Users and Groups.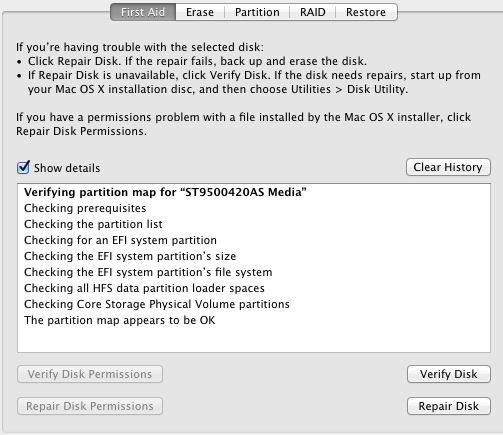 Figure 1: The first step in the diagnostic used the Mac OS built-in disk utility
While checking Users and Groups, we reviewed Login Items (Figure 2) and together decided which ones could be eliminated to improve boot time.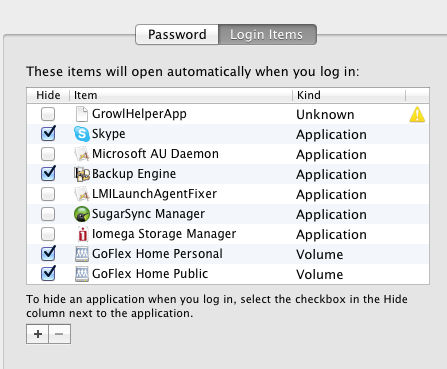 Figure 2: Login Items in System Preferences – Users and Groups
Next, in the Library folder, the tech checked LaunchAgents, LaunchDaemons (Figure 3) and StartupItems. In each folder, we decided which, if any items could be deleted.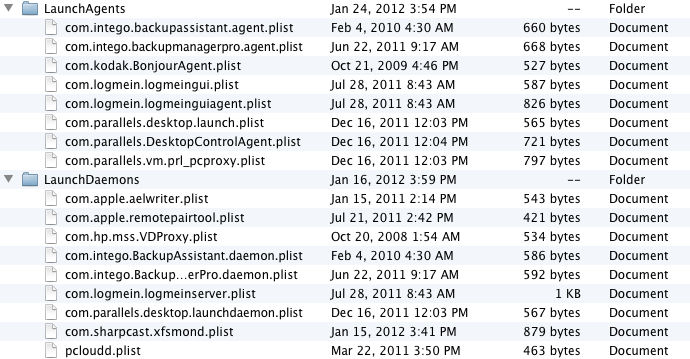 Figure 3: Check for unnecessary items in the Launch area of the Library folder
After tweaking all of the startup locations, he launched Safari and emptied the cache. For the final step of my Rescue Me MacOS session, the techn returned to the Disk Utility and erased the empty space on my boot drive. With the empty space process running, the technician said that my Mac appeared to be in good shape and ended the remote support session.
The cynic in me had fully expected an upsell to one of the other services, but that didn't happen. To me, it seemed like the Mac Rescue Me was a pretty good bargain, mainly due to the live tech interaction. I'm not sure how Norton made any money on that session, as the technician was connected to my computer for about 20 minutes or so.
Rescue Me – PC
Rescue Me for Windows is completely different than the Rescue Me for MacOS. Rather than having a technician connect to your computer, after providing your credit card to the NortonLive agent, you are sent an email with a link to download a small diagnostic program. After accepting the license terms, a welcome screen appears along with four check boxes as shown in Figure 4.
Figure 4: NortonLive Rescue Me Tool
The program scans in the following categories:
Performance – checks for junk files (temporary files, browser cache files and the recycle bin), for Windows Optimization, and for free disk space.
Security – checks for Malware symptoms, Antivirus, Antispyware, Firewall, Windows update and, if applicable, Wireless protection.
Data – checks for backup software and System Restore points
System – checks for latest service pack, the processor, memory and the video card.
After scanning, you see a results screen shown in Figure 5. If the Rescue Me Tool finds a problem, you have the option to repair it. I selected the Repair option, but the Rescue Me Tool was unable to solve the security problem. It did clean out junk files, however. The security issue the Tool discovered claimed that my system had malware symptoms, but didn't identify the malware.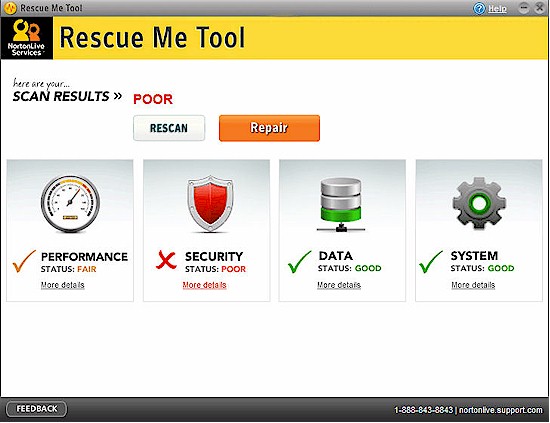 Figure 5: NortonLive Rescue Me results
If you click on any of the "More details" links, the Rescue Me tool launches Internet Explorer, even if IE isn't your default browser, and opens up a non-resizeable window with your results (Figure 6). In this case, since the problem wasn't resolved, the results report also included a recommendation to contact NortonLive. When you are finished and close the program, it uninstalls itself.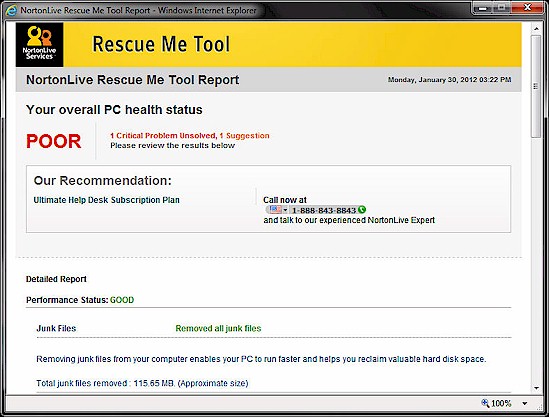 Figure 6: Rescue Me scan details
My curiosity was piqued when I noticed that the digital signature on the NortonLive Rescue Me Tool was signed by Support.com. So, I had to check this out. It turns out that Support.com has a number of virtually identical products to those offered by NortonLive.
Interestingly, Support.com has a free PC Health Check program that sounded very similar to the NortonLive Rescue Me tool. I downloaded, installed and ran it. Do you notice any similarities between Figure 7 and Figure 5?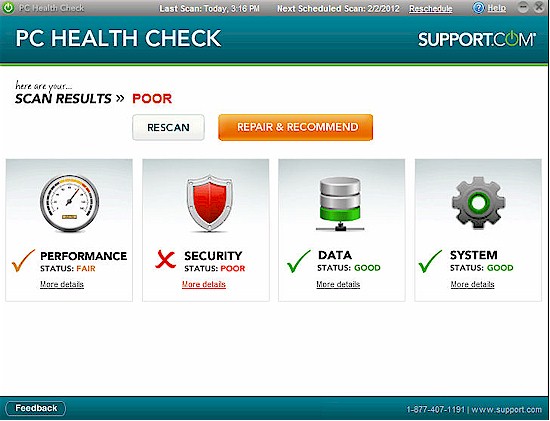 Figure 7: PC Health Check Results
It appears that Symantec has partnered with Support.com, which provides the diagnostics, and, in all probability, performs the actual service. In fact, if you look closely at Figure 6, in the lower right corner, you'll see that NortonLive is a subdomain of Support.com (nortonlive.support.com).
NortonLive Rescue Me appears to be a slightly de-featured and skinned version of Support.com's PC Health Check. However, unlike Rescue Me, PC Health Check does not uninstall itself upon exit. Instead, it continues to run as a service. You have the option of scheduling scans weekly or monthly and can choose the time of day for the scan.
Closing Thoughts
In reality, both tools seemed to perform only a very top-level diagnostic. Neither tool appeared to have checked the Windows Registry for problems. Nor did they report on disk fragmentation, memory fragmentation, percent of MFT (Master File Table) entries in use, etc. Both products did, however, remove junk files. And both recommended that additional action be taken, as shown in Figure 8.
NortonLive promoted its premium "Ultimate Helpdesk" solution ($19.99/Month + $49.99 one time setup fee or $199.99/year + setup fee) while Support.com recommended its $129.99 diagnostic and repair service.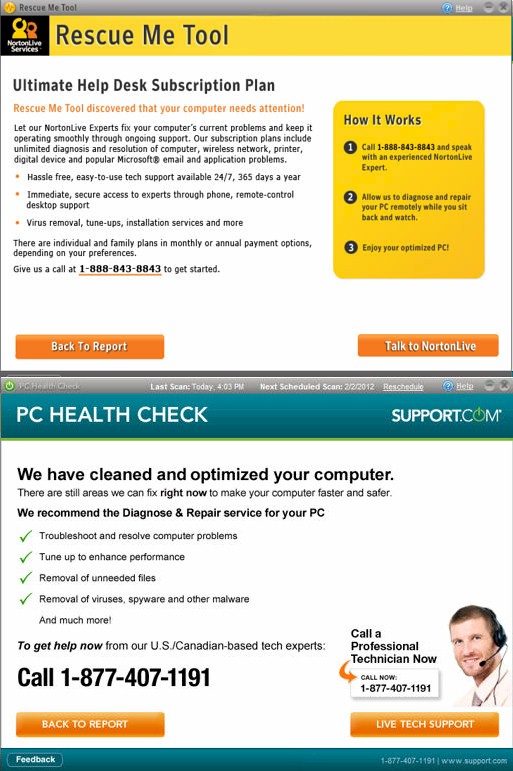 Figure 8: Comparison of recommendations from Norton Rescue Me and Support.com PC Health Check
Support.com also has an ongoing support subscription plan that appears to be identical to NortonLive's Ultimate Helpdesk offering. It features the same subscription price, but has a one-time setup fee that's $40.00—$9.99 cheaper than Norton's setup fee.
As with any technical support, your experience will only be as good as the technician that is working on your computer. Support.com claims that their techns go through extensive training and evaluation before working on a customer's computer. Indeed, the technician who worked on my Mac seemed quite competent. And, as a selling point, all techs are US or Canada-based.
In the meantime, if you're curious about NortonLive's Rescue Me Tool, save yourself five bucks and download Support.com's PC Health Check. It performs the same tests, allows you to schedule ongoing scans and it's free.
And before you sign up for an expensive support package, you might want to check out some other free diagnostic software. Last week, Advanced System Care Free had over 365,000 downloads and CCleaner had over 153,000 downloads on cnet.com. These tools might save you a lot more than five bucks.
Stay tuned for Part 2 of this article, where we see if we can get rid of that malware that Rescue Me found.