Consumer router makers have been hinting about app-enabled routers for a few years in private meetings. D-Link and NETGEAR finally went public back at January's CES with their plans to add cloud-based features. And D-Link has actually shipped its first "cloud" router, the DIR-605L.
With today's announcement, Cisco dropped the third shoe and revealed its plans for smart / cloud / app-enabled routers. But in a very uncharacteristic move, Cisco is taking a staged strategy. The company is starting by shipping hardware now, then adding remote management and maybe some feature enhancements in June. Then finally sometime this fall–if they hold schedule–Cisco will start shipping the real core of the product, the apps.
While I have all three of the new routers in hand and have reviewed the EA3500, Cisco hasn't provided access to any of its cloud features. So I'm stuck with sharing what I've learned about Cisco's plans from a few briefings.
Consumer networking companies have long tried to imbue their routers with features designed to lure buyers and hopefully retain them as customers for life. Belkin made perhaps the boldest move with its Surf, Share, Play and Play Max app-based routers. Unfortunately, too many of the apps weren't built into the routers themselves and required installing software in networked computers and the product never really took off.
With the rise of the Android ecosystem and low-power multi-core processors, enabling technologies have come far enough to bring more capabilities into routers that won't put too severe a dent in the family wallet. But vendors aren't adopting Android, instead opting for proprietary platforms based on open source technolgies.
In its first group of "App Enabled" products, Cisco is using both Broadcom and Marvell based designs. So at least the company is keeping its options open (and its vendors on their toes) hardware-wise. Conspicuously absent is Qualcomm Atheros (QCA), perhaps because they are too occupied pursuing tablet and smartphone business.
In private briefings, Cisco has been painting a picture of the router as home nerve-center; its virtual heart, or more in keeping with the analogy, its virtual brain. The slide below encapsulates Cisco's vision quite succinctly, with the router moving from providing mere shared internet access to integrating a wide array of devices with varying duties.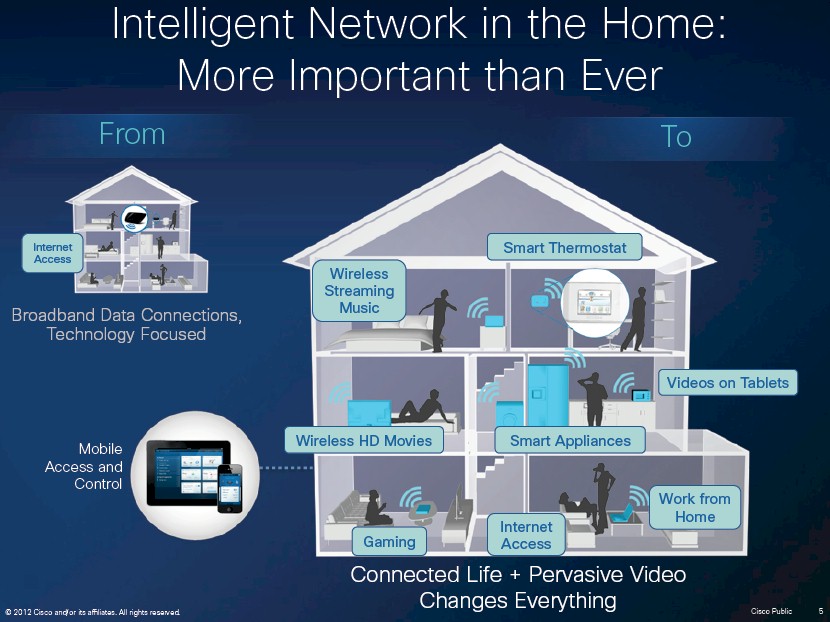 Cisco Intelligent Home Network
We have seen most of this before, especially the gaming and video streaming part. Cisco and its competitors have been very effective in connecting wireless and video in consumers' minds. So much so, that most buyers don't even think of trying the current HomePlug AV 200 Mbps and 500 Mbps solutions that in many cases can deliver HD content much more reliably than wireless.
The new things in this slide, at least for Cisco, are the Smart Thermostat and Smart Appliances. In the CES demo suite, they even had an App Enabled Whirlpool refrigerator. Missing from this picture, but certainly in Cisco's plans is Home Security.
Cisco Connect Cloud
An important stepping stone on the path to App Enabled Nirvana is Cisco Connect Cloud. This is a follow-on to the Cisco Connect Express Android and iPhone apps that were rolled out last December with the E4200 v2. Connect Express is Cisco's first step in replacing its PC (Windows and Mac OS) based Cisco Connect software that debuted with Cisco's Valet line.
Cisco Connect, by the way, replaced Linksys EasyLink Advisor (LELA), which was spawned back in 2006. LELA got a revamp in 2009, with Cisco's purchase of Pure Digital and the folding in of Pure's Network Magic technology.
Connect Express is pretty limited and doesn't provide much value. You have access to only a few router settings and many are look, but not touch. Both iOS and Android apps are formatted for phone screens only, too. Click through the gallery below to get a better feel for what the apps can do.
Features are limited to those you see here. There isn't much in each of the sections.
You can enable wireless Guest network access.
Here is the enable screen
You can see devices connected to the network. But you can't disconnect them.
Management features are very basic.
Perhaps more of a buzz-kill than its limited features is that Connect Express only works if your device is directly connected, i.e. from the LAN side, to the router being controlled. So forget any visions you had of controlling or even checking on your mighty Linksys router from afar.
That's one of the value-adds that Cisco Connect Cloud brings. To drink the marketing Kool-Aid for what Connect Cloud may someday do, you can watch the video below. Keep in mind, however, that it's not clear which of the features shown in the video will be out in the scheduled June release.
Cisco sent the screenshot below as an example of the wonders that Connect Cloud will bring. The shot looks like it is from a tablet-formatted interface or more likely a web portal. You can see app categories to the left along with router settings. But it's not clear how the boxes on the right side of the page get there. The X at the top right of some boxes indicates that they can be closed or removed, however.
Cisco Connect Cloud screenshot
The interface reminds me of the current LaCie NAS GUI with functions in separate boxes that can be added/deleted from a view.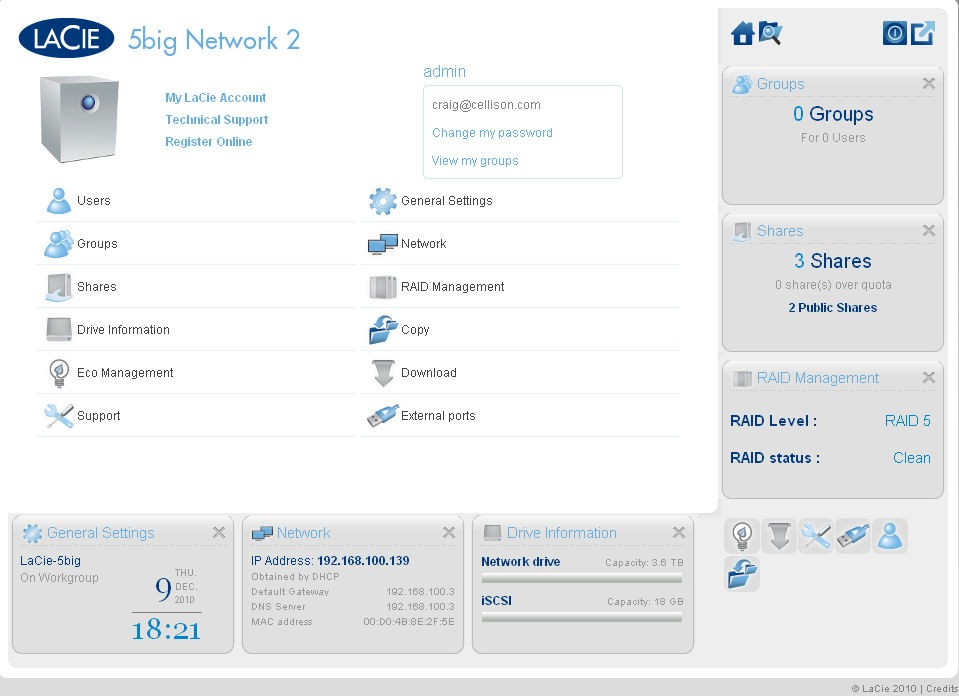 LaCie NAS admin GUI
The boxes aren't necessarily all router and app functions. It's not hard to imagine alerts, product news and, yes, even ads from not only Cisco, but companies who would love to get their message in front of hundreds of thousands of consumers on a daily basis and be happy to pay for the privilege.
A feature I hope makes it into the June release is Media Prioritization. I saw this demoed in January and briefly in a web conference last week. Cisco says this feature uses packet prioritization technology developed for its big iron products, but simplified for consumer use so that all the heavy lifting is hidden from view.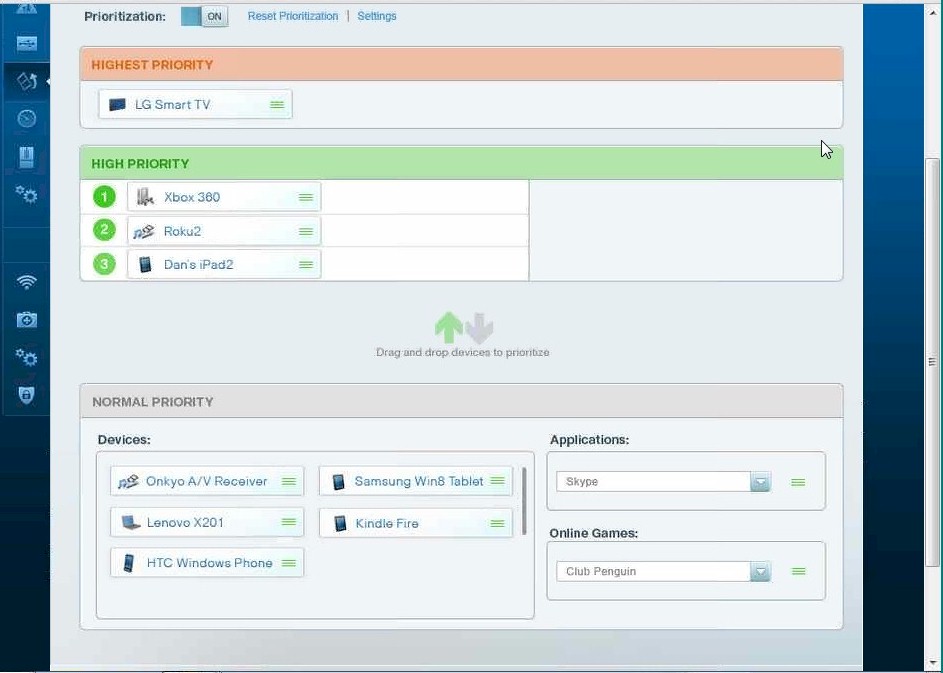 Media Prioritization
You'll note that there are no numerical priority levels or queues to select; just a simple drag-and-drop interface with each product named for easy identification. If this works well, it could become the model for other vendors to copy…at least the GUI. The real key is whether the prioritization itself works well. I'll be able to tell that only when I get my hands on it.
Closing Thoughts
Cisco has embarked on a bold journey that is sure to be full of potholes. They may already be hitting them, since its very unlike Cisco to open its kimono so far in advance of being able to ship product. I learned in a previous life that hardware was (relatively) easy; it was usually software that caused product ship dates to slip. I suspect some of that is going on here.
There is really no way of knowing how married the company is to this concept, either. Cisco could be in it for the long haul, or just throwing more spaghetti at the wall to see how well it sticks. We have all seen this movie before.
The view beyond June is pretty fuzzy. Cisco says that part of its strategy is to open up the platform to third parties, but briefers have indicated that the company is being very selective. Cisco's influence and partner network should be able to convince pretty much anyone to integrate their products into its App Enabled platform. The key is choosing the best dance partners and helping them to succeed before the competition comes out with something better.
It's obvious Cisco has already brought Whirlpool into the tent and I suspect that they may have Nest working on an app for its smart thermostat. Beyond that, I'm not sure. A home security partner is probably in there somewhere. And although it was nowhere to be seen in the briefing material or meetings, I have to believe that video surveillance is somewhere on the product roadmap
The first thing Cisco needs, however, is a catchy name for its platform. If they can't come up with something else, there is always Cisco Linksys Application Platform. I'm sure they already rejected a similar name with Router in it…