Cisco may be late to market with its draft 11ac routers. But with its Cisco Connect Cloud (CCC) platform going live today, the networking giant has taken the lead in the next evolutionary stage of home routers. And with the opening of its Linksys Developer Community, it looks like it intends to stay there.
CCC uses a combination of API calls embedded in its Linksys EA series routers, cloud-based services and iOS and Android applications to extend and enhance the features in its routers. Over the next day or so, EA series routers will begin downloading the 2.1.38.138143 firmware that transforms their admin interfaces into the CCC format shown below.
Cisco Connect Cloud screenshot
CCC also enables complete remote management and monitoring of CCC-enabled routers from iPad, iPhone and Android devices via free Cisco Connect Cloud apps. Linksys E series routers that do not support CCC will continue to use Cisco Connect Express apps that work only when locally connected.
Since each router is uniquely identified, multiple routers can be controlled from a single CCC account/app. This feature alone will bring smiles to thousands of harried family network administrators, particularly those responsible for keeping far-away parents' networks up and running.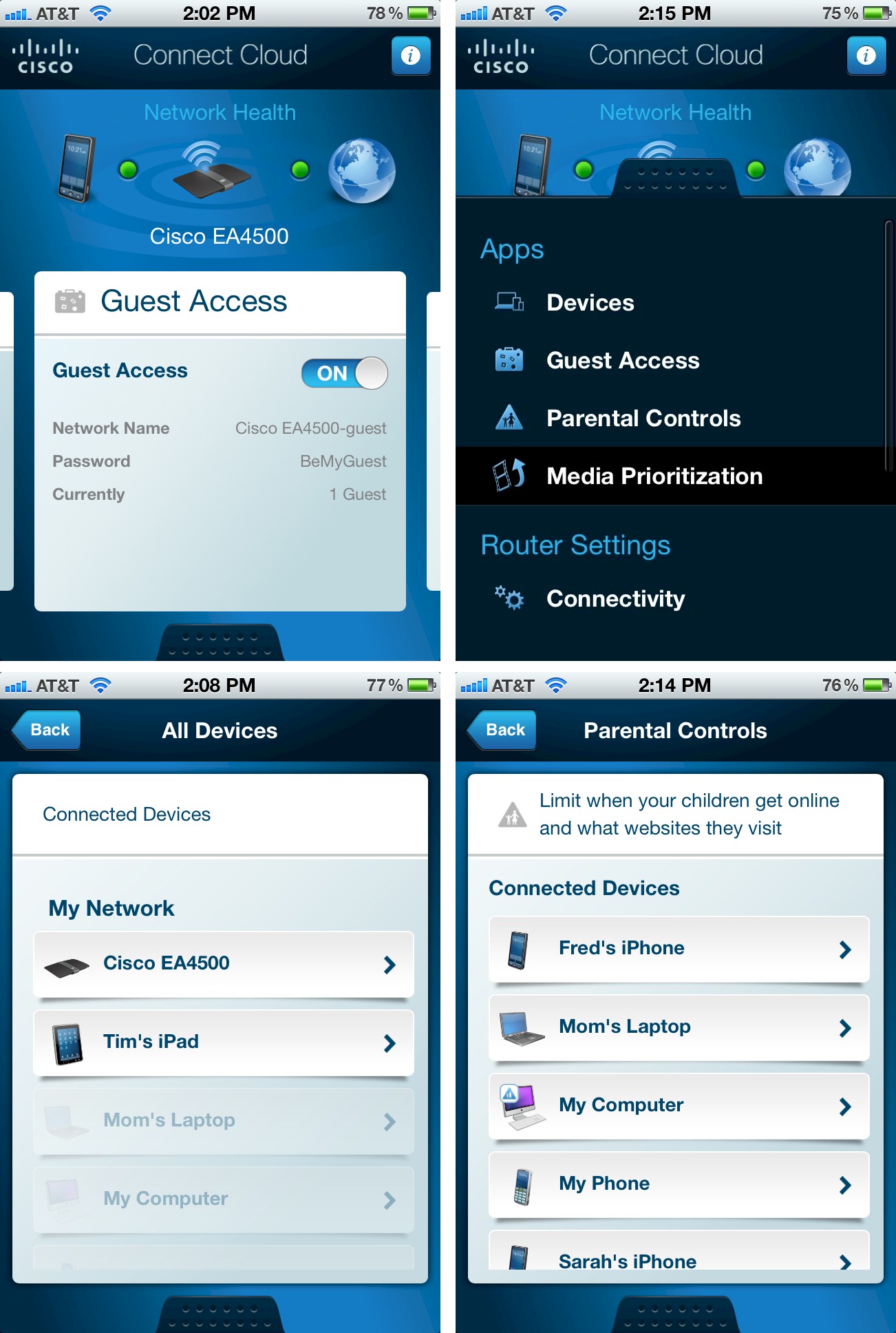 Cisco Connect Cloud iOS app screenshots
Cisco has been trying out its app development process with six initial developers that have developed the apps shown in the table below. Both Android apps (Twonky Video and Netproofer) are up in Google Play. But Apple has only approved Block the Bad Stuff so far. Twonky Video is free, while the other apps cost $0.99.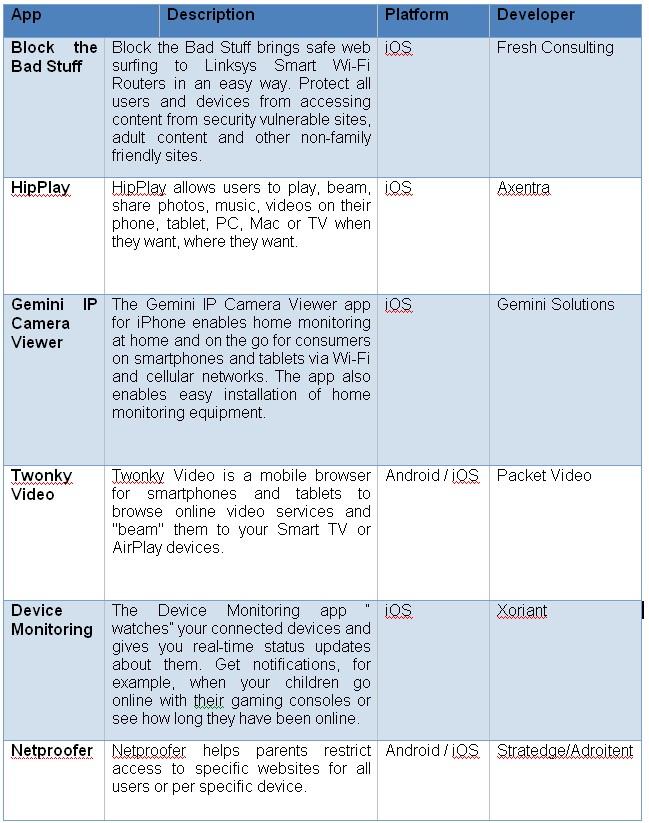 Initial CCC apps and developers
Cisco is also today publicly opening the door to its developer program. The Linksys Developer Community site is now live, complete with developer application form. Applicants aren't automatically approved and the selection criteria isn't spelled out in the site FAQ. But if you are accepted, there is no charge to join.
For bennies, the first 50 approved developers in the Linksys Developer Community can get up to three free Linksys Smart Wi-Fi Routers. And all approved developers can purchase routers for 40% off the retail price.
As mentioned above, Cisco appears to have a good lead over both D-Link and NETGEAR. D-Link right now sits in second place, given that it has already been shipping routers, like its DIR-605L, that have cloud-enabled features. But the mydlink platform appears primarily focused on being a cloud portal for D-Link's network cameras and supports limited remote router administration and monitoring. There is also no public developer community. See this review for a closer look at D-Link's cloud router features.
NETGEAR has announced its Smart Network Cloud Application Platform at this year's CES, but has yet to deliver any products based on it. Developers can currently apply for "early access", but NETGEAR's door doesn't appear to be as widely opened as Cisco's.
So if you have an EA series router (or the EA4500's E4200v2 equivalent), go update your router, register a CCC account and start to check out what Cisco's view of cloud-enabled routers looks like.