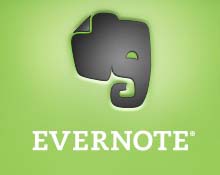 At a Glance
Product
Evernote (Website)
Summary
Evernote is an organization tool that aims to make electronic note-taking easy and accessible, anywhere you are.
Pros
• Very streamlined interface in all clients
• Provides different ways to take notes (video, audio, camera pictures)
• Broad support for most modern mobile devices
• Intuitive
Cons
• Niche application for most users
• Premium features available through competitors like Google Apps for free
• Shared Notebooks have limited utility
• Several features feel gimmicky
Evernote is one of those success stories that just continues to improve. What started out as a note-taking solution on the iPhone has grown into a fully-fledged organizational tool that handles files, notes and tasks and synchronizes them with all your devices through the cloud.
Evernote's account setup is a straightforward affair: everyone gets a free account, and is eligible to upgrade to "Premium" status. Upgrading to Premium unlocks a number of nice features, like being able to upload any file, raising the download limit to 1 GB per month from 60 MB, searchable PDFs and offline access to Notebooks.
Premium accounts cost $5 / month or $45 / year. Evernote also offers "Sponsored Accounts", which are basically site licenses, so everyone at your school or company could use Evernote.
Installation and In-Use
Installation is standard fare on both Windows and Mac OS. Once installed, the interface is generally the same, but the Mac interface generally has a more polished look. Accounts can be created in the client or on the web. I created mine on the web, so I just logged in and was presented with a "Welcome to Evernote" note.
Creating a note or task is very similar to using any word processor. Evernote also claims to accept copy / pasted content from anyway, including websites. I tried this by copy / pasting content from Evernote's website. Word processors in general aren't great at this kind of task because they can't account for things like Javascript or Flash modifying content dynamically on a page. Evernote is no different here, but does offer a "web clip" capability which I'll describe later on.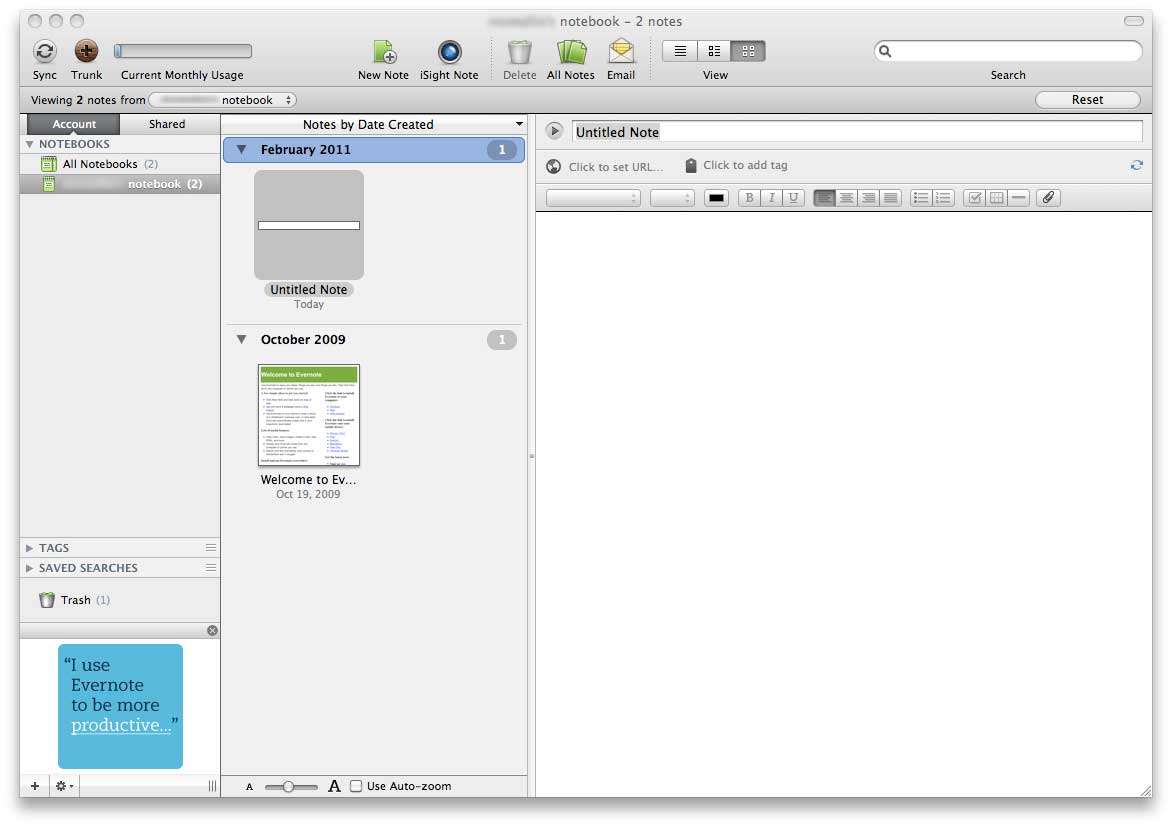 Evernote's desktop app for the Mac
Attaching files is similar to using an email client, i.e. by clicking on a paper clip icon. Synchronizing speeds varied. But for larger attachments, it was around 4 Mbps, which is what I've seen with most cloud products. Evernote's focus isn't on storage though, especially with limiting even premium accounts to 1 GB of uploads per month.
Notes are organized into collections called "Notebooks". Notebooks can contain notes, task lists, web clips, videos, images, etc. These notebooks can then be sorted and tagged, and even shared, which we'll talk about in its own section.
Accessing Evernote
The desktop computer interface is well-suited to creating and organizing tasks, notes, lists, and so on. The true power of Evernote, however, is being able to bring all that functionality with you. Evernote exists on every single modern mobile platform, with the exception of Windows 7 Mobile. It does however, run on Windows Mobile 6.
I tested both the iPhone and iPad versions of Evernote, and ignoring the hardware differences (no camera option on the iPad), both offered a great user experience. Syncing changes from my desktop happened automatically, but it wasn't instantaneous. At points I had to wait a couple minutes for the change to show up, even when forcing the app to sync on the iPad.
Part of the sluggish behavior could be from using a free account. Evernote states that Premium accounts receive priority status when uploading images, so it's possible that free accounts are prioritized lower in general.
The iPad application's home screen
On the iPhone, you can specifically add video notes (also available on the desktop if you have a webcam) and you can view files attached to other notes. When taking video notes, I would recommend waiting to sync until you're on WiFi, since 3G connections are too slow for uploading anything more than notes.
Evernote also offers a "web clipper" that installs as an extension into popular web browsers. If you've ever used Safari's "web clip" option on a Mac, this is similar. It basically allows you to save a part of a website you think is interesting for review later. Using the Web Clipper is a much better option than copying/pasting directly into a note, and can then be referenced as a new note in the system.
You can also access your notes and lists through a web interface called Evernote Web. Evernote Web is actually very feature-complete for what it supports. File attachments to notes are downloadable, and notes themselves are fully editable. Video note playback is unsupported via the web interface, so stick with the clients for them.
Sharing
Sharing notebooks is a recent addition to Evernote. There are two basic sharing options: you can choose to share with friends, or share with the world. Private notebooks are shared with friends through email addresses, and you can choose to allow them to edit the notebook if you like. Public notebooks can be found and subscribed to in "Evernote Trunk" that I'll describe next.
Notebook sharing is one of the features I think should be made free. Google gives sharing and revision history away in its free version of Google Apps. But as a new feature, I can see why Evernote wants to charge for it. Sharing is one of the ways to get users hooked and ultimately get them to pay for service. I know its how I ended up paying for Dropbox.
The Evernote Trunk is where you can find hardware or software that integrates into Evernote. This is also where you can browse to find new notebooks to subscribe to. There are many notebooks you can subscribe to, including sponsored notebooks from names like Make magazine and Epicurious.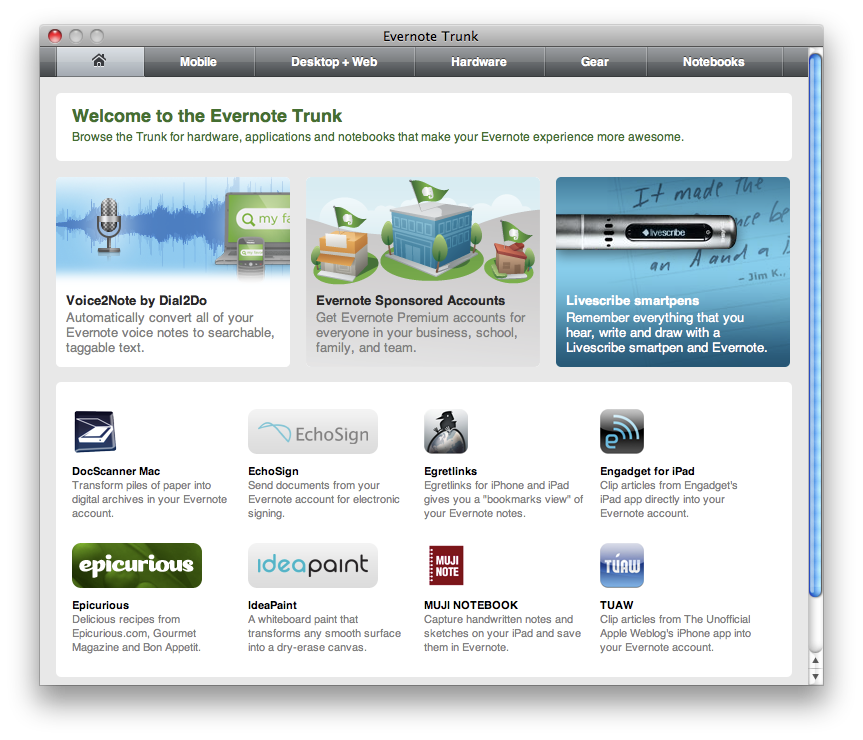 Evernote's "Trunk" where you can view shared notebooks, or get information on products that integrate with Evernote.
Conclusion
Overall, I found Evernote useful. But I think its appeal is limited. The product works really well, but many of the same features can be accomplished by using programs like Google Apps. This includes being able to search PDFs and share documents, both of which you have to pay for in Evernote.
Some features are unique, like Evernote Premium's Optical Character Recognition on uploaded images to try to make them searchable. But this feature has limited utility. I occasionally will take pictures to remember something. But many times I don't even bother looking for them later.
In closing, Evernote's feature set makes it a very unique product. But its uniqueness is also what makes it not for everyone. Take a look at Evernote's website and see if it makes sense for you.