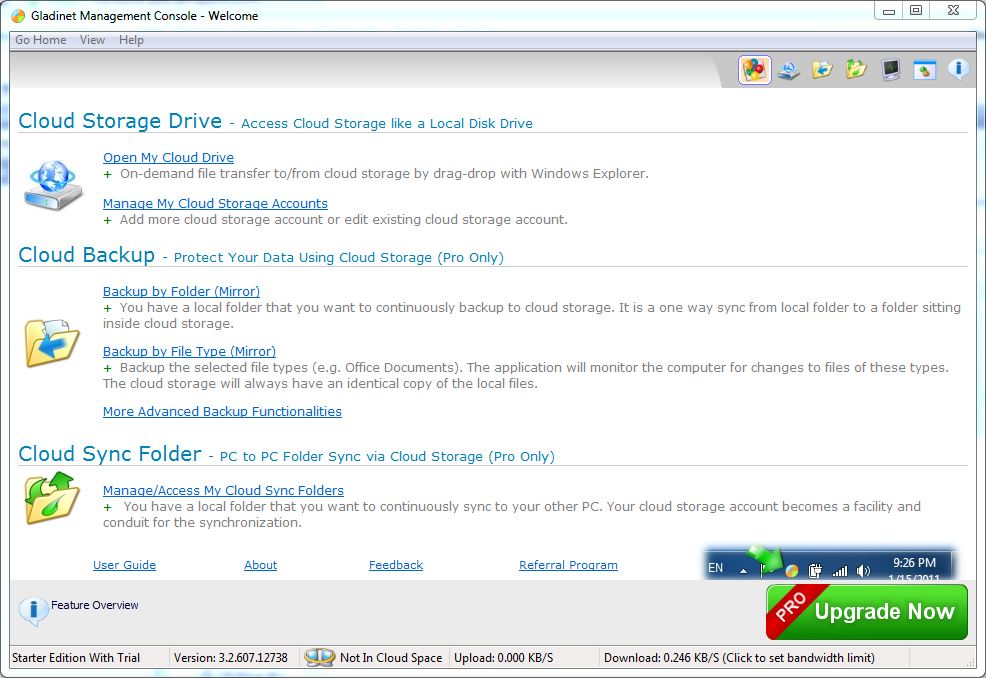 Gladinet Cloud Desktop's Home Console
At a Glance
Product
Gladinet Cloud Desktop (Website)
Summary
Cloud file manager for centralizing cloud storage services.
Pros
• Uses Windows Explorer to provide native interface to cloud files.
• Good number of services supported.
• Additional backup, mirror, and sync features.
• Completely free for most features.
Cons
• Not well documented.
• Amazon S3 seems sluggish compared to Dropbox and Vembo.
• Restriction to one cloud service for free accounts might be a deal breaker for some.
• Home console is overwhelming and tough to navigate for even technical users.
Gladinet's Cloud Desktop is a cloud file manager, similar to the recently reviewed Joukuu file manager. An important distinction is that Gladinet is a much more mature product, which is most easily seen in the number of services supported.
Gladinet currently supports no less that 20 cloud services. This number is slightly exaggerated, as several of the services (e.g. Amazon) have several connection options (US vs. EU versus China, etc.). Still, Cloud Desktop's service support is fantastic, and will easily woo many people over Joukuu.
Let's start out by taking a look at Gladinet's costs, and what you get for upgrading.
Products and Features
Gladinet Cloud Desktop comes in two flavors: standard and Pro. Standard accounts are missing a number of features from Pro, as one might imagine. Pro-only features include: Ability to connect to more than one cloud service at a time, AES file encyption, Folder Backup, and Synchronized folders across multiple machines. Also, the standard version can only perform 1000 file operations at once, meaning if you have a folder with over 1000 files/subfolders, you can't copy the entire folder in one action.
Pro costs $50 per user, which is a change from the typical per machine licensing from other cloud vendors. This means if you have a laptop and a desktop, you need only buy one copy of the software. There is a full product comparison chart on Gladinet's website.
Installation and Setup
Currently Cloud Desktop is only supported on Windows. Installation was a typical Windows installer process, and soon I was presented with a typical wizard-based setup process.
Setup was fairly straighforward, although some services like Amazon S3 require more information to connect to than you might like giving out. However, Cloud Desktop stores all your information in an encrypted local profile, so that should relieve some stress.
I set up both Google Docs and Amazon S3 as storage points. Once I entered my information for both, I had a network drive pop up in Windows Explorer, and was subsequently deposited by the wizard at Cloud Desktop's Console.
An interesting note is that Cloud Desktop can only set up synchronized folders on certain services. S3 can do a folder sync, but Google Docs can't. As a side note, Gladinet just added support for Amazon's Cloud Drive, which is substantially cheaper to use than straight S3 storage.
First start wizard. Gladinet Free enforces 1000 file transfers.
An entire screen for email signup.
Choosing cloud storage vendors.
Adding a cloud vendor.
Gladinet has quite the list, including the new Amazon Cloud Drive.
Adding Google Docs asks for username and password.
Adding Amazon's S3 asks for a lot more information to access the proper bucket.
Awaiting the creation of the virtual directory for Google.
Adding a S3 account enables the Cloud Sync option, not available with Google.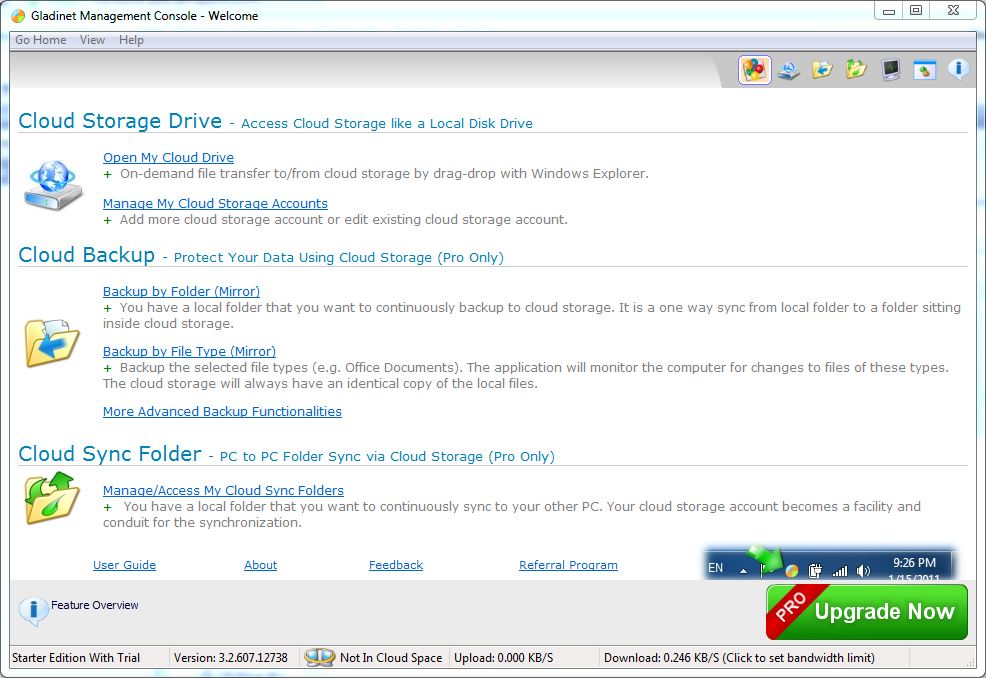 The home console for Gladinet Cloud Desktop.
Browsing google docs has several of these errors popping up.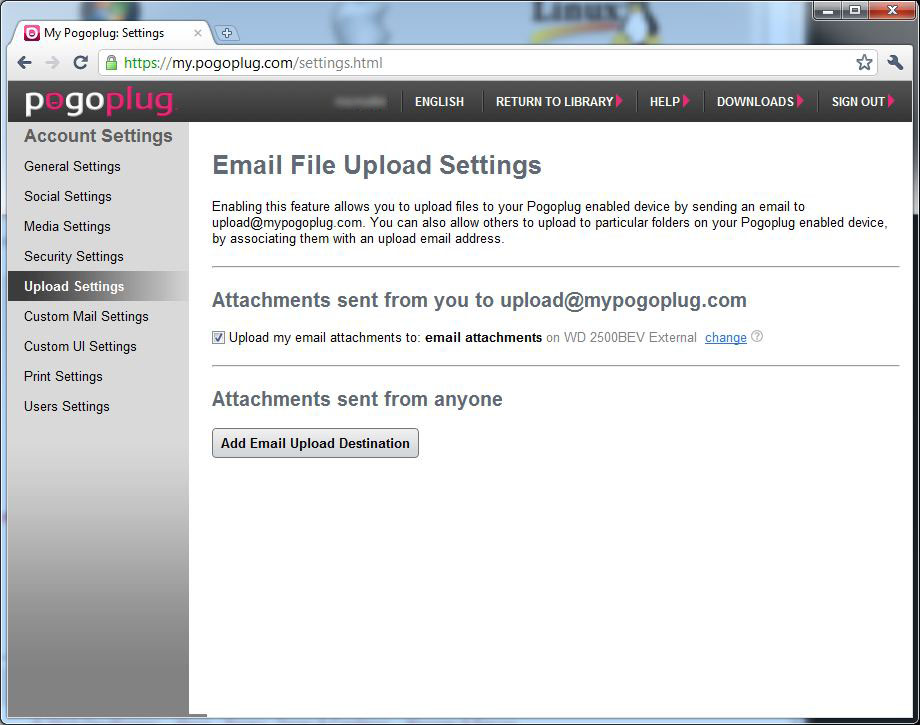 Dragging a file to Google Docs produced a window from Gladinet to manage the transfer.
In Use
If you are only interested in the free version of Cloud Desktop, the Home Console is fairly uninteresting. The number of settings / preferences is overwhelming, even to a technical user like myself. Contained within the settings though are options to set up bandwidth throttling though, so keep an eye out for those if you should need to throttle your cloud folders.
Pro users will utilize the Home Console more, because this is where you set up backups, mirrored folders (two-way backup), and sync folders. Setting up any of these is another wizard process, and is fairly easy to accomplish for anyone familar with moving files around their hard drive.
I ran some speed tests, and Amazon S3 was over double the speed of Google Docs, with 11 Mb/s upload versus Google's average of 4 Mb/s upload. However, the speeds I've seen come out of Vembu Home and Dropbox, both S3-backed services, have been around 25 Mb/s. So I'm wondering if there isn't some overhead associated with the software accessing it. Download speeds were high for both, at around 25 Mb/s.
I also tried editing some documents already in Google Docs, and this worked perfectly. Everything I tried opened up correctly in the proper Microsoft Office software. Note that the files aren't actually on your machine, but are just a list that connects to webdav. So if you request something bigger, it will take some time to dowmload.
Access, Support, and Security
Access is restricted to your desktop Windows machines. Gladinet offers a web-based portal for an additional monthly charge that gives you access to your same cloud services. I kind of wonder how that's useful, since the point of Cloud Desktop is to make it easier to access your stored files on the desktop. If you need to go to the Web to access your files, why not just use the particular cloud provider's own web access?
Security is a mixed bad for standard users, and decent for Pro users. Standard users can't encrypt files they are transferring. This means any files that aren't already encrypted in the cloud will be transferred usually over SSL, but the files themselves will be unencrypted. While the liklihood of an SSL tunnel being breached is low, it's still better to be able to encrypt your files separately, before uploading them.
Support is the standard for many cloud providers, i.e. mediocre. The Help available in the App actually takes you to the Gladinet website, which doesn't contain much actualy help, and doesn't appear to have been updated to match with the latest version of software. Any other support is handled through the support email address, which we did not try out. There is also a forum page, which seems mildly active, un like some other providers.
In closing, Gladinet's cloud desktop works as advertised, and provides a very nice way to get access to your cloud-stored files through a familar interface. It is worlds faster that Joukuu, and that alone is enough to get my seal of approval. The addition of AES encryption at the Pro level is icing on the cake.