Yesterday was one of those days when Apple should have dominated tech world news. But in a very un-Apple way, the unveiling of iOS 5 and iCloud had already been outed last week by Apple itself. Yes, we didn't know all the details. But we knew that Apple was finally going to talk about getting its products connected to the cloud.
I honestly thought the details were coming out today, as is usually the case for big announcements (shows you why I don't write for the big tech blogs…). But in yet another odd move, Apple laid out all its cards on a Monday.
So now we know what that big ol' data center in North Carolina (and two others) is going to be doing come "this fall". Why anything more than a beta of the new iTunes in the Cloud service isn't ready to lock and load right now seems strange. I know that Apple usually announces its software products months before they ship. But that's because they're dealing with a captive audience.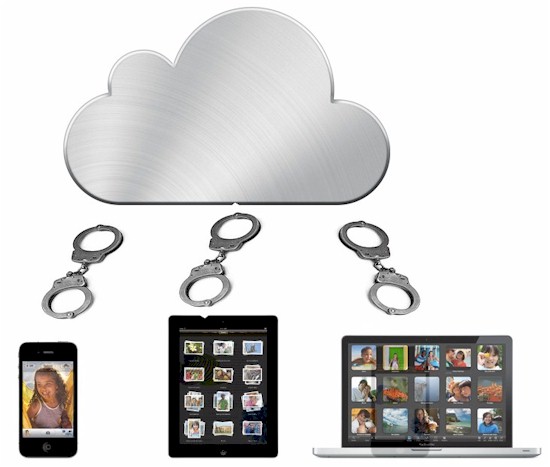 But this time, Apple is playing catch up to Android, which has been cloud-based from the get-go. So why give Google the iCloud roadmap months before Apple can deliver?
As expected, Apple killed off any revenue it was getting from MobileMe and rolled its Contacts, Calendar and Mail services into iCloud's free bucket. Sorta like gmail and Google Calendar, except without a web interface. And, yippee, apps and books purchased on one iOS device will now be automatically synced to up to 10 devices you own, so iPad owners can finally have the convenience Kindle users have had since birth.
Got photos on any of your iOS thingies? Well, they'll be pushed automatically to "all your devices and computers" via Photo Stream. The iCloud press release said this will even include Windows PCs via the Pictures folder. Same goes for your music with iTunes in the Cloud, except tunes just get pushed to iOS devices, no Macs or PCs.
It looks like my main itch about iOS devices—their USB tether to iTunes— will finally get scratched by iOS5, courtesy of iCloud Backup. My colleague Matt, who is an iOS developer, has already downloaded the Beta, installed it via one last USB sync session with iTunes and confirmed that his iPad2 was able to be activated without another tethered session after a complete wipe. It's too early to know how recovering your backed up iOS device from iCloud is going to work, since that's not working yet.
The only charge for services are storage above the free 5 GB Apple starts you off with for iCloud Storage and the iTunes Match service that brings all your pirated music into the light, replacing it with 256 kbps AAC DRM-free versions. I don't know how many people are going to jump on that one.
So, at least Apple has taken its first steps toward the Cloud. But if you read through the iCloud service descriptions carefully, its clear that Apple is using the Cloud, but not embracing the spirit of it.
The cloud for Apple is just a connector; an easier way to move data among the neat, controlled and, where needed, DRM'd data stores on iOS devices. I'll confess that I haven't waded through all the info on Apple's site nor sat through the keynote. But if there are web interfaces planned to any of these services, they're certainly not obvious.
Go back and read through the iCloud descriptions and there's a phrase you'll keep seeing: "automatically pushes… to all your devices". Apple's vision for iCloud is access to all your data from anywhere, as long as you have an iOS device. And, of course, there is still no file browser.
Let's just hope there are good controls that let you decide what you want copied everywhere, including Apple's servers.