The Panasonic Cloud Business Phone System is designed in collaboration with BroadSoft, a leading designer of residential and business Voice over IP (VoIP) applications.
The system is designed for small businesses of up to 10 people and uses SIP VoIP phones that work in conjunction with a cloud-based SIP gateway and PBX. No onsite equipment is required besides the phones, which are provisioned and managed via a secure web portal.
The base KX-TGP551 system package comes with one corded phone and one DECT 6.0 cordless phone and one line. The system can be expanded to handle a total of three lines (simultaneous calls) using a single broadband connection with eight unique phone numbers and six extensions.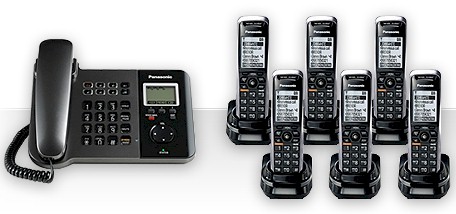 Call features supported include unlimited local & domestic long distance calling, remote office, voicemail and voicemail to email, conferencing, call forwarding, Link-to-Cell for mobile forwarding, E911, auto attendant, music on hold, 3 way calling, call block and call restriction, call waiting with caller ID, call hold and call hunting.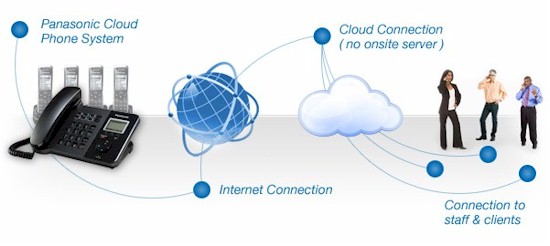 The suggested retail price for the KX-TGP551 system package is $299.99. The system requires purchase of one of three monthly service plans, costing $39.95, $79.90 and $199.85 for one, two and three voice lines respectively. The system will be available shortly at Amazon.com, BestBuy.com, OfficeDepot.com, Staples.com, Frys.com and Fry's Electronics retail stores.
Check the Panasonic Cloud site for more info.