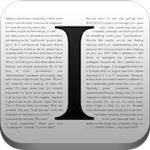 At a Glance
Product
Instapaper (Website)
Summary
Instapaper provides a more readable version of websites for mobile phones and other small-screen devices.
Pros
• Simple interface meant to stay out of the way
• Free or cheap ( $1/month subscription) to use
• Very good at predicting relevant content for display
• API available for third party developers.
• iOS Applications work well
Cons
• Not as many features as competition
• Lacks official support for mobile platforms other than iOS
• Non-iOS users must pay ongoing subscription fee
Instapaper is a simple tool that performs a job many of us couldn't have seen necessary three years ago. With the explosion of mobile devices, many smartphone users have found it very difficult to view content on the web.
While many websites have started to deploy mobile-friendly versions, there are still millions of sites that aren't mobile optimized. Instapaper looks to solve this problem by stripping out all the crud on a web page, grabbing the important content and making it readable on any screen size.
You mark items for Instapaper to convert by using a bookmarklet, similar to those used for popular web bookmarking services. You read Instapaper-converted content via an app on your mobile device. Instapaper natively supports only free and "Pro" iOS apps. Support for other mobile platforms is via third-party apps that use an Instapaper API. More about that shortly.
The free iOS app provides a subset of Instapaper features and allows access to 10 saved articles. Stepping up to the $4.99 Pro app expands article count to 500. It also adds several extras like adjustable text size, dark mode for night reading, tilt-scrolling and page flipping, access to folders, dictionary lookup and sharing on social media websites.
Instapaper's creator, Marco Arment, recently released an API to allow third party applications to use Instapaper's service. His intent was to allow others to create apps for more mobile devices than he could write himself. To defray the costs associated with Instapaper's backend, users of those apps need to pay a $1/month (in three-month increments) subscription fee.
This is on top of any fee charged for the app itself. This same Instapaper subscription is bundled into the iOS app, since that was created by Marco. An Instapaper subscription removes the lone ad in the web interface.
With the API announcement, several third party applications like InstaFetch and EverPaper for Android and Stacks for Instapaper for Windows Phone 7 have sprung up. I did not take a look at these, but you may want to check them out.
Installation
Installation is a two step process. On your desktop/laptop's favorite browser, you install a "Bookmarklet" which is a bit of javascript code that passes the current URL back to Instapaper's servers. This is as simple as dragging and dropping a link. If you're an IE user, Instapaper recommends IE8 for ease of use.
The second part is installing the app for your mobile device. While you could, in theory, just use the Instapaper website to read your stored content, it's really geared towards mobile users. An exception would be if your device doesn't have a native application, in which case you will be stuck with the Instapaper website. For the review I used the iOS app, which you can see screenshots from in the gallery.
In Use
Once saved, you can then access your saved pages through either the website or the mobile interfaces. Instapaper's paid application offers significantly more features than the free version, as you can see in the gallery. Text size changing alone is quite nice (which apparently used to be a free feature as well).
Something Instapaper doesn't mention is the paid iOS application is actually both iPad and iPhone, which was nice to see, as the iPad is a much better reading device.
I tried it out on a few different websites: Tim's recent article on SNB for Netgear's AV500 Powerline Adapters; a post on Lifehacker; and a bug report in the PHP bug tracker. Both the LifeHacker and SmallNetBuilder pages formatted very nicely, and even traversed SNB's paging system.
The PHP post didn't grab any of the data that was actually important for the post. You can choose to view the original page in a web browser, which mitigates this a bit. But isn't the point to be able to pull in content?
The developers unfortunately have a very large task set before them to try and strip HTML, but not the pertinent content. Overall it works quite well, as long as the page is fairly focused on a particular topic. Aggregation pages like Google News are not really what Instapaper is meant for. So it really doesn't work well on them.
Instapaper's home screen on a brand new account.
The bookmarklet that you add to your favorite web browser to make Instapaper easy to use.
These are your unread items. The idea is to then archive your items once read.
An example of a webpage I saved into Instapaper.
The original webpage. Not a bad job on Instapaper's part.
Newest articles show up at top.
Here you can see all your starred items.
Here you can see all your archived items.
Here is what Tim's SNB article looks like in Instapaper.
The iPhone Application for Instapaper.
Here's a view of my current "Read it Later" articles.
And here's Tim's SNB article with "Dark Mode" enabled.
Support
Support is somewhat limited. The developer (Marco Arment) has been and continues to be the sole developer for both the web service and the iOS applications. He has a small FAQ online. Otherwise, support comes from emailing instapaper@marco.org. Marco says he reads every email, but can't respond to every one due to time constraints.
Closing Thoughts
Instapaper works quite well. It certainly doesn't have the features that competitors like Evernote do. But what it does do, it does well. Marco even recommends Evernote as an alternative if you want some more fancy features.
If I could request a feature, it would be searching articles I've saved. I know that's no small request. But in this day of information overload, I sometimes come across 15 or 20 articles I want to read later and possibly reference.
This is one of the use cases Marco states for Evernote, but I don't need most of Evernote's core functionality. I don't think most people do, as I said in my review. And with Google spoiling everyone with great keyword search, I think having it in Instapaper would really take the service up a notch.
However, let me say that Instapaper is the reason most of us got on the web in the first place. It's a medium where anyone big or small can succeed. It's nice to see that's still possible today.