LogMeIn today announced a free online meeting product.
The free join.me service allows online meetings for up to 250 participants witih no registration required.
Starting a meeting is done by hitting the join.me website, downloading and installing a small app and sending a 9 digit code (e.g. http://join.me/111-222-333) to meeting participants. Joining a meeting can be done by entering the code at join.me or simply clicking on the emailed, Tweeted, etc. link.
Meeting features include screen sharing, chat, file transfer and remote control. Meetings include a dial-in number (not toll-free) for voice support.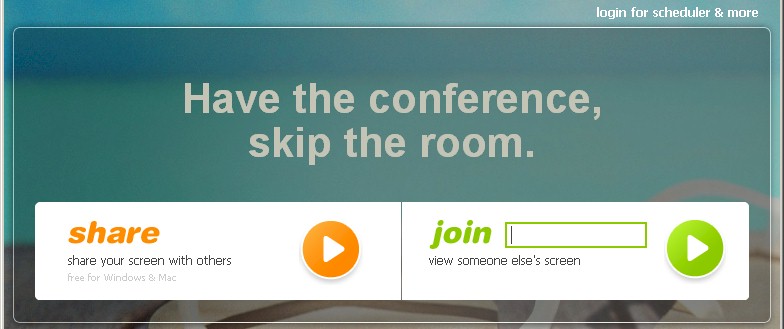 A "Pro" version ($29 / month or $299 per year) adds lightweight meeting schedulers, personalized join.me meeting codes, account user management and the ability to control who can come in and out of meetings through "meeting lock" and request-to-join features.
iOS device users won't be able to use join.me, however, because it requires Flash 10. OSes supported include Windows 7, Vista, XP, Server 2003, Server 2008 (32 or 64-bit) or Mac OS X Leopard (v10.5 Intel-based) and Snow Leopard (v10.6 Intel-based) and browsers required include Internet Explorer 7, 8 or Firefox 3 or Chrome 5 or Safari 5.
Go start a meeting now at join.me.