Microsoft today officially launched its Office 365 cloud-based office suite.
The revamp of Microsoft's Business Productivity Online Standard Suite has been in beta since last fall. It comes in three flavors: professionals and small businesses and midsize businesses and enterprises and education.
Office 365 plans are a mashup of five Microsoft cloud services: Office Professional Plus; Exchange Online; SharePoint Online; Lync Online and Office Web Apps. The basic office productivity apps are provided by Office Professional Plus – basically a subscription-based version of Office (Word, Excel, Powerpoint, Outlook).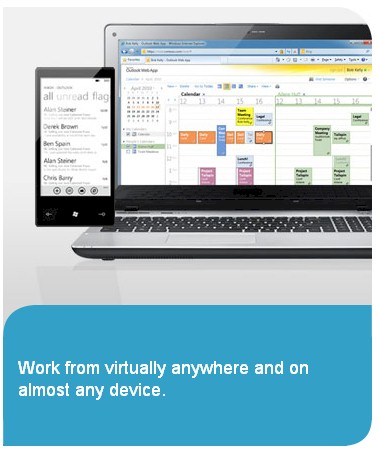 Office Web Apps provide a subset of capabilities available via web-browser (described as "view, edit and share content created in the Word, Excel, PowerPoint, and OneNote"). Web Apps are also included in Office Professional Plus.
Exchange Online provides cloud-based access to email, calendar and contacts, while SharePoint Online provides cloud-based document collaboration, sync and simple website services.
Lync Online provides IM, voice and video conferencing services.
Costs are $6 per month per user for the Office 365 for professionals and small businesses plan, which includes Office Web Apps and Exchange, SharePoint and Lync Online services.
$4 to $27 per user per month buys you Office 365 for midsize businesses and enterprises, which is the same bundle as the small biz plan, with Office Professional Plus instead of Office Web Apps. Services are also available a la carte.
Exact pricing information for the eduction plan was harder to find on Microsoft's site. But liveside.net provided the following description:
The starter package for Office 365 for Education will be available for free for students and at academic licensing of $10 per user per month for educators and staff, which includes Office Web Apps, Exchange Online, SharePoint Online, Lync Online, team sites, single sign-on and control and management capabilities. For educational institutions that requires on-premise deployment of Exchange Server, SharePoint Server, Lync Server, and Office 2010 Professional Plus, a plan is also available for $2 per user per month for students plus $14 per user per month for educator and staff.
Office 365 is up and waiting for your order now.