Introduction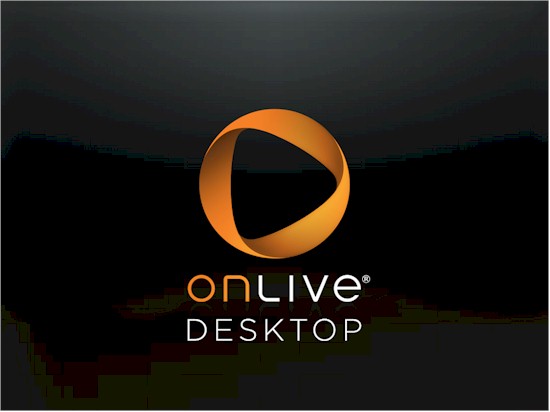 At a Glance
Product
OnLive Desktop [Website]
Summary
Cloud-based Windows desktop with Office 2010 and Flash-enabled browsing for iOS and Android tablets
Pros
• Gigabit internet connection from cloud desktop
• Flash-enabled video works flawlessly
• No port forwarding required
Cons
• Keyboard is not as ergonomic as the native iPad keyboard
• Text fields do not bring up the keyboard, but they do bring up a shortcut to it
• Can't install apps…yet
• Subscription cannot be purchased within the OnLive Desktop app
Tablets have changed the way people use the internet at home and work, simplifying daily tasks. Along with that simplification however, come minor annoyances and omissions that can leave you scratching your head. The lack of Flash support on the iPad is one well-known omission. But even little things like needing to right-click in a browser to view source or get image paths are problematic at best and often require a piece of javascript saved as a bookmark to make them happen.
Using our iPad is great, but I often find myself thinking: "If I could just get to Windows, I could have this done in 30 seconds". Instead, I spend way too much time searching Apple forums for workarounds for common tasks. Of course, I could put down the iPad, get up from the couch and use my PC. This probably would probably make me healthier, too.
Another option would be purchasing the RDP app for $5.99 in the App Store , which uses Windows' Remote Desktop protocol. This has advantages in that I would be using my own machines, on my own network, with my own printer. For remote access, however, RDP requires opening a router port, exposing part of my network to the internet. A third option is to use OnLive Desktop.
OnLive Desktop is a cloud-based Windows desktop virtual machine Windows desktop complete with Microsoft Office 2010 and 2 GB of cloud storage in the free version. The Plus version adds Gigabit-accelerated full Flash web browsing and Gigabit-speed cloud storage (e.g. DropBox) and Webmail (e.g. Gmail) for $4.99 a month.
OnLive reports a Pro version is coming soon for $9.99 a month, which will add 50 GB of cloud storage and the ability to customize the desktop with additional PC applications judged safe by OnLive. OnLive also has a cloud-based Game service that preceeded Desktop; this review will focus on the desktop portion of the service.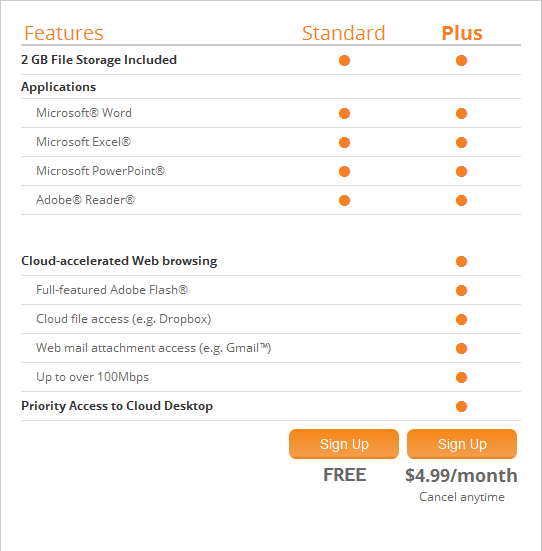 Figure 1: OnLive Desktop current offering feature comparison
Setup
Installing and accessing OnLive Desktop is as easy as downloading the free OnLive Desktop app from the Apple App Store or the newly-renamed Google Play Store. Once the app is downloaded, sign up for a free OnLive account and sign into your desktop on your iPad or Android tablet. The login screen is simple and adequate, but missing information as basic as how to purchase a Plus subscription. It also appeared that passwords were not required to be complex in any way.
If you already know that you want the Plus version of OnLive Desktop, I'll save you some trouble and let you know to log into OnLive on your PC or with your tablet browser to buy your subscription. Because subscriptions cannot be purchased from within the OnLive Desktop app, including the browser within the app. I had to hunt down this important tidbit; the only place I found that said subscription purchase couldn't be done within the app was in the Support FAQs on their site.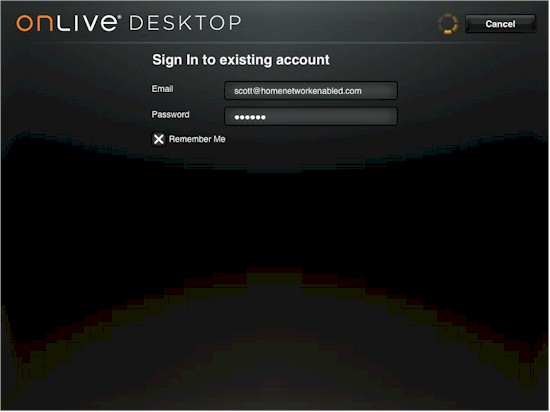 Figure 2: OnLive Desktop login screen
In Use
Once logged into OnLive Desktop, you'll see a familiar Windows desktop, complete with Office 2010. The screenshot below shows the OnLive Desktop with on-screen keyboard. Files created in Microsoft Office are saved to your OnLive instance Documents folder and nearly immediately available for cloud access on other machines via the OnLive Desktop site.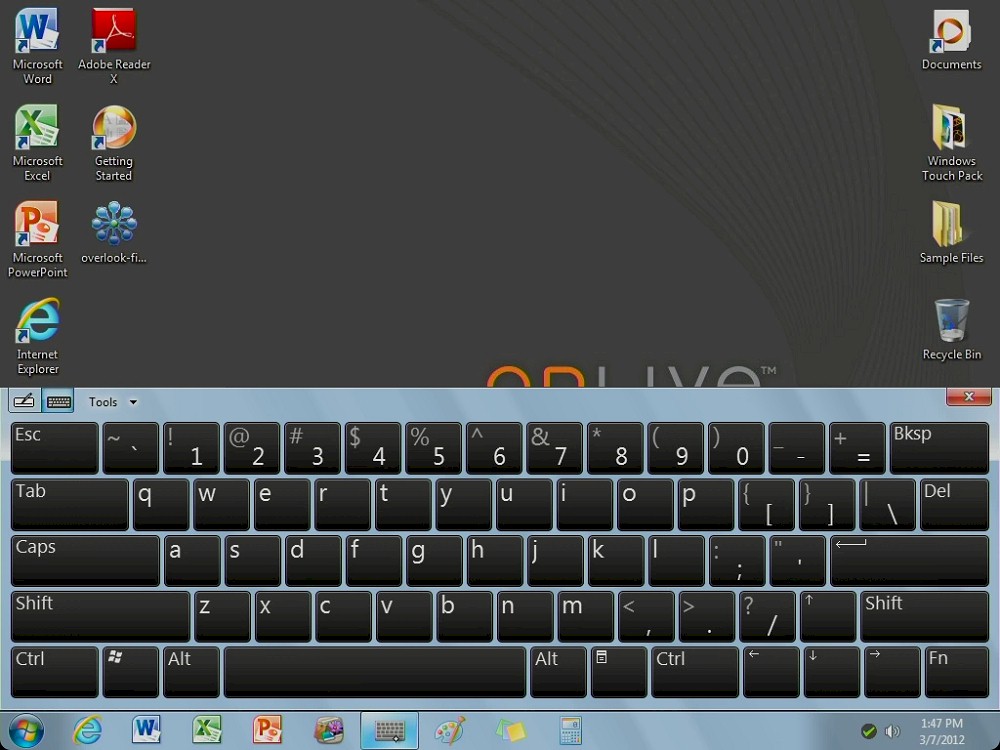 Figure 3: OnLive Desktop screen
You might note that OnLive Desktop uses a keyboard built into the desktop vs. the native tablet keyboard,which other apps such as RDP use. This will take some getting used to if you are accustomed to your tablet keyboard. I found it to be not nearly as ergonomically friendly as the iPad's keyboard, the comparison picture below will show why.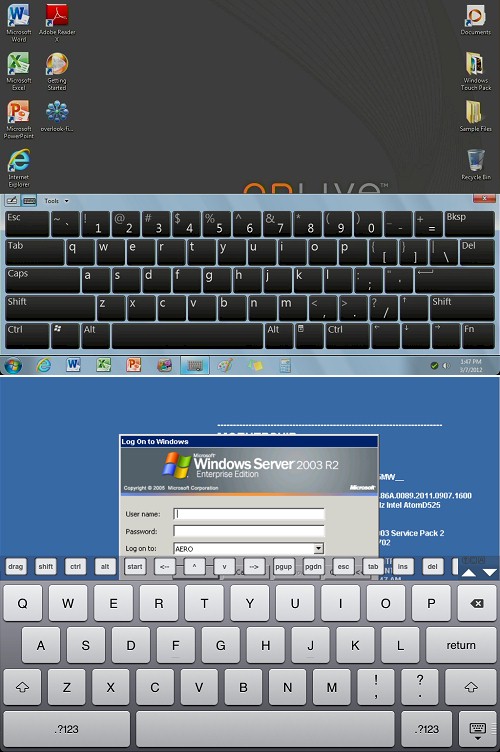 Figure 4: OnLive Desktop keyboard (upper) comparison to tablet keyboard within RDP (lower)
Note the larger size of the iPad keys within RDP vs, the definitely smaller size of the keys within OnLive Desktop. With the iPad keyboard, I feel like I can type very closely to the same speed as a normal keyboard. But with the Onlive Desktop keyboard, I felt like I was making a lot of errors and getting a little frustrated.
It is nice that OnLive included function keys like Tab and Ctrl in the same positions as a real keyboard. But the end result has a cramped feel. I feel the function keys in the RDP example keyboard above make for a much better user experience. Overall, OnLive's keyboard felt more like a smartphone keyboard.
Text boxes also took a little getting used to. The keyboard won't pop up automatically when you click in text boxes. Instead, a little keyboard icon pops up that you click on to bring up the on-screen keyboard. If you use the keyboard icon, things like text highlighting are retained. If you highlight text and then bring up the keyboard via the keyboard on the taskbar, highlighting is lost.
A Getting Started icon walks you through some of the gestures used for typical mouse actions, shows you how to sync documents and access files and lets you know that Windows settings are not changed from session to session. The walk-through of the touch gestures is not a hands-on tutorial example, but rather just an explanation of how to use the different gestures.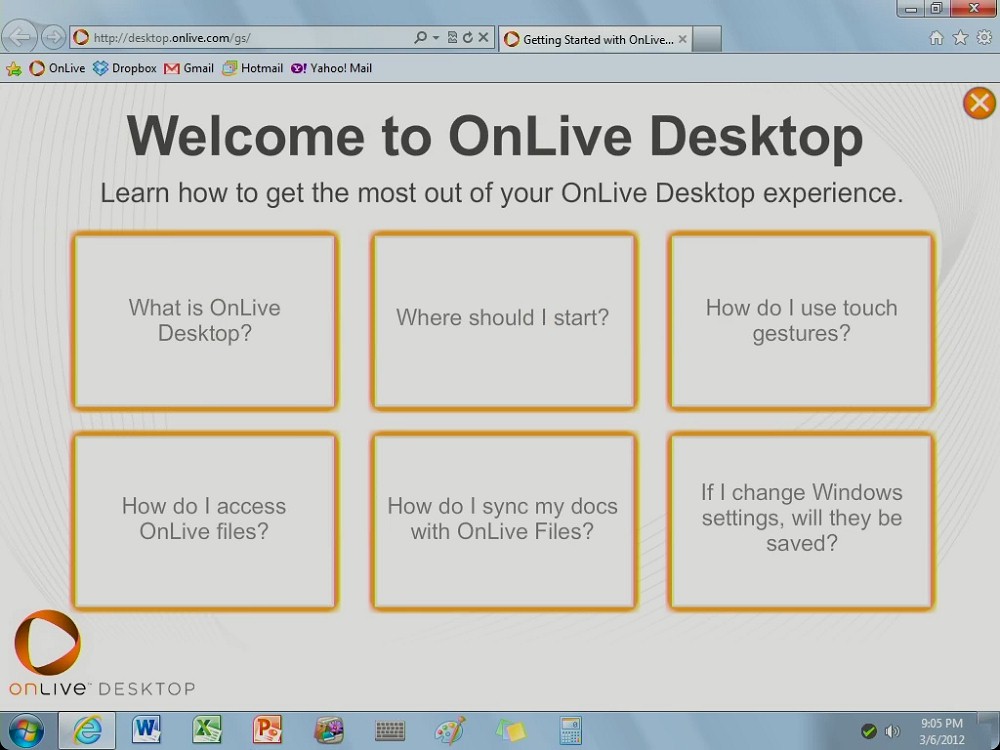 Figure 5: OnLive Desktop Getting Started screen
Performance
For all intents and purposes, OnLive Desktop is simply a virtual Windows desktop attached to a crazy fast internet connection. How fast? I checked.
All testing was done on an iPad2 with iOS version 5.0.1. The OnLive Desktop is advertised as "Gigabit-accelerated" browsing. The speed is shared between all OnLive users and it's very fast. So fast, that the challenge is how to test it accurately. I ran tests against various speedtest websites and more than likely maxxed out those sites with the testing.
The fastest I was able to see using SpeedTest.net was a 6ms latency and 195.16 Mbps (24 MBps) down and 136.43 Mbps (17 MBps) up, which is pretty zippy and still probably not an accurate indication of the true speed. Note this speed is between the OnLive Desktop virtual machine and the internet. So don't expect OnLive to actually speed up your poky DSL connection.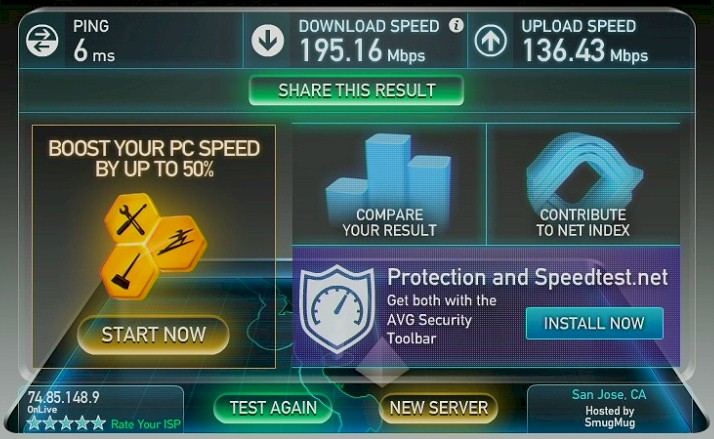 Figure 6: OnLive Desktop run on SpeedTest.net
But OnLive's "secret sauce" is the fast screen-update technology that it developed for its OnLive Game service. If OnLive can make remotely hosted fast-twitch games responsive enough over relatively low bandwidth connections, remote display of office apps, web browsing and even Flash video is a piece of cake. (OnLive's FAQ specs 2 Mbps minimum and 5 Mbps recommended download bandwidth to use the service.)
For me, office applications and web pages loaded very quickly. Files created and saved in OnLive Desktop took about a minute to show up in the OnLive Files page. OnLive Files is the Web portal used to access files created in OnLiveDesktop or to upload files to your OnLive Desktop instance.
Figure 7 shows a few test files in my OnLive Files area. Clicking on a file simply downloads it—there is no editing or even file viewing available from here. Note that mouse selection is a bit more sensitive in the application than on the iPad app itself.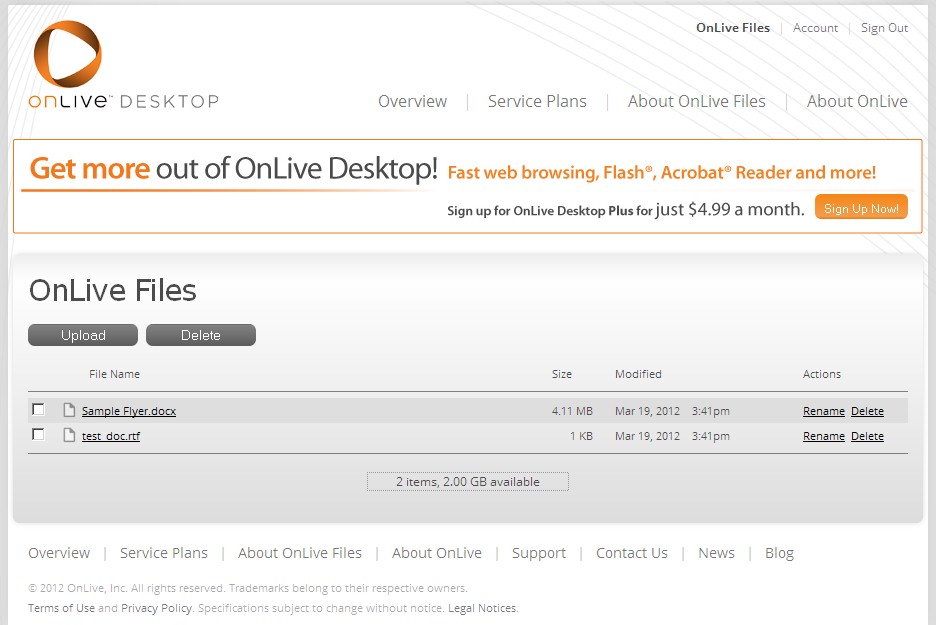 Figure 7: OnLive Files web access
Since general web browsing isn't available in the Free version, I signed up for Plus and found an unexpected use for OnLive Desktop. A big gripe about the iPad is its lack of Flash support since many sites use Flash for their videos. I eventually got PlayOn to work, streaming Hulu and other Flash video to our iPad on the local network. I also found that sound and video were perfect when streaming Flash video inside the OnLive Desktop app. For some iPad owners, this alone may be worth the $4.99 a month.
Security
The Desktop itself is locked down well as evidenced by my attempts to install apps, load reg files, and run scripts. I was simply told I had no permission, which was expected and good.
I had to dig into OnLive Desktop's Privacy Policy to find information about data security. Along with the usual boilerplate assurance that "we… use industry standard tools and techniques to protect against unauthorized access to our systems…", I found that the connection between the desktop apps and OnLive's servers is secured via 256 bit SSL.
But, like some other cloud services, there is no mention of whether the data itself is encrypted either before or after it lands on OnLive's servers. So it's safe to assume that it doesn't. Actually, this statement from the Privacy Policy Data Security section sums it up nicely:
"We want you to feel confident using the Websites and Services. No system, however, can be completely secure. Therefore, although we take commercially reasonable steps to secure your information, we do not promise, and you should not expect, that your Personal Information, other communications or content always will remain secure. In the event of a breach of the confidentiality or security of your Personal Information, we will notify you if reasonably possible and as reasonably necessary so that you can take appropriate protective steps."
Since you can't install any other apps in your Desktop, you can't even choose to encrypt files yourself. So if security is a top concern, you'll need to give OnLive Desktop a pass.
Support
Support options include a searchable online Answers section, support question submission and live chat. Chat is available for 16 hours a day (4am-8pm, PST / 12pm-4am, GMT). While the Contact Us page provides a physical address in Palo Alto, neither phone number nor support email address is posted.
Closing Thoughts
If you are looking for a way to have a remote Windows desktop available on your iPad or Android tablet and don't want to open up your local network to the internet for something like RDP access, then the $4.99 OnLive Desktop could be for you. An added bonus is that it brings Flash playback to iPads for any site viewable by Internet Explorer. This even helps Android tablets that can view Flash-based sites, since many services, Hulu+ notably, block website access for Android devices.
My main disappointment was with OnLive Desktop's on-screen keyboard. I would rather see integration of the tablet's native keyboard that other apps utilize. I could not foresee myself typing entire documents or editing articles with OnLive Desktop's keyboard, at least not the one used in the iPad app!
Overall, however, OnLive Desktop is well executed, easy to use and worked well. And for $5 a month with no commitment, definitely worth a try!