Introduction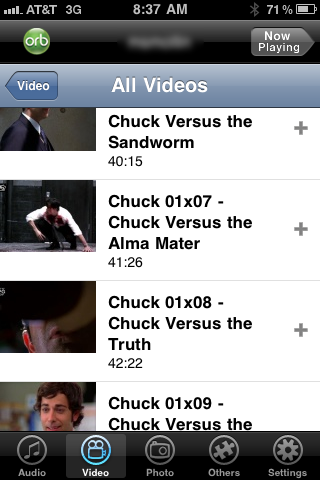 At a Glance
Orb Media
Orb Live from Orb Media
Summary
Media streaming service for mobile devices
Pros
• Easy to install and configure
• Supports iOS and Android
• Automatic switch from low to high quality when switching network types on the end device
• iOS app continues to add features and become more stable
Cons
• iOS app is expensive compared to competing solutions
•Orb server software is hardware sensitive
• Internet Radio interface is annoying to use on iOS devices.
Orb Media has come quite a long way since I originally joined its beta program. Originally, the product was basically a competitor in the space of products like TVersity or Twonky Media Server. So while Orb worked fine, I had no real use for it as I already had TVersity set up and working.
These days, Orb is marketing hard to the integrator markets, like NAS and media server builders, and this integration is what I'll be taking a look at today using iOS test devices.
Setup
NETGEAR was kind enough to provide us with a ReadyNAS Ultra 4 (the same model Tim reviewed in September). The ReadyNAS Ultra NAS line-up is very focused on being at the center of your media storage setup. The NAS software is extensible, and has many addons that are geared for media serving like Orb and Skifta (to be reviewed later).
The installation for Orb on a ReadyNAS can be a little unnerving, as you basically have to run a firmware "update", which you download from readynas.com. As my background is in programming and networking, I tend to distrust firmware updates since many times they can cause more harm than good.
In this particular case, the whole process was over in five minutes and went smoothly. If you don't already have an account, registration is free and the NETGEAR addon actually handles it on the device. Orb also offers server software for Windows and Mac OS machines.
The Ultra is, in fact, the same exact unit Tim reviewed, so it has the same speedy Seagate Constellation drives in it. I loaded 50 GB of movies onto it in about 30 minutes, as my current media server (a Drobo that is plugged into a Dell Mini 9), can only do 10/100 speed. Once the files were in place, Orb scanned the "media" directory that is default on the Ultra. You can change where Orb scans, but I left it on the standard setting, the default media directory on the ReadyNAS. Orb found it without an issue and scanned it all quickly.
Orb is a $9.99 app in the Apple app store, although there is a "Lite" version for free. The Lite version picks three random pieces of media to stream whereas the full version allows you to pick from your complete collection. I reviewed the full version and used mostly my iPad, but also tested on my iPhone 3GS to see how Orb handled itself on the older but supported hardware.
Installation was normal and the app is small enough that it can be downloaded over 3G (which makes sense since it really is just an endpoint for the streaming service).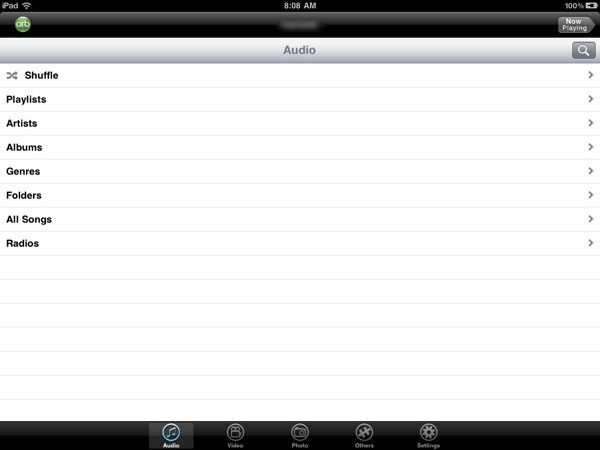 Figure 1: Home Screen of Orb on iPad
Orb does not stand alone in this category though. A very popular solution in the iOS family is AirVideo, although it is iOS only while Orb also supports Android. That said, AirVideo is much less expensive at $2.99 compared to Orb's $9.99. It does not support everything that Orb does however. So you will have to compare and contrast feature lists in order to see what capabilities you do and don't need.
In Use
Once installed, the Orb app will ask for your username and password, and the speed of the connection you are using Orb over. Your connection speed determines the quality level that Orb uses for its stream, which is something I'll discuss more below.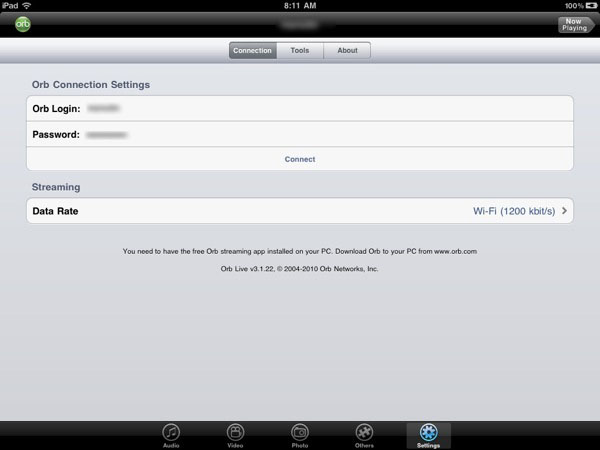 Figure 2: Orb Username and Password
Choosing your connection speed is via a standard "slider" control (as shown in Figure 3), so I picked the halfway point of 3G for my 3GS and the high-end of Wi-Fi for my iPad. These numbers equated to 110 Kbps on my 3GS, and 1200 Kbps on my iPad.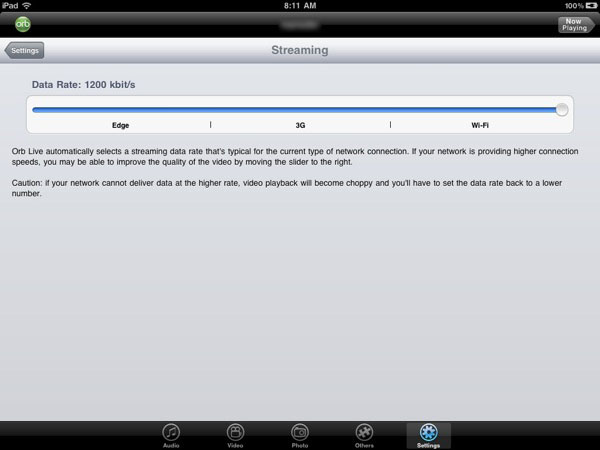 Figure 3: Network Speed Slider Control
A nice feature of the client is that it will increase the streaming quality automatically when you switch from 3G to Wi-Fi. The client also connects out to Orb's servers, so you don't have to muck with complicated firewall settings.
As noted above, Orb has you choose what speed your current connection is. This is actually because the Orb server will "transcode" content on the fly so that it matches your current connection speed. This is very important for mobile devices as 3G networks are so much slower even the slowest DSL connection. This transcoding process happens for music and video. Photos seem to be served as original, and any documents (a new feature on the iPhone client) seem to also be served as original content.
Video Streaming
The Orb server could also stream video from a webcam, so I tried plugging my webcam into the ReadyNAS. This, as expected, did not work, nor did I actually expect it to work, but thought it was worth a shot.
After disconnecting the webcam, I tried streaming some music to start. The MP3s I loaded worked fine on both my iPad and my 3GS, although on 3G the audio quality was noticeably degraded. The Orb server also can stream Internet radio from a central database Orb maintains. You have to search through it though, which is mildly annoying as the interface on the iPad could easily accommodate browsing through a list.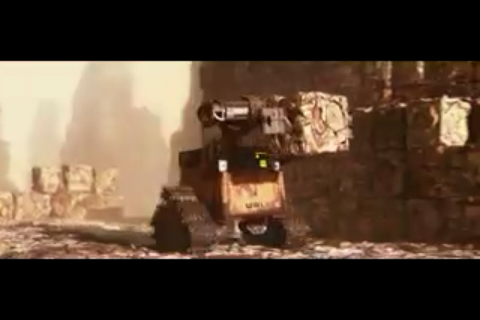 Figure 4: iPhone video playback example
The real test is streaming video, and this is where Orb really is trying to position itself. I started out with some easy, standard definition content which included such classic like episodes of Batman, the animated series, and the recent series Chuck. The server served these up fairly quickly, even over 3G, although, oddly, on 3G the audio quality was noticeably degraded.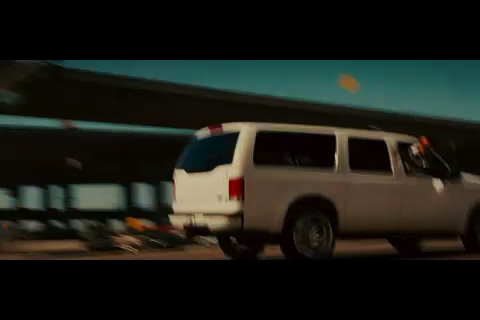 Figure 5: Another iPhone video playback example
Trying to stream high definition content was another story. I picked 3:10 to Yuma and Hancock as test content to stream to the devices. They all had the same problem with not being able to stream consistently to my iPad, which was on the Wi-Fi network. My 3GS fared slightly better than my iPad, as at least it stayed connected, even though it stuttered a lot. I found this strange since the 3GS was running over the 3G connection.
These problems point to the Orb server (running on the ReadyNAS Ultra) more than a connectivity problem. My best guess is that the single core Atom D410 in the ReadyNAS Ultra is not really cut out to be transcoding and streaming high definition video on the fly. I will be interested to see if the upcoming dual-core powered ReadyNAS Ultra Plus line will fare any better. Trying to stream multiple videos at the same time to the two devices was even worse, which really underscores the fact that Orb seems to need a decent hardware platform to support HD transcoding.
In order to not limit Orb on the ReadyNAS hardware, I installed the Orb Caster software on my primary Windows machine, a Core i7-920 with 6 GB of memory. This system definitely meets the Orb Live Technical Specifications, which call for a 2 GHz Pentium 4 processor or faster and 1 GB RAM for Windows 7, Vista, XP Home or Professional SP3 and Intel processor, Mac OS 10.5.1 or later and 1 GB of RAM for Macs.
The process was a little long, because Orb Caster indexes and then "processes" all your media. I don't know that "processing" means and couldn't find any info on Orb's site. But it's probably not pre-transcoding media because I had 200 movies in the folder that I pointed Orb Caster at to index and the process didn't take days!
During this test, I uninstalled Orb from the ReadyNAS in order to not have any server conflicts. Once Orb Caster finishes installing, you have to go into its settings and enable the Remote Access, and enter the username and password you registered with Orb.
I then re-ran the high-definition tests and, sure enough, the video was much higher quality and streamed flawlessly to the iPad. The 3GS was much smoother as well, although there was an occasional stutter. I attribute this to the 3G connection because the 3GS over Wi-Fi worked flawlessly. The video content actually looked really good on the 3GS over Wi-Fi.
So the conclusion is that the Orb software on the ReadyNAS really is hardware limited, since even re-running some of the standard definition content made it look so much better when coming from Orb Caster on my PC.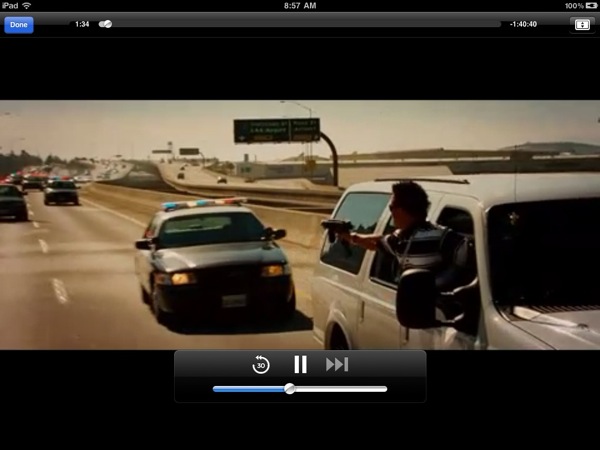 Figure 6: iPad HD video playback example
Closing Thoughts
It's amazing where we've come in just a few short years. With Apple introducing the iPhone, and the subsequent onslaught of copies and "me too" devices, we are quickly being freed from having to be at home to play our media.
However, it's also important to note that your media is still best served from a computer, at least for Orb or any other remote media solution that requires on-the-fly transcoding of HD video. My tests showed that the ReadyNAS Ultra just isn't up to the task, while my two-year old Windows system was. Hopefully, the ReadyNAS Ultra Plus will be more suited to handling HD transcoding.
That being said, as long as you use Orb with a computer with enough power to handle transcoding the content you want to watch, it's a nice, although somewhat expensive way to enjoy your content from iOS and Android devices.