At a glance
Product
CloudBerry Lab CloudBerry Backup () [Website]
Summary
Cloudberry Desktop Backup provides multiple ways to back up data from Windows machines both locally and to the cloud.
Pros
• Easy to use
• Several backup options
• One time charge for the software
Cons
• Program updates are charged after one year
• May be hard to understand for average user
• Requires additional access to cloud storage
Typical Price: $0
Backup
Exclude

N

Include

Y

Drive selection

Y

Folder selection

Y

File type selection

Y

File selection

Y

File size filter

Y

Archiving

Y

File versioning (number)
9999
File versioning (days)
9999
File size limit (GB)
9999
Force full backup

Y

Auto file type organization

N

Auto resume

Y

Transfer Backup

?

Bandwidth Control

Y

Account Types
Unlimited

Y

Free

N

Free Trial

Y

Home

N

Business

Y

Monthly Billed

N

Yearly Billed

N

Min. Limit (GB)
9999
Max. Limit (GB)
9999
Free Space (GB)
0

Restore
Web download

Y

Zip File

N

DVD

N

Hard Drive

N

OS
Windows

Y

Mac OS

N

Linux

N
The gold standard for today's online backup storage is Amazon's S3 network architecture. Many companies have taken advantage of the scalability and security that S3 provides.
Even though not the most popular option, there are other storage providers out there. Cloudberry Desktop Backup leverages these other services to provide storage options. In essence, this software operates on top of Amazon S3 and Windows Azure storage capabilities.
Cloudberry will not allow you to back up directly to, for example, Amazon's S3 network on your own. But it instead allows you to enter your S3 account information and then handles the rest. It does this with other storage providers such as Microsoft's Azure and Google Storage.
Cost
Cloudberry is more of a software interface than a monthly service. Monthly services will vary depending on the storage provider you link up with. This is good news when it comes to the price tag associated with the software. Purchasing the full version of Cloudberry Desktop Backup will run you $29.99.
This is a nice setup since your monthly charges are based on the service that you use. Most people will use Amazon's S3 option or local backups. There are several other cloud interfaces this software can access, but for the most part, the above two options will be the most popular.
If you choose to use the S3 service, the figure shows the pricing options.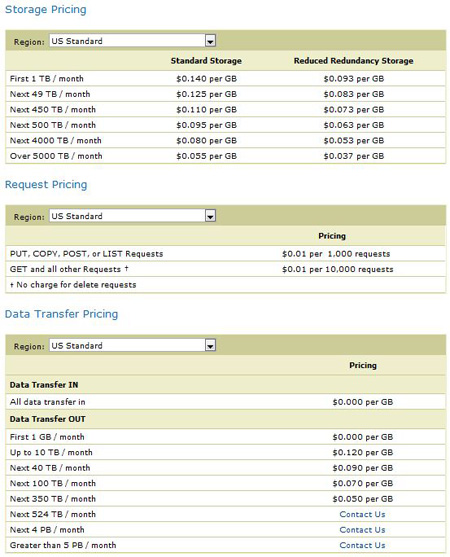 Buying the software entitles the user to have access to the first year of upgrades at no additional charge. All years beyond that will cost 20% of the original fee. These upgrades are not necessary and remain completely optional. If you would like to test the software before you buy it, there is a 15 day free trial available.
Installation and Setup
You have the option of downloading the complete software package or free trial from Cloudberry. The initial download is only 10 MB and only 19MB of disk space required to install the program.
As with most standard installation packages, you can pretty much click next through the entire setup. If you are opting for the trail version, make sure to select "request trial" when prompted for the installation key.
Cloudberry is a Windows only application supporting Windows XP/Vista/7 and Windows Server 2003/2008. There are also add-ons available for Windows Home Server 2011 and Small Business Server 2011 Essentials.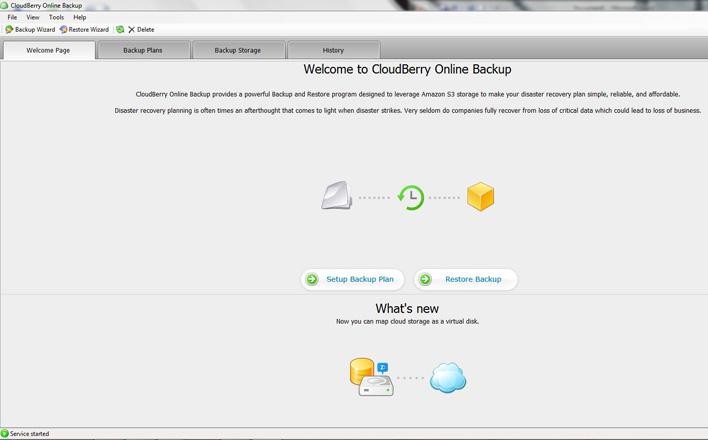 Once everything is installed, the opening screen presents a welcoming and simple to follow interface. The home screen displays all of the information you would need when checking the status of your backups. These options include your backup plans, total storage used, current network settings and quick launch links for creating a new backup job or performing data restores.
The top of the home screen offers access to other areas of control by displaying tabs that house different functions. The second tab labeled Backup Plans (the first being the Home page), allows you to view and edit your backup sets. This includes access to all of your backup plans regardless of the interface you choose to use.
Backup Storage is the third tabbed option and allows a quick view of your backed-up data. From here, you can access or delete data that is stored online. Navigation is presented through a simple file and folder format that is similar to Windows.
The fourth and final tab allows you to see the complete History of your backups. This is similar to the log files that other backups use. A nice touch is that all backup information can be viewed by backup plan, specific operation type and by the day that action took place. Backup software often uses logs that combine all of this information into one interface. So it is nice to see that the information can be broken down to provide an easier way to search. This can be especially helpful when dealing with multiple backup sets.
In Use
As with all cloud based solutions, you will need internet access when working with your backups. Although the primary aspect of Cloudberry Desktop backup is reserved for online use, local backup options are available and can be accessed as long as you have a network connection to your storage device or mapped drives.
Clicking on the installed desktop icon will prompt for the email address that was registered during the setup process. Once your email address is verified, you will be able to manage your backup options.
Setting up backup plans is a cinch. First choose the type of backup plan you would like; online or local. Local backups can access saved data over the network on mapped drives or NAS devices. If the backup is to be housed online, choose from the available options and enter your login or security information.
Cloudberry Desktop Backup then links with your profile or account and operates on top of that interface's architecture. Think of this as a portal by which you can access the S3 network, perform local backups and link with other backup option all in one program.
As of the time this article was written, Cloudberry Desktop Backup provides access to your file system, Amazon S3, Azure, Google Storage, Scality, Dunkel, Tiscali, Host Europe, Seeweb, Walrus and Mezeo. As you can see, there are several options making this a unique interface that could be very helpful if you plan on utilizing multiple backup solutions.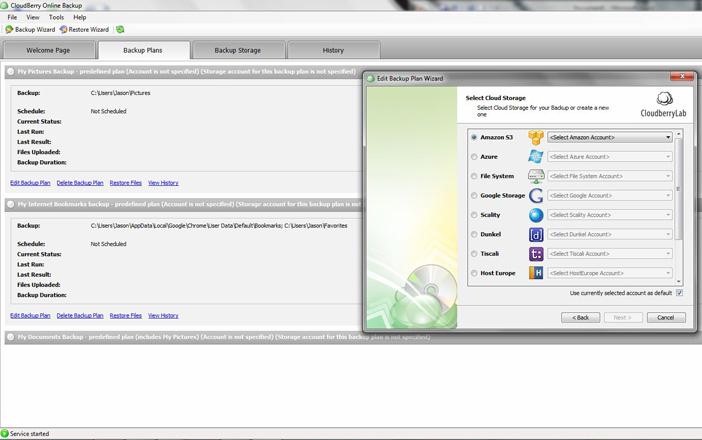 If you are using the cloud for your storage, you will be prompted to enter your login credentials for Cloudberry to connect. Once connected, you have access to necessary security features, backup options and a scheduling module. You also have the ability to create a mapped drive that accesses your cloud storage automatically.
If you choose to do your backups locally, you will be presented with the same options, they are just less engaging and more simplistic. If you are using both options, you do have the ability to create multiple backup plans that use different access methods.
File restores are just as easy, if not easier to manage. There is a button at the top of the screen labeled Restore Wizard that walks you through the entire process. The first option that presents itself lets you choose from the latest version of a file, a point in time that the file was backed up or you can perform a manual search for your data.
Choosing to look by date prompts for the full calendar day, year and approximate time you need to pull the file from. There is nothing tricky about this navigation, it is easy to see what is needed so there should be little confusion performing a restore in this manner.
Selecting the manual option gives you the folder layout. From here you can drill down to the file or folder you need to restore. Again, this process is similar to how Windows performs file and folder searches. Once the file is located, there is a list of available dates and times when the file was backed up. Those familiar with navigating through Windows should have no issues manually searching for the file you need to restore.
Placing a check mark next to the file by clicking on it notates that version of the file is set to be recovered. After the file is selected, you can specify the destination for the restore. The software can either restores to the original location or a specific file path of your choosing.
Overwriting a file and saving the custom file path are both optional choices. One thing to point out is that restorations can be done with the same file that has different time stamps. By not overwriting the file, multiple versions of the same file can be backed up.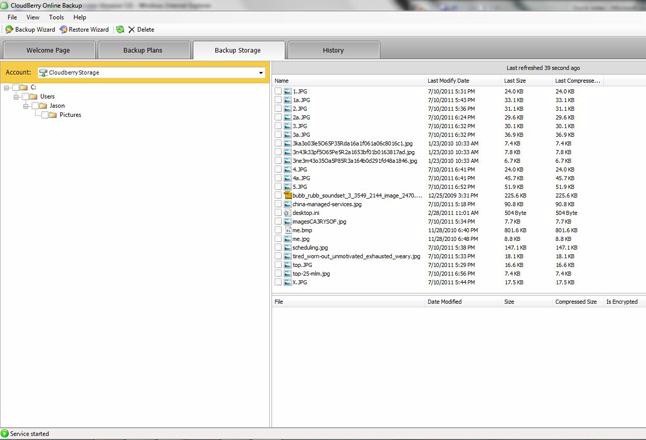 Those familiar with Windows Shadow Copy know that backups can use it to perform copies of open files. Cloudberry Desktop Backup supports this feature. It also supports backups for files that have been modified. By using the timestamp information Cloudberry can save both time and storage space using this option. This translates into saving money as S3 accounts are charged based on data stored.
Not only can Cloudberry save you money through the backup selections, it also performs compression so your data sizes are smaller on the cloud. These two options are well worth the $29.99 investment and will pay for itself in diminishing cloud storage costs through Amazon S3 and other providers.
One of the more useful options this software offers is the ability to purge your data. Purging is a term used to describe how many versions of a file you want to keep. If you perform daily backups and a file is modified every day, there will be an individual copy of that file transferred to the cloud every time the backup job runs. Over time this can become problematic, not to mention costly. Purging your data allows you to cap the number of saved files.
Many IT consultants recommend saving at least two weeks of data, so purging your files every fourteen days is good practice. You can also choose to purge by number of files instead of days. Following the same rule, you could set the number of versions to fourteen and get similar results.
File size restrictions are also dependant on the storage carrier. For S3 you can upload individual files of up to 5 GB. For larger files, Amazon recommends using the Multipart upload API. This technology allows for files of ranging between 5 GB and 5 TB to be uploaded.
It seems as though the people behind the software are socially conscious as well. Cloudberry Labs allows nonprofit organizations, bloggers and educators to have the software for free. There is a limit of three individual desktop licenses; for further details on this refer to the FAQs on Cloudberry's website. Reaching out to those who could benefit from the product is nice to see. I can honestly say this type of offer is rare and for the most part, unheard of.
Even though there are several positive aspects of Cloudberry Desktop Backup, not everything is perfect. One specific drawback I ran into while testing was that I was not able to backup by file type locally. Although this is not a huge issue, it can be problematic for those that do not know where to locate certain system or email related files. This drawback could make this a bad option for home users that are not computer savvy.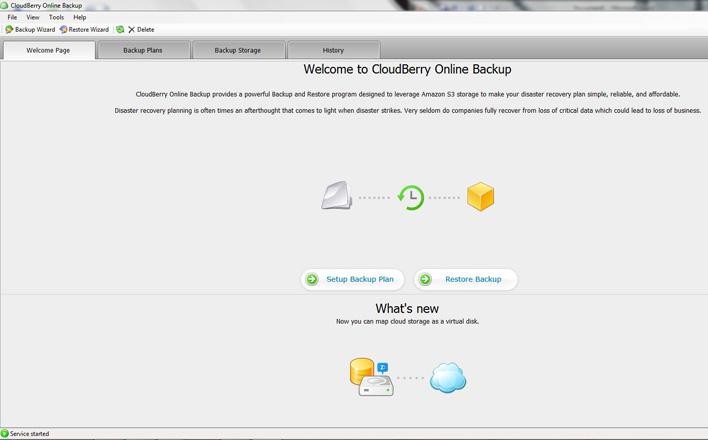 Welcome Screen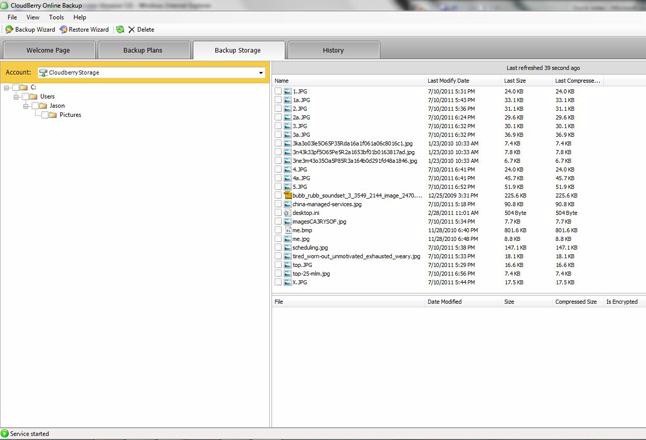 Backup storage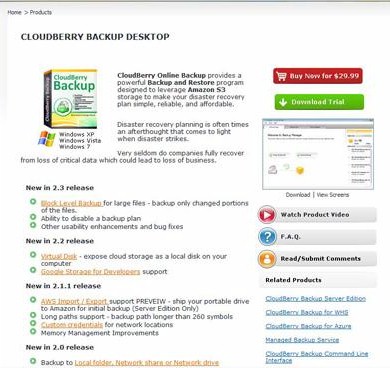 There is not a lot of information within the website support page
Opening screen
Backup in progress
Sign up for your storage options
You can log into network resources and add them to the backup
You can perform local backup sets
There are multiple options for notifications
You can view the complete backup history
There are multiple setting that control how you purge your data
Backup issues allow you to send diagnostic reports
There are a few choices on how you can restore your data
Access, Support, Security
Support
Email

Y

Online Ticket

Y

IM / Chat

N

Phone

N

Knowledge Base

Y

Tutorials

Y

Access
Browser-based file manager

N

File Permissions

N

Folder Permissions

N

Blackberry

N

iOS

N

Android

N

Windows Mobile

N
Access comes in many flavors. From the list above, Cloudberry has provided a nice selection of interfaces that work together with its software. I did not have the ability to test all of the options, but I did get to work with the Amazon S3 and local interfaces.
Cloudberry Desktop Backup is a Windows desktop software program. This means that your web browser is not related to your upload and restoration processes. On the other hand, there are web interfaces you can use to gain access to your data if you choose to do so. Most of these applications such as AWS Management Console all support the latest versions of Firefox and Internet explorer.
Cloudberry is an open format that allows for the integration of other utilities. While working with Cloudberry support, I was told that any interface that allows access to the S3 network will allow file restoration for your data. This includes any utilities or applications that are usable from any smart phone or tablet. There are several options available and a quick Google search will lend more specific information for these programs.
The only disadvantage to this setup is that novice computer users may find this problematic or confusing. Because the software does not handle all of the backup options for you, working with multiple access options could become cumbersome when compared to other solutions.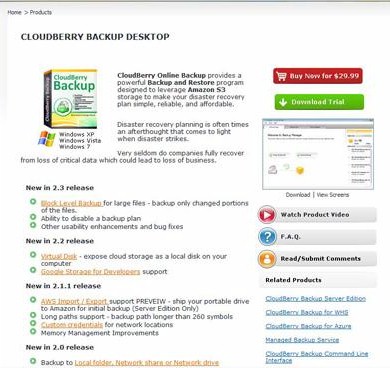 Support features seem to be hit and miss. I was impressed with the response time when dealing with the online support system. I was able to submit my question and get an answer within an hour. I got the same results multiple times and can conclude that online support response times are better than most.
On the other hand, the online FAQs and documentation leave a lot to be desired. There is a basic overview of the software and its capabilities but there is very little detailed information about the interfaces it works with. If you are not familiar with the program or the storage hosts already, you will have to do some research. This could have been done much better.
While researching the security options, the website states that both SSL and multiple built in encryption algorithms are supported. There are also native security encryption methods that can be accessed by utilizing your S3 access. With multiple layers of protection Cloudberry does a nice job offering safety and security.
It is important to note that the S3 option is by far the most widely used resource. Amazon S3 comes with several benefits including 99.9% guaranteed uptime and multiple checksums to prevent data corruption. Seeing as how Cloudberry is the portal to access your S3 storage space, most data integrity and security features are native to the network architecture and not the specific software program.
Conclusion
If you are looking to manage multiple backup storage options under one roof, Cloudberry Desktop Backup is a great solution. With easily understood menus and simple to navigate setup and restore options, Cloudberry Desktop Backup is well worth a look. At the very least you can try out the free trial version and check for yourself.
If you are in need of a backup solution that is all inclusive and handles all aspects of cloud backups for you, this is not the solution for you. There are a few extra steps involved when using this software. So if you need an automated solution, you will have to look elsewhere.
Overall, I think Cloudberry Labs designed this software to fit a niche market and they have done it well. I would caution users to do a little research before purchasing the product and make sure it fits your specific needs. I can see this being beneficial for medium to large sized businesses but confusing and complicated for the average home user.