CloudLathe today announced a new bring-your-own-storage private cloud product.
Tonido Cloud is a self-hosted cloud storage and sync solution that can use local disk, NAS/SAN, Amazon S3 and Openstack storage.
Tonido Cloud storage can be accessed via IE, Chrome, Firefox and Safari browsers, WebDAV compatible clients and iOS, Android, Blackberry and Windows 7.5 Phone mobile devices.
File sync is supported in Windows, Linux and Mac OS and mounted drives are supported only in Windows.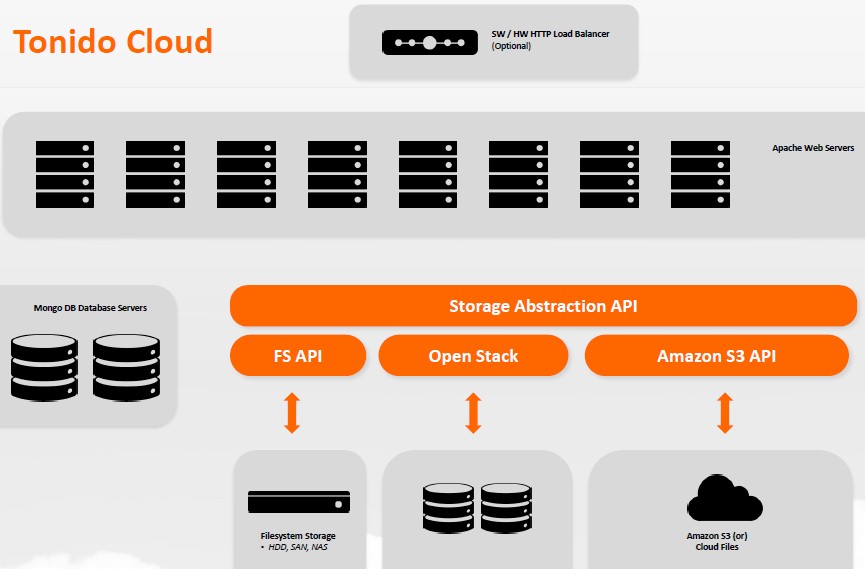 Tonido Cloud architecture
Hosting requires a Linux system with Apache (including Mod Rewrite), PHP 5.3 and MongoDB. PHP requirements include Mongo Driver, GD, OpenSSL and IonCube Loader.
Pricing starts at $499/year for up to 20 users. Users can be expanded in 10 user increments priced at $249. A limited time 25% discount on a one year subscription is being offered. CloudLathe said hosted Tonido Cloud will also be available from partners and system integrators "shortly".
Hit the Tonido Cloud site to learn more or sign up for a hosted trial.