Introduction
Updated 4/27/2010 – Hot swap is supported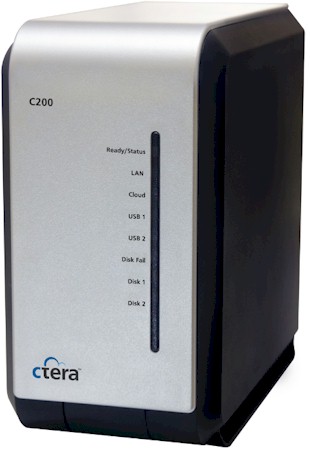 At a Glance
Product
CTERA Network Attached Storage with Online Backup (C200)
Summary
Dual-drive NAS with decent performance and good local and cloud backup features.
Pros
• Good Performance
• Very nice user interface
• Low power
Cons
• No eSATA ports
• Noisy after it warms up
• Relatively expensive
Since we reviewed CTERA's Cloudplug last fall, the company has made two significant changes. The first is that they have decided to focus on their core business as a "cloud" storage provider and stop directly selling their two hardware products.
The second is that they have a new Version 2.0 firmware release, which adds secure remote access, local snapshots, mobile device backup and more. This review will focus on the new V 2.0 firmware features running on the dual-drive C200, which I have not previously reviewed.
Figure 1 shows the rear of the C200, which contains a single 10/100/1000 Ethernet port that supports up to 9K jumbo frames and two USB 2.0 ports. Unlike the Cloudplug, however, the C200 does not include an eSATA port. This is a shame, given all the backup tricks that the C200 can do.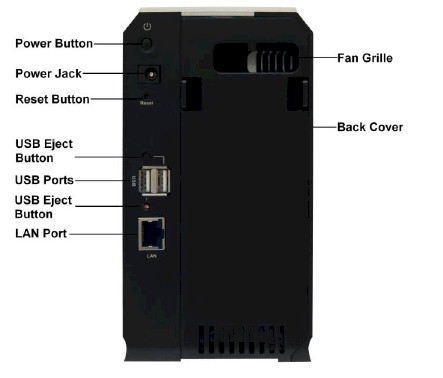 Figure 1: C200 rear panel
CTERA shipped the C200 with two Hitachi 0F10379 DeskStar 7K1000.C 250 GB drives already installed. But if I had had to do it myself, access is easy as shown in Figure 2 below.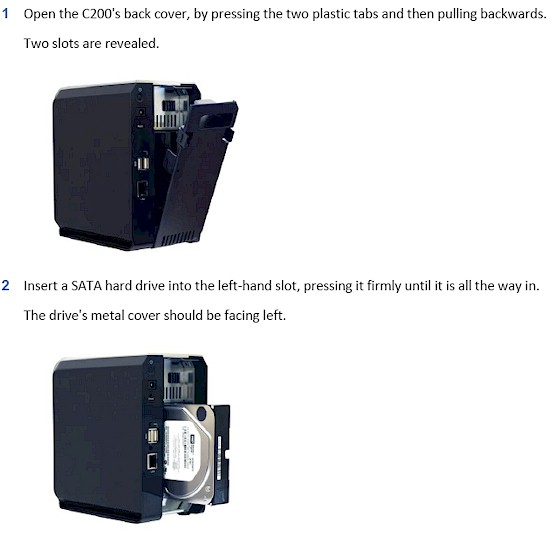 Figure 2: Drive installation
Once the drives are in, you just plug in the power adapter and don't even have to press the power button to start the boot. The drive announced itself via UPnP (it also will do so via Bonjour), so I was able to find its login page with no problem. The C200 defaults to HTTP access. But if you change the URL to HTTPS, it will switch right over to secure access.
Internal Details
I couldn't get the C200 stripped down all the way, so wasn't able to get a clear shot of the main board. Figure 3 shows some of the covers removed, which brings the thin sheet metal chassis, part of the main board, the drive backplane and cabling and blower into view.
Figure 3: Partial inside view
Figure 4 shows what little of the main board I could see. The main processor is under a heatsink, but I was able to clearly see 512 MB of RAM and also spy a Marvell marking on the Ethernet chip. So I'm taking not so great a leap to guess that the design hews closely to that of the Cloudplug, with a Marvell 88F6281 Kirkwood SoC processor under the heatsink, most likely of the 1.2 GHz flavor.
Figure 4: Partial board view
If the design is true to the Cloudplug's, the Ethernet interface is a Marvell 88E1116R.
The C200 drew about 19W with the drives spun up and the blower was very noticeable after the product had been on for awhile. There is no dampening in the cabinet, so drive noise transferred directly to the thin metal frame, which amplified it and added some gentle buzzing of its own. So I have to rate its noise medium low; you'll definitely notice it in a quiet room.
I wanted to measure power consumption with the programmable drive sleep kicked in, but it didn't seem to work.
Setting Up
Setting up is the same as for the Cloudplug. A first time wizard prompts you to assign a device password, configure the drives for the desired storage type and optionally set up an account with the CTERA "Cloud" portal. If you'd like more details, just hit the Cloudplug review.
It appears that CTERA has opted for yearly subscriptions for its Cloud service and bundled them into the price of the hardware. The quote I got from CTERA's Condre Storage partner pegs a base C200 at $371 with a year of 10 GB of online storage. You can upgrade to 25 or 50 GB for $99 and $199, respectively.
Features
I put up a slideshow that walks you through almost all of the admin pages. So I'll just summarize the feature list and flesh out a few of the new feature highlights. Figure 5 shows the Home page, which provides easy access to most of where you'll need to go to manage the C200.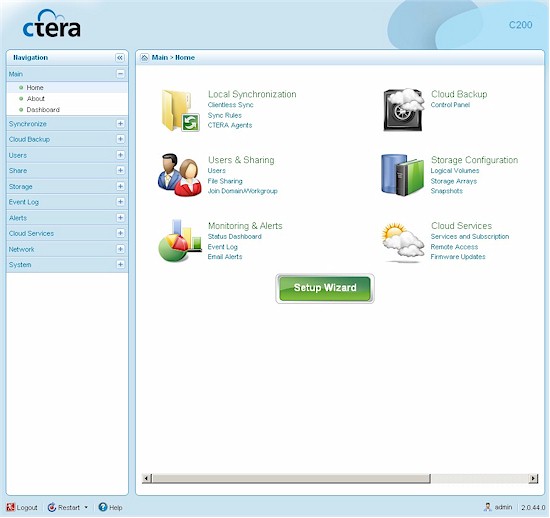 Figure 5: Home screen
The C200's feature set is strictly focused on file serving and backup. But what it does, it does well. Version 2.0 of the firmware includes many new features, some of which I've mentioned earlier, specifically:
• Secure Remote Access: View files over the Web and manage the appliance remotely, from any PC or mobile device, no client software needed.
• Local Snapshots: Instant access to previous file versions stored on the appliance, an additional layer to the snapshots available in the cloud backup.
• Mobile Device Backup: Optional managed agents that enable backup of devices outside the office LAN, ideal for backing up roaming users and teleworkers.
• Other: Active Directory support, NFS, iSCSI support, Apple Filing Protocol, Apple Time Machine support, enhanced Windows shell integration.
Here's the complete feature list:
Network file sharing via SMB/CIFS, NFS, AFP
Individual, JBOD, RAID 0, 1 arrays
Multiple, resizeable volumes per array
Schedulable or on-demand volume snapshots
Apple Time Machine support
User and group creation
FTP (and -SSL) with download bandwidth control for anonymous downloads
HTTP / HTTPs admin and remote access
Joins NT Domain / Active Directories for account information
Schedulable folder-level backup to / from CIFS, rsync, WebDAV targets or local folders
Client Backup via installable agent (Windows XP, Vista, 7 only)
iSCSI target
Email alerts
Logging
If you're looking for media serving, web serving, Torrent downloading and other such pastimes, you'd best look elsewhere. Here are features you won't find in the C200
User quotas
Hot-swappable drives Updated 4/27/2010 – Hot swap is supported, according to CTERA
Print serving
Media serving
Torrent or other downloading
A few things in these lists bear a bit of explanation. The Synchronization (Backup) features can get confusing, since there appear to be multiple ways to accomplish the same thing.
Clientless Sync is the simplest and just copies everthing in network shares you select to the C200's store. You can set this to run up to 50 (!) times a day and appears to support only CIFS shares. Sync Rules are a bit more capable and can back up in both directions and use rsync, WebDAV and CIFS shares as well as local folders. You would also use this to back up to and from a USB drive. CTERA Agents is the only backup method that has match / exclude file type filters and can be configured to use a secure SSL connection. This method is primarily intended for mobile Windows-based systems that need to "phone home" to back up.
To use the iSCSI target feature, you need to first create a SAN volume type from unallocated space on a storage array. You then use the iSCSI target wizard to create the target itself.
The logs that are available are quite informative and can be filtered for various log information types. But they can't be emailed periodically.
Performance
Since the C200 is a real NAS (unlike the Cloudplug), I tested with our standard NAS test process with 2.0.44.0 firmware and two Hitachi 0F10379 DeskStar 7K1000.C 250 GB drives. Tests were run with 1000 Mbps and 1000 Mbps w/ 4K jumbo frame LAN connections with RAID 0 and 1 volumes.
Figure 6 presents a summary of the iozone-based benchmark tests run for the C200. Write cache boost for both RAID 0 and 1 is moderate, saying below the Gigabit LAN connection's 125 MB/s theoretical limit. Write and read erformance with 512 MB and larger file sizes runs in the mid 30 MB/s range, except for RAID 1 writes, which drop to the mid 20s.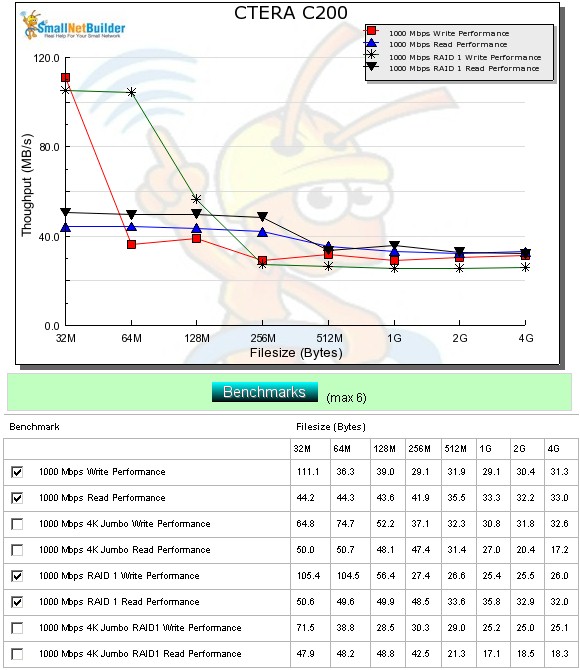 Figure 6: Performance benchmark summary
RAID 1 Write performance with a 1000 Mbps LAN connection averaged over the 32 MB to 4 GB file sizes and with cached results above 125 MB/s removed from the average measured 49.6 MB/s and reads averaged 41.6 MB/s.
Performance – File Copy
File copy tests always provide a bit of a different view of NAS performance and the C200 is no exception. Figure 7 shows how the C200 ranks for RAID 1 writes, coming in at essentially the same as another 1.2 GHz Kirkwood box, the QNAP TS-219P. The QNAP did better for RAID 1 reads, however, coming in at 50.9 MB/s vs. 42.4 for the C200.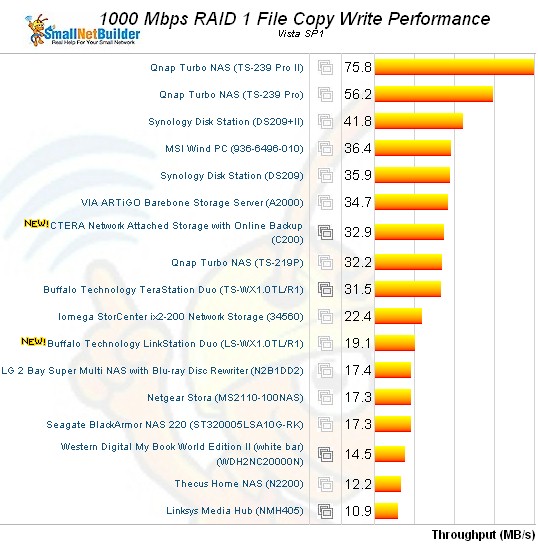 Figure 7: Vista SP1 File Copy – RAID 1 write
I didn't test backup performance to a USB drive, but I'd expect it to be in the 20 MB/s range for an EXT3 formatted drive. I did happen to run a file sync of a CIFS share with about 1.3 GB of assorted files and folders via a Gigabit Ethernet link and the log showed that it ran at a rate of about 3 MB/s.
Use the NAS Charts to further explore performance.
Closing Thoughts
The bottom line for the C200 is similar to Jim Buzbee's conclusion for the Cloudplug. The user interface is nicely done and has some features that other vendors would do well to copy. It also has decent performance, as you'd expect from a Kirkwood-based NAS. But it won't outshine more expensive Atom-based products.
Unfortunately, like the Cloudplug, it's also comparatively pricey for a dual-drive NAS at $371 without drives, but with a one year subscription for remote access and 10 GB of storage. Hassle factor is a bit higher, too, since there's no retail / etail availability. You have to email a CTERA "partner" for a quote and I don't know how long order fulfillment takes. Service will also be up to CTERA's "partners", too.
It's clear CTERA wants to concentrate on tending its cloud, not end-users. So if you end up deciding to take the plunge, ask lots of questions from whoever you order from and be sure you know who will be there for you when you need a helping hand.

See the slideshow for an admin interface walkthrough and internal photos
This article originally appeared on SmallNetBuilder.