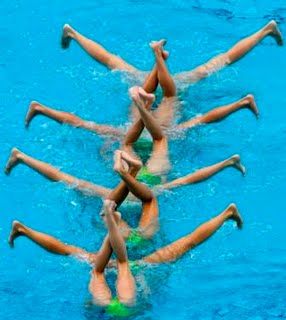 Cloud storage products are getting fancier and fancier.
Drawing comparisons between SugarSync and Dropbox is a requirement when picking out a cloud provider. It's important to understand the differences between the two platforms, and which features are more important to you.
SugarSync has taken an "everything and the kitchen sink" approach to cloud storage. It supports all major mobile OSes, including Symbian and Windows Mobile. It can sync as many folders as you'd like, between as many computers as you'd like. It does scheduled backups. It integrates with Facebook. Starting to sound like an infomercial, yeah? But wait, there's more!
Dropbox takes a decidedly different approach to the cloud, aiming to lower the bar required to jump into cloud storage. Whereas SugarSync markets itself toward the technophile who lives on the cloud, Dropbox markets itself to people who need basic cloud and sharing services. Dropbox customers just want their data to be available wherever they are.
Dropbox or SugarSync? Rye or Whole Wheat? Pepperoni or Sausage? We can only help with the first of those, so let's get to it.
Features – Winner: SugarSync
If you want features, SugarSync is your product. There really is no comparison. SugarSync aims to be your complete solution to cloud storage, providing cloud backup, "choose whatever folders you want to" sync, and integration with third party services like Facebook. Folders can be synced to mobile devices, although depending on the platform, e.g. iOS, it might not make any sense since you can't edit anything on the device.
In addition, SugarSync has editing support for certain file types, and shared foldesr with password protection, while Dropbox has none of these features. So if any of them are useful to you, you might just want to stop reading here and pick up SugarSync.
As a commenter on one of my previous articles suggested, you can get around Dropbox's single-folder limit by creating symbolic links (NTFS Junction Points for Windows users). But the process is command-line only on both Windows and Linux, and Mac OS X users need to create aliases for each folder, which I've had broken by Dropbox updates.
Ease of Setup – Winner: Dropbox
Not having so many features makes Dropbox's setup a no-brainer. Download a setup file, install it, sign in, and you're ready to sync files. If all you need is one folder, or you just want the simplicity, Dropbox is your cloud storage provider.
Dropbox has even taken into account if you move the folder accidentally. It will pop up a message and tell you to move it and or it will download the folder from the cloud. It's that kind of simplicity that is winning Dropbox more users every day.
Performance – Winner: Tie
I hate ties. But one of the most important features of cloud storage is how fast you can push and pull data from the 'Net. Both Dropbox and SugarSync were able to fully use my 25/25 Mbps Internet connection without issue, although SugarSync's throttling system left something to be desired.
Synchronization speed was equally speedy, usually within seconds for both products. Dropbox was slightly lower on RAM usage than SugarSync. But it was only a couple MB, which is close enough to be considered negligible.
Sharing – Winner: SugarSync
This was a tough one to call. But overall, SugarSync has a better sharing model. Being able to password protect folders will at least keep the general masses from stumbling upon your public file share. If you're worried about someone trying to hack your files from either provider, that means you probably shouldn't have the files accessible on the Internet in the first place.
Additionally, SugarSync's ability to integrate with Facebook Photos makes it all that much easier to have a central location for all your photos.
Accessibility – Winner: SugarSync
This was another tough one. Both platforms provide excellent accessibility options, with a plethora of mobile clients, and friendly websites. SugarSync, though, has gone the extra mile in its recent release of multilingual support. SugarSync also provides a Symbian OS app, which until Microsoft & Nokia pair up, is still the most prolific mobile OS overseas.
SugarSync has better media streaming functionality as well, with support for building playlists and viewing photo slideshows in the mobile applications. Dropbox can download those files and open them too, but the experience isn't as fluid as with SugarSync.
Security – Winner: Dropbox
Dropbox? But didn't I just say SugarSync's password-protected shares were a main reason for winning sharing? Yes, but there is more to security than password protection.
SugarSync transmits files from your machine to the cloud via an SSL-secured connection, but encrypts the files themselves with AES-128 after they reach SugarSync's servers. Dropbox encrypts files with stronger AES-256 before sending them up with a secure SSL connection.
So in the event that someone were to intercept the SSL connection with Dropbox, they'd still have to unencrypt the files. While with SugarSync their job would be done.
Pricing – Winner: SugarSync
SugarSync continues to be aggressive with its pricing. It has changed its business model at least twice since I reviewed it back in December. Right now, SugarSync offers 10 GB more storage (60 instead of 50) for the same price as Dropbox. And if you have the 100 GB plan, they are $5 a month cheaper than Dropbox.
SugarSync also offers more storage options, although supposedly you can contact Dropbox for a custom storage quote if you want more than 100 GB.
Bottom Line – Winner: SugarSync
| Â | Dropbox | SugarSync |
| --- | --- | --- |
| Features | Â | X |
| Ease of Setup | X | Â |
| Performance | X | X |
| Sharing | Â | X |
| Accessibility | Â | X |
| Security | X | Â |
| Price | Â | X |
| Total | 3 | 5 |
Being a long-time Dropbox user, this exercise opened my eyes as to what Dropbox is / is not doing for me. Dropbox's dead simple approach works for a lot of people, and honestly if you're not too technical, I would be leery of picking up SugarSync. It has a more involved setup process, and has a lot of features that you'd probably never use.
However, for people looking to synchronize and store files in the cloud and can use some of that extra whiz-bang, SugarSync is the better solution. If the guys from Dropbox are reading this, my recommendation is to at least beef up sharing features and securities, and match or beat SugarSync's pricing.