At a glance
Product
ElephantDrive ElephantDrive () [Website]
Summary

Online backup, data storage and file sharing.

Pros
• Full featured backup service
• Web utility for anywhere file retrieval
Cons
Application doesn't support Linux.
Typical Price: $10
Backup
Exclude

N

Include

Y

Drive selection

Y

Folder selection

Y

File type selection

Y

File selection

Y

File size filter

Y

Archiving

Y

File versioning (number)
9999
File versioning (days)
30
File size limit (GB)
5
Force full backup

Y

Auto file type organization

N

Auto resume

Y

Transfer Backup

?

Bandwidth Control

Y

Account Types
Unlimited

Y

Free

Y

Free Trial

Y

Home

Y

Business

Y

Monthly Billed

Y

Yearly Billed

Y

Min. Limit (GB)
2
Max. Limit (GB)
9999
Free Space (GB)
2

Restore
Web download

Y

Zip File

N

DVD

N

Hard Drive

N

OS
Windows

Y

Mac OS

Y

Linux

N
ElephantDrive is an online backup company that provides "a service that is very big, never forgets, and works for peanuts!" I didn't write that, ElephantDrive did, but I think it is a good tag line for a what you want in a storage provider: reliability, security, and low cost.
I recently wrote a piece on how to set up a cloud server on Amazon Web Services. As I was looking into ElephantDrive, I was intrigued to see that ElephantDrive uses Amazon's Simple Storage Solution (S3) as the actual storage for its services. I guess this makes ElephantDrive a cloud service within a cloud!
Specifically, ElephantDrive offers four different products for Windows or MacOS based computers. There is a Free Trial product, with limited functionality and a maximum of 2 GB of storage. The nice thing is it isn't really a trial and you can use it as long as you like.
The Personal product provides up to 100 GB of storage for 1-2 computers at $9.95 per month. The Family product provides up 500 GB of storage for up to 5 computers at $19.95 per month. Each account flavor comes with a file size limit, i.e. 100 MB, 1 GB and 2 GB for the Lite / Free, Personal and Family accounts, respectively.
Lastly, ElephantDrive offers flexible Enterprise backup services for multiple users and "unlimited" storage. "Unlimited" means that there is no cap on the storage available. But you do pay for the storage you use in 50 GB increments up to 1 TB, which will run you $25 to $415 per month. Above that, you'll need to get a quote from ElephantDrive. Each of these products also offers a yearly price option for a reduced cost. Enterprise accounts have a file size limit of 5 GB.
I tested the Free version, which required only a user name and password to set up, no credit card required. I installed the application on my Windows 7 Pro 64-bit laptop. The application creates a folder on your desktop, called My Elephant Drive, which is a simple means to save files that automatically get backed up. Create a new file, save it to this folder, and it will automatically get backed up.
The ElephantDrive explorer application also provides a browser-like interface for copying files from your PC to your ElephantDrive account.
Drag and drop a file or folder from your computer on the bottom half of the window to the ElephantDesktop on the top half of the window, and your files are automatically copied to ElephantDrive's secure storage.
The ElephantDrive application manages bandwidth utilization as it uploads your files so it "does not interfere with system performance while you are using your computer". The application also allows you to manually start or pause file transfers.
The Personal, Family, and Enterprise products all offer the ability to back up files located on your computer based on file name, paths, folders, or drives. To manage your storage, specific folders can be tagged for exclusion, and specific files can be excluded by date or size. Once a file has been backed up, the system only backs it up again if it has changed. Backups can run every minute, daily, weekly, or monthly, or triggered manually.
ElephantDrive also stores multiple versions of files. Personal plan users get 30 days of versions, Family plan users get a year and Enterprise users can store "unlimited" versions of files.
Restore
Restoring a file is a simple drag and drop operation with the Explorer application shown in the Gallery. In addition, ElephantDrive offers a web utility to access your files from any computer. Although the backup application is only supported on Windows and Mac OS computers, the web utility allows access to files from a Linux computer using the Firefox browser as shown below.
This utility allows you to restore, share, delete, or edit your individual files or folders from anywhere that has Internet access.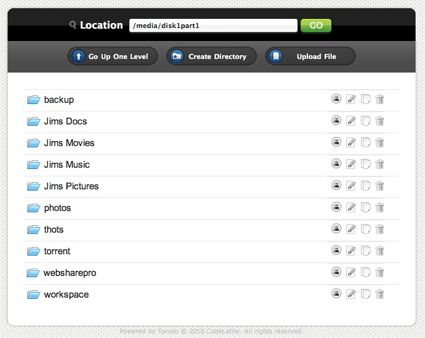 The ElephantDrive Explorer Utility sits in the system tray, just a click away.
The ElephantDrive Web Utility provides file access from any computer, even Linux PCs!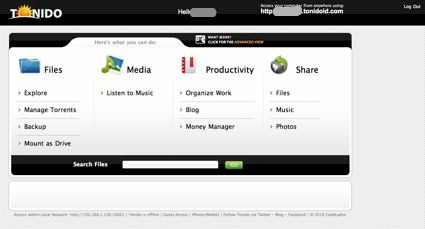 The application has a simple menu launched from the system tray, providing one click access to the software and files.

A useful utility to see if there is any upload or download activity occuring. Upload and download activity can be stopped via the Enable/Disable option shown in the previous menu screen.
Access, Support, Security
Support
Email

Y

Online Ticket

N

IM / Chat

Y

Phone

Y

Knowledge Base

Y

Tutorials

Y

Access
Browser-based file manager

Y

File Permissions

Y

Folder Permissions

Y

Blackberry

N

iOS

N

Android

N

Windows Mobile

N
Files are securely copied to and from ElephantDrive's storage services using 128-bit SSL encryption. All files are encrypted with 256-bit AES encryption. The encryption key can either be automatically generated or you can create one manually. As with other on line backup services, if you use your own key, make sure you don't lose it, as there is no way to recover your files without it!
ElephantDrive also offers geographic redundancy, meaning your data is stored at two different locations. No doubt this service is achieved by leveraging the vast infrastructure of the Amazon Web Services network.