At a glance
Product
Hitachi GST Hitachi Backup () [Website]
Summary
No-frills all-in-one local and cloud backup for Windows and MacOS.
Pros
• Very easy to use
• Provides both local and online backup
• Multiple backup sets
Cons
• Does not have strong security features
• No administrative level configuration
• 250 GB storage limit
Typical Price: $49
Backup
Exclude

N

Include

Y

Drive selection

Y

Folder selection

Y

File type selection

N

File selection

Y

File size filter

Y

Archiving

Y

File versioning (number)
9999
File versioning (days)
9999
File size limit (GB)
5
Force full backup

Y

Auto file type organization

Y

Auto resume

Y

Transfer Backup

Y

Bandwidth Control

Y

Account Types
Unlimited

N

Free

Y

Free Trial

Y

Home

Y

Business

N

Monthly Billed

N

Yearly Billed

Y

Min. Limit (GB)
0
Max. Limit (GB)
250
Free Space (GB)
3

Restore
Web download

Y

Zip File

N

DVD

N

Hard Drive

N

OS
Windows

Y

Mac OS

Y

Linux

N
Keep it simple. That sums up the basis for the Hitachi Backup software. In an age where technology controls most of our daily routines, we often see simplicity thrown out the window. Many products require diving into menu levels best suited for only the tech-savviest to get them up and running.
Average users, however, would rather click on an installer file and be done. If you're this guy or gal, Hitachi Backup is made for you. It replaces the typical backup product interface with an easy to use on/off switch.
Hitachi claims that all web browsers will allow users to connect to their cloud storage. Accessing data is as easy as connecting to the cloud interface through your Windows, MacOS, iOS or other smart phone browser. With almost no limitations to accessing your data, Hitachi provides a wide array of accessibility that is rarely found in today's backup software programs.
Cost
Free for the first 3 GB. After that, the standard package offers 250 GB for an annual fee of $49. Website documentation does not mention any other packages, so gaining more storage seems to be out of the question for now.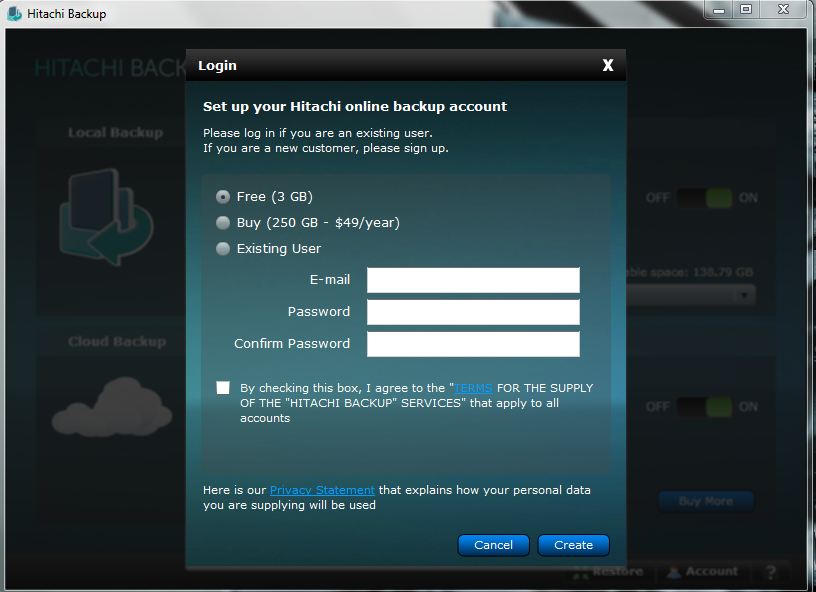 One nice feature is that the software is free to try. All you have to do is create an account when you download the desktop software and you can try the program with no obligations. There is no credit card information necessary, just an email account and a password.
Because Hitachi also makes hard drives, all its Touro and LifeStudio drives come prepackaged with Hitachi Backup. This is a nice feature, considering this software offers both local and cloud based storage options.
Installation and Setup
Installation and setup is a snap. The total size of the program is 6.21 MB and takes about one minute to download based on your internet connection. Once downloaded, just follow the prompts. There are no advanced configuration options so clicking Next through the entire process is all that needs to be done unless you choose to install the program on a different partition.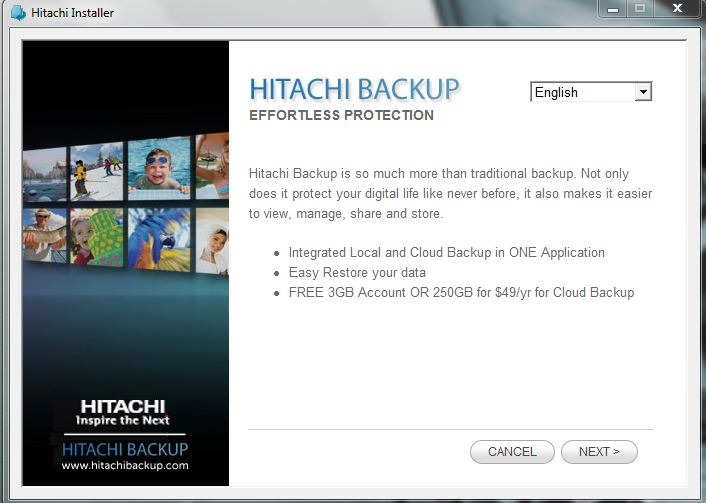 Even if you have never worked with a backup program before, it won't take long before you're comfortable with how the Backup functions. There are only a few options per screen, making it an ideal candidate if you don't need to set up advanced configuration settings.
Hitachi offers two backup methods – local and cloud. I was surprised to see both options have the same interface, making it easy to set up backup jobs.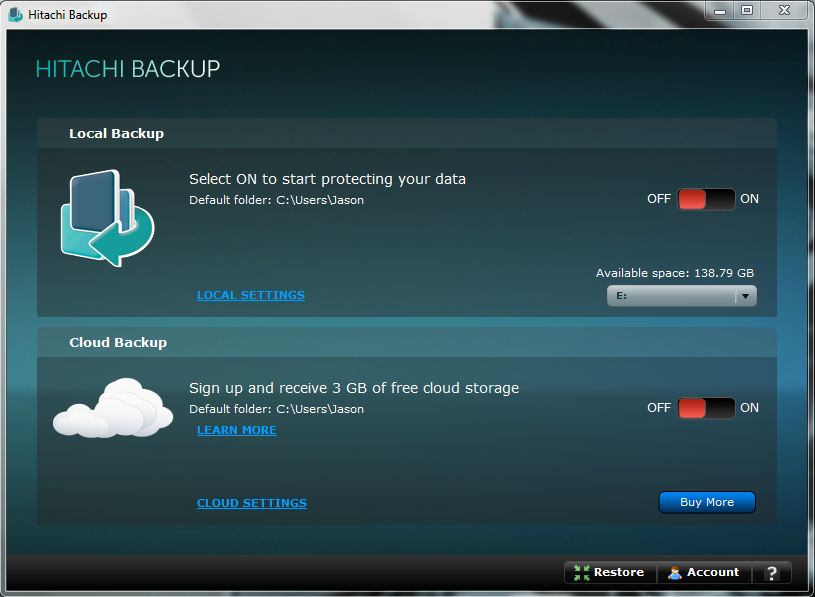 Local backup would typically be to external hard drives. As mentioned before, two Hitachi lines of external drives come pre-packaged with the software. But any external drive will work just fine. Internal disk space can be used for local backups if you choose to do so. Note that Hitachi backup does not support networked or mapped drives, so transferring data over the network will not work.
Cloud settings are easy to navigate.
The home screen provides easy search functions.
Finding your data is simple.
You can navigate through your uploaded data.
Local backup settings have less options than online backups.
In Use
Both backup options share a lot of the same features. A slider is positioned just to the right of each configuration to enable / diable it. Under the local backup option there is a link for local settings. This is where all of the options and configurations live. Many backup software programs provide multiple levels of configuration, Hitachi only has two.
Creating jobs is as easy as selecting your files and folders, adding them to the backup list and setting your schedule. One of the nicer features is that Hitachi Backup can copy and store your files in 30 minute intervals. You can select the number of revisions you would like to keep, which allows for multiple backup sets of the same data.
Backups can be scheduled by specific time, day, week or month for local and cloud backup sets. Multiple backups can be configured, so daily and monthly backups can be set up easily.
Although the setups are similar, cloud storage has a few extra settings. Bandwidth allocation can be set to low, medium or high. There is also an automatic setting that configures your current connection for optimized use.
Another differentiating cloud backup feature is the file size limiter. Files larger than the setting won't be backed up. There are also limits to the size of files that can be backed up. Local files cannot be larger than 5 GB and files backed up to the cloud cannot exceed 50 MB per file.
Hitachi doesn't limit the types of files that can be backed up. As long as you are within your 250 GB limit, any file type is supported. But because this is not an enterprise solution, backing up programs while they are in use (such as Outlook) will not work. You will need to shut down all programs before backing up their associated files.
Backup uses a form of data deduplication to speed backups and limit bandwidth use. TurboUpload is a unique bit cipher that generalizes files that do not usually change. A good example of this would be your system files. If you back up your system files to the cloud and need to retrieve them, Hitachi Backup looks for patterns to unchanged files to increase your file transfer speed. The program recognizes what files are needed faster than having to search and retrieve like normal. This could come in handy when performing full system recovery jobs.
Access, Support and Security
As stated earlier, Hitachi states multiple times on their website that all internet browsers are capable of interfacing with your cloud storage. This is a bold claim. Although I did not have the opportunity to test this on all browsers, I can confirm that access through IE 8, IE9, Firefox and the iPhone App (iPhone 4) worked well. Hitachi offers free Iphone and Ipad apps if you purchase annual backup support.
Hitachi says Backup will not work with Linux. It is not clear if this is applicable to the software program itself or if there are issues accessing the cloud.
Navigating to www.hitachibackup.com will allow you to log into your cloud storage. Viewing files and folders is a simple process. There are recently used folders that appear on your home screen. From here you can open the folders and search for specific files. You can also browse by file type using quick access links under the search bar. This provides access to all common files like your music and pictures in an auto search function.
Locally, backup access works the same way. Just open up the Hitachi Backup software, choose the restore function, click on the files or folders you need and click the restore button at the bottom of the page. As with all other aspects of Hitachi Backup, this process is simple, intuitive and should not pose any problem for most users.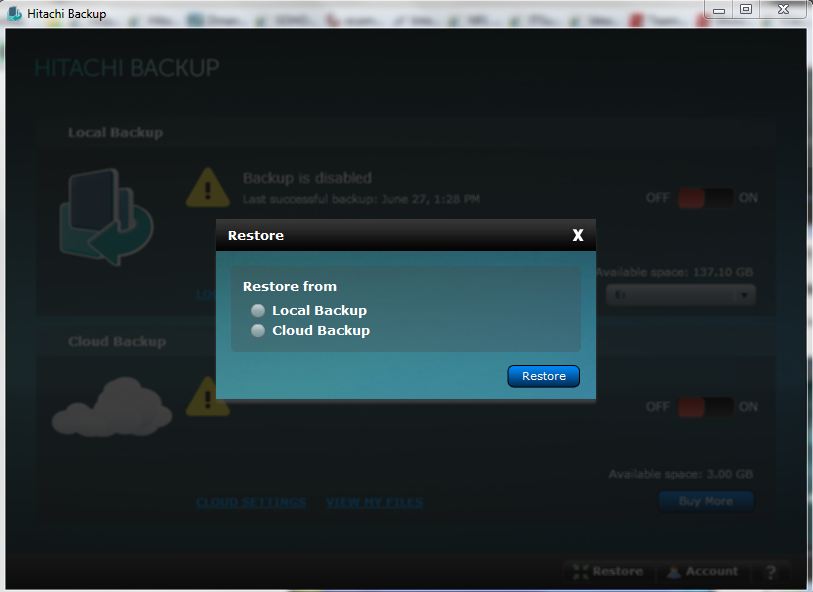 Support
Email

Y

Online Ticket

N

IM / Chat

N

Phone

Y

Knowledge Base

Y

Tutorials

Y

Access
Browser-based file manager

Y

File Permissions

N

Folder Permissions

N

Blackberry

Y

iOS

Y

Android

Y

Windows Mobile

Y
For those of us that are concerned with security, Hitachi Backup provides adequate protection for what it does. As this is not an enterprise solution, don't expect to find enterprise level security options.
Your backups are not password protected or encrypted with a security certificate. Although this area may be lacking when compared to other cloud solutions, the security that is implemented should be more than sufficient for personal or small business use.
The company's website does not go into much detail about their level of security, but does provide the following information
"Hitachi Backup utilizes different encryption systems in every phase. Data is encrypted by the program and divided into different parts, making it unreconstructible by intercepting any single part. Data is then sent by an encrypted SSL channel to the Hitachi Backup servers. This type of communication is the same used by online banks and credit card payment systems. The files are not subsequently reconstructed, but rather the different parts of the files are archived on a RAID system."
Hitachi also mentions that backups can be used with proxy servers that support connectivity to HTTPS port 443. If you are looking to use FTP in conjunction with this solution, you may be out of luck. At present there is no support for FTP integration.
Support comes in a few forms. There is an online FAQ section that is well done. Many of the average issues you may encounter can be researched there. Along with the documentation, there are four YouTube videos that outline the installation, backup and restore processes.
If you're looking to talk to a live person or send a support request via email, you will need to refer to the product support information listed under the contact us link on the website. The addition of an easy support interface within the program would have been a nice touch.
Conclusion
If you're looking for an easy to use, no frills backup solution, Hitachi Backup fits the bill. Even without the advanced features that other cloud solutions offer, I was impressed by the innovative layout and ease of use this software offers. That coupled with accessibility via multiple platforms allows for a truly mobile way for users to access their data.
If you are concerned about security, though, you may want to look elsewhere. Even with all of the innovative approaches, the bottom line is this; there is no form of personal encryption and all files are backed up in their original format. This can be a potential security risk. Business owners may want to consider this fact before purchasing the support plan.
It all comes down to what you are looking for. If you are seeking simplicity and adequate protection for non-critical data, Hitachi Backup is an optimal solution. If you are looking for security and minimal risk for business or personal data, this is probably not the best solution to go with.
For what is does, Hitachi Backup is a refreshing take on a sometimes convoluted and tricky backup landscape. In this case, less really does seem to offer more.