At a glance
Product
Pro Softnet IDrive () [Website]
Summary
IDrive provides a complete online backup solution, but not across all platforms.
Pros
• Feature rich backup solution.
• IDrive portable software a boon for XP & Vista users.
• Good support options
Cons
• Product lineup is confusing.
• MacOS platform lacks encryption and other important features
• Web interface is cumbersome to use.
Typical Price: $5
Backup
Exclude

Y

Include

Y

Drive selection

Y

Folder selection

Y

File type selection

N

File selection

Y

File size filter

N

Archiving

N

File versioning (number)
30
File versioning (days)
9999
File size limit (GB)
9999
Force full backup

Y

Auto file type organization

N

Auto resume

Y

Transfer Backup

Y

Bandwidth Control

Y

Account Types
Unlimited

N

Free

Y

Free Trial

N

Home

Y

Business

Y

Monthly Billed

Y

Yearly Billed

Y

Min. Limit (GB)
5
Max. Limit (GB)
1000
Free Space (GB)
2

Restore
Web download

Y

Zip File

N

DVD

N

Hard Drive

Y

OS
Windows

Y

Mac OS

Y

Linux

N
Updated 1/16/2012 – Free space increased to 5 GB
IDrive is a well-established company among the cloud-based backup vendors. It has a large and complete feature set, and caters to all levels of users through its complete (but somewhat confusing) product lineup.
The IDrive product lineup is arguably the most confusing part of the whole IDrive experience. Take a look at the chart here since it makes more sense in a visual representation. Here's a quick breakdown of the IDrive Plans:
• 2 GB 5 GB IDrive Basic account is free.
• 150 GB personal use IDrive Pro account is $4.95/month or $49.50/year.
• 500 GB Family Pack is $14.95/month or $149.50/year. (This options allows up to 5 PCs on the same account.)
• IDrive Pro for Business accounts range from 50 GB to 1000 GB. These cost $9.95/month ($99.50/year) up to $79.95/month ($799.50/year), respectively.
IDrive's product lineup follows this rather diverse and confusing trend. In addition to the options listed above, they also have several additional offerings under the "IDrive" brand. These include:
• IDrive Portable, a hard drive backup solution I'll discuss further into this review.
• IDrive for Mac, which is different enough that I would separate it out as its own product.
• IDrive Lite, a contact sync solution for smartphones.
• IDrive Sync, a beta product that will compete with Dropbox.
• IDrive EVS, an API for Developers to use cloud storage for their applications.
The review will touch upon each of these solutions with the exception of Sync due to its beta nature (and not easily found on the website), and EVS since it's not really a consumer or SOHO/SMB product.
The free 2 GB 5 GB IDrive Basic account is a fully-featured product offering, and gives a very good indication of what you can expect from the paid IDrive service. IDrive Pro upgrades your storage and claims to have "better" performance according to the comparison chart found on their website, which can be found here. I was able to upload at the same speed to IDrive's servers as I did when I reviewed Mozy Home, so without a better definition of what "good" versus "better" performance is, I wasn't able to find a speed limit.
One will also get access to better support by signing up, and larger plans allow for multiple computers to share the space. IDrive Pro adds the ability to add additional accounts so multiple users can log into the web interface to manage files. Heavy users will be pleased to see that the IDrive Portable option can be purchased with data pre-loaded on it, thus significantly decreasing rebuild times after a catastrophic failure.
An interesting feature is that IDrive can wake a PC or Mac from sleep/hibernate to run a backup. Enabling "continuous" backups will have the software check periodically for changes to files and back them up.
IDrive for Mac supplies a similar enough interface and experience that it didn't warrant any additional screenshots in the gallery. But feature set and setup classify it as almost an entirely separate product. First, you must sign up for a new account. For users like me who run both Windows and Mac environments, you'll need to have accounts for each platform, which is a big detractor because my Mac laptop would not be able to use a family plan that is purchased as a "Windows account" or vice-versa.
IDrive for Mac also does not support "versioning" of individual files, but rather daily backup snapshots. IDrive keeps 10 days worth of snapshots, which is paltry compared to the 30 individual file versions it keeps for Windows users.
A rather scary omission is that Mac users do not have the option to encrypt their stored files. The web interface for Mac users lacks the ability to view backup/restore logs, and finally Windows Explorer integration is not mirrored on the Mac with Finder. Overall, Mac users would be wise to look elsewhere if for no other reason than the lack of storage encryption.
Earlier implementations of IDrive garnered complaints that large-file support was lacking with the system choking on files larger than 100 MB. I could not reproduce this with my 440 megabyte test set, which contain two 150 MB files. The system appeared quite responsive, uploading at an average of 6 Mb/s, which is about as fast as my internet connection will upload to the IDrive servers. IDrive provides built-in network speed tests for upload and download, but these tests are rather inaccurate as they informed me that my connection would only average 1.2 Mb/s.
IDrive Portable is a hidden gem for Windows XP and Vista users. This well-designed software package is completely free to download and to use if you provide your own external drive. I tested this using an eSATA 1TB external drive, and sure enough I was backing up 13 GB of files in no time.
It supports the same AES encryption as Windows IDrive "Classic", but unfortunately the Mac OS version is similarly crippled as the standard Mac IDrive application.
IDrive Portable integrates the cloud-based backup solution by simply including the standard IDrive application, and launches the standard application in a new window to handle the online backups. This could be viewed as a good thing, as it doesn't overcomplicate a single interface.
Overall, IDrive Portable is a great free backup solution for XP and Vista users who already own external drives. Windows 7 users already have a good backup solution that comes standard with Windows 7.
Mobile support is mediocre, with contact syncing through the native IDrive applications all that is currently available. This contact sync uses the soon-to-be-available IDrive Sync, which will be reviewed at a future date once it officially launches and is stable.
Restore
Restoring files can be accomplished through either the client interface, the web portal, or by purchasing a loaded IDrive Portable device. I found web portal rather cumbersome to use, as it will only let you select single files to download.
Multiple file selection is done by restoring an entire folder, but the Java-based client that IDrive uses would never become fully available in any web browser I tried it in.
The desktop client interface worked smoothly, and I was able to restore files quickly and easily. Restoring from a portable device would require installing the IDrive Portable software and using its separate interface.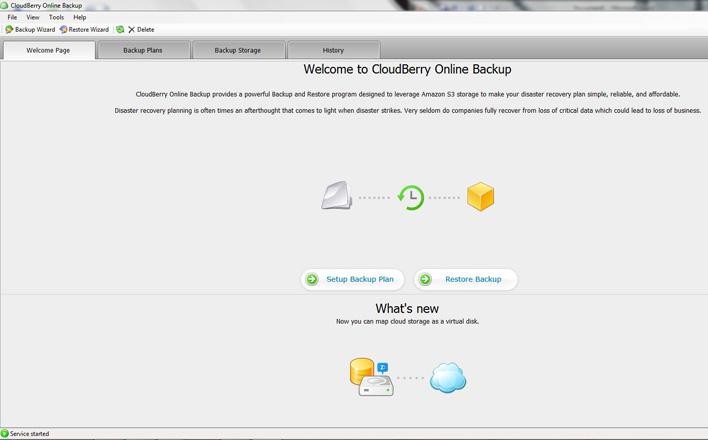 A helpful welcome screen is provided for the desktop client.
General preferences screen.
Drive and folder exclusion selections.
Option to choose a separate encryption key.
Initial backup selection is over the 2 GB limit.
Corrected settings for the backup job.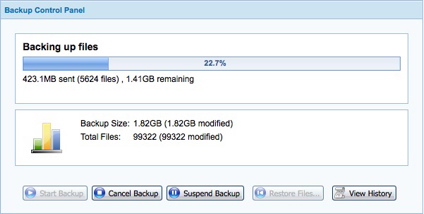 Progress indicator for the current backup job.
The initial backup process can take a while depending on the file set.
The backup log text file for the most recent backups.
Schedule Manager is one of 2 ways to edit backup schedules.
Scheduler is a more friendly but less advanced method for altering backup schedules.
The activity log provides a quick view if a backup was successful or not.
IDrive provides nice system integration on Windows, but not on Mac.
Sync provides an option to synchronize your online backup state with your computer. This deletes any extra files not found on your computer.
Timeline restore provides a filter to view backups only from a certain backup day.
A useful feature is one can search backups for files you've deleted off your computer.
The web interface provides an activity log for all users.
The web interface provides Windows users with access to file revisions.
The web interface for restoring folders.
IDrive Portable provides the same information as the standard application.
File names and locations are visible when encrypted using IDrive Portable.
IDrive Portable utilizes the same interface as the standard IDrive application.
The rather inaccurate built-in speed test.
Access, Support, Security
Support
Email

Y

Online Ticket

N

IM / Chat

N

Phone

Y

Knowledge Base

Y

Tutorials

Y

Access
Browser-based file manager

Y

File Permissions

N

Folder Permissions

N

Blackberry

Y

iOS

Y

Android

Y

Windows Mobile

N
Access is provided via the client interface or via the web site. The client interface is straightforward and easy to use. On the other hand, the website is rather difficult and cumbersome to use, and should be avoided if possible for more than a couple of files or to access revisions.
Support is surprisingly accessible with all users on an account able to call the support telephone hotline. There is also a [email protected] for email support, along with FAQs and manuals available throughout the support site.
All clients transmit their files using a standard 128-bit SSL encryption.
For Windows users, encryption is available using either the standard encryption key, which uses a randomly-generated 448-bit Blowfish key, or a user-generated 256-bit AES key that can be used by typing a passphrase into the client interface. This passphrase should be documented, because IDrive can not decrypt your files once they are encrypted using a custom key.
Mac OS users are left out in the cold in this department, with no encryption options available for storage.
IDrive Portable uses a separate key from the standard client, but provides the same options. It is also peculiar in that while it encrypts the files, it leaves the file names and structure the same, so an attacker could guess at the contents and location of the files on your main system.