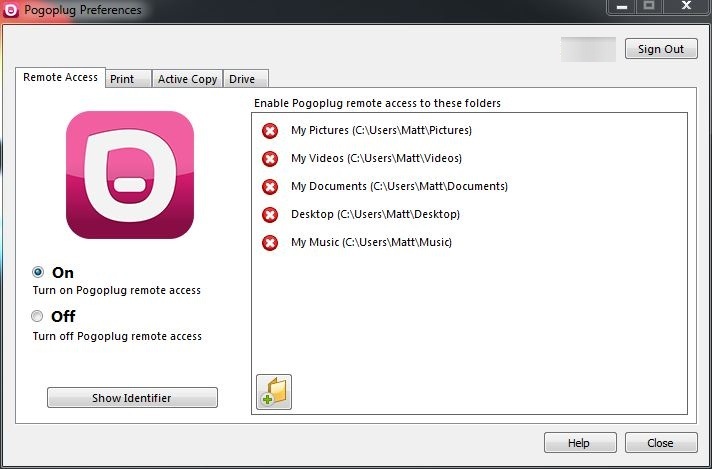 At a Glance
Product
Cloud Engines Pogoplug Premium Software Beta (Website)
Summary
Beta software that turns any computer into a Pogoplug NAS with cloud connectivity.
Pros
• Very fast LAN transfers
• More capable media handling
• Easy install
Cons
• Beta implementation has problems with some settings.
• Network printing doesn't work.
• Requires a computer, taking more power and additional management overhead.
One of the major complaints about Pogoplug devices is speed. Many people see Pogoplug as a cheap way to get NAS storage for the LAN network, along with the added benefits of being able to access their data through the cloud. Unfortunately, the Marvell Plug chips that Pogoplug is based on come up short on performance compared to those used in even inexpensive NASes.
So Cloud Engines has decided to let you build your own Pogoplug device with its Pogoplug Premium Software Beta software. Let's see if it works out the way that Pogoplug is hoping.
Accounts, Feature Set, and Pricing
Currently the software is beta, so pricing and account information has not been released. The beta, officially called Pogoplug Premium Software (PPS), currently is by invitation-only and not mentioned anywhere on the Pogoplug website. I got my invite via an email that showed up in my inbox one day.
I suspect I got the invitation because I had registered with Pogoplug when I reviewed the Pogoplug Pro and Biz. But some Googling revealed the User Manual and a Beta invitation link posted on androidforums.
Judging by the features available, Pogoplug Premium Software basically turns your PC into a Pogoplug Pro. This means users can share files and folders to the Internet via weblinks. Also available is video streaming, which adds a few additional tricks that might be a clue to what we can expect from the upcoming Pogoplug Video.
New features in Pogoplug Premium Software but not yet in the Pogoplug Biz/Pro include: support for Google Cloud connected printers, improved video streaming and overall better media handling capabilities. Since the last time we checked, Pogoplug has also added network printers to the list of shareable items on its standard hardware devices, as well as a dedicated iPad application. We'll take a look at both.
Installation And Setup
Installation is straightforward for the supported platforms: Windows and Mac OS X. Oddly enough, the beta software manual is done mostly with screenshots from OS X.
My test machines were a Core i7-920 Windows 7 Machine, and an early-2008 Apple Macbook Pro with a 2.4 GHz Core 2 Duo. Both were Gigabit networked, and I made sure to turn off the wireless on the Mac. The Windows machine runs an Intel X-25M SSD for its primary drive, and the Mac is running with an Intel 510 120 GB SSD.
I also have a Mac Mini acting as my home file server, which would have been the ideal place to install this. However, I tend to treat that machine very delicately to maximize availability and uptime, so I don't install beta software on it. I chose to install the server software to the Windows machine, since it's the next most likely to get left on for extended periods of time, aside from having the extra compute horsepower.
Windows installation occured without a hitch, and I was at the sign-in page quickly. The beta requires you to register with your beta key in addition to the username and password you set up. Once signed in, you are presented with the Pogoplug Preferences window, where you set up the folders available for sharing.
Additional setup items include making cloud printers available to your local PC through the software, and enabling the Pogoplug Drive software. Finally, Active Copy is Pogoplug's version of file syncing, and is set up here as well.
By default, Pogoplug enables remote access to the standard Windows document directories: My Pictures, My Videos, My Documents, Desktop, and My Music. You may add additional folders, including any mapped network drives currently accessible by the machine.
For testing, I left the defaults in place, and first copied some larger files into the My Documents folder on the PPS Windows system for testing LAN performance. As mentioned above, Pogoplug now supports network printers to use as targets, and my Pogoplug Biz was able to enumerate my networked laser printer (a Brother HL-2170 for model number lovers). The beta software wouldn't let me attach it to my Windows computer, however, so I did not test that feature through the beta software.
In Use
There are a few ways to access your data once it's made available through the Pogoplug cloud. The Pogoplug website is the primary, and recommended, way of accessing your files. The new beta website is more polished and clean-looking than the current website. and presents an overall smaller-sized interface. This should make people without gigantic monitors happier.
All the files loaded in the Windows PC running PPS showed up in the web interface and I was navigating around folders and sharing files in no time. Nothing has really changed in functionality here, so check out the previous review to get a feel for all that.
As mentioned earlier, I moved a couple of larger movie files into the shared directories to see how video playback worked. One movie file was a WMV (Windows Media Video) file that refused to play even though it showed up as a video file. The two m4v files played nicely, although in rather poor quality. I found the beta software makes a couple of new settings available in Media, once of which is how fast your Internet connection is. I'm assuming this controls how good/bad the video quality is.
I tweaked the setting to Fastest and went back to replay my video. This time, I couldn't get the video to play at all, even after I changed the setting back to Normal speed. I tried streaming some files off my Pogoplug Biz just to make sure it actually was working, and it was, so something must have gotten upset in the beta software.
The new website showing off its pretty.
The new movies screen is only date selectable for now.
My one printer that refused to work.
Active copy management is pretty easy.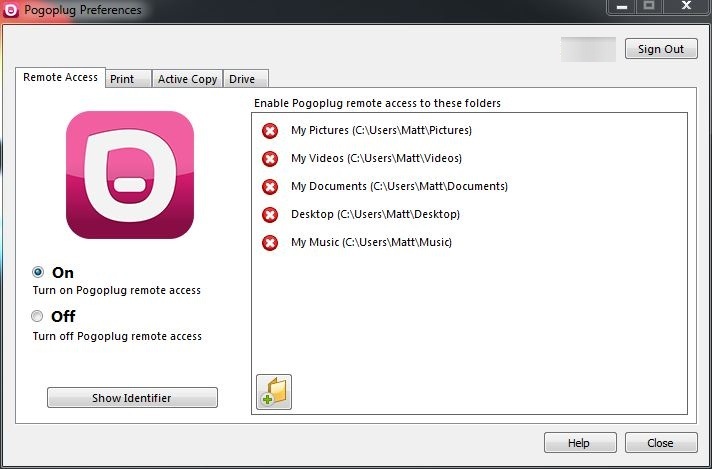 The new client preferences screen.
Printers can now be attached to machines.
Active copy is all managed through the website. The button takes you there.
The pogoplug drives can show up as individual drives, or all in one share as folders.
Feeling defeated, I decided to speed test the new software. The results were shocking: average download speed through the web browser was between 60 to 70 MB/s. This means the beta software/website is smart enough to transfer files through the LAN, which you could do previously through the desktop software but not the web interface. This shows that the only thing really holding back the hardware Pogos is the hardware itself, and probably USB 2.0, specifically.
I then decided to try out the new iPad app from Pogoplug, which exhibited similar problems as the web interface. I tried streaming files from the Pogoplug Biz, and unlike in my previous review, most of the video and audio files actually worked quite nicely. A 3 GB HD stream of Star Wars worked quite well, as did previewing PDF files.
When I tried the iPad app with the PPS, it wouldn't stream anything. The WMV file, in fact, locked up the iPad app. I was surprised it would even try to stream it, since WMV isn't supported in iOS, so I did some digging.
It turns out the beta Pogoplug software actually installs FFMPEG, which handles transcoding. WMV, however, is notoriously difficult to convert, due to its closed source structure. I tried the WMV file streaming from the Pogoplug Biz, and this also wouldn't work, but at least it didn't lock up the iPad app.
Next up was the new networking printing support. In short, it didn't work. I tried sending three different emails with different attachments to the email address listed in the website, without any success after a few hours of waiting for processing. I don't have any printers set up in Google Cloud Print, so I didn't try that feature.
Performance
Speed-wise, the new PPS software does not disappoint. Check out the following performance numbers:
| Test | Single File Copy | Directory Copy |
| --- | --- | --- |
| Mac To Windows (SMB) | 80 MB/s | 60 MB/s |
| Mac to PPS (PogoDrive Client) | 10 MB/s | 50 MB/s |
| Mac to Pogoplug Biz (PogoDrive Client) | 18 MB/s | 5 MB/s |
| PPS to Mac (Pulled from Mac, PogoDrive Client) | 90 MB/s | 70 MB/s |
Table 1: Performance test summary
Looking over the table above, there are some impressive numbers. The Mac to PPS Single File PogoDrive number is somewhat odd, and reproducible, seeing as I can hit about 80 MB/s using SMB. I made sure I didn't have the "Full Security" enabled, which forces everything to be encrypted and go through Pogoplug's cloud servers. This most likely is a beta problem. Otherwise the performance claim for running PPS is easily made, especially with the read numbers from PPS to Mac. There is some overhead associated with the PogoDrive client, however, which seems to reduce performance by about 10 MB/s.
Remember, though, that running PPS isn't about local LAN sharing. It's good to see the performance numbers, but the point is so you can have those high speed SMB shares, and then have them equally accessible over the cloud.
Cloud transfers continue to be throttled to around 6 Mbps in my testing. Granted, this is faster than most people's Internet connection in the States. But in Europe and Asia, broadband is much more plentiful, and my 25/25 Fios connection would be considered "entry-level" for most areas. If anyone outside the U.S. is using Pogoplug , I'd be interested to hear from you in the comments.
Access, Support, Security
Access occurs through either the website, Pogoplug Drive software, or through one of the myriad of mobile clients. The website is the recommended path for managing the system, and is in fact the only place to manage the settings on the devices. The iOS clients can share files and folders from themselves, and this functioned properly when tested.
This being beta software, support is mainly through email or forums, and is limited at that. Filing a bug report is the best way to get noticed, although you probably won't receive a fix until a new version of the client is released.
Security isn't documented, but I'm assuming it's the same as my previous reviews. Enabling the "use full security sessions" didn't seem to impact the transfer speed over LAN like it used to, so perhaps this has been improved with the latest client software. Out of the box though, all files are transferred in the clear, with authentication being the only encrypted session.
In closing, Pogoplug Premium Software Beta shows a lot of promise to address the LAN speed issues that has been the biggest weakness of the Pogoplug devices. Assuming Cloud Engines can get the bugs worked out with video streaming and the networked printers, this is going to be a big release. We'll continue to keep track of the situation and let you know when pricing and release information become available.