At a glance
Product
SpiderOak SpiderOak () [Website]
Summary
SpiderOak provides cloud backup, storage, and sync services in a multi-platform, unified client.
Pros
• Multi-platform client.
• Decent client and web interface.
• iOS app works well.
• Good support and documentation.
• Cheaper than alternatives like DropBox.
Cons
• Needs better security explanation.
• Slow uploads for modern faster connections.
• Can only limit upload bandwidth usage.
• Sharing and Sync work oddly.
Typical Price: $10
Backup
Exclude

Y

Include

Y

Drive selection

Y

Folder selection

Y

File type selection

N

File selection

Y

File size filter

Y

Archiving

Y

File versioning (number)
9999
File versioning (days)
9999
File size limit (GB)
9999
Force full backup

N

Auto file type organization

N

Auto resume

Y

Transfer Backup

N

Bandwidth Control

Y

Account Types
Unlimited

N

Free

Y

Free Trial

Y

Home

Y

Business

Y

Monthly Billed

Y

Yearly Billed

Y

Min. Limit (GB)
2
Max. Limit (GB)
9999
Free Space (GB)
2

Restore
Web download

Y

Zip File

Y

DVD

N

Hard Drive

N

OS
Windows

Y

Mac OS

Y

Linux

Y
SpiderOak is a solution similar to Vembu or TrendMicro's SafeSync that it tries to satisfy all your major cloud storage needs: backup, sync, and sharing. Unlike the other solutions, SpiderOak does so and fairly confidently, I might add.
SpiderOak's account options are very simple: everyone gets a 2 GB free account to start. If you want more storage, it's $10 per month for every 100 GB you want, or $100 per year. The free account has complete access to all features, including support.
Setup and In-Use
Installation is straightforward. SpiderOak is completely cross-platform (Windows, Mac, Linux) and presents the same user interface regardless of platform. SpiderOak takes a similar approach to Wuala for security: the web stinks for security, and should never be used to create accounts. So account creation happens in the initial client setup.
Once you've got your account set up and machine added, SpiderOak presents the backup screen. It's important to understand that SpiderOak's entire system is unified, unlike Vembu. Backup, Sync, and Share features all pull from the same pool of files, which makes file management quite simple.
Setting up a backup can be as simple as selecting the default choices. Or you can switch into an advanced mode to select individual files or folders. Note that if you switch out of "Advanced" mode, all the file selections you've made will vanish, even if you've saved your selections in the advanced view.
Tucked away in the preferences is an option to keep archived copies local on another disk or computer. This is an interesting feature, as it will use the archived local copy for restore before the web version. I wouldn't recommend relying on this for offline restoration, however, since files are stored encrypted. So you still need the client running to decrypt your files and the client has to access the cloud at some point to access your account and authorize the file decryption.
Additional preferences are available for scheduling when backup, sync, and sharing uploads happen. There is a single bandwidth limiter for uploads which is not enabled by default. Why you can't throttle download bandwidth is unknown, however. So if you have a lot of files to sync, you could see a hit on your available download bandwidth. Backup can also exclude files and folder matching to a wildcard (*.iso) for example, or larger than a specific MB size.
Once you've backed up some files, you can then view, sync, or share them. Viewing is fairly self-explanatory, and you can also download a zipped archive of them for restore. View is also where you can view historical revisions, which are unlimited, kept forever, and do not count against your storage quota.
Sync is less obvious to use. In order to sync folders between computers (not individual files) you have to have backed up folders from each computer. The Sync interface does not allow you add new folders to the backup routine. I would submit this as a feature request, since it's not explained that you have to have existing backups on both machines. Synced files do not count against your storage quota.
To accomplish syncing, I "backed up" an empty test folder on my laptop into my account. I then sync'd my PC's "Desktop" folder into this empty test folder. Synchronization took a couple of minutes to kick in, but it worked overall. Synchronization in general was slower than, say, Dropbox.
In fact, overall transfer speed was slow. I averaged 4 Mbps upload when transferring files around. Unlike Dropbox, SpiderOak is not aware that my PC is sitting on the same network as my laptop and doesn't bypass the Internet for local sync.
The Opening screen for a new client install. You then are walked through basic account creation.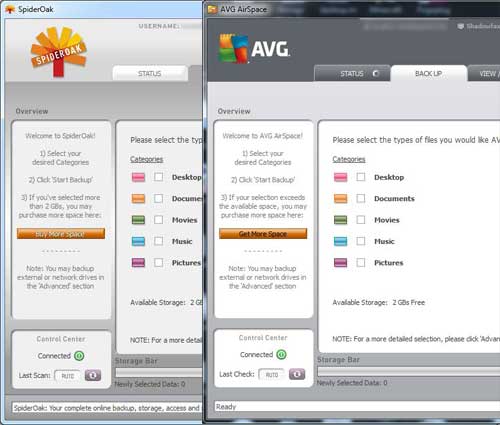 This is the backup tab. You can choose to backup files here, or move onto the advanced selection process.
This is where you can select individual files and folders. Note that any selections made here are undone if you move back to the basic screen.
Here's the status screen for when a backup is running.
The view tab is where you download files, folders, restore them, or older versions.
The sync process is a 4-step process and starts by naming the sync.
You can choose to sync 2 or more folders. All these folders must exist inside SpiderOak first.
Optionally you can not sync certain files determined by file extension wildcards.
SpiderOak will then verify you've entered everything correctly.
Sharing is a strange beast. First you create the share aka ShareRoom
You can optionally assign a description.
You then pick a folder to share files from. Any files that are added here are subsequently shared.
Finally you verify the information.
Here's what your share looks like to the outside world.
Sharing was an equally different process from other cloud vendors. You first set up a public name that SpiderOak strongly recommends is not your username. Then you set up a "ShareRoom", i.e. a share, for a particular set of files. You then protect that share with a "RoomKey" (password).
However when I created the share, the software appended my RoomKey onto my share's name, and subsequently didn't seem password protected when I viewed the share in my browser. I tried creating another share and it happened again. I don't know if I'm following directions correctly. But the wizard process is hard to misunderstand, so I think there's a bug somewhere.
All I can think is that SpiderOak has to work around its "Zero file knowledge" privacy policy. This policy is part of why SpiderOak doesn't trust the web for account creation. All files are encrypted before leaving your computer, and are subsequently distributed across SpiderOak's cloud infrastructure.
Access, Restore, Support, and Security
Support
Email

Y

Online Ticket

N

IM / Chat

N

Phone

N

Knowledge Base

Y

Tutorials

Y

Access
Browser-based file manager

Y

File Permissions

N

Folder Permissions

N

Blackberry

N

iOS

Y

Android

N

Windows Mobile

N
A user has multiple ways to access files: through the primary client interface, through the Web, or through the iOS application. The website is very minimal. You can view files, download individual files or folders (but not selections of files), and alter device and account settings. You can also view your ShareRooms, but not alter them.
The iOS application works well enough, and is basically a viewer. It also provides an iPad interface, which is basically the same as Apple's Mail app. You can choose to "Favorite" a file, which then downloads and saves it locally for offline viewing.
Restoring files is fairly simple: you download a zip archive of your files either via the web or the client interface. The client interface provides further options to restore the files to their original locations or simple drop the archive into your "Downloads" folder. The client interface also allows multiple file selection that the web does not. There are no other restore options, so you will need access to the web to access your files.
Support is available to everyone through an email-based ticketing system. You might even get a response from the CEO, as SpiderOak makes it a policy that all their employees are support techs, in order to make sure they are in-tune with user needs. The forum is fairly active as well, and there is a decent manual available online. The FAQ is fascinating as you can actually submit questions to the website for inclusion in the FAQ.
Security seems to be a big win but needs better documentation. SpiderOak claims they encrypt all your traffic starting from the client and going out over the Internet. I can see in my router that the clients are opening SSL connections, so at least I know that works, but otherwise SpiderOak doesn't specify what kind of encryption is used.
Overall SpiderOak is a nice multi-platform backup / storage / sync service, but not without its quirks. Sharing needs some attention, and looking at the forums, the client itself has memory leak issues with large (25,000+) file sets. It gets the job done though, and once SpiderOak documents its security practices better, I would fully recommend them as a complete cloud storage option.