At a glance
Product
LaCie Wuala () [Website]
Summary
Wuala by LaCie is a refreshing product by a big name storage provider that actually lives up to expectations.
Pros
• Heavy emphasis on security
• Trading storage can provide a "free" way to access cloud storage without paying a subscription.
• Well supported.
• Lots of sharing features.
Cons
• Expensive per GB.
• Trading storage could run afoul of local law.
• ISP bandwidth caps could reduce storage trading appeal.
• Java client means no mobile web file access.
Typical Price: $29
Features
Private Sharing

Y

Share Groups

Y

Backup

Y

Search

Y

Syncing

Y

File versioning (number)
10
File versioning (days)
9999
File size limit (GB)
9999

Account Types
Unlimited

N

Free

Y

Free Trial

Y

Home

Y

Business

Y

Monthly Billed

N

Yearly Billed

Y

Min. Limit (GB)
1
Max. Limit (GB)
250
Free space (GB)
1

OS
Windows

Y

Mac OS

Y

Linux

Y
Updated 10/20/11: Feature updates.
Updated 3/16/10: Wuala has added an iPhone application so your files can now be accessed remotely.
Wuala is LaCie's entry in the cloud backup and storage markets. Wuala came from a merger between LaCie and Wuala's creator, Caleido AG.
Wuala got its start as a project by a group of students at Switzerland's Swiss Federal Institue of Technology. It was originally designed to run in a web browser as a Java applet. But now offers itself as both web and stand alone apps. Since it's Java-based, Wuala is cross platform with equal Windows, Mac, and Linux support.
I was originally a little dubious of Wuala. My experience with storage providers providing online storage has been a little rough, to say the least. And SmallNetBuilder readers know that LaCie NAS products can be hit or miss. However, the team from Zurich appears to have been mostly left intact, so Wuala works fairly flawlessly.
Wuala offers some interesting account concepts. Everyone starts off with a 1 GB Free Account., which do not get Automatic Sync, File Revisions, or Backup. Free and paid accounts get access to all features including Automatic Sync, File Revisions and Backup There's also a feature called "Time Travel" that is unexplained on the main site.
I found a single line description in the FAQ that "…you can see how your files looked at any desired point in time." I'm assuming this is having access to older revisions of the file and browsing them. But the feature seems redundant and should be explained better.
There are two ways to "Go Pro" with Wuala. First is the standard way: buy in. The cheapest account is 10 GB for $29/year and can go up to 250 GB for $289/year. More storage is available if you contact Wuala. You must purchase for a year however, and there is a no refund policy. So purchase wisely.
Trading
The other way to "Go Pro" is through "trading" storage. I had a strange feeling of déjà vu here. Sure enough, it's basically Buddy Backup with a twist. By allocating storage on your local machine, you get up to that much storage on Wuala's cloud. The exact amount of storage is determined by how often your computer is accessible (meaning Wuala's client is running and online). Trading requires your computer be available at least four hours a day.
Trading presents an interesting option for many users. You can trade as little or as much as you like, but are limited to a maximum of 100GB per computer. Since you have to be online a certain amount of time, there are ramifications if you go offline. Say you go on vacation and shut down your computer(s) for a few weeks. You will probably lose most, if not all of your traded storage.
Wuala will not immediately delete your files however, and you have the opportunity to contact them and inform them of the downtime. Overall, for those of us with home file servers that have unused space, this might be a great way to get cloud storage for fairly cheap.
Trading also gets interesting as ISPs continue to try to impose harsher bandwidth caps. This makes it very important that you properly manage Wuala's bandwidth limiters, especially in Canada where many providers have been forced by Bell to drop their bandwidth caps to 25 GB per month. There are also potential legal ramifications to sharing, which I'll describe in a bit.
Wuala has a great FAQ section that answered all of my storage trading questions.
Installation and In Use
Installation was straightforward on both Windows and MacOS. MacOS installations recommend the installation of MacFuse so that the Wuala drive shows up in Finder. But you can still fully use the client even without MacFuse.
Windows does not have such a requirement, because its Wuala installer includes a package called Dokan to mount a network drive with the same information. I initially had trouble accessing the drive on Windows because the client wasn't smart enough to know I already had a W: drive mounted. When I changed this to another drive letter and rebooted the computer, all was well.
Wuala's interface is clearly designed by people from the land of Ikea. It's no frills, and no nonsense cloud storage and backup. Like Ikea's furniture, however, it's functional and gets the job done. Setting up a backup job was as easy as selecting a file and adding it to the queue. Wuala picks a sensible default of daily interval backups, and will only back up changed files. Synchronization uses the same process as setting up a backup job.
Wuala has transfer limits set up by default. But, for some reason, chose Kilobytes instead of Kilobits for their transfer speed limiters. So, when you see 100 KB/s as a transfer limit, it's actually 800 Kb/s, which is well beyond the reach of many DSL connections, and even a fair amount of cable connections. Wuala offers an estimation tool that measures your download and upload speed. But it didn't work very well for my connection, estimating far below my actual speed.
Transfer speed overall was standard for a system that isn't Amazon-powered. I averaged 550 KB/s, or about 4.4 Mb/s uploading, according to the speed meter in the lower left of the application. This will saturate many internet connections, so I recommend tweaking the upload speed limiter to suit your needs.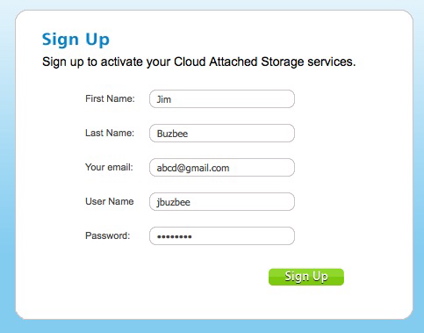 Initial Signup Screen – You can't signup via the website.
Second signup screen.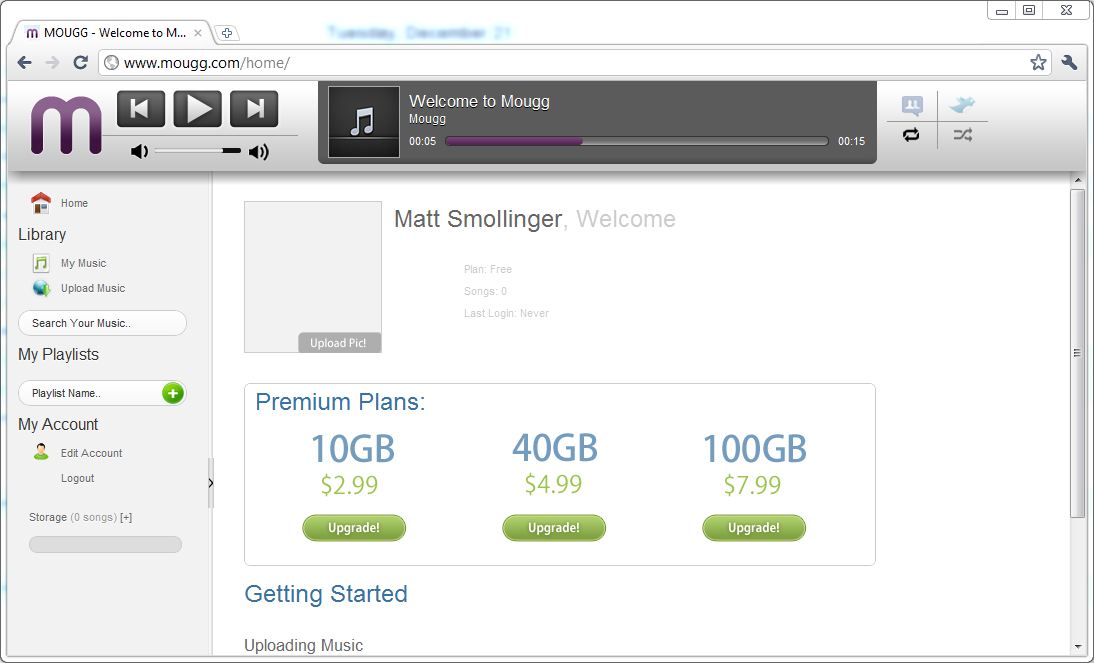 The home screen of the client.
Everyone gets pro features for 30 days free.
Here's a view of the backup screen.
Here's what the sync screen looks like.
If you want to invite or find friends, this is the screen.
Inviting friends can be done over Facebook, Twitter or via email with a link.
You can also search for your friends.
Group sharing is accomplished in this screen.
General options screen.
Connection options manage transfer speeds and how Wuala connects to the network.
Local cache is used to store files temporarily.
Trading storage is an interesting feature controlled here.
This is where you can review storage options you have purchased.
You can choose to enable certain notifications like when files are updated.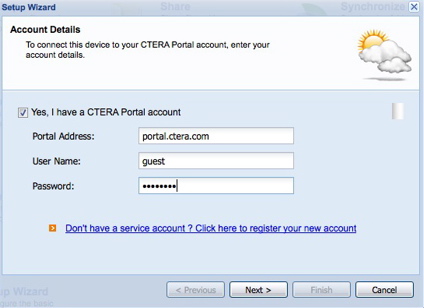 Basic account management features.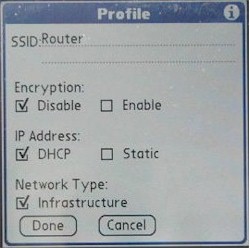 You can fill in details about yourself that show up in the directory.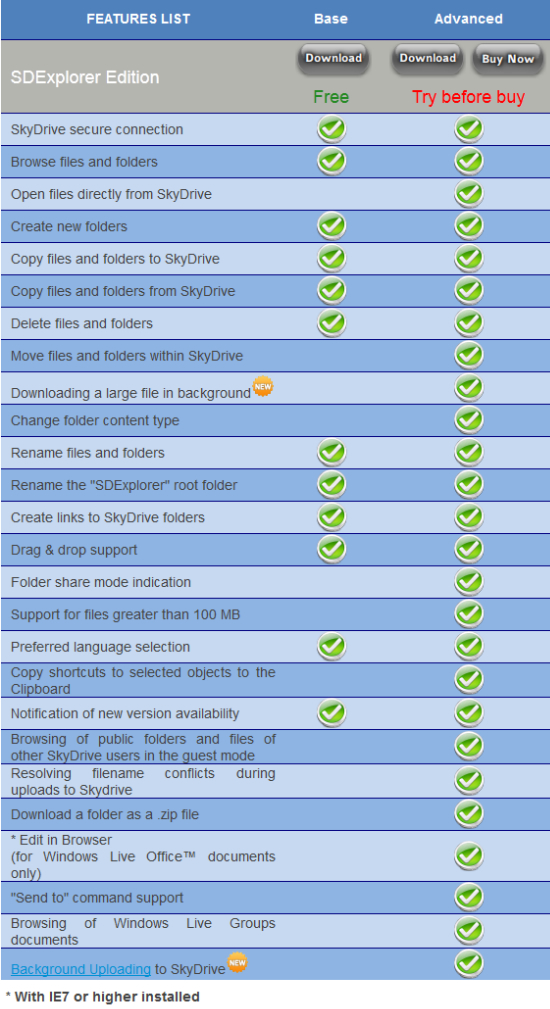 Advanced options that generally need not be played with.
You can view additional stats in a browser window that accesses the local client.
Adding folders to back up is quick and easy.
You can see files currently being backed up.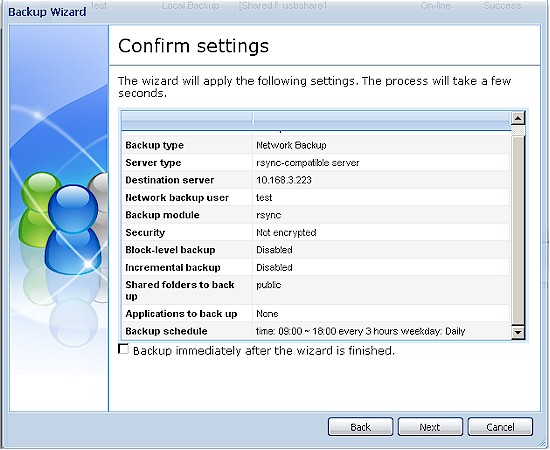 You can change options for each folder that you back up
Sync doesn't give you much information.
New computers will ask for folders to sync with.
The MacOS client overall is the same as the Windows client.
You can also start the client from the web.
Can you tell which is the web applet? No? It's because they are the same.
Wuala has invested a lot of time in its file sharing features. You have options to share specific files with individuals, or with groups. Groups come in two types: public and private. Private groups have several levels of privacy: the group may or may not be listed on the Wuala group directory.
Also, you can choose to enable or disable "secret web links". People who know the secret web link can access group content without having to join the group. Disabling both of those features makes the group invitation only.
Public groups are self-explanatory, with users being able to come and go as they please. For public groups, Wuala requires any 18+ content (porn specifically) be tagged as not family friendly before you share it. This option is available by right-clicking on a file or folder.
This brings us to the legality of group sharing and allowing Wuala to use your computer as part of its cloud. Wuala emphasizes that no one single file is ever stored on your computer. Instead, it uses a technology called erasure codes (aka Reed-Solomon codes), which are encrypted file fragments.
These file fragments are generated on the source machine, and Wuala's servers spread them out redundantly across several sources. This ensures your file is always accessible, and ensures no one computer ever has more than a couple of bits or bytes of your data. Subsequently, traders don't have to worry they are storing illegal data.
This is a gray area in the US, especially when it comes to child pornography. Wuala strictly forbids trafficking of such files, but Wuala also can't really police their network 100%. It's certainly not as bad as sharing an illegal file over BitTorrent, since you most likely have the full file in that scenario. Understand that trading means you give away control of part of your drive, and accept any legality in doing so.
Wuala's grid storage technology was innovative enough in 2007 that Wuala presented at Google to describe it. They do complete backups of their entire storage grid too, in case of catastrophic grid failure.
Access, Support, Security
Support
Email

Y

Online Ticket

N

IM / Chat

N

Phone

N

Knowledge Base

Y

Tutorials

Y

Access
Browser-based file manager

N

FTP

N

Email link

Y

Blackberry

N

iOS

Y

Android

Y

Windows Mobile

N
Accessing your files is always done through the Wuala Java client. The client can either be run through a web browser, or installed locally. Wuala is very strict on security, and so refuses to let a web server handle any data. This is why the web client (and the local client) is a Java applet. There are also iOS and Android apps available.
If you need to restore files, your options are via the web or on the local client, meaning you must have access to the internet. No options exist for transferring large amounts of data via hard drive or DVDs in the event of a major meltdown.
Security is very important to Wuala, which dedicates a whole page and several FAQ sections to the subject. Files are encrypted using 128-bit AES, with signatures of those files generated as 2048-bit RSA keys. Files are checked for integrity using 256-bit SHA hash codes. The AES encryption is generated from your password, which Wuala does not store. I'm assuming they store a SHA hash of it however, since you have to authenticate somehow.
Wuala's security is probably the most thorough I've seen yet. However I would say they could step up to 256-bit AES to toughen things up even more. However, 128-bit AES is ridiculously difficult to hack, so it should be fine with the signatures and integrity checks in play.
Support is relatively good for a large company storage solution. There is a huge FAQ section, and many video tutorials. The forum is active, and policed by Wuala support. Finally, you can drop Wuala a line via an email form.
Overall, LaCie's Wuala is the best cloud storage and backup service I've seen yet from a large company. It is expensive, but the cost can be offset if you choose to trade storage. Cross platform support is good to see, and works well.