At a glance
Product
Canonical Ubuntu One For Windows () [Website]
Summary
Windows client for Ubuntu's cloud storage and sync service.
Pros
• 5 GB free storage
Cons
• Can't share files from all local folders
• Files not automatically encrypted
• Versioning not supported
Typical Price: $0
Features
Private Sharing

Y

Share Groups

N

Backup

N

Search

N

Syncing

Y

File versioning (number)
0
File versioning (days)
0
File size limit (GB)
9999

Account Types
Unlimited

N

Free

Y

Free Trial

N

Home

Y

Business

Y

Monthly Billed

Y

Yearly Billed

N

Min. Limit (GB)
5
Max. Limit (GB)
30
Free space (GB)
5

OS
Windows

Y

Mac OS

N

Linux

N
If you're looking for cloud-based storage, there are numerous services vying to sell you a monthly or annual subscription.
In the non-Linux world, Dropbox and SugarSync, compared here, are popular choices. For Linux users, Ubuntu One, a cloud-based storage and synchronization service, has been available since May 2009.
Matt initially reviewed Ubuntu One shortly after Canonical, the commercial backer of the Ubuntu Linux distribution, released a beta version of a Windows Client. Now, with the release of the Windows client, it's time to take another look at the Windows features.
Setup
The setup for the Windows client is quite simple. Just go to the Ubuntu One download page and click on the Download now for Windows button. The Windows client works for Windows XP SP3, Vista and Windows 7. When you run the 22 MB installer, the setup program runs without any user input and creates a Ubuntu One program group and desktop icon. The default Ubuntu One folder is created in \username\Ubuntu One for Windows 7 and Vista, and in \Documents and Settings\username\Ubuntu One for Windows XP.
When you first launch the Ubuntu One client, you are presented with a clean, four step screen, shown in Figure 1, to help you finish the setup. You've already finished step 1.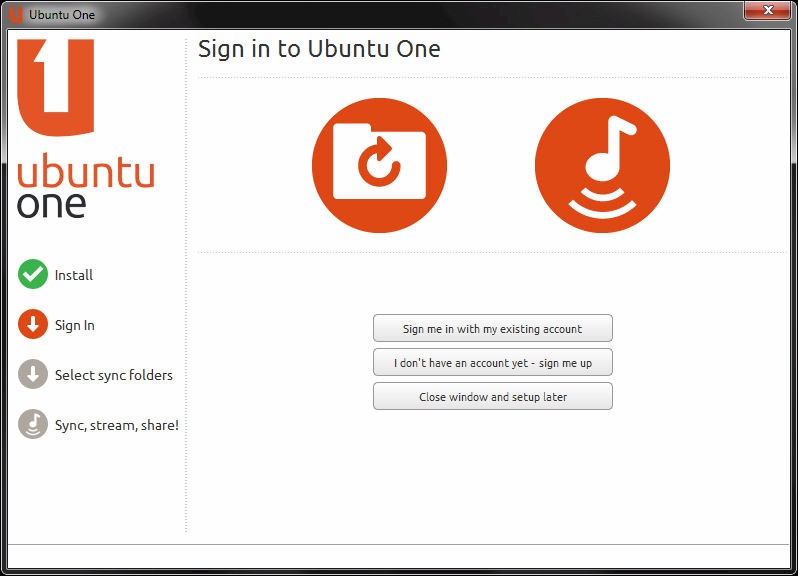 Figure 1: Ubuntu One Setup Configuration
If you already have an Ubuntu One account, you can select Sign In. If you need to create an account, you can create an account from the sign in page. Account creation is quite simple. You merely provide your name and a valid email address. Ubuntu sends you a confirmation email that contains a 6 character confirmation code as well as a clickable confirmation link. As you create your account, you are given 5 GB of free storage.
Next, you set up folders for synchronization. By default, Ubuntu One suggests My Documents, My Pictures and My Music folders and provides a storage estimate for each folder. You also have the option of choosing additional folders to synchronize.
As a test, I tried to add a shared folder from a NAS device shown in Figure 2.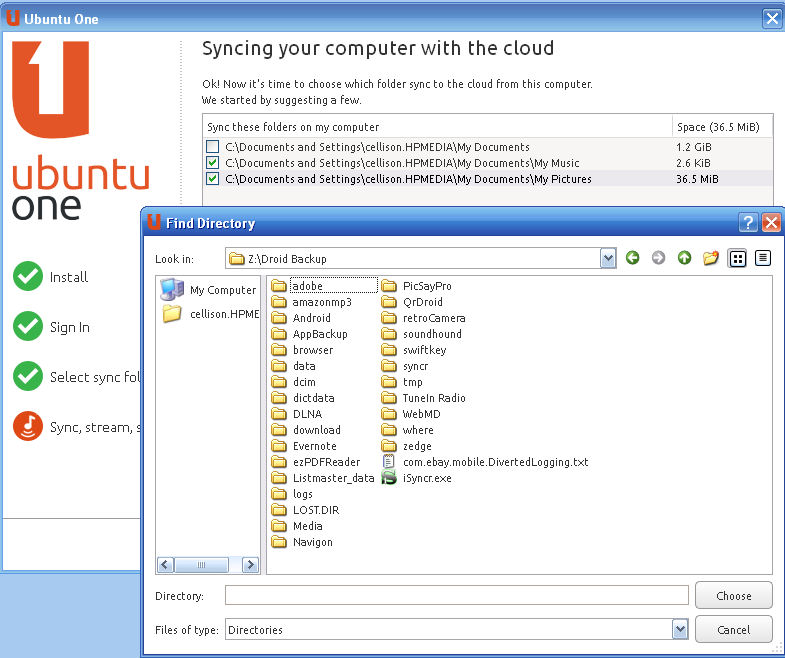 Figure 2: Ubuntu One additional folder setup
Here's where I ran into what I consider a limitation to the product: You can only add folders for synchronization that reside in the username directory tree. Figure 3 shows what happened when I tried to add Z:\Droid Backup to my sync folders.

Figure 3: Additional sync folders must be part of the username directory tree
I installed Ubuntu One on multiple computers using several accounts in order to test file sharing. I had no problems on any of the XP installations, including one installation on my MacBook running Parallels and XP SP3, but I did experience a problem on my Windows 7 (64 bit) computer. Despite a number of attempts to add folders, the client hung up and became non-responsive as shown in Figure 4.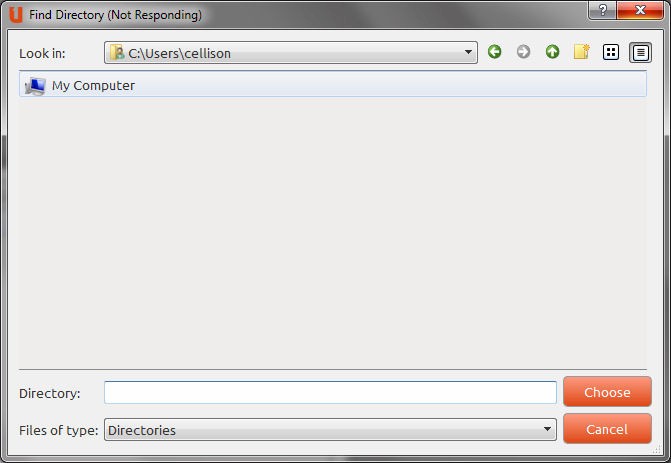 Figure 4: Add Folders function non-responsive on Windows 7
Thus, the only folders I was able to synchronize on my Windows 7 system were folders that I created under the Ubuntu One folder. Since I only have a single Windows 7 system, I was unable to duplicate this problem on another computer.
In Use
Support
Email

Y

Online Ticket

Y

IM / Chat

N

Phone

N

Knowledge Base

Y

Tutorials

Y
Once you complete setup and launch the Ubuntu One client, you land at a simple, clean user interface. There are four tabs, as shown in Figure 5, along with the option of purchasing additional storage, a connect/disconnect button, a synchronization status and a link to the web management page. (This screenshot was taken after I had shared a folder from a different computer and a separate Ubuntu One account.)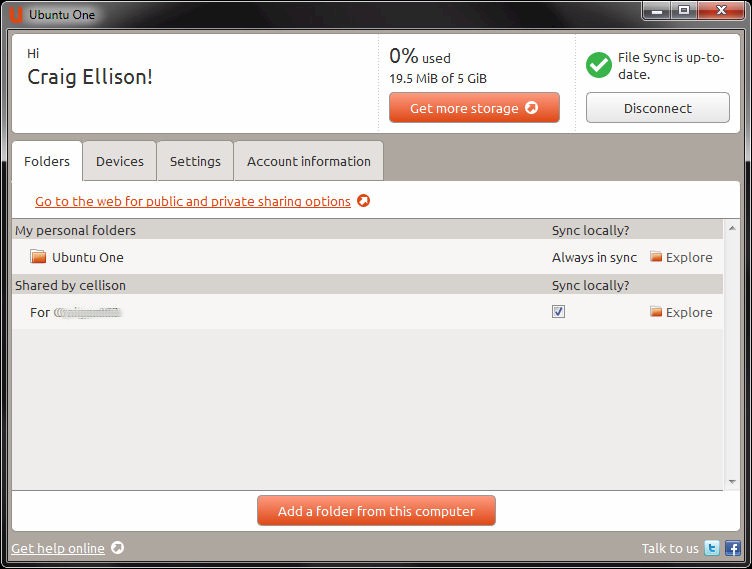 Figure 5: Ubuntu One Windows client showing the Folders tab
At the bottom of the interface, you'll find the add a folder from this computer button. If you click on the Ubuntu One folder, Windows explorer will show the contents of the folder.
I've put some screenshots with more details of the Windows client in the gallery.
File sharing and file publication is handled on the Ubuntu One website, not in the Windows client. You access online storage by clicking on the Go to the Web… link shown in Figure 5 above.
Figure 6 shows my online folders. Notes and Contacts, the two tabs on the right, don't appear to be supported in the Windows version. The Ubuntu One site has tutorials for Notes and Contacts only for various versions of Ubuntu Linux distributions.

Figure 6: Online Folders
When you click on a folder, a file list appears. You have the option of creating a new folder, uploading a file, or sharing the folder. Alternatively, if you click on the More link associated with an individual file, you can download the file through your browser, delete the file or publish the file.
If you click on Publish file, Ubuntu creates a unique URL that you can share with anyone via email or on your social networks. Once published, you have the option to stop sharing a file.
Important note: The file link generated is an HTTP link, not a secure HTTPS link. That means that the content of the files that you're publishing could be intercepted, as they are being sent in the clear. If you're worried about the security of your published files, this isn't a solution for you.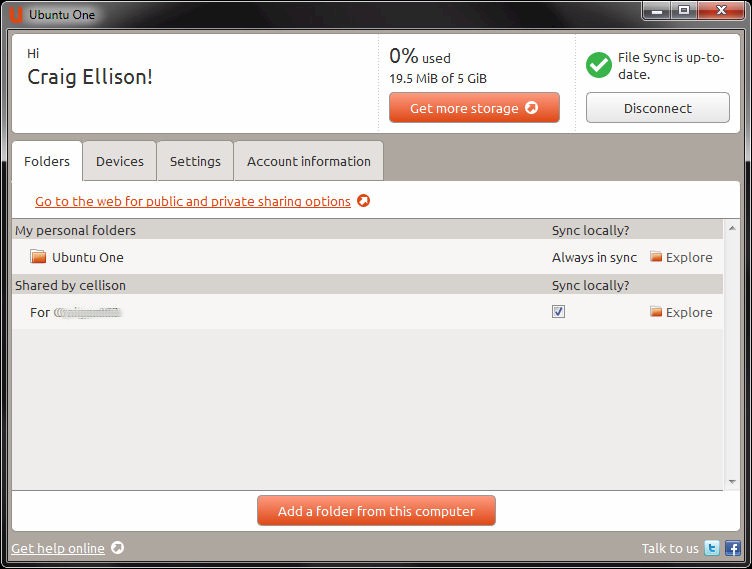 Folder tab of the Windows client
This tab shows the devices that are currently associated with the user account
Settings for the computer that is running the client
This tab shows the name and the email address associated with an account along with subscribed services and associated devices.

Online folder view. Notes and Contacts are not supported in the Windows client.
By clicking on the More link associated with an individual file, you can download the file through your browser, delete the file or publish the file.
Publishing a file creates a unique URL that you can share with anyone via email or on your social networks.
Sharing a folder is easy.
This shows the share offer that opens when the recipient clicks on the embedded link in a share email.
Once the Share Offer is accepted, the folder becomes available in the Ubuntu One folders tab under the 'Shared by…' folder(s)
Access
Browser-based file manager

Y

FTP

N

Email link

Y

Blackberry

N

iOS

N

Android

Y

Windows Mobile

N
It's very easy to share a folder with someone else. Just click on a folder and choose "Share this folder". Just enter the email address of the person who will share the folder, and click on the "Share this folder" button. By default, the person you invite has the rights to modify files in the shared folder. Optionally, you can deselect the "allow modification" checkbox before sharing the folder.
You can see if your invitation has been accepted or is still pending. And, of course, you have the option to stop sharing a folder. Ubuntu sends an email invitation that contains a link to accept the share. Of course, the recipient must have Ubuntu One installed on their system and have an Ubuntu One account to access the share.
Once the Share Offer is accepted, the folder becomes available in the Ubuntu One folders tab under the Shared by… folder(s). Optionally, you can choose to sync the files to your local computer by clicking on the Sync locally checkbox, or just leave them on Ubuntu's server.
Currently, the File Sync in progress doesn't show the percentage completion of the File Sync. One of the FAQs on Ubuntu's site indicates that a real progress indicator is on the list of future features.
If files are stored locally, clicking on Explore opens the file location in Explorer. Interestingly, folders shared with you by other Ubuntu One users don't appear under the Ubuntu One folder in your user directory. For Windows XP systems, the folders shared with you appear in the location shown in Figure 10.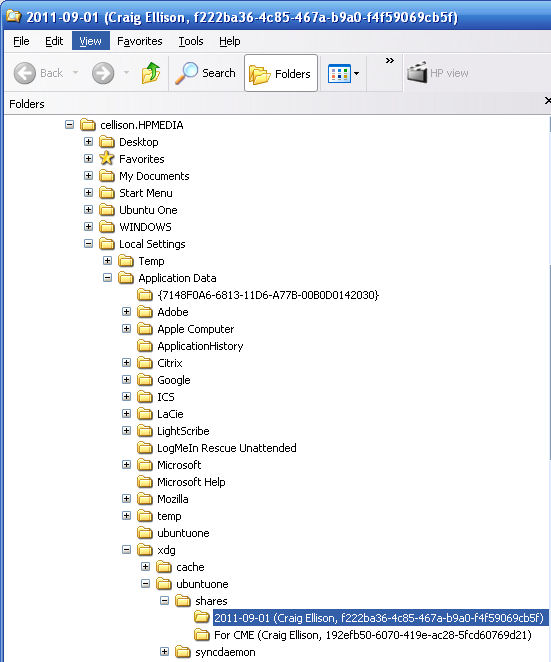 Figure 10: Locating Ubuntu One shares to you
For Windows Vista and Windows7 users, the files physically reside in a similar location: \users\username\AppData\Local\xdg\ubuntuone\shares. However, in the Ubuntu One folder, there's a symbolic link that takes you to the location in Explorer.
Since so many features depend on the web interface, any mobile device that runs a web browser should be able to access any of the web interface's features. But for Android devices with tiny screens, i.e. phones, there is an Android client.
I installed the client on my DroidX and it worked as expected. Files and folders synched on my account appeared on my Droid, though it appears that the synchronization was for file folders and names only. When I clicked on some.JPG files, the Ubuntu client downloaded the photos. A subsequent tap allowed me to view photos in my preferred viewer. You can automatically upload photos, and can optionally choose to only auto-sync over Wi-Fi. Files shared with me by other Ubuntu One users didn't appear in the Android Ubuntu Files client.
Closing Thoughts
When we previously reviewed Ubuntu One, the Windows client was in beta and Matt concluded, "Windows support is currently in beta, and beta software it is." Though the Windows software is now released, to me, it still has a beta feel.
I was particularly upset that I couldn't add the folders I wanted on my Windows 7 system. Limiting sync folders to the \username directory tree also seems like a somewhat artificial limitation. Though I haven't tested Ubuntu One on an Ubuntu system, from what Matt's review indicated, there were no such restrictions.
As an online storage product, the lack of file encryption on Ubuntu's servers will be a deal killer for many. But at least Ubuntu uses SSL for synching data.
Ease of setup may also be an issue for some. I frequently ask my brother to be a guinea pig and install cloud clients so that I can test folder sharing with someone other than myself. I shared a folder with him, and his feedback was that Ubuntu One folder setup seemed less intuitive than the product that we normally use to share files – SugarSync.
Competitively, Ubuntu One starts out with a generous 5 GB free account as compared to Dropbox's 2 GB account. But SugarSync also offers a free 5 GB account with bonus storage available for trying out features and referring new customers. At the 100 GB upgrade level, Ubuntu One and SugarSync cost essentially the same amount. (SugarSync – $14.99/month or $149.99/year; Ubuntu One – $14.95/month or $149.95/year). Dropbox is 33% more expensive at $19.99/month or $199.00/year.
Currently Ubuntu One is limited to Ubuntu OS and Windows desktop clients. In contrast, DropBox and SugarSync have support for Windows, Mac, Android, iPhone, iPad and Blackberry. For Ubuntu One, there are both Android and iOS clients available. But the iOS client supports only Ubuntu One's music streaming service, which is priced separately at $3.99 for 20 GB of storage.
While Ubuntu One is taking steps in the right direction by supporting Windows in addition to Ubuntu Linux, they have a long way to go to catch up with the competition. Since I use a Mac in addition to Windows computers, the lack of a Mac client is a deal killer for me and, I suspect, for others too. For now, I'm sticking with SugarSync to move files around the cloud.