At a glance
Product
Zmanda Cloud Backup () [Website]
Summary
Impressive cloud backup solution using Amazon S3 with some unfortunate flaws.
Pros
• Intuitive interface
• Offers advanced features
• Amazon S3 back end
Cons
• Setup could be confusing for novices
• Iffy support
• Only works with current Windows OS
Typical Price: $5
Backup
Exclude

N

Include

Y

Drive selection

Y

Folder selection

Y

File type selection

N

File selection

Y

File size filter

?

Archiving

Y

File versioning (number)
9999
File versioning (days)
9999
File size limit (GB)
9999
Force full backup

Y

Auto file type organization

N

Auto resume

Y

Transfer Backup

N

Bandwidth Control

Y

Account Types
Unlimited

Y

Free

N

Free Trial

N

Home

Y

Business

Y

Monthly Billed

Y

Yearly Billed

Y

Min. Limit (GB)
0
Max. Limit (GB)
9999
Free Space (GB)
9999

Restore
Web download

N

Zip File

Y

DVD

?

Hard Drive

?

OS
Windows

Y

Mac OS

N

Linux

N
Zmanda Cloud Backup (ZCB) has some nice features that make it stand out in a crowded online storage market.
ZCB offers access to Amazon's S3 (Simple Storage Solution) architecture while providing advanced options for those that are a little more tech savvy.
Zmanda offers different backup software solutions with ZCB being the base option. Amanda Enterprise is for centralized backup of filesystems, Virtual Machines, Databases and Applications, while Zmanda Recovery Manager is for backing up MySQL databases.
ZCB is targeted at those that need to backup personal information or facilitate a backup solution for a smaller business. ZCB is designated for current Windows platforms only (XP, Vista, 7, Server 2003 and Server 2008 are all supported). Live backups of SQL Server, Exchange, SharePoint, MySQL and Oracle can also be performed and are supported according to the company's website.
There are multiple plans available for Zmanda Cloud Backup. An initial setup fee of $4.95 is charged when you sign up and every month thereafter. This fee is for access to the program and hardware resources only. Accompanying this charge are the usage fees, which are based on what you use. The chart below shows the usage charges, which are marked up from what Amazon S3 charges.

This can be a double-edged sword depending on the total size of your backups. Data usage is charged at $0.15 for each GB transferred and storage used. When compared to Symantec and Mozy Pro, this payment plan offers a substantial savings, unless you opt for any of the additional services or need a faster response time for support issues.
The Basic package offers an advertised response time of 24 hours and has no direct phone support, but is free. Standard support boasts an 8 hour response time, direct phone support and costs an additional $150 annually. Both the Basic and Standard options allow support for only three incidents per month.
Premium service allows for an unlimited amount of monthly support requests. The advertised response time is 8 hours and costs $300 annually. If you needed this service for business purposes, it is almost a guarantee you would need to sign up for the premium option making this a more expensive alternative than what is offered up front.
There are no free trials for ZCB. You will have to invest $4.95 just to see if you like the layout.
Installation and Setup
Installing ZCB offers a unique set of issues that may cause problems for non-technical users. After signing up for the download, you will be prompted to sign up for an Amazon Payment account. All billing is handled through this interface and it seems like an additional step that is not needed. If you do not have an account, you will have to create one and then start the signup process again.
Once you get past this obstacle, you will be prompted to install either a 32 bit client, 64 bit client or a service pack (for Tokyo users only). This download is quick and similar to most software installations. The largest data file belongs to the 64 bit client at 33.3 MB. Once downloaded, you will have to open the zip file and run the installation program.
One thing to keep in mind is the program creates a log file that records all backup activity. It is recommended that the installation be done on a partition that has several GB of free space. All restores will also default to the installation directory, so free space will be needed if these options are not changed.
Once the program is installed, you will need to download the S3 certificate. ZCB does not tell you that you need this during the installation process. I noticed that my test backup was failing and upon further investigation, found that I was missing the certificate. After looking on Zmanda's website, I did find the download link and imported the certificate file.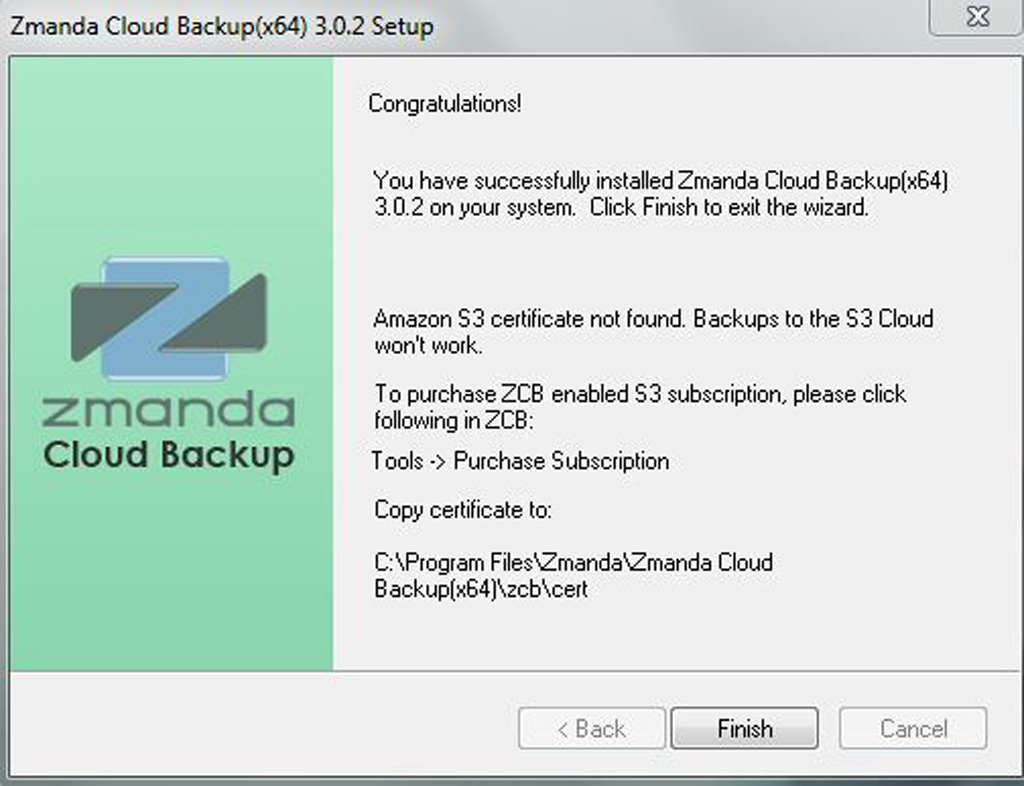 This corrected the communication error I got when trying to upload to the S3 environment. I can easily see this being a difficult problem for home and small business users to overcome. Even worse, I could see this being unnoticed so users wouldn't even know the backup is failing.
There is no documentation that outlines files that are not supported. Other cloud storage solutions do have the capability to upload all file types so I can only guess this is the case with ZCB.
The website has a quick list of features that are available.
The user account associated to the backup services requires a password when installed.
Adding a checkmark next to a file or folder adds it the selection list.
Choose what you want backed up.
Select how the backup will function.
Choose where you want the data to be backed up.
Create your backup schedule.
The status screen shows when a backup is complete.
In Use
I was pleasantly surprised by the configuration and customization options within Zmanda Cloud Backup. The interface is easy to navigate, intuitive in its simplicity, and offers advanced options that most administrators will appreciate. Creating a backup job is as easy as what, how, where and when.
Starting with the home screen, you are first prompted to create a backup set title. Once chosen, you have access to a simplistic selection list screen. This is also housed under the What tab on the home page. The selection list is created when you put check marks next to what you would like to back up. You are able to drill down to specific files within folders. Even if you have never worked with backup selections, most users should be able to navigate through the process with minimal issues.
Clicking on the How tab offers options for compression and encryption. Compression is done by moving a slider between the options of fast and best. Encryption can be accomplished by importing a ZCB certificate (similar to the S3 certificate process).
Although there are security options, this could have been made simpler by not having to use software-specific certificates. There are no options to create your own encryption code through the software interface. Bandwidth options are also under the How tab. Users have the option of limiting the upload and download rates by Kbps.
The Where tab houses the local folder file path, cloud storage location, and multiple retention options. Retention policies can be set for both local folders and S3 storage options. Both policies allow retention for time increments based on days, weeks, months and years making this a very customizable feature.
The When tab provides access to the scheduling interface and backup destination options. Local folder backups, scheduled S3 backups, and uploads of local backups to the S3 network are all configurable options. I liked the fact that you can schedule local backup files for upload. This makes it possible to create a seamless, redundant backup schedule from the software interface
Full backups, incremental backups, and differential backups are all configurable options. It was at this point that I realized this software really does offer several nice features. Many administrators may want to create a differential backup that saves to a local disk on the network and then have it automatically uploaded to the cloud. ZCB makes this process very easy to do
Scheduling can be done by specific time, day, week or month. Multiple backups can be configured, so daily and monthly backups can be set up with ease. It is this functionality and ease of use that make ZCB stand out from its peers.
Although the standard features are much more than I would expect from an entry level cloud backup solution, the advanced features really took me by surprise. Full job log customization, port setting, bandwidth throttle, proxy settings and SMTP mail notifications all come standard in Zmanda Cloud Backup. This is a base level program that boasts many features only found in higher-end software solutions.
I found setting up the selection list, running a backup job and performing a restore exceptionally easy to do. This unique combination of a feature rich software program combined with the ease of use this product offers creates a very enticing and refreshingly different cloud backup solution.
Navigation through the program is simple and should provide little to no problems for most users. When multiple backup sets are created, there is a picture that represents the job located on the far left of the screen. Clicking on the picture opens the portal for that specific job.
Access, Support and Security
By downloading the client software you have access to choose the backup restore file path. This is nice when trying to import the data to another machine on the network. I did not see any option or documentation for a web interface that would allow access to your cloud storage. This was somewhat disappointing, given all of the other features that are available.
Zmanda Cloud Backup is capable of running on multiple systems at the same time. One of the downfalls for this software is it does require an active Internet connection. Usually backups are done during off hours so computers running ZCB would have to remain powered on. This could be a problem if you are not running centralized servers and need several workstations backed up simultaneously.
One of the limitations for the S3 architecture is that files larger than 5 GB cannot be backed up. ZCB has a way around this limitation. When selecting larger database files for backup, the program splits these selections into multiple 5 GB files. When running a restore job, the software assembles the partial backups into the original file. ZCB also allows full system state backup and recovery options.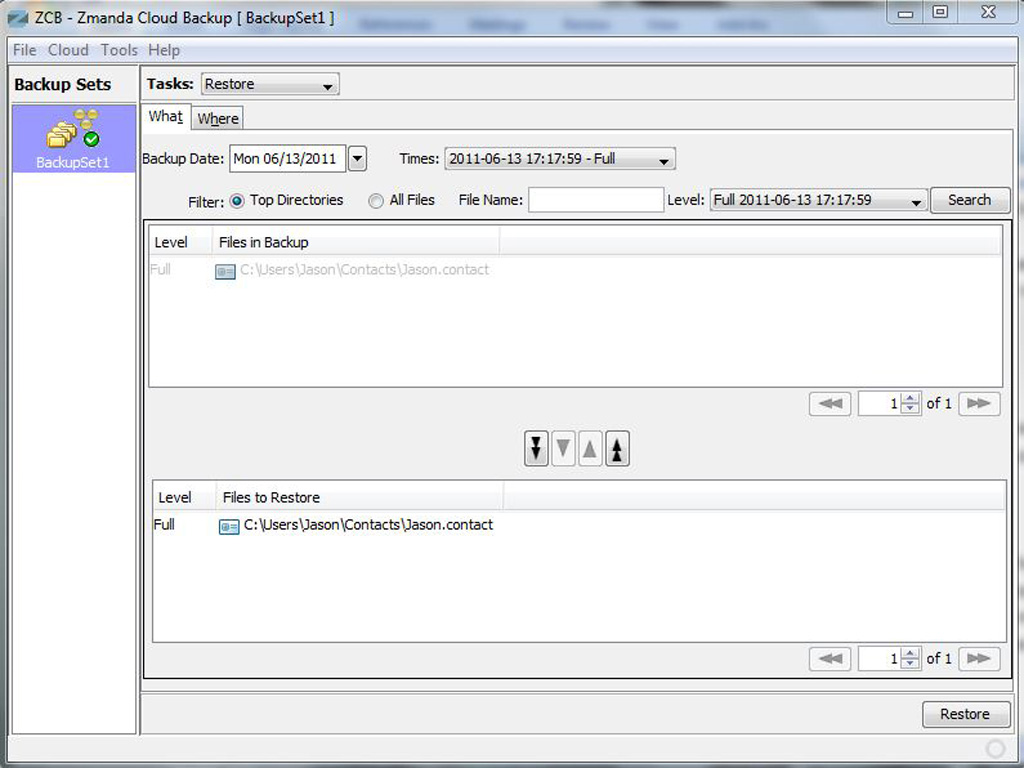 Support
Email

Y

Online Ticket

Y

IM / Chat

N

Phone

Y

Knowledge Base

Y

Tutorials

Y

Access
Browser-based file manager

N

File Permissions

N

Folder Permissions

N

Blackberry

N

iOS

N

Android

N

Windows Mobile

N
When backing up SQL or Exchange, ZCB uses VSS snapshots to provide live backup capabilities. You can backup Exchange and use the mail system at the same time. ZCB is also fully capable of backing up virtual machines.
Security is handled by PKCS #12 digital certificates that need to be purchased at an additional charge. There is also an option to transfer data via a secure 128-bit SSL. The security certificate is maintained by the owner, so unauthorized access to your data should not happen. Fail safes have also been taken to make sure transferred data is error free. All transferred data is checked for integrity by using a MD5 checksum.
By using Amazon's S3 network, you are given a 99.9% SLA (Service Level Agreement) guarantee. If your monthly access time goes down by more than.01% you will be entitled to compensation. Amazon uses data centers all over the world including in the United States, Europe and Asia. Although there are many features to this program, guaranteed restores of your files are not one of them. Even with all of the options you have, if a file restore fails or becomes corrupt, Zmanda will not take responsibility for your data
Support forums are not very informative and the website offers very little in the FAQs. Given the problems I ran into, I hope Zmanda makes the setup and support processes a little more user friendly. I am also confused by the limited amount of monthly support calls for the basic and standard editions of this service. There was no information on how much an additional service request would cost. The idea of having to pay for additional support along with a monthly charge and an annual fee is off-putting to say the least.
Conclusion
Overall, the impression I got from Zmanda Cloud Backup is, in a word, conflicting. I was highly impressed with the ease of use. This is by far one of the most intuitive backup programs I have ever used (I have been working with backup software for over 14 years). I think most users could pick this up and configure higher level functions with ease. There is also a solid foundation for network administrators to configure notification and security options.
That being said, I was disappointed by the installation troubles and the extra charges that range from security certificates to basic phone support issues. I really want to recommend this product, I really do. But I can't.
I think the hidden charges and lack of support is unacceptable by today's standards. In my opinion, the extra charges come across as a hidden way to get more money and I can't agree with those tactics. I wish Zmanda would revise their billing options. Because if they did, they would have a really good product