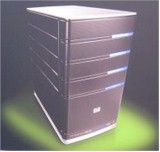 There were a few interesting developments in Networked Storage. Here's a quick slideshow. You can find the slideshow here.
Related posts
Virtualization isn't just for data centers. It can also be a useful addition to many small networks.
I don't know about you, but I'm pretty down these days about the state of things in SOHO / SMB Networking land. I mean, when was the last time that you were excited about a networking product? For me, it's been a long while.
Buffalo is using this year's CES to announce a revamped strategy for its NAS products and to re-enter the wireless LAN market in the U.S.