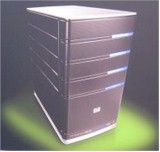 There were a few interesting developments in Networked Storage. Here's a quick slideshow. You can find the slideshow here.
Related posts
Spring may mean the return of flowers, birds and bees to those in northern climes. But to Tim Higgins, it means an annual pilgrimage to Sin City to check out what's new in Networking. Come along for a round-up of early-bird announcements and news.
Linksys rolled out some new draft 11n products, some with an new package that looks kind of UFOish.
TomsNetworking's readers always seem to like new stuff from Linksys. So we've done some sleuthing and found a few new tidbits for your reading pleasure.