Netgear CES introductions include dual-drive versions of its popular ReadyNAS networked storage line and a different twist on dual-band draft 802.11n wireless routers.
ReadyNas Duo
The ReadyNAS Duo was rolled out in three capacities, 500 GB, 750 GB and 1 TB, as well as a BYOD version. The diskful models come with one SATA drive installed plus an empty bay and support drive sizes up to 1 TB.
Netgear ReadyNAS Duo
The Duo is essentially a two-drive version of Netgear's ReadyNAS NV+ in a smaller, but not as nice looking enclosure with an integrated BitTorrent client and NTI Shadow Backup software. Other differences from the NV+ are an external power supply, no support for Active Directory and no snapshot capability. All of the current media servers are still there, however, including UPnP AV, iTunes and Logitech Squeezecenter.
Other features include hot-swappable drives, gigabit Ethernet, built-in backup manager, system monitoring and automatic alerting capabilities, HTTP/S remote access, FTP/S transfers, SSL and ACL security, and multiple USB ports.
The Duo will be shipping in "late Q1" with the 500 GB configuration selling for under $500. Here's the rundown of all the new models:
– RND2000 ReadyNAS Duo 2-Bay Gigabit Desktop Network Storage (no drives included);
– RND2150 ReadyNAS Duo 500GB Gigabit Desktop Network Storage (includes one 500GB SATA drive);
– RND2175 ReadyNAS Duo 750GB Gigabit Desktop Network Storage (includes one 750GB SATA drive);
– RND2110 ReadyNAS Duo 1TB Gigabit Desktop Network Storage (includes one 1TB SATA drive)
New draft 11n products
Netgear has introduced two new elements into the draft 11n technology mix. The first is a new "metamaterial" antenna technology developed in partnership with Rayspan. The patented metamaterial antenna arrays place six to eight antennas close together and direct signal energy to targeted wireless devices, while avoiding signal collision or interference with each other. This is, of course, aimed at delivering "superior range and throughput".
The second twist comes in the form of its WNDR3300 RangeMax Dual Band Wireless-N Router. This is an aggressively-priced ($130 MSRP) two-radio router, but with a standard 802.11b/g radio for 2.4 GHz band operation and a 2.4 / 5 GHz switchable radio intended for draft 11n client support.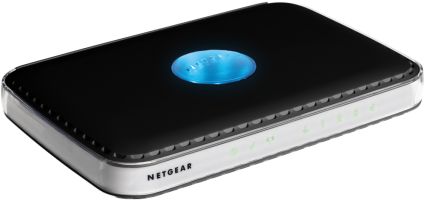 WNDR3300 RangeMax Dual Band Wireless-N Router
Netgear said that the approach was driven by the need to reduce the price of dual-band draft 11n. But I'll bet it also is aimed at sidestepping the lousy performance shown by all draft 11n products when a mix of "legacy" and draft 11n clients are used.[related article].
The WNDR3300 uses an integrated array of eight metamaterial internal antennas, includes automatic QoS to prioritize network traffic and supports WPS pushbutton secure wireless setup. But in a misguided attempt to reduce cost (or improve product margins), Netgear has opted to include a 4 port 10/100 switch instead of gigabit Ethernet. The company said that it is also undergoing BitTorrent certification for all of its RangeMax N line. The router is said to be available shortly.
If you want gigabit LAN, then you'll have to opt for the WNR3500 RangeMax Wireless-N Gigabit Router. This one comes in the vertical-style package used in the WNR-854T and WNR-834B, but with a charcoal grey tone from the looks of the product shot.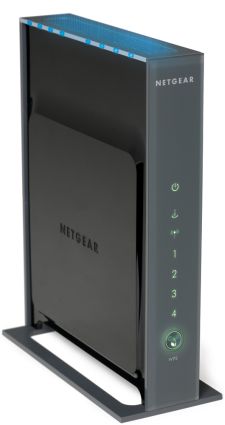 WNR3500 RangeMax Wireless-N Gigabit Router
It's 2.4 GHz only, but otherwise has the same goodies as the WNDR3300, i.e. 8 element metamaterial antenna, auto QoS and WPS support. Also available shortly, it comes in at $160 MSRP.
New draft 11n products – more
If you're happy with your current router, but just want to upgrade to 5 GHz band draft 11n, then the WNHDE111 5 GHz Wireless-N HD Access Point/Bridge might be for you. It can be used as a standalone bridge or a 5 GHz Wireless-N access point. So you can use a pair, which happen to come in a WNHDEB111 kit, to wirelessly connect up any Ethernet-based device with an existing wired or wireless router, using the relatively interference-free 5 GHz band.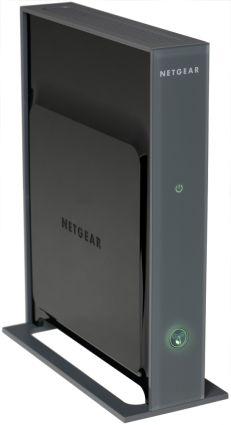 WNHDE111 5 GHz Wireless-N HD Access Point/Bridge
The WNHDE111 features a six metamaterial antenna array, automatic QoS, WPS and "ad-hoc" mode support. MSRPs are $130 and $230 for the single adapter and two adapter kit, respectively and the products should be on the shelves soon.
If all you want to do is get hold of an adapter to take advantage of all of this dual-band draft 11n goodness, then look for the WNDA3100 RangeMax Wireless-N Dual Band USB Adapter. There's not much to say about it other than it uses metamaterial antennas and will be available shortly for $100 list. And, oh yeah, it has a nifty WPS button on it so that you won't have to use its client utility to participate in a WPS push-button session.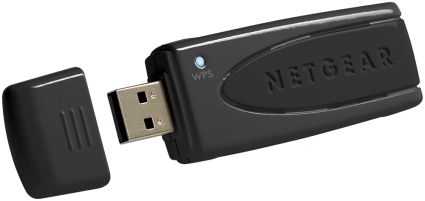 WNDA3100 RangeMax Wireless-N Dual Band USB Adapter
Finally, in a nod to those who want to improve their current 802.11g wireless LAN's range without jumping to draft 11N, Netgear popped out the WPN824EXT RangeMax Wireless Signal Extender. The announcement wasn't clear on the range extension technique used, but the EXT claims to "upgrade and extend the performance and range of an existing network" using its seven "smart metamaterial antennas". No pricing or availability was given.
Powerline and Other Stuff
Netgear is also refreshing its powerline networking offerings. But since the DS2 and HomePlug factions refuse to make peace and settle on one powerline standard, the company is introducing high-speed products based on both technologies.
The XAVB101 Powerline AV Ethernet Kit (based on HomePlug AV) and HDXB111 Powerline HD Plus Ethernet Adapter Kit (based on DS2-backed UPA) are both spec'd at a 200 Mbps raw data rate and aimed at supporting high-def video, gaming and VoIP applications. Both are $179 for a pair of adapters, with availability not mentioned.
As you can see in the photo below, the HDXB111 adpater features a pass-through outlet design and a "Standby" button that puts the adapter only (not whatever is plugged into it) into a power-saving standby mode. I suppose every bit counts when you're trying to be green, but the power you'll save with the adapter function is miniscule when compared to the "phantom" power that is drawn by whatever electronic appliance is plugged into the adapter.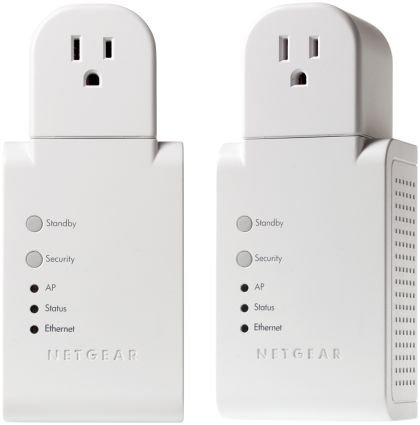 HDXB111 Powerline HD Plus Ethernet Adapter Kit
Finally, Netgear said that it is getting into MoCA and Optical fiber technologies, with offerings primarily aimed at service providers. The MoCA Ethernet-to-Coax Bridge is based on the MoCA 1.1 specification and is spec'd at a raw data rate of 270 Mbps over standard home TV coax wiring. The adapter matches up with the WNMR834 Wireless-N MoCA Router that was also previewed.
The PF101 Plastic Optical Fiber Ethernet Adapter is a Ethernet-to-Fiber bridge that uses thin plastic optical fiber to delivers raw data speeds of 100 Mbps at distances up to 50 meters. It's intended to be yet another way to allow service providers to get around having to run CAT5e cabling or rely on all that wonderful wireless stuff that everyone is trying to assure them will provide trouble-free whole-house HD streaming. There is no pricing or availability on any of the MoCA or fiber products.