D-Link's CES introductions focused more on its vision of the "digital home" than on basic networking connectivity and storage.
D-Life
D-Link's vision of a place where "everything just works simply and effortlessly" for "a connected, digital lifestyle" is its new D-Life concept. D-Life is a combination of products and website (www.d-life.com) designed to bring networked products to folks who don't want to futz with the nasty business of configuring a typical networked product.

D-Life products
The site has you enter a id codes that come with the product into an account that you set up on the site. You're then registered and the products are supposedly ready to use. The website is also a vehicle for selling value-add services for those products, including minutes for what appears to be a VoIP cordless phone and storage for a "security camera".
You also, according to the D-Link release, will be able to connect to other D-Life users using "Internet phones, instant messaging and Internet voice mailbox" and remotely access the security camera feed.
D-Link didn't provide any information on the products other than the photo above, which looks like it includes a digital photo frame, powerline networking adapters, web/security camera, a small white box and cordless VoIP phone. I'll get more info when I make my stop at D-Link's booth on Tuesday.
Media Stuff
Among the list of previously-released products in D-Link's announcements, I found two new products. The DPG-1200 PC-on-TV is said to stream anything that is playing on a (Windows) PC to a video projector or HD display.
DSM-210 Internet Photo Frame
You also get access to a website (dlink.framechannel.com), where you can organize online photos and RSS feeds for display. The frame will also be hitting store shelves this quarter and has an MSRP of $250.
CES also marks the U.S. introduction of the DSM-330 DiVX ConnectedTM HD Media Player that started shipping in Europe earlier this year. The player allows viewing DivX videos from the PC and the Internet, including DivX HD videos with menus and subtitles, access Stage6 and other online video services.
You can also access videos, music and photos stored on networked PCs and NASes, as well as files stored on a USB flash drive, or external hard drive via a USB 2.0 port.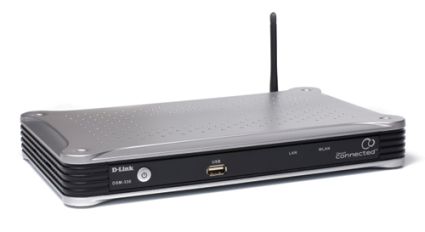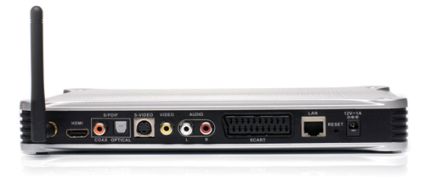 DSM-330 DiVX ConnectedTM HD Media Player