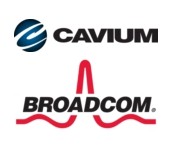 Broadcom and Cavium have announced new devices for speedier NASes and draft 802.11ac clients at Computex 2013.
Computex 2013 is underway this week in Taipei and chipmakers are there in full force. The show has a strong OEM/ODM focus, with chipmakers rolling out their newest devices with hopes of winning design-ins.
Cavium is setting its sights on getting into more consumer NASes with its new line of low-power MIPS64-based SoCs. The company is showing its new CN70XX and CN71XX SoCs aimed at wired and wireless Gateways, 802.11ac access points, switches, routers, UTM/Security Appliances and NASes.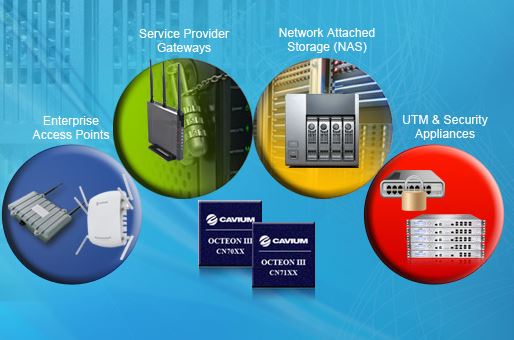 Cavium OCTEON III CN70xx and CN71xx
The new SoCs are available in versions sporting one to four cnMIPS64 v3 at clock rates up to 1.6 GHz. Cavium says the new processors are "capable of running 3 x 3, dual band 802.11ac & 802.11n at full line rate even while supporting >32 streams/clients". Features include integrated hardware virtualization, hardware-based deep packet inspection and hardware-based cryptography including RSA, SSL, IPSec, SHA-3, ZUCC. Connectivity options include GbE, 10GbE, SATA 3.0, USB 3.0 and PCIe.
To make it easier to slip onto NAS boards, Cavium also announced TurboSTOR. This is a "complete production-ready software solution" optimized for Cavium OCTEON-based NASes. TurboSTOR is aimed at NASes from home and SOHO to "Enterprise class", supporting hardware encryption, event monitoring and hot-swappable drives. The software comes with a customizable GUI and includes both DLNA and iTunes media servers.
Cavium said all this will be "generally available" in Q3 2013, with reference designs for routers, NASes, APs and more.
Broadcom is also wants in on the ever-growing NAS market and intends to get there with its StrataGX BCM5862X series. This line of SoCs is based around dual core ARM Cortex-A9 processors operating at 1.2 GHz. The family includes an integrated Gigabit Ethernet switch, PHYs, dual 6 Gbps SATA rev 3.0 and PCIe interfaces.
All the products in the BCM5862x series include a programmable packet accelerator that is used to offload the main CPU cores. This accelerator consists of a third ARM Cortex-R5 core with its own local memory. There is also a cryptographic accelerator that supports line rate speeds and supports various encryption and hashing algorithms.
The StrataGX BCM58622 and BCM58623 support 16-bit wide memory interfaces up to DDR3-1600, while the BCM58625 supports 32-bit wide memory interface up to DDR3-1600.
The BCM5862X Series is sampling now, with volume production slated for 4Q.
To help get more draft 11ac-enabled devices into the wild, Broadcom is rolling out new 2X2 client-side devices. The BCM4350, BCM43556 and BCM43558 all support link rates up to 867 Mbps in 5 GHz and 300 Mbps in 2.4 GHz. Common to all three is support for transmit beamforming and two proprietary enhancements.
"TurboQAM" is said to increase 2.4 GHz speed by 33 percent and Channel Smoothing WLAN PHY to increase receiver sensitivity by an average of 2 dB across 802.11n and 802.11ac rates.
The BCM4350 is a combo chip designed specifically for PCs, tablets and set-top boxes and includes integrated Bluetooth 4.0. It has both PCIe and SDIO3.0 interfaces and is aimed at low-power consumption PCs, tablets and set-top boxes with support for both Windows and Android.
The BCM43556 (standalone 5G WiFi) and BCM43558 (combo with 5G WiFi and Bluetooth 4.0) both include USB 3.0 interfaces and are aimed at Windows-based platforms.
All three are currently sampling to "early access" customers with full production in the second half of this year.
Also announced last week were two new 1X1 draft 11ac combo devices. The BCM43162 is a PCIe client solution for Windows applications and the BCM4339 has an SDIO with support for Microsoft Windows and Android operating systems. Both support link rates up to 433 Mbps, support transmit beamforming and the proprietary TurboQAM and Channel Smoothing enhancements and have integrated transmit power and low-noise receive amplifiers.
The new duo are also currently sampling and will be hitting full production in the second half of this year.