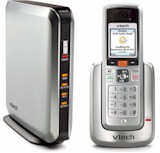 The ip8300 infoPhone works in conjunction with an Internet portal service from Casabi that can access news headlines, weather reports, horoscopes, local directory searches and other content on the cordless handset's color LCD screen and without requiring a computer. The phone also has email and instant messaging capabilities.
The phone uses DECT 6.0 technology, which operates in the 1.9 GHz band to eliminate interference with 802.11b/g wireless LANS and other 2.4GHz products. Up to five handsets can be supported by a single base station.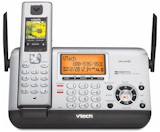 The wf6972 Wi-Fi landline phone uses 802.11 wireless technology to connect to a computer via a wireless router for direct-to-handset content delivery, along with standard voice communication. A Windows application running on a PC allows the phone to access news headlines, sports scores and weather updates directly on the cordless handset, which also offers standard land-line (POTS) capabilities. Up to 16 phones can be supported by a single base station.
The ip8300 and ip831 expansion handset will be available in March 2007 for MSRP's of $129.95 and $49.95 respectively. The wf6972 and wk6909 expansion handset will hit stores in April 2007 with MSRP's of $179.95 and $79.95 respectively. Both phones will be shown at next month's Consumer Electronics Show in Las Vegas.