Introduction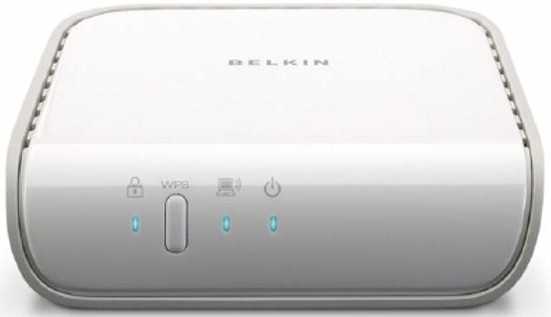 At a Glance
Product
Belkin Home Base (F5L049)
Summary
USB device server that connects via 10/100 Ethernet or 2.4 GHz b/g/N
Pros
• Simple setup
• Works with Mac OS and Windows
• Simple photo sharing with Picasa and Flickr
• Built-in media server
Cons
• Media server has typical DLNA oddities
• Only one client served at a time in Network USB mode
• Slow file serving
• Very basic backup options
With many households now having a wireless network and multiple computers, it only makes sense to share devices. We have reviewed lots of full-featured and powerful NASes. But sometimes all you really need is a simple way to share storage, and possibly a USB printer or scanner.
Belkin's Home Base is a simple four port USB device server that connects to your LAN by either 10/100 Ethernet or 2.4 GHz 802.11b/g/N wireless. USB devices plugged into the Home Base can then be shared on the local network.
Figure 1 shows the FCC photo for the Home Base's board. The photo is too fuzzy to identify all of the devices. But close-ups in the FCC docs show key devices including an Atheros AR9130 400 MHz Wireless Network processor, AR9102 2.4 GHz 2×2 11n radio and AR8012 10/100 Ethernet PHY. I didn't open the case, so couldn't determine how much Samsung RAM or Macronix flash (on the bottom of the board) there is.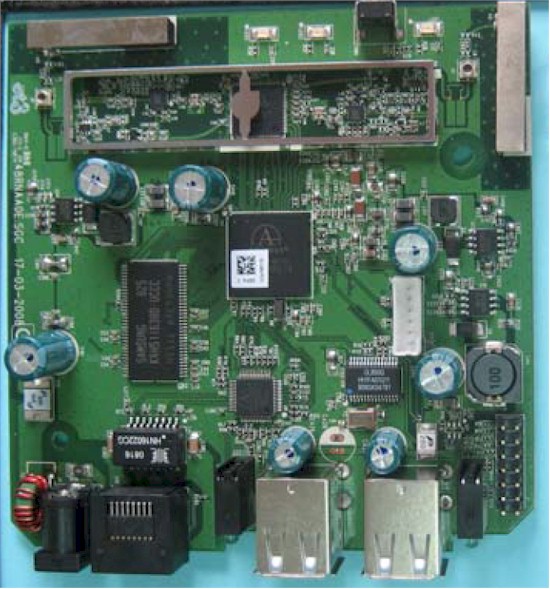 Figure 1: Home Base board
Setup
While it's probably easiest to set up the Home Base with a wired Ethernet connection, it also supports WPS (Wi-Fi Protected Setup) to help you easily connect to your secured wireless network. Figure 2 shows the front panel of the Home Base which sports a power indicator, WPS setup button and two wireless status indicators.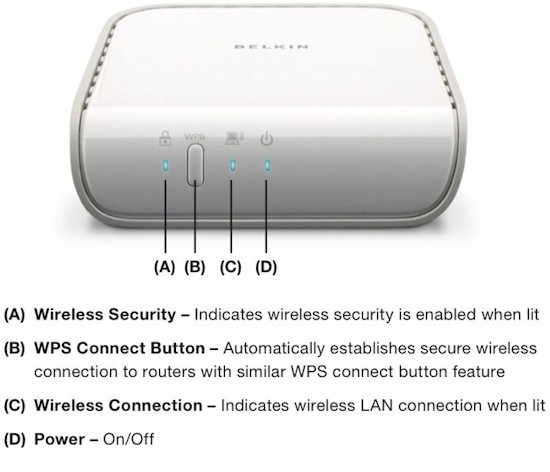 Figure 2: Front Panel
Although I did my initial setup using a wired Ethernet connection, I also tested WPS setup, which supports both push button and PIN code methods. I used the push button on the Home Base and clicked on the virtual WPS button on my wireless router's management interface, and the Home Base correctly negotiated a secure connection to my wireless network.
The instructions state that you should only use a wired connection or a wireless connection – not both. When I checked my router, I understood why. Both the wired and wireless connection share the same MAC address – something I haven't seen before.
If you plan to share only storage on your network, you don't really need to install any software. By default, all four USB ports on the Home Base are configured in "NAS" mode. Storage devices plugged into any ports will appear in Windows explorer as shown in Figure 3 or in the Mac OS finder.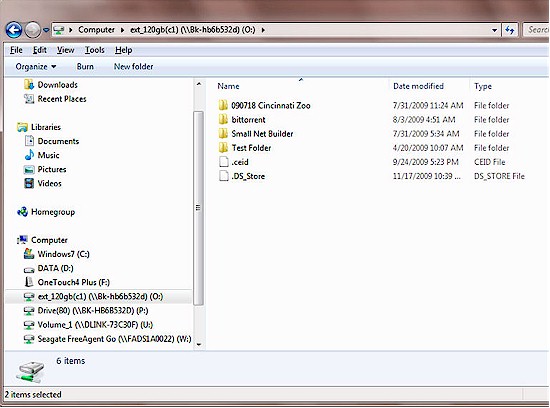 Figure 3: Drive mapped on Win 7
Although the specifications for the Home Base don't include Windows 7 or Snow Leopard (OSX 10.6), I was able to connect to USB drives on both of those platforms. By default, the Home Base appears on the network as Bk-HBxxxxxx where xxxxxx are the last six digits of the Home Base MAC address.
If you plan to share USB printers or other devices or want to take advantage of some of the Home Base's advanced features, you'll need to install the Home Base control center. Belkin supplies a cross-platform application that runs both on the PC and the Mac, but requires the installation of Rosetta, Apple's binary translation software that provides backwards compatibility to Power PC-based legacy Macs.
Feature Tour
Figure 4 shows the Home Base control center. It's a fairly simple interface with only three tabs: Available Devices; Local Backup; and Picture Sharing.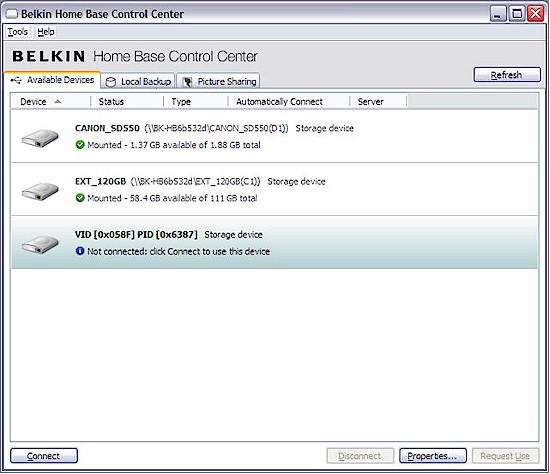 Figure 4: Belkin Home Base Control Center
Available Devices shows the devices plugged into the Home Base. In the screen shot above, the first two devices were configured as the default "NAS" device setting and appear as mounted and are available as sharable storage to all users on the network. Note: All shared storage is available to all users on the network with read/write access. There is no user account security.
The third device, also a storage device, I defined as a network USB share. As such, it's an available device, but not currently connected to any user. A network USB share, generally used for printers or scanners, is only available to one user at a time, and only through the Control Center. When you click on connect, your computer will connect to that port as though you had just plugged the device into your computer.
For example, when I clicked connect, my XP computer went through the standard "found new USB device", installing software" sequence, and then mounted the device. In explorer, it showed up as a removable drive – just as if it had been plugged directly into the computer. For scanners and printers, you'll need to install drivers on each computer that will be sharing the devices.
If you want to connect to a "Network USB" device that's already in use, you can click on the "Request Use" icon in the lower right hand corner. Figure 5 shows that the network USB storage device is currently in use by another computer – in this case, my Mac (192.168.100.199).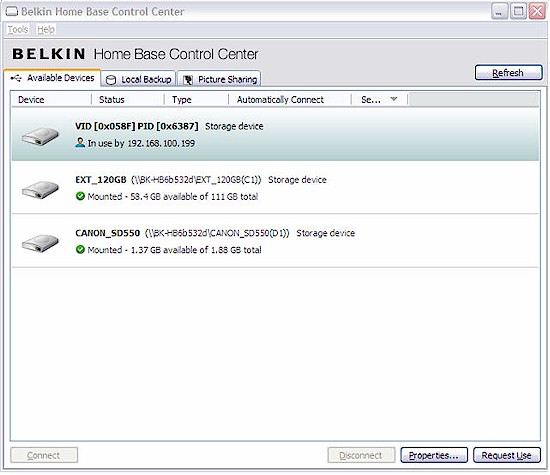 Figure 5: Requesting Use of Network USB device
On my Mac, the control center popped up a message asking me if I wanted to allow "Toshiba" to disconnect the drive as shown in Figure 6. I let the countdown timer expire and the device was disconnected from my Mac and became available for connection to other network users through the control panel. This process is a bit awkward at first, but after connecting and disconnecting a few times, it becomes a simple task.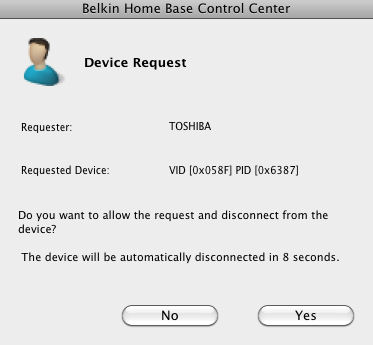 Figure 6: Device disconnect request
The Home Base provides a very basic backup feature for each user that has installed the Control Center. Just click on Local Backup, select a destination and select the files and folders you want to include in the backup. There aren't a lot of "knobs" to tweak in this rudimentary backup. Backups occur hourly, and appear to be incremental.
The Local backup feature is available for both Windows and Mac OS. File restoration is a bit awkward, but Belkin provides a Windows-based recovery application. Figure 7 shows configuration of the Local backup.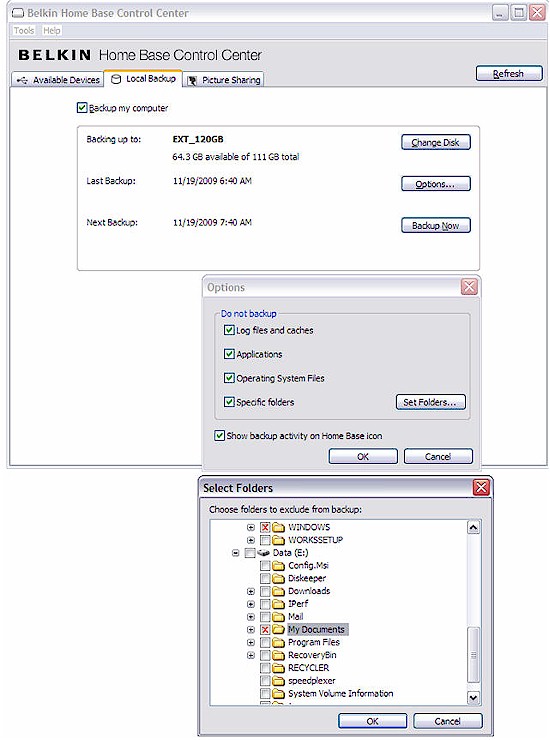 Figure 7: Local Backup Configuration
Features – more
The Home Base also features simple photo sharing to Flickr or Picasa. To share photos, click on Picture Sharing, add a share, and navigate to the folder that contains the photos you want to share as shown in Figure 8.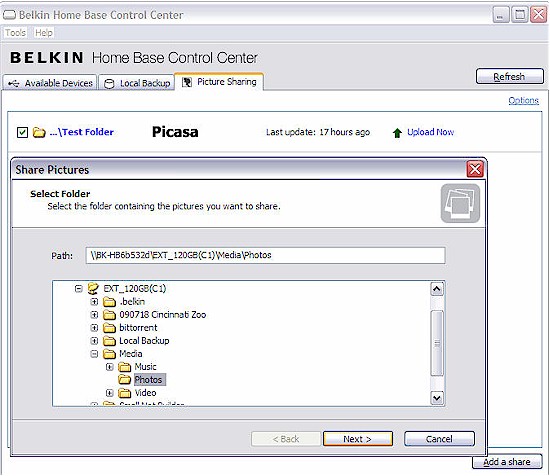 Figure 8: Picture Sharing
Clicking "Next" gives you the option of choosing Flickr or Picasa. Enter in your login credentials, and the name of your target album, and you're ready to upload photos. I tested this with Picasa, and my entire source directory of images was uploaded to the appropriate album on Picasa.
Not all functions of the Home Base can be configured in the control center. Some functions, such as changing the port configuration from "NAS" to Network USB are performed through the web interface. To get to the Web UI from the control center, you need to click on Tools, Connected Home Bases and Properties. This seems like a fairly convoluted way to get to the management screen. Belkin should have at least put another button or tab in the control center that takes you directly to the management screen.
Once you land on the Home Base management page, there's really not much to configure. You can change the network settings, and though with WPS it's really not necessary, change your wireless security settings. About the only settings you need to concern yourself with are the settings for the media server and the configuration of the individual USB ports. Figure 9 shows the configuration of the USB ports and the menu bar on the left side of the screen.
Figure 9: USB Port configuration
The Home Base also includes a DLNA media server. The only configuration options you have are to select which storage devices are to serve as source media for the server. According to the box specs, the DLNA server should work with the Xbox 360 and the Sony Playstation. I tried to access the media server using the recently reviewed NETGEAR Digital Entertainer Live, also a DLNA device.
Unfortunately, I had mixed success. It found the separate directories that contained the audio, video and images on the Home Base, but only found the photo content. I was able to play a slide show of photos, but could not play the audio or video. In fairness, the NETGEAR product wasn't listed as a supported device. But supposedly it, too, is DLNA compliant.
Performance
The Home Base doesn't break any NAS speed records and performs similarly to the USB drive sharing features found in routers like the D-Link DIR-655, Cisco / Linksys WRT610N and NETGEAR WNDR3700. Table 1 summarizes the results of our Vista SP1 file copy test (described here) with a USB drive formatted in FAT32 and NTFS.
| Test | FAT 32 Format | NTFS Format |
| --- | --- | --- |
| Write speed (MB/s) | 5.7 | 1.7 |
| Read speed (MB/s) | 10.5 | 7.2 |
Table 1: Routing throughput
Note that these results were achieved with a 100 Mbps Ethernet connected machine. So the FAT 32 Read performance is actually pretty good vs. the maximum LAN transfer rate of 12.5 MB/s. But write speeds leave a lot to be desired.
Closing Thoughts
Whether or not the Belkin Home Base is the right product for you depends on your intended use. If you only need to share USB storage on your local network, a cheaper and much better solution would be the Seagate Dockstar reviewed here. For $99.99, you get much better performance as well as access to your files from the Internet.
For some, the Home Base's 802.11n wireless connectivity will be compelling. But the file sharing speeds are too slow for heavy use or large file transfer, unless you like waiting a lot. The speeds are better matched to printer or scanner sharing, as is the one-at-a-time access method.
The Local Backup feature is basic, but will be adequate for folks who just want to get their computers backed up and don't need to finely tweak exactly what is backed up. (For me, I'd invest in a backup application to get that fine control.)
Finally, I was disappointed in the DLNA media server – especially since the specifications showed a comprehensive list of media types and file formats supported. But the DLNA specification seems more like, uh, guidelines, with incompatibilities among DLNA devices all too common. Unfortunately, the only way to know whether DLNA devices will play together is to try them. And, at least in my simple test case, they didn't play very well.
In the end, the Home Base tries for a home run, but will get you only to First or maybe Second. But that could be far enough for you.