Overview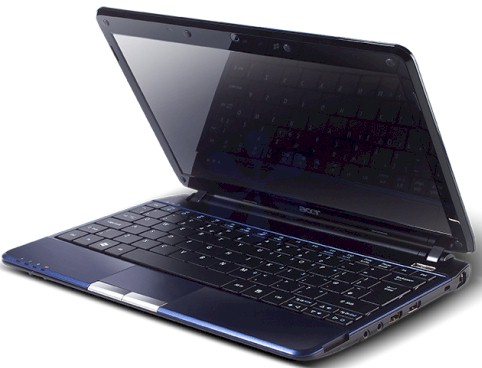 At a Glance
Product
Acer Aspire Timeline 1810T (AS1810T-8638)
Summary
Nicely put together netbook with 11.6" screen, spacious keyboard and 6+ hour battery life
Pros
• Very nice keyboard
• Longest battery life I've seen
• Peppy performance
Cons
• Touchpad a bit too small
• Fan runs a lot; can get noisy when plugged in
My netbook search this year was completed in record time, with only two products making the cut. I owe that to my experiences with the previous crop of netbooks and spending a year with my last selection, a Dell Mini 12. This year, I knew what I was looking for and didn't spend any time mucking with products that didn't have it. I've already reported on my disappointing trial of HP's Mini 311. So this time I'll review the keeper: Acer's Aspire Timeline 1810T.
I first stumbled across the 1810T in a magazine ad, pulled up short by the eye-catching 8+ hrs. Battery Life banner prominently displayed in the ad. After checking a few reviews, I put my order in at Amazon at the full $599 list price and waited until they were back in stock. I could have gone for the $50 cheaper 1810TZ. But I wanted the 4 GB of RAM that came with the 1810T and the faster CPU and larger disk didn't hurt either.
Once again, I'm late to the review game for this product. So I'll summarize the basics and focus mainly on the things that matter to me. The 1810T's key specs are:
1.3 GHz Intel Core2 Duo SU7300 Processor
4 GB DDR2 667 MHz RAM (SODIMM)
320 GB SATA drive
Windows 7 Home Premium (64 bit)
11.6", 1366 x 768 Acer CineCrystal LED-backlit TFT LCD 16:9 format display
Mobile Intel GS45 Express Chipset w/ Intel GMA 4500MHD Graphics Media Accelerator
10 / 100 / 1000 Ethernet
A/B/G/N wireless
Bluetooth
HDMI and VGA video outs
Three USB 2.0 ports
Built-in webcam
62.16 W 5600 mAh 6-cell Li-ion battery pack
Audio in and out 1/8" mini jacks
SD / MMC / Memory Stick / xD card reader
This configuration has everything I need and the benefit of not having to do my own memory upgrade. Drive size didn't matter, since I've yet to run out of drive space on any of my machines. Other pluses (for me) are the Intel WiFi Link 5100 AGN for Wi-Fi and separate Bluetooth module.
Even though it came with an Intel N card, I swapped it out for an Intel 5300, which is my standard wireless test client. The swap went without a hitch, I didn't even have to install new drivers. The system recognized the new card without a hiccup and it just worked. (I did hit Intel's site and download new drivers for the card, however.)
Like the Mini 311, the Acer has brick-style power supply instead of the small and light "wall-wart" style on my current Dell Mini 12. Although smaller and lighter than the typical power brick, it still is more of a hassle to use and heavier to carry than a wall-wart. Fortunately, both power supplies have 19 V, 1.58 A outputs and even use the same connector. So the Dell's supply will be going into my travel bag, with the Acer holding down the fort at home.
This is my first Acer system and I have to say I'm impressed with the build quality. Like most other netbooks, its case is plastic. So it might not hold up as well as more expensive laptops with more metal in them. But for my light use, it will be just fine and I'll just live with the fingerprint magnet glossy top and screen.
Figure 1 calls out the system's main indicators and some of its features, including a webcam and microphone and plenty of indicators. The cluster of Power, Battery, Bluetooth and WLAN lights (callout 7) can be seen when the lid is closed, which is helpful to check on charge status.
Figure 1: 1810T features
The keyboard (Figure 2) has flat, textured keytops that I don't really prefer, but can live with. Laptop Mag's review says the keyboard is 92% of full size and slightly larger than the Mini 311's. I can't confirm that, but I think Acer did a good job with the keyboard. Backspace, Enter, left and right shift keys are generously sized and even the function key row hasn't been squished down too much.
Figure 2: 1810T Keyboard
I like that the navigation key cluster includes dedicated Pg Up and Dn keys, which double as Home and End when the Fn key is pressed. With a shorter screen, I find I use the page keys more than I do with a full-sized screen.
As others have noted, the touchpad, which supports some multi-touch features, is wide enough, but a bit short. But the two mouse buttons require just the right activation pressure, for me, at least.
Speaking of function keys, Figure 3 summarizes the "Hotkey" functions at your disposal. Some are standard (volume, brightness, touchpad toggle) and some are unique (Power mgmt. and System property). Don't fret about the omission of Wireless and Bluetooth control. Those have handy dedicated switches sitting below their indicator lights. And, unlike the HP Mini 311, the 1810T includes a Num Lock function.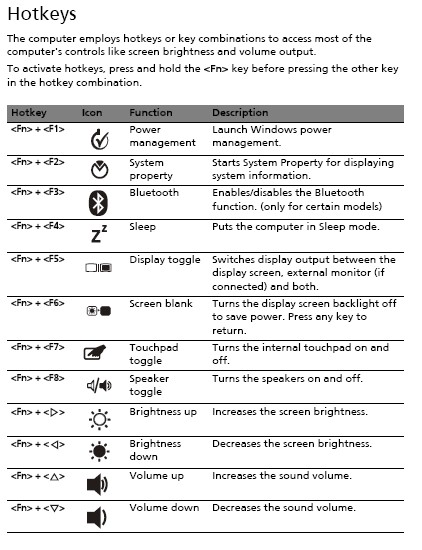 Figure 3: Hotkey summary
More Details
As I noted earlier, I swapped out the half-height mini-PCIe Intel 5100 Wi-Fi Link for a 5300. This was a piece of cake because of the 1810T's two removable bottom panels. Figure 4 shows easy access to HDD, RAM and wireless modules and also that there is space, but neither connector nor antenna cables for a WWAN card.
Figure 4: 1810T component access
First boot of Windows 7 went without a problem. This is also my first Win 7 system and so far, it's not as annoying as Vista was. Installed crapware wasn't too bad, with the usual 60 day trails for MS Office and Norton Internet Security and free MS Works (oh yippee). Acer also installed a mix of its own utilities, including a recovery disk set generator, software / driver updater and webcam utility. The webcam utility has a series of tweaks, with Auto checkboxes for each that were unfortunately greyed out.
Figure 5 shows some of the items in Device Manager expanded so that you can see key component details. Broadcom supplies the Bluetooth module and WD the 2.5" SATA Scorpio Blue 320 GB 5400 RPM drive. The webcam must be pretty generic, since it uses a Microsoft usbvideo.sys driver. The Synaptics touchpad supports zoom, horizontal and vertical scrolling and rotation two-finger gestures.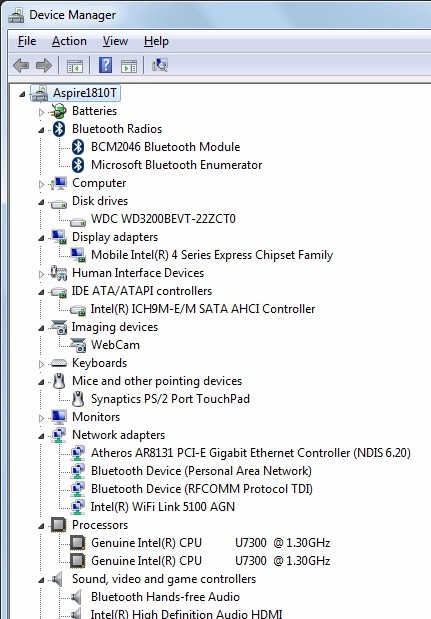 Figure 4: 1810T Device Manager
Network adapters include an Atheros AR8131 for PCI-E Gigabit Ethernet and, as noted, an Intel WiFi Link 5100 ABGN for dual-band Wi-Fi. In all, the selections look like Acer didn't cheap out on components.
In Use
I haven't yet had any extended sessions on the 1810T—those will be coming next week at CES 2010. But the little time I have spent on it has provided some positive and, of course, negative surprises.
First, the positive, which is the surprising speed. Even using the Windows Aero interface, apps launched quickly and I had an overall general feeling of not waiting for the 1810T. I watched some Hulu video, which ran without hitches. I didn't yet try any HD content, but expect at least 720p content to play fine (assuming a wired connection, of course).
The big negative was again fan noise. But unlike the Mini 311, I was able to convince myself that I could live with it. The main reason was that the fan doesn't run constantly and when it does run, it doesn't scream. During an session where I was constantly switching among browser, email, HTML editor and graphics programs, not to mention puTTY and WinSCP windows, I was only occasionally aware of the fan, which kicked on and off from time to time.
The trick I learned was that the fan seemed to run more often and louder with the 1810T plugged in, which I guess can be attributed to heat from the charging circuitry. As soon as I unplugged the power adapter, the fan spun down and stayed off.
So if I need to keep the adapter unplugged in order to not be annoyed by the fan, how long can I work? This was another positive surprise, with my Windows batch file test (described here) yielding 6 hours and 23 minutes of run time. Although it's not the 8+ hours Acer claims and the same as I got with the HP Mini 311, it should give me plenty of blissfully-quiet work time (and I suspect even more when I'm not constantly hitting a Wi-Fi connection, as my test does).
A few other things worth mentioning:
Sound from the speakers mounted on the front lower body wasn't room-rattling, but clear and loud enough.
The system goes to sleep or hibernation when you close the screen and wakes up just fine with a key or power button press.
Verdict
All things considered, the 1810T has a combination of price, features, performance and portability that's right for me, so it didn't go back to Amazon. At just about $600 (it hasn't yet started the downhill price slide), it's actually a better deal than the HP Mini 311 or other netbooks with stripped $400 lowball configurations that end up more than the 1810T by the time you've configured them as equally as possible (given the limitations of options offered).
If you're looking at a new 11.6" class netbook, the Acer Timeline 1810T should be on your short list.