Overview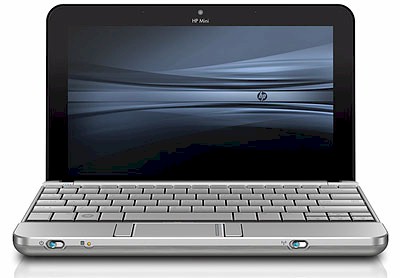 At a Glance
Product
HP Mini 2140 Notebook PC (KS157UT)
Summary
Well-built 10" netbook with flawed screen and touchpad
Pros
• Beautiful, big keyboard
• Gigabit Ethernet
• 802.11b/g, draft 11n Wi-Fi
• Long battery life
Cons
• Vertical screen resolution too small
• Side-mounted mouse buttons
• Small trackpad
I don't think I can remember when a product that I was really excited about was so disappointing once I spent some time with it. But HP's highly-anticipated (at least by me) Mini 2140 has earned that distinction.
I ordered the $529 KS157UT (since reduced to $479) with XP Home, 1024 x 576 display, 1 GB RAM, 160 GB hard drive and 6 cell battery. After a shipping delay due to the Chinese New Year, the 2140 arrived straight from Shanghai in a plain brown box similar to the way that Dell ships its notebooks.
My first disappointment upon opening the accessories box was to find a brick-style power supply instead of the small and light "wall-wart" style that had come with all the other netbooks that I have tried. Although smaller and lighter than the typical power brick, it still is more of a hassle to use and heavier to carry than a wall-wart.
I was pleased, however, with the silvery gray anodized aluminum case, which is thankfully neither black nor glossy and should continue to look good for both business and play even after hard use. The Mini 2140 is definitely a fine looking piece of technology.
As with other netbooks, the first boot installed XP Home SP3 without incident. The resulting desktop was pretty clean, with only a shortcut to the 60 day "try before buy" version of Office 2007 that comes with the install. I did, however, have to uninstall the trialware version of McAfee Total Protection to stop its constant nags to activate it.
I'll get the second, bigger, deal-killer, disappointment out of the way now. I removed the default desktop background for Figure 1 and opened the SNB home page so that you can see the screen real estate (actually the lack of) afforded by the 1024 x 576 screen.
Figure 1: HP Mini 2140 Desktop (1024 x 576)
In its default fixed-width format, SNB requires 1034 px to properly display its entire width. So Figure 1 shows that it obviously won't fit into the 2140's 1024 px wide display (even if I maximized the browser window). But I found that moving out two clicks using FireFox's Zoom control would get the entire page width to display.
But the bigger problem is the vertical display resolution. The 16:9 screen ratio, which I read somewhere was used so that the Mini could better display HD video, comes up way too short. Literally.
Take a gander at Figure 2, which shows a similar browser and desktop shot from my Fujitsu P7120 travel buddy. The generous 1280 px width handles SNB's full width with plenty of room to see the desktop behind it. But the bigger advantage is in image height.
Figure 2: Fujitsu P7120 Desktop (1280 x 768)
For further comparison, Figure 3 shows the same setup on my Dell Mini 12. It's odd that the 32 fewer pixels in the Fujitsu (vs. the Dell) don't seem to make as much difference as the 24 fewer pixels in the HP (vs. the Fujitsu), especially since their heights are both 4% smaller than the comparison screens. But, I'll tell you, I really missed those 24 pixels on the HP!
Figure 3: Dell Mini 12 desktop (1280 x 800)
I wish I'd had the foresight to take the same comparison shot on the MSI Wind U100, Samsung NC10 and Lenovo S10, all of which have 1024 x 600 px screens. But I don't recall the screen height (or lack thereof) on any of those machines bothering me so much.
Moving on. The default system tray was a bit busy with icons for HP Quick Launch and 3D Drive Guard Monitor among them. The first enables the function keys to serve double duty to put the system to sleep, enable the external monitor, adjust screen brightness and sound volume, etc. The latter monitors a built-in accelerometer that is supposed to halt I/O and park the drive heads to prevent drive damage if you drop your Mini. There's also a dedicated button between the space bar and trackpad to disable the trackpad.
But, like the Dell Mini 12, there is no button or function key shortcut to quickly switch between power modes. You have to figure out for yourself that adjusting the power properties also changes processor speed (as well as display brightness). Using the Max Battery setting seems to be the only way to drop N270 Atom CPU's clock speed to 798 MHz from the full-speed 1.6 GHz.
There is also no quick way to launch the HP Webcam application. While it's a quick way to look at yourself with the 640×480 (VGA) webcam, it provides only snapshot, Audio / Video and Audio only recording modes. Nowhere near as much fun as the Webcam Central program from Creative that comes with the Dell Mini 12.
Figure 4 shows some of the items in Device Manager expanded so that you can see key component details. Broadcom supplies both the Bluetooth and 802.11b/g/n radios, despite the "HP Integrated Module with Bluetooth 2.0 Wireless Technology" name in the Bluetooth devices section. The Gigabit Ethernet (rare for a netbook) NIC is a Marvell 88E8072, which even connects via PCIe and supports 4 and 9K jumbo frames.
The display adapter is a popular Atom-based netbook choice, the Intel 945, while the SATA controller is an Intel ICH7M. I don't know why there is a copy of Intel Matix Storage Manager Console installed, given the single Fujitsu MHZ2160BH 160 GB 2.5" 5400 RPM SATA drive, but there is.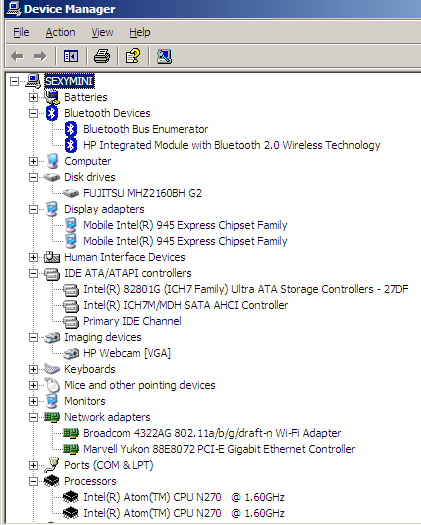 Figure 4: Mini 2140 Device Manager
The screen wasn't tall enough to expand everything that I wanted to show. So you'll have to take my word that the Webcam controller is from Sonix, the trackpad is from Synaptics and the Audio chip is an Analog Devices Soundmax.
More Details
Figure 5 shows the Mini 2140 side-by-side with my "reference" travel notebook, the Fujitsu P7120. I lined up the screens so that you can see that the HP is noticeably shorter than the Fujitsu. This is the primary cause for the third disappointment, the trackpad and side-mounted mouse buttons.
Figure 5: Fujitsu P7120 and HP Mini 2140 side by side
You're probably tired of listening to me bitch complain about netbook trackpads, but here I go again. If the too-short screen wasn't enough to kill the deal, the too-small trackpad sealed it. It's small, it's cramped, it's twitchy and even "sticky" for some reason, catching my fingertip from time to time as I "moused".
I initially thought I was going to be able to get used to the side-mounted mouse buttons. After all they were nice and big and had good clickability. But I got a good hand cramp after only a couple of hours, most likely from the pinched thumb and forefinger position that I found myself using.
My last complaint (I think) is that the combination of short body and tall six-cell battery pack tilts the keyboard too much for comfortable typing, at least to my taste. Even though the tilt is exactly the same as my main Dell keyboard, for some reason it didn't feel right on the 2140.
Figure 6 is taken from the system specs and shows all the Mini 2140's ports, controls and indicators. There are only two USB 2.0 ports, probably to make room for the ExpressCard/54 slot. Kudos to HP for making the SD slot a normal push-push full-depth slot so that you don't worry about losing an SD card should you choose to keep one inserted.
Figure 6: Mini 2140 Ports, indicators, switches
As noted earlier, about the only button missing is one to make it easy to switch between normal an power save modes. That's too bad, because battery life is pretty good. My test consisted of setting the Power mode to Max Battery, screen to half brightness and always on and streaming web radio via WiFi and I got 6 hours and 35 minutes from full charge to shutdown with 2% power remaining.
In Use
In the few minutes that I was able to spend with the 2140 at CES, I just loved loved loved its so-darned-near-to-full-sized keyboard that I came as close to gushing about a product as I ever have. But as I have already complained noted, with extended use, the love was not so much. But Figure 7 is the obligatory keyboard shot anyway.
Figure 7: Mini 2140 Keyboard
Despite my disappointment, however, I still think this is the best keyboard in any netbook. And I think the fact that Dell has essentially copied it in its Mini 10 is proof enough.
A few other things worth mentioning:
Sound from the speakers mounted out of sight below the screen was surprisingly good. Much better than the tinny noise that comes out of my Fujitsu and louder than the Dell Mini 12
The screen seemed grainy, especially with reduced backlight settings.
There is a fan that I heard occasionally spin up and run quietly, but not annoyingly so.
The 1 GB of RAM is in a single SODIMM slot. So you can upgrade to 2 GB. Both the RAM and hard drive are accessed by removing the keyboard.
The system goes to sleep or hibernation when you close the screen. But it doesn't wake up again when you open the lid.
Verdict
As you know from the first paragraph, the 2140 is going back. And I won't be re-ordering it once the higher-resolution 1366 x 768 px screen starts shipping sometime later this year. My experience with the Fujitsu P7120 has taught me that 1280 x 768 is eye-straining enough in a 10.5" diagonal format. So I know that I'm not going to like higher resolution in an even smaller screen. And then there are still the awful trackpad / mouse buttons.
Finally, for the record, I think the trend to 16:9 format screens in netbooks is a mistake, unless your primary application is watching video. Unless you want to be futzing with browser zoom settings, stick with netbooks with at least 600 vertical pixels. Which means I won't be looking at the Dell Mini 10 either.