The Story So Far
I'm once again on a quest for a light travel notebook. I've read the reviews over at Laptop Mag and Notebook Review or wherever else Google takes me when reading up on what the "pros" think of my purchase candidates. But they have their criteria and opinions and I have mine.
So I thought that I'd write up my impressions of the various notebooks that I am trying out. These are by no means meant to be exhaustive reviews. Just one picky person's impressions of products that, at least so far, don't seem to live up to expectations.
I don't travel that much, but when I go to the occasional trade show, I need to keep my notebook with me. This means that small and light are very important, with "light" being in the 2 – 3 pound range. In the past, this weight category has meant big $. It seems that only jet-setters and C-level execs bought this notebook class, or at least that's the way they are priced.
The last time, I ended up with a Fujitsu P7120 Lifebook (NotebookReview review) that has been my travel companion for the past two years. I ordered it direct from Fujitsu and so paid top price ($1600). That was the most that I have spent on a computer in a long time (I normally buy refurb systems). But I didn't want to wait for it to hit the refurb shop, so paid what I had to pay.
The P7120 has been a good notebook, but it's fortunate that I don't spend that much time out of the office. My initial reaction was that the 10.6" wide XGA display (1280×768) was too high a resolution for that size of screen and made default text size just a tad too small for comfortable reading.
I have never tweaked Windows' default font sizes and didn't want to go down that path. And changing the display mode away from the LCD panel's true resolution didn't produce any screen that I was happier looking at.
My other first impression was that the keyboard was also borderline, even though it had good-sized shift keys on both sides and period, comma and slash keys the same size as the bottom-row alpha keys. Although I could accurately touch-type after a short acclimation period, the closer spacing made for more errors than I usually make.
Figure 1: Fujitsu P7120 keyboard
A lesson learned from using the Fujitsu over the past two years is that these initial impressions were correct. I have really never gotten used to the uncomfortable screen and keyboard sizes, although I have appreciated the lighter load in my travel bag.
Last year, I thought I had found the Fujitsu's successor when I spied a deal on a refurb Sony VAIO VGN-TX850. But within seconds of opening the box, I realized it was essentially the same machine as the P7120, so back it went, along with a 15% restock fee.
I even participated in the first OLPC Give-One-Get-One promotion, to see if that little machine (which started the whole netbook ball rolling) offered any promise. But while it certain is an interesting machine, with many unique qualities, it is totally unsuitable as a work computer.
When ASUS debuted its Eee PC last year, I thought that some serious attention was finally being paid to producing affordable, lightweight notebooks. But one quick glance at the original Eee at CES in January put those thoughts on hold.
The 7 inch screen and tiny, cramped keyboard were only suitable for light web surfing and email, or someone really determined to make such a small notebook work for them (and who had good eyesight and small hands).
MSI Wind U100
Which brings me to today. The market has moved at a pretty fast pace this year and blossomed into the "netbook" category. Screen sizes have moved from 7 through 8.9 to 10 inches as the current sweet spot and XP Home has replaced Linux as the OS of choice for many buyers.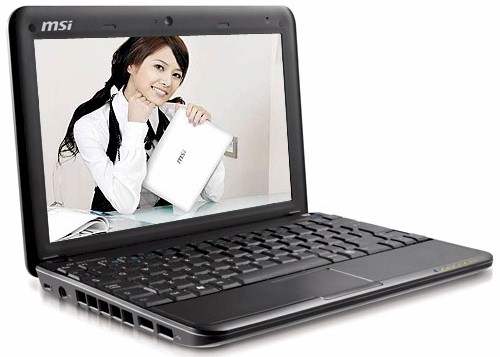 Figure 2: MSI Wind U100
The 10 inch screen has widened the netbook form factor so that the keyboard has been able to move from barely hunt-and-peckable to 91 / 92% of full-size that can allegedly support touch typing after a short period of adjustment. And the combination of 1024 X 600 screen resolution and 10 inch LCD panel is also supposed to make for a very comfortably-read display.
So since netbooks have evolved to the point where they are at least potentially capable of meeting my requirements, it was time to take the plunge. After checking reviews at LaptopMag and reading Brad Linder's Liliputing for the past month or so, I ordered a MSI Wind (U100-432US to be exact).
Figure 3 shows the U100 and Fujitsu P7120 that I'm trying to replace. The two are surprisingly similar in form factor and weight. Keep in mind, however, that the Fujitsu includes an CD/DVD drive while the MSI does not.
Figure 3: Fujitsu P7120 and MSI U100 Wind
You can't tell build quality very well from the picture, but the Fujitsu is more nicely put together and has a more solid feel. Not to say that the MSI comes across as cheap goods; on the contrary, it's actually very nicely made and doesn't feel like an inexpensive machine at all.
Figure 4 shows the Wind's keyboard, which is very similar to the Fujitsu's. The main difference is in the bottom row. The Fujitsu pushes the arrow keys down so that the period, comma and slash keys are the same size as the alpha keys in the row. But the MSI did not push the cursor keys down, so narrows the same keys.
Figure 4: MSI Wind keyboard
Typing on both machines felt very similar. Both required that I carefully position my fingers on the home row before starting to type. But after doing so, I have to say that my error rate was about the same as on a full-sized keyboard.
One major difference in the Fujitsu and MSI, however, is the trackpad and mouse buttons. The MSI's trackpad was frankly, flaky. I frequently experienced random cursor jumps and page scrolling was very touchy. Part of this could be due to the "tap to click" function that is enabled on the MSI's trackpad, which I could find no way to disable.
This thread in the MSI Wind Forums indicate this is due to MSI switching to using a trackpad from Sentelic instead of Synaptics. I didn't try the suggested drivers yet, because I found that the trackpad buttons were even more of an annoyance.
Perhaps it's my hand position, but I found the buttons hard to press and requiring exact thumb placement toward the outer edge of the button bar. I suspect part of this is the rocker action required by the single-piece "button" vs. more independent operation allowed by two independent buttons. For me, even more than the flaky trackpad, this is a real deal-killer.
If I were to keep the U100 (or probably any other netbook) I suppose that I would get a decent Bluetooth mouse and use it for extended writing sessions. But I couldn't get used to the balky mouse buttons;my thumb just didn't want to assume the correct position for a comfortable click.
In Use
Not-so-great trackpad and mouse buttons withstanding, I forged ahead with using the U100 for only short periods of time. Here are some other things that I found:
Contrary to the description on Amazon.com and some other etailers, the U100 does not have a gigabit NIC, only 10/100. My U100 has a Realtek RTL8102E 10/100 NIC. PCIe it is, but gigabit it is not.
The draft 11n WLAN is provided by a mini PCIe card using a Ralink 1T2R chipset. I didn't do any extensive range testing with it. But I found that it reported a Low signal strength (two bars) while sitting side-by-side with the Fujitsu, which reported Excellent signal strength (5 bars).
Web video playback was jerky unless I switched from the Max Battery power scheme which came set by default to one ("Always On" works) that allowed the Atom CPU to run at its maximum 1.6 GHz rate instead of 800 MHz.
The 1024 x 600 screen was very readable and a nice change from the Fujitsu's higher-resolution display. The main downside is that I had to do more up and down scrolling, which was annoying due to the flaky trackpad.
The larger 6 cell battery does add some heft to the U100. It protrudes below the bottom, raising up the rear and slanting the keyboard. I didn't find that the slant helped my typing much.
Verdict
The U100 is surprisingly good for a $500 ultra-portable notebook and has a lot of features packed into its small frame. But I don't think it's a keeper, mainly due to the trackpad and mouse buttons. Besides, I think I need to play the field a bit before settling in with my long-term mate. So, the U100 will go back to the store (along with a 15% restock fee).
Next up, the supposedly best-in-breed 10 inch netbook—the Samsung NC10.