Overview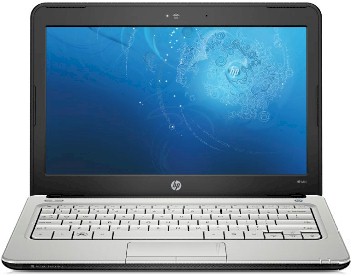 At a Glance
Product
HP Mini 311 Netbook (1000NR)
Summary
HP's latest netbook with 11.6" screen, Atom CPU and Nvidia graphics
Pros
• Nice keyboard
• Decent battery life
• Properly placed mouse buttons
Cons
• Mouse buttons hard to press
• Noisy, frequently-running fan
'Tis the season for me to do my yearly computer buying. And, like last year, I'm on the lookout for a new light and compact laptop. "Light and compact" used to mean expensive (as in $1600 or so that I spent for a Fujitsu P7120 Lifebook not too long ago), but not any more. Netbooks have taken over the portable PC market and are delighting buyers with a combination of decent performance, light weight and (relatively) low price.
The final review of last year's netbook search was HP's Mini 2140. So I guess it's fitting that the first of this year's netbook reviews is the seemingly ubiquitous HP Mini 311.
I got a good deal on mine at my local Office Depot, which had taken $50 off the normal $399 price for the 1000NR model. I initially had passed on it when I first spied it a week or so ago because it is a cheapie configuration that didn't have all the features on my buy list. But with the time required for a factory-built model coming up too close to my annual CES trek, I decided to at least try it to see if it was a keeper.
There have been plenty of Mini 311 reviews, so I'll run through the basics pretty quick and focus mainly on the things that matter to me. All 311's have:
11.6", 1366 x 768 LED BrightView Widescreen (16:9 format) display
NVIDIA ION graphics
10/100 Ethernet
HDMI and VGA video outs
Three USB 2.0 ports
Built-in webcam
6 cell Li-Ion battery
Audio in and out 1/8" mini jacks
SD / MMC / Memory Stick / xD card reader
The various models offered differ in the OS loaded (you can get Win 7 Home or XP Home), RAM (up to 1, 2 or 3 GB max.), hard drive (160, 250 or 320 GB SATA or 80 GB SSD), CPU (1.6 GHz Atom N270 or 1.66 GHz Atom N280) and wireless options (G or N, with or without Bluetooth). The 311 can also be equipped with a WWAN card for Verizon, AT&T or Sprint).
The loss-leader 311- 1000NR model that I picked up has XP Home, 160 GB hard drive, 1 GB RAM and the 802.11 b/g wireless card with no Bluetooth. The main deal-killer for this configuration is the wireless card because any netbook I buy must have Bluetooth so that I can use a mouse for the extended writing sessions I have while on the road.
I also wanted to be able to swap out the wireless card for the Intel WiFi Link 5300 AGN that I've standardized on for my WLAN performance testing. But it turns out that the 311 requires a combined WLAN / Bluetooth card instead of separate modules that other manufacturers use. Forum posts also indicate that HP uses a BIOS controlled "white list" of wireless cards that controls what can be used in the 311. The list doesn't include the Intel 5300, so my swap-out plan is a no-go.
As with the Mini 2140, the brick-style power supply instead of the small and light "wall-wart" style on my current Dell Mini 12 was disappointing. Although smaller and lighter than the typical power brick, it still is more of a hassle to use and heavier to carry than a wall-wart.
Build quality seemed good, although more plasticky than the 2140 because, well, it is made with more plastic (the 2140's case was silvery gray anodized aluminum). I didn't check the black swirly-pattern lid for fingerprint magnetism because anything with a glossy black plastic surface is a magnet. Note that the six-cell battery doesn't stick out from the back or bottom of the body, so won't pitch the back up for uncomfortable typing.
First boot was a surprise because it turns out that Office Depot had given me (I think, unwittingly) a returned unit complete with password-protected user account. But a quick boot into safe mode to turn off the account password got me in business in short order.
I could have done without the eBay, Snapfish, Play HP Games and HP QuickSync icons gracing the desktop. But some folks may find the 60 day trails for MS Office and Norton Internet Security useful. Adobe Acrobat Reader and MS Works also come installed.
The 311 has adopted the 1366 x 768 (16:9) "HD" widescreen format that seems standard in the new class of 11.6" screen netbooks (Figure 1). Although I thought I might find the resolution too high for comfortable viewing, the larger screen balances it out and the combination is very viewable.
Figure 1: HP Mini 311 Desktop (1366 x 768)
The only thing I miss vs. the Dell Mini 12 (Figure 2) is its slightly larger (32 px) more vertical resolution to cut down on scrolling. But it's not the deal-killer that the Mini 2140's 576 px vertical resolution was!
Figure 2: Dell Mini 12 desktop (1280 x 800)
The keyboard (Figure 3) seems to be held over from the 2140 and so doesn't make maximum use of the 311's width. Another reviewer said HP told him that customers liked the 2140's keyboard so much that they decided to not mess with a good thing instead of putting in a larger keyboard. But methinks the reason was more cost-savings through quantity discounting.
Figure 3: Mini 311 Keyboard
The function key row is really narrow. But I guess if you need to save space somewhere, that's the place to do it. The faint grey (blue?) ink used for labeling the alternate function key functions is bad, however. It makes it impossible (at least for me) to see the labels unless I look directly down at the keys.
The alternate functions include volume, mute, brightness, sleep, external screen switch and logout. There's a prominently-placed backlit button above the keyboard for turning Wi-Fi on and off. But there are no keyboard shortcuts for controlling Bluetooth or switching quickly between power modes. Number-crunchers should also note that there is no Num Lock key.
More Details
Figure 4 shows some of the items in Device Manager expanded so that you can see key component details. Broadcom supplies the 11g radio both with and without Bluetooth. The service manual lists the available modules as Broadcom 4322AGN 802.11a/b/g/n and Broadcom 4312G (for b/g). It also lists the Intel WiFi Link 5100 "for use in Pakistan, Russia, and the Ukraine". But I suspect there's a region-specific BIOS that goes with it.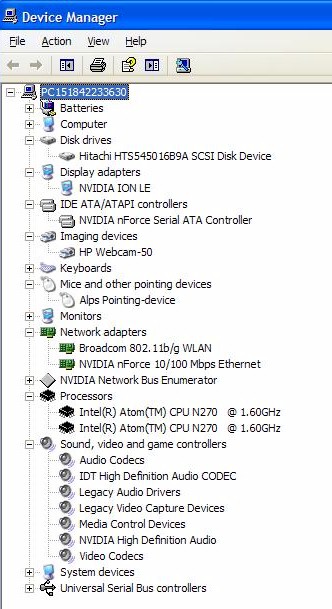 Figure 4: Mini 311 Device Manager
Other notable parts are the 10/100 Ethernet and SATA controllers, which are NVIDIA nForce, 160 GB Hitachi HTS545016B9A Travelstar 5K500.B 2.5" drive and NVIDIA ION LE display adapter. Although the webcam is shown as an HP Webcam-50, the properties show the manufacturer as Silicon Motion. The touchpad, which supports a few multi-touch features, comes from Alps, not Synaptics. And finally, I want to point out that the card reader slot lets a regular-sized SD card fully nestle snugly inside.
Figure 5 shows the Mini 311 side-by-side with my Dell Mini 12. I lined up the screens so that you can see that the HP is noticeably shorter and has a smaller footprint than the Dell, due primarily to the Dell's taller screen form factor. The HP is just a tad (1/4") narrower than the Dell, too.
Figure 5: Dell Mini 12 and HP Mini 311
But, despite its smaller size, I didn't feel that the HP was any less usable than the Dell. In fact, the HP is a step up from the Dell because its keyboard doesn't have the narrow. , and / keys that have been driving me crazy for the past year. This was a very dumb move on Dell's part, since its main keys are otherwise the same width as the HP's much-praised keyboard.
While they didn't change the keyboard, HP did move the mouse buttons from their cramp-inducing side-o-the-trackpad placement to their proper place below it. And kudos for using two keys instead of the single-bar that really don't like at all. Unfortunately, HP still got something wrong, making the mouse buttons pretty stiff and requiring more pressure than I prefer.
In Use
Truth be told, the main reason I picked up the Mini 311 was to check out its fan noise. One of the things I like about the Dell Mini 12 is that it doesn't have a fan. So I've gotten used to blissful silence when using it in the quiet of hotel rooms and my home office.
I had previously gotten in an Acer Aspire 1810T timeline, which I'm on the fence about keeping (and I'll also be reviewing), because its fan runs more than I like and is noisier than I like when it is running. So I wanted to see how the 311 did in this department.
Unfortunately, fan noise is the deal-killer for the Mini 311. Even after setting the BIOS Fan Always On setting to Disabled, the fan still takes only an occasional break. Otherwise it runs pretty much all the time and revs up to a definitely audible level when playing even low-res web video. I'll admit that it doesn't scream as much as the fan on my old Fujitsu S2020 (boy, I don't miss that whiner at all!). But the constant drone is very annoying, and it can't be helping battery life much either.
Speaking of battery life, I took my lead from Laptop Mag's Battery test method and switched to a more realistic web-surfing method instead of the music streaming method I've used previously. I cobbled up a Windows batch file (you can download it here for your own testing) that opens eight different web pages in Firefox, the last of which is a video stream, which runs for a minute. The script pauses between each page opening with times between 15 and 62 seconds. At the end of the loop, the script kills Firefox to close all the tabs that were opened, then starts all over again.
For the test, I set the screen at three or four clicks above minimum brightness, which provided a low, but comfortable working level. I don't let the screen power off or dim during the test or the machine go into sleep or hibernation. But I do let the hard drive spin down after 3 minutes, in case the 311 can work from available RAM. I also let the machine go into hibernation when it reaches the 3% battery power remaining default critical battery notification level.
With the settings above and starting with a full battery charge, the 311 ran a respectable 6 hours and 24 minutes, which is significantly better than the 4 hours and 56 minutes that I got from the same test run on the Dell Mini 12.
A few other things worth mentioning:
Sound from the Altec Lansing speakers mounted out of sight below the screen was surprisingly good. I found I had to have volume cranked most of the way up when watching videos, however.
The system goes to sleep or hibernation when you close the screen. But it doesn't wake up properly when you open the lid. It seems to start to wake up, then shuts down so that you have to reboot
Full-screen Hulu videos were definitely smoother (but not glitch-free) after installing the Flash 10.1 pre-release that is said to have improved NVIDIA Ion support.
I couldn't find a restore partition or any mention in the online help of how to do a system recovery. And, as is standard today, no restore disks came with the product.
Verdict
While the HP Mini 311 is a better machine than the Mini 2140 (except for the plastic case), it's not the machine for me. The latest crop of 11.6" screen netbooks can actually get quite pricey, especially those with Dual-Core Celerons like the Lenovo U150 or the Acer Aspire 1810T and TZ.
With its Atom / Ion combination and lowball configuration, the 311 lets you start out at $399 (or $359 with the sale price I found). But by the time you configure it with Bluetooth, N wireless, Win 7 Home Premium and max out the RAM at 3 GB, you're up to $620. While that's still a better deal than a Lenovo U150 Red Sky Star (690968U) at $649 (and that's with b/g wireless and no Bluetooth), it ain't cheap. But it isn't quiet either, and that's the main reason it won't be taking up residence in the SNB lab.