Introduction
Ever wonder which router manufacturers are winning market share? So do we. But we can't afford to spend thousands of dollars for market share reports from IDG, Gartner and the other big guys. But since SmallNetBuilder is an Amazon affiliate, we can mine the reports they provide for some interesting insights.
All data presented comes from our Amazon Affiliate Earnings Report for Q1 2015. The data represents sales of over 700 routers purchased by SmallNetBuilder visitors after they clicked on any Amazon link found on the site. We don't know if purchasers were regular readers or one-timers. All we know is that they visited SmallNetBuilder, clicked on an Amazon link and purchased a router. Don't worry; Amazon makes sure we don't know who purchased what.
Router Class
The first chart shows AC routers definitely are the trend with 73% of sales vs. 16% for N classes. But it also shows that wired routers are still remarkably strong with 11% of sales. We'll look more into that shortly.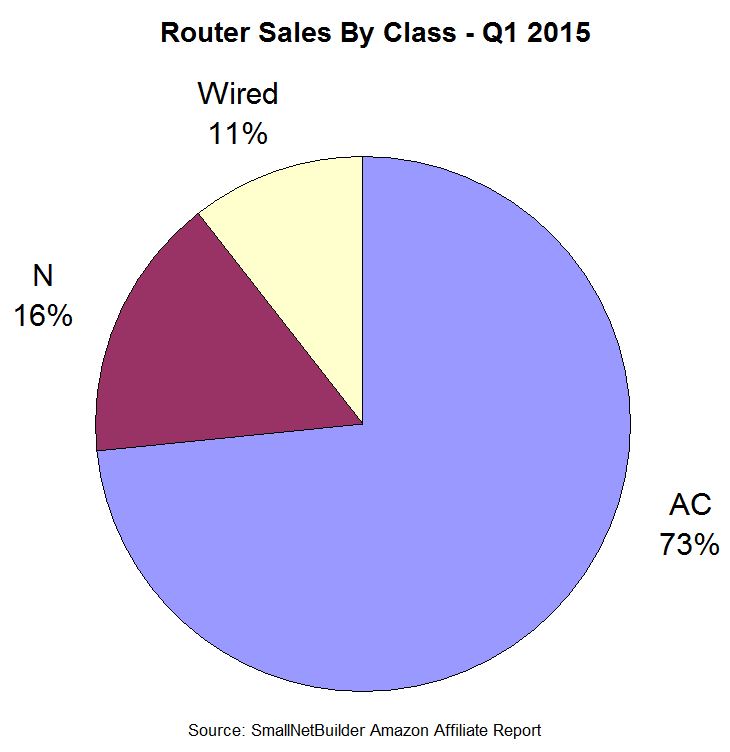 Moving down a level of detail shows AC1750 class routers at 28% basically tied with AC1900 at 27%. The next largest wireless class is AC1200 at just shy of 9%. Although volumes aren't huge, it's interesting that AC3200 class routers are outselling 4×4 AC2350 class products more than 3 to 1.
Selling Price
The old rule of thumb is that most people pay around $100 for a router. Our overall average came in at $125.
Breaking that down a bit, our sales data showed the cheapest routers purchased were certified refurbished Linksys E1200 N300 routers [review] at $16. The most expensive were business class firewalls Sonicwall TZ 205 ($500), Peplink Balance One ($489) and Fortinet FortiGate-60D ($458).
By general class, the highest prices paid were for wired routers, buoyed by more expensive VPN, multi-WAN, UTM and firewall models. All these more expensive models resulted in a relatively high $170 average price.
The average purchase price for all AC class routers was $128 and $76 for N class.
Manufacturer
Which brands sell the best among SmallNetBuilder buyers? It's not who you might think. TP-LINK sold the most routers with 28% of all routers purchased, followed by ASUS and NETGEAR at 24 and 23%, respectively. Sales share dropped into the single digits after that, with Linksys and D-Link at 8% and 7% shares.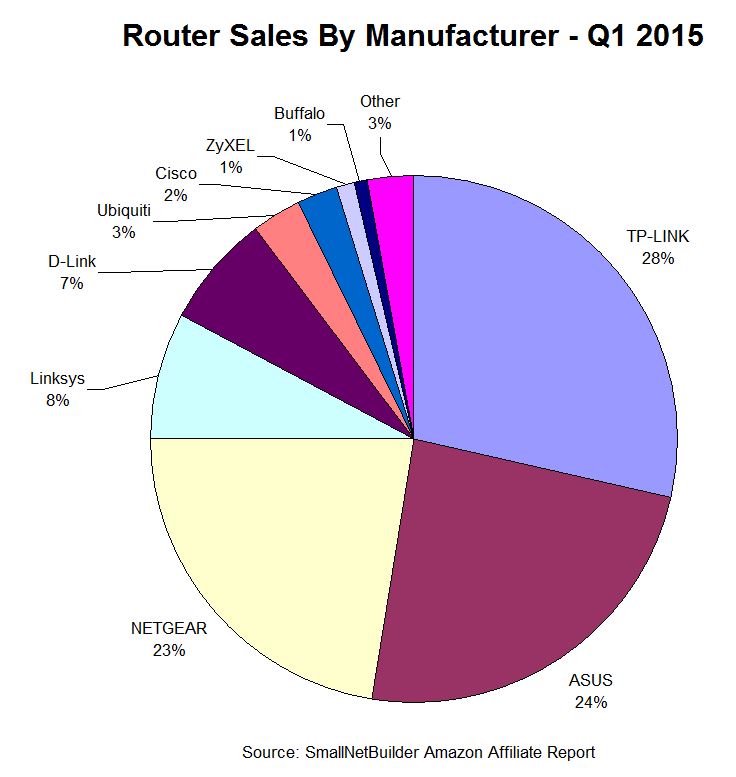 Top Ten Routers
So let's get to the top-of-mind question: what were the top-selling routers? The chart below shows the most-purchased router in Q1 was NETGEAR's R7000 Nighthawk AC1750 router [review]. Two TP-LINK AC1750 class models were the next most frequently purchased with the Archer C7 [review] at 15% and newer model Archer C8 [review] at 14%.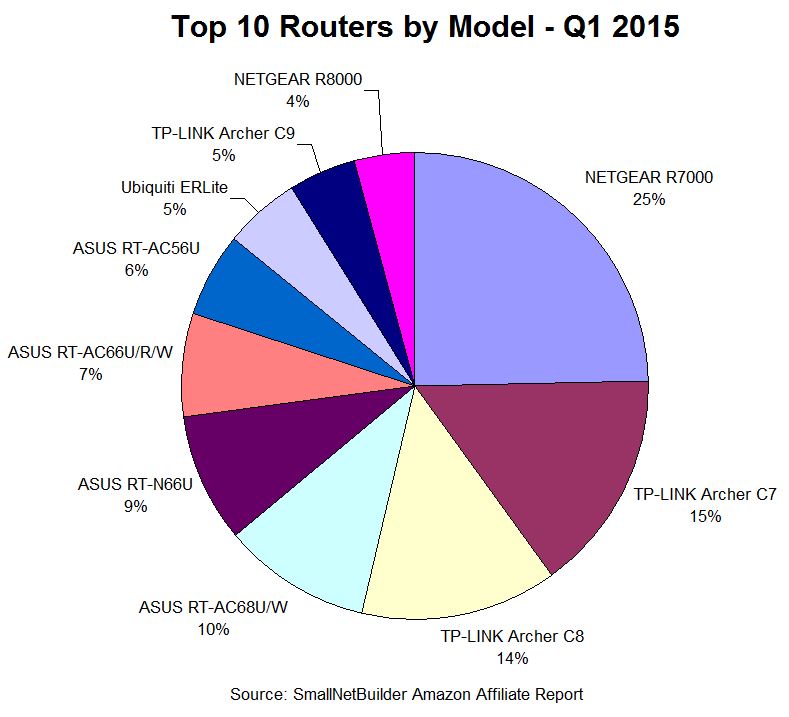 ASUS routers take the next four share slots with the AC1900 class RT-AC68U [review] and W models at 10% of routers purchased. A surprising finding is that SmallNetBuilder readers seem to like Ubiquiti's wired-only EdgeRouter Lite [review] enough to make it 5% of routers purchased.
Interest Trend
For a more frequent view of router popularity, we have the Popular Wireless page. It shows the most popular wireless router reviews for the current week, the top selling routers on Amazon in general (not just SmallNetBuilder sales) and a four-week trend of most-read reviews. The chart below is a snapshot taken the week of March 29, 2015.
| | Last Week | 2 Weeks Ago | 3 Weeks Ago | 4 Weeks Ago |
| --- | --- | --- | --- | --- |
| #1 | | | | |
| #2 | | | | |
| #3 | | | | |
| #4 | | | | |
| #5 | | | | |
We hope you found this look at router market share interesting and useful. Let us know in the Forums if you'd like this to become a regular feature.