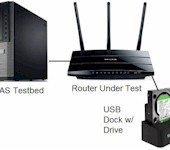 We test router storage performance using this procedure.
Introduction
Many routers have come with built-in USB storage and printer sharing for some time and we have used the process described below to test storage performance. So instead of describing the process in each review, we thought it was time to write a separate article.
Testbed Configuration
We use the NAS Testbed computer described in this article to test NAS storage performance. The testbed computer is plugged into a LAN port on the router under test.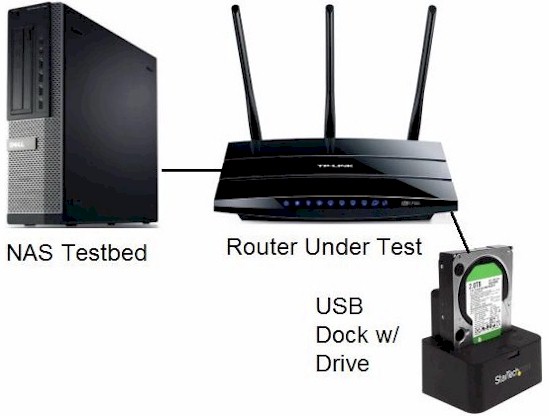 A Startech USB 3.0 eSATA to SATA Hard Drive Docking Station (SATDOCKU3SEF) containing a WD Velociraptor WD3000HLFS 300 GB drive is plugged into a USB port on the router. The drive is attached via USB 2.0 and, if supported, USB 3.0 and eSATA. Tests are performed with the drive formatted in FAT32 and NTFS, depending on the formats supported by the router.
The test uses Windows robocopy to copy a single test folder containing a single non-compressed ripped DVD to and from the router-attached drive shared via SMB. The 4.35 GB (4,680,843,264 bytes) folder contains 38 files of various sizes ranging from 1 GB to 10 KB and resides on a RAMdisk on the NAS Testbed computer. Throughput in MBytes/s is calculated using data from the robocopy log.