Cisco has updated its powerline networking product line.
The new lineup includes the PLE400 single port and PLS400 four-port adapters, offered in two kits. Both adapters have 10/100 Ethernet ports and support the 200 Mbps HomePlug AV standard.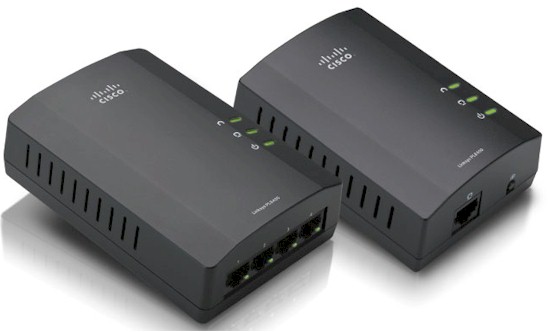 The Linksys PLEK400 Powerline HomePlug AV 1-Port Adapter Kit includes two PLE400 adapters, lists for $99.99 and is available now.
The Linksys PLSK400 Powerline AV 4-Port Network Adapter Kit includes one PLE400 and one PLS400 adapter, lists for $119.99 and is available now.
Also announced was the Linksys PLW400 Powerline AV 1-Port Wireless Extender. This is a single-band 802.11b/g/n access point with built-in HomePlug AV adapter, similar to D-Link's DHP-W306AV [review]. It lists for $119.99 and will be available in March.