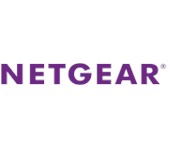 NETGEAR has announced twelve "affordable" managed switches, some with PoE.
The ProSafe Intelligent Edge M4100 series includes 12 fully-managed switches in desktop and rackmount form factors, ranging from 8-port Fast Ethernet and Power over Ethernet (PoE) to 50-port Gigabit Ethernet and PoE Plus (up to 30W) with power budgets ranging from 66W to 1,440W.
Key features include IPv4/IPv6 Layer 2+ with IPv4 L3 static routing, 16K MAC address tables, protocol-based Auto-VoIP and Voice-VLAN, ACLs, CoS and L3/L4 Diffserv prioritization, multicast VLAN Registration (MVR), advanced Multicast filtering with IGMP/MLD, Proxy and Querier modes and proxy ARP and Private VLANs advanced security.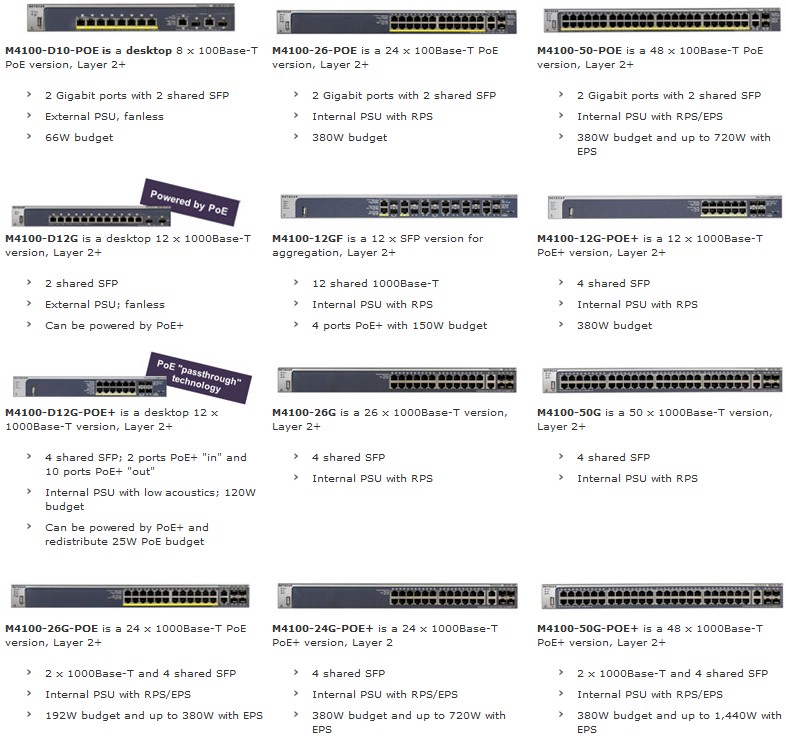 NETGEAR ProSafe Intelligent Edge M4100 switch family
All models are manageable via HTTPs web GUI and Telnet/SSH CLI and some models offer optional redundant and external power supplies.
Shipments start next month. Models and MSRPs are:
M4100-D10-POE, an 8-port PoE Fast Ethernet desktop Managed Switch: $350
M4100-26-POE, a 24-port PoE Fast Ethernet Managed Switch: $705
M4100-50-POE a 48-port PoE Fast Ethernet Managed Switch: $1,180
M4100-D12G, a 12-port Gigabit desktop Managed Switch: $310
M4100-D12G-POE+, a 12-port PoE+ Gigabit desktop Managed Switch: $960
M4100-12GF, a 12-port Fiber Gigabit Managed Switch: $1,090
M4100-12G-POE+, a 12-port PoE+ Gigabit Managed Switch: $1,190
M4100-26G, a 26-port Gigabit Managed Switch: $642
M4100-50G, a 50-port Gigabit Managed Switch: $1,099
M4100-26G-POE, a 24-port PoE Gigabit Managed Switch: $875
M4100-24G-POE+, a 24-port PoE+ Gigabit Managed Switch: $1,350
M4100-50G-POE+ a 48-port PoE+ Gigabit Managed Switch: $1,990