At a glance
Product
Comtrend G.hn Powerline Adapter Kit (PG-9172-KIT) [Website]
Summary
G.hn powerline adapter based on Marvell G.hn chipset
Pros
• Can coexist with HomePlug
• Highest yet throughput in worst case test location
• Seems to handle "bad" AFCI breakers better than HomePlug
Cons
• Can't interoperate with HomePlug
• Not recommended for "short loops"
• No electrical safety certifications
Typical Price: $75 Buy From Amazon
Introduction
Update 7/2/15: Corrected G.hn frequency band. Clarified FCC ID
Those of you lusting after the latest HomePlug AV2 MIMO adapters have another alternative to ponder in the form of Comtrend's PG-9172 G.hn Powerline Adapter. Since this is our first G.hn product review, some background is in order.
As the Wikipedia article notes, G.hn is the "common name for a home network technology family of standards developed under the International Telecommunication Union's Telecommunication Standardization sector (the ITU-T)". One of G.hn's primary differentiations from HomePlug is that G.hn is designed to operate over the three types of "existing" home wiring, i.e. power line, telephone and coax. (CAT5/6 isn't considered "existing", since if you had it, you wouldn't need G.hn!).
Update 7/2/15
Although both HomePlug and G.hn (and it seems every other modern communication method, most notably 802.11g/n/ac) use OFDM encoding, the lower level nitty-gritty prevent the two technologies from interoperating. So your HomePlug and G.hn adapters can't talk to each other.
Since HomePlug AV2 uses frequencies from 1.8-86 MHz and G.hn occupies a band from 300 MHz to 2.6 GHz, the two technologies should leave each other alone and peacefully coexist.
HomePlug AV2 uses frequencies from 1.8 MHz – 86 MHz. G.hn uses a 2 MHz – 50 MHz band for MIMO and 2 MHz – 100 MHz band for SISO. So the two technologies can collide. Fortunately, both standards have mechanisms to facilitate coexistence. But Comtrend provided this coexistence caveat:
"The G.hn and HomePlug AV2 standards allow for coexistence. However, depending on the specific manufacturer's implementation of AV2, there might be interference between the 2 different technologies and therefore, lowering overall performance when both devices are running on the same circuit."
So your coexistence mileage may vary, and mine did, which I'll get into later.
Like the latest round of HomePlug AV2 MIMO adapters including the ZyXEL PLA5405 and TRENDnet TPL-420E, Comtrend's PG-9172 is advertised as a "1200 Mbps" adapter. But, to save you the suspense, also like its AV2 MIMO cousins, its throughput doesn't come anywhere near the advertised maximum.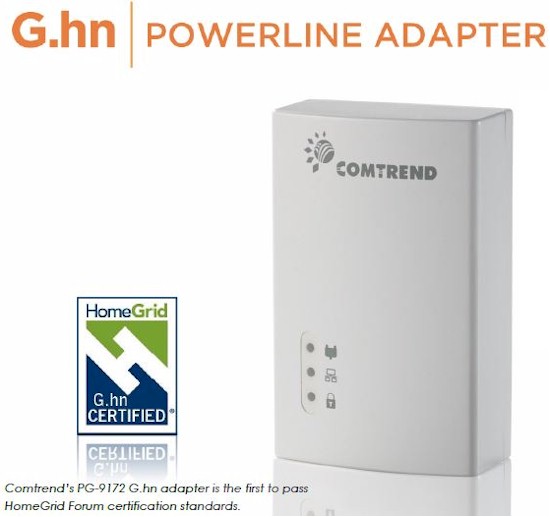 Comtrend PG-9172
Comtrend sells the adapters individually and in a kit of two (PG-9172-KIT). Two individual adapters were sent for test, but I've entered the kit part number and pricing in the Powerline Charts and Finder for fairer price comparison to other listed powerline products, which are in kit-of-two form.
The G.hn spec allows for up to 250 network nodes, but the PG-9172's data sheet specs "up to 8 nodes per network", while the product box says "up to 16 nodes per network".
The PG-9172 is similar in size to other powerline adapters, measuring 3.7" x 2.4" x 1.4" / 93mm x 60mm x 35mm without including the plug prong depth. The photo below shows it won't block the adjacent outlet in a standard U.S. duplex.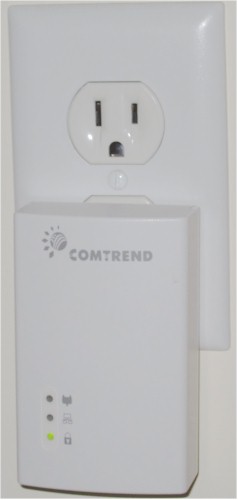 Comtrend PG-9172 plugged in
The serial number label specs a 100 – 240 VAC 50/60 Hz operating range. But I was concerned that the label lacked any electrical safety lab certifications (UL, ETL, VDE, etc.). Another concern is the product carries an FCC mark on the box and the spec sheet references FCC certification. But there is no FCC mark on the device.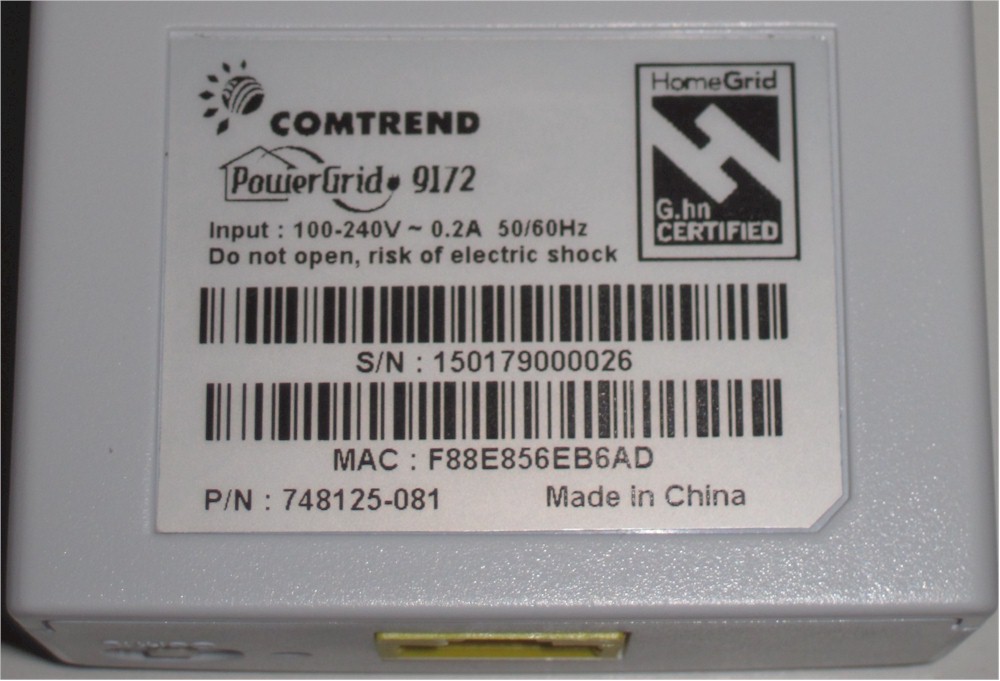 Comtrend PG-9172 serial number label
Comtrend's response was that "the product has passed UL pre-tests. UL Certification, though not required at time of shipment, is currently in process". The company also confirmed the PG-9172 is FCC certified and that they will "provide FCC ID details shortly". That will be interesting to see, since no other powerline adapter I've tested has an FCC ID.
Update 7/2/15
Comtrend sent
an Attestation of Conformity certificate for CISPR Pub. 22 / FCC Part 15 Subpart B (unintentional radiators), which allows them to apply the FCC mark. I have seen this mark on all HomePlug products I've tested, but also without an FCC ID. This is because the FCC ID number isn't required on Subpart B products and you won't find the number in the FCC ID database.
The callout diagram below shows a three light system, with Ethernet and powerline network indicators. The quick install guide description of the third light, Security, is confusing. It says G.hn adapters automatically connect in "non-secure" mode and instructs the user to press the Config button on each adapter you want securely connected. This would imply that the Security light is off by default. But all three lights glowed green when I just plugged in both adapters without pushing the Config button.
My guess is that, like HomePlug, G.hn adapters connect with AES 128 bit encryption by default with a default password. And, like HomePlug, pushing the G.hn Config button is akin to pushing the Security button on HomePlug adapters, i.e. it changes the key so that factory-default adapters won't connect to your network. In either case, data is AES 128 encrypted.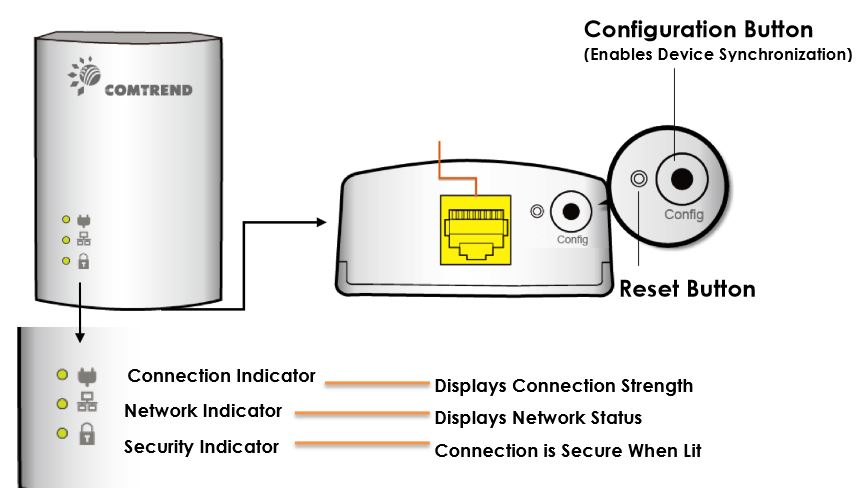 Comtrend PG-9172 callouts
The spec sheet also states "Power-saving mode when inactive", but I couldn't find any documentation describing how it works. I plugged the adapter pair in and didn't connect anything to either Ethernet jack and both Connection and Security indicators remained lit even after 30 minutes.
Inside
There are two major G.hn chipset vendors, Marvell and Sigma Designs. The PG-9172 uses Marvell's G.hn solution, which has separate baseband and analog front end devices. Marvell's device uses MIMO via the power outlet ground pin, just as HomePlug AV2 MIMO adapters do.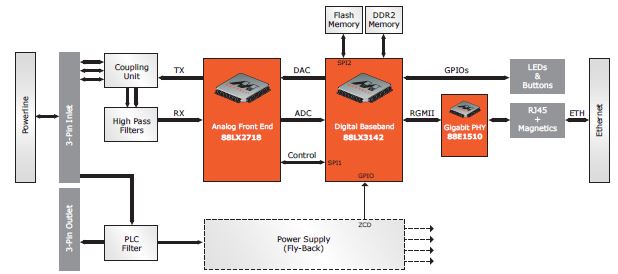 Marvell G.hn adapter reference design block diagram
The photo below shows the board top, showing RAM and both Marvell G.hn devices. Key components are summarized in Table 1.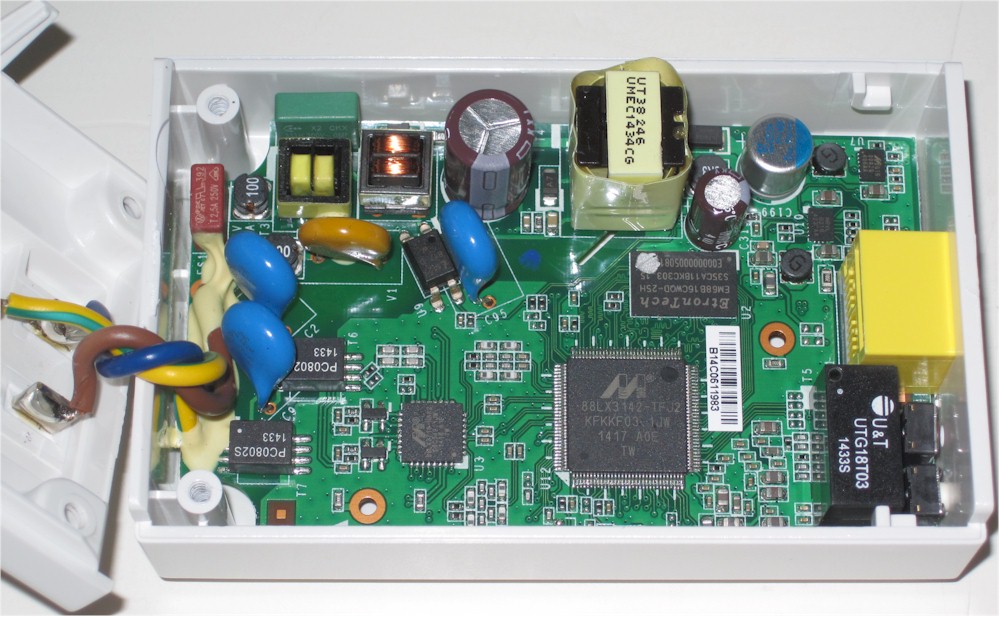 Comtrend PG-9172 board top
| | |
| --- | --- |
| Baseband | Marvell 88LX3142 G.hn digital baseband processor |
| AFE | Marvell 88LX2718 G.hn analog front-end |
| RAM | 8 MB |
| Flash | 8 MB |
| Ethernet | Marvell 88E1510 Gigabit Ethernet PHY |
Table 1: Component summary
The board bottom photo shows the 8 MB flash memory on the left and the Marvell 88E1510 Gigabit Ethernet PHY on the right.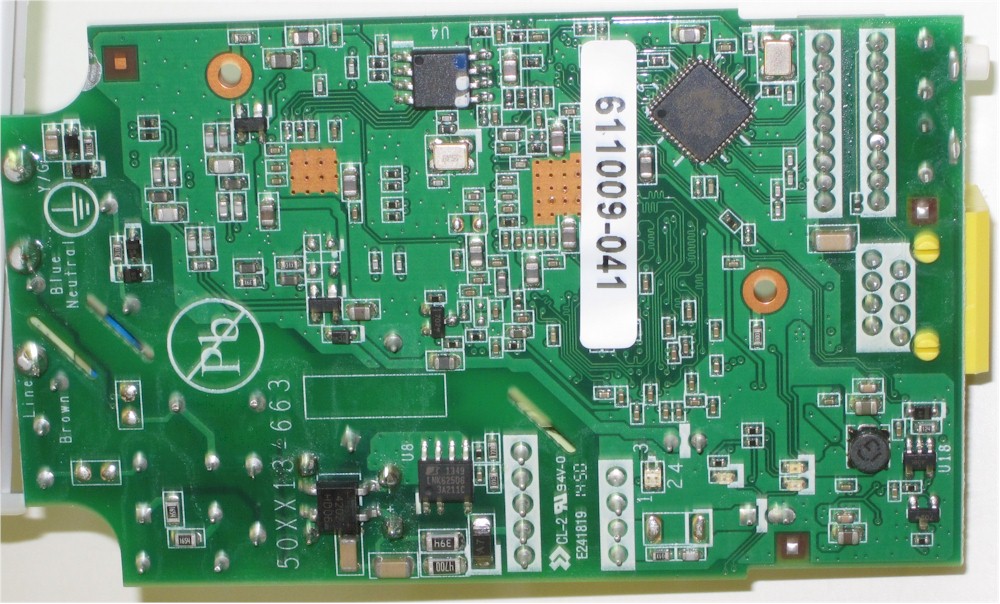 Comtrend PG-9172 board bottom
The plastic case has no ventilation holes at all and gets moderately warm, even when idle.
Admin
There is no utility shipped with the product or available for download.
Performance
I tested the PG-9172 using our standard powerline test procedure, with all results entered into the Powerline Performance Charts. Since G.hn performance is in the same ballpark as "1200 Mbps" AV2 MIMO adapters, I decided to compare it to the three highest-ranked AV2 MIMO adapters: TRENDnet's TPL-420E2K, NETGEAR's PL1200 and D-Link's DHP-701AV.
The Downlink Throughput plot below shows the PG-9172 at 263 Mbps doesn't approach the ~400 Mbps peak Location A throughput of the TRENDnet and NETGEAR adapter pairs. But I should note, Comtrend sent a note warning against "short loop" (closely spaced) testing, saying it isn't typical in actual powerline adapter use. While the point is valid and accepted, "short loop" (we call it Location A) testing is part of our standard benchmark suite and many products have no problem with the test.
That said, the Comtrend adapter does quite well in the mid and far-range Location C test and turning in its best comparative performance in worst-case Location E with 148 Mbps. This is actually the best throughput we've ever measured in Location E for any powerline adapter tested! The next best products are the TRENDnet, D-Link and NETGEAR products shown in the chart below.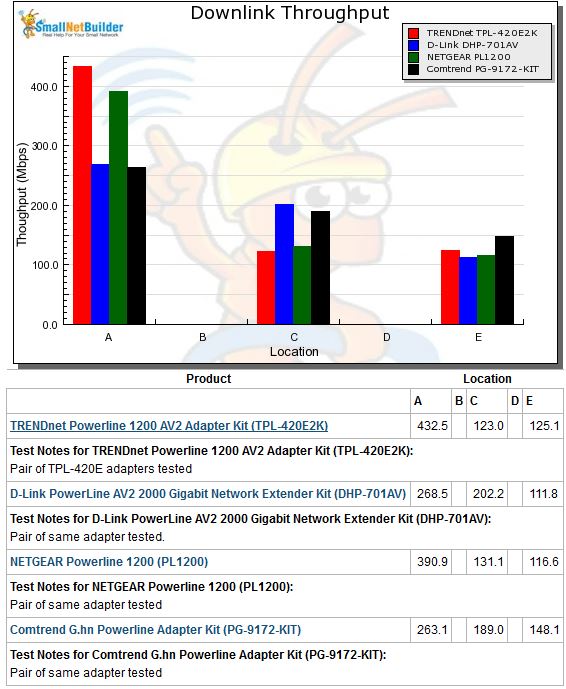 Downlink throughput comparison
Looking at the composite IxChariot downlink plot shows fairly steady throughput in all three locations. The jump at the beginning of the plot is the IxChariot Nagle's algorithm quirk.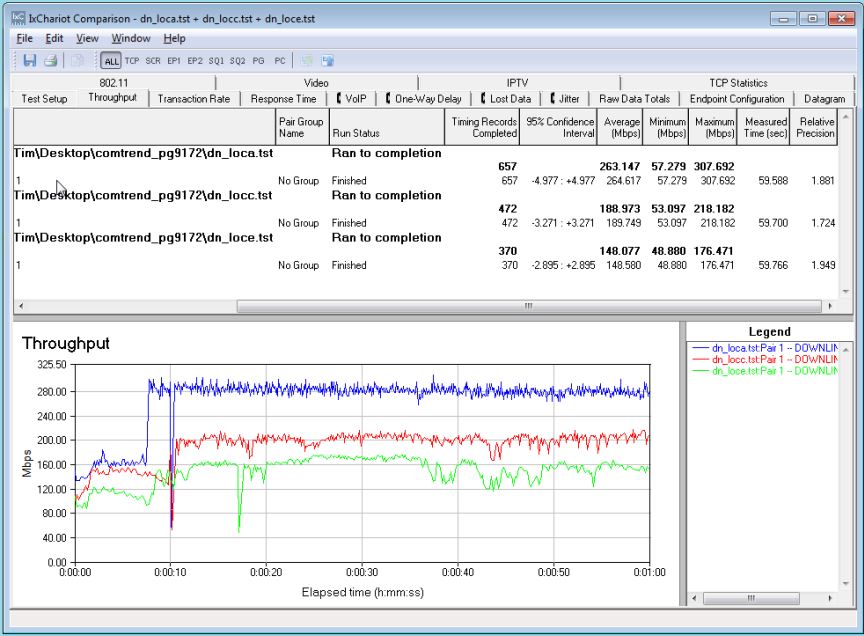 Downlink throughput IxChariot composite
For uplink, the PG-9172 again beats the other three products only in Location E with 141 Mbps. Maximum Location A throughput is better than downlink at 308 Mbps.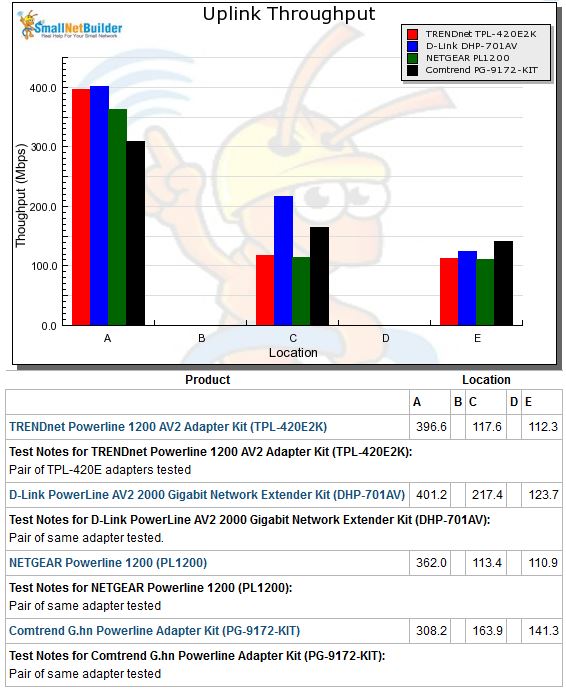 Uplink throughput comparison
The uplink IxChariot plot shows low throughput variation in all three test locations.
Uplink throughput IxChariot composite
The PG-9172's simultaneous up /downlink IxChariot plot shows higher average uplink throughput than downlink, with no battling for dominance. The 336 Mbps total throughput is only a moderate (9%) increase over the 308 Mbps maximum uplink throughput.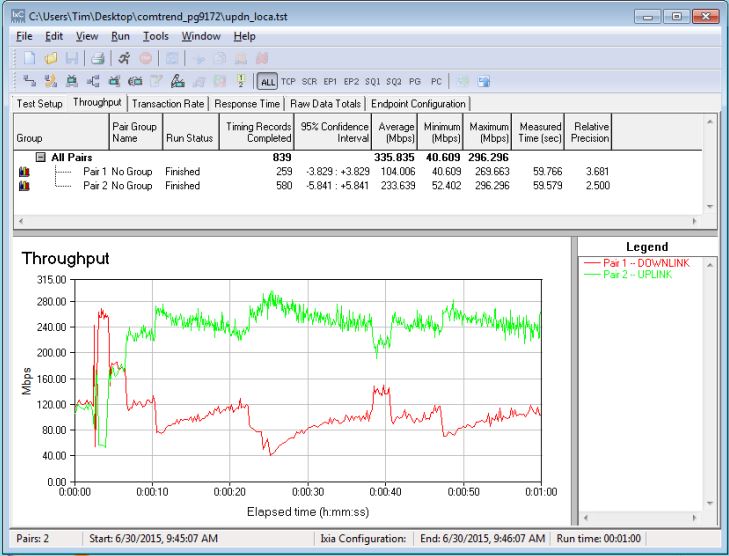 IxChariot simultaneous up/downlink
Adding another simultaneous stream pair adds only 17 Mbps for 353 Mbps of total throughput.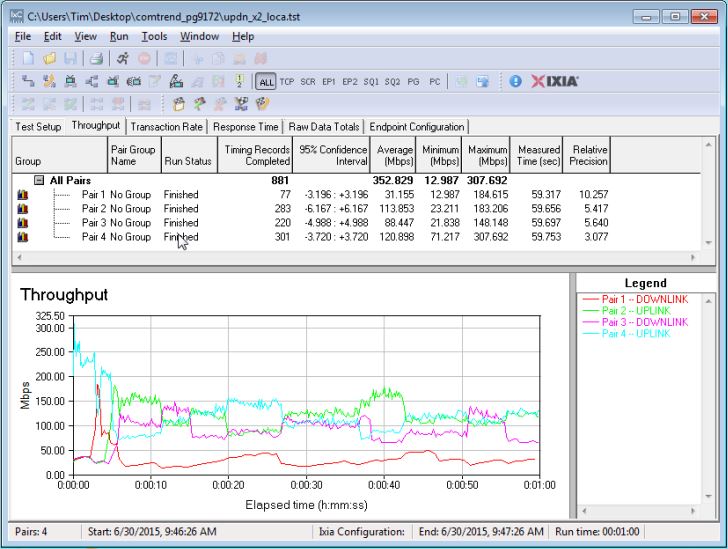 IxChariot simultaneous up/downlink x2
Performance Tests – Noise
Noise tests run in Location E are harder to parse than I've seen with HomePlug AV2 products due to higher variation in the test runs. The red bottom trace shows throughput with a noise source plugged in for the duration of the test run. Aside from the initial jump up around 10 seconds in due to IxChariot's Nagle quirk, there's basically no increase in throughput over the run, which indicates the adapter isn't working around the noise. If it had, we should expect to see throughput move up on the bottom trace.
The top blue trace shows a delayed response when the noise source is unplugged at the 30 second mark. Throughput takes around 5 seconds to move up after the noise source is removed.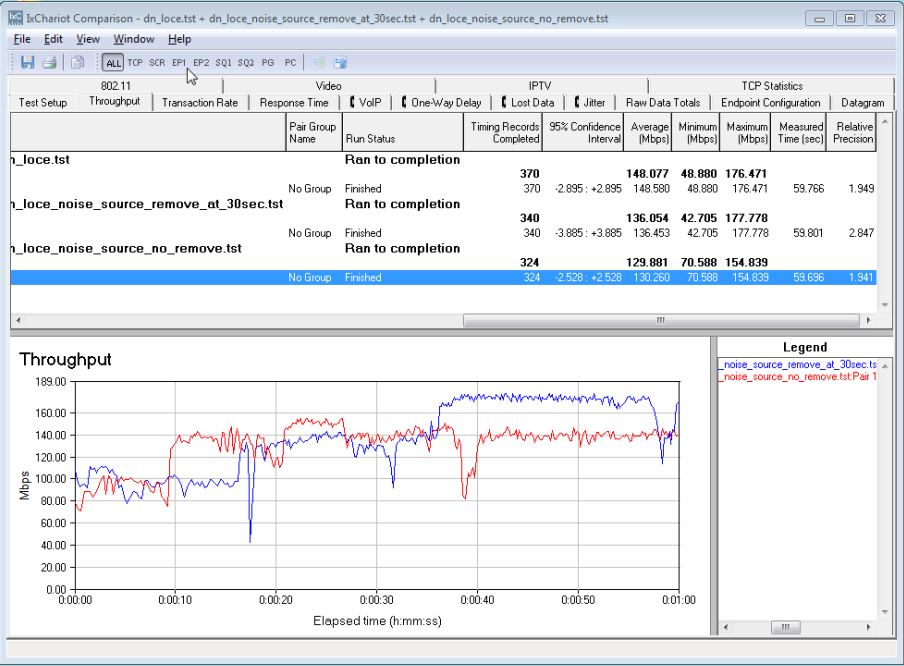 Location E noise test – downlink
My conclusion: G.hn noise handling behaves similarly to HomePlug AV2 products, although a bit more slowly; it has limited ability to adapt to line noise.
AFCI
I discovered long ago that some AFCI circuit breakers can severly reduce powerline performance for HomePlug products. So I wanted to see how G.hn and my HomePlug-killing AFCI breakers interacted. The plot below shows a pair of NETGEAR PL1200 AV2 MIMO adapters in two configurations.
The top trace shows downlink throughput in our normal Location A single-outlet test. The bottom _alt trace shows downlink throughput with one adapter plugged into an outlet in my office, which is behind an AFCI breaker and the second adapter plugged into a hallway outlet right outside the office door, which is protected with a normal circuit breaker. Throughput reduction is severe; around 70%.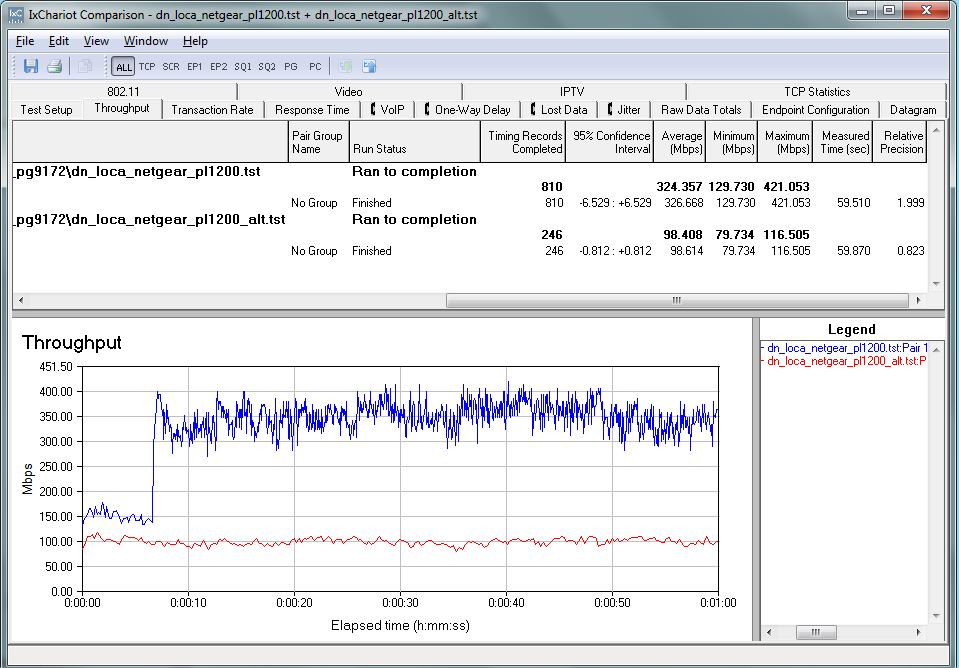 Location E AFCI test – NETGEAR PL1200
The plot below shows the same test with a pair of Comtrend PG-9172s. This time reduction is only 45%. Not great, but not as bad as Homeplug.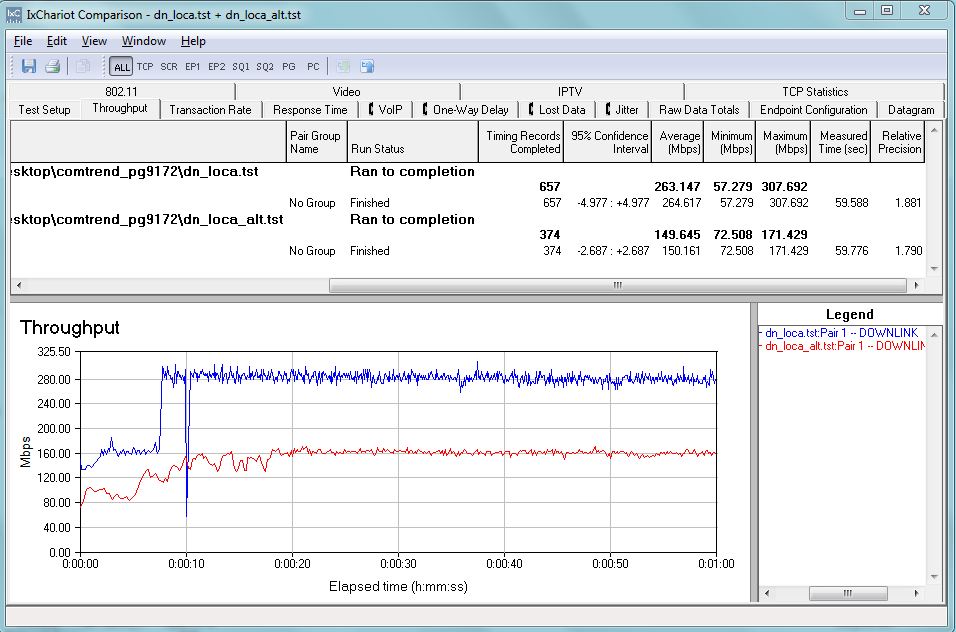 Location E AFCI test – Comtrend PG-9172
Coexistence
It didn't take long to confirm that G.hn and HomePlug don't interoperate. Plugging Comtrend and NETGEAR PL1200 adapters into my office outlets would not light the powerline link rate on either adapter. So I moved on to seeing if they could co-exist.
My test used the Comtrend adapters and a pair of NETGEAR PL1200 HomePlug AV2 MIMO adapters, plugged into two outlets in my office. The first test mixed adapter types in each outlet, as shown in the photo below. I alternated the adapter plugged into the wall and unfiltered outlet strip to even things out, i.e. the Comtrend was in one wall outlet while the NETGEAR was in the outlet strip on one end and vice-versa on the other end.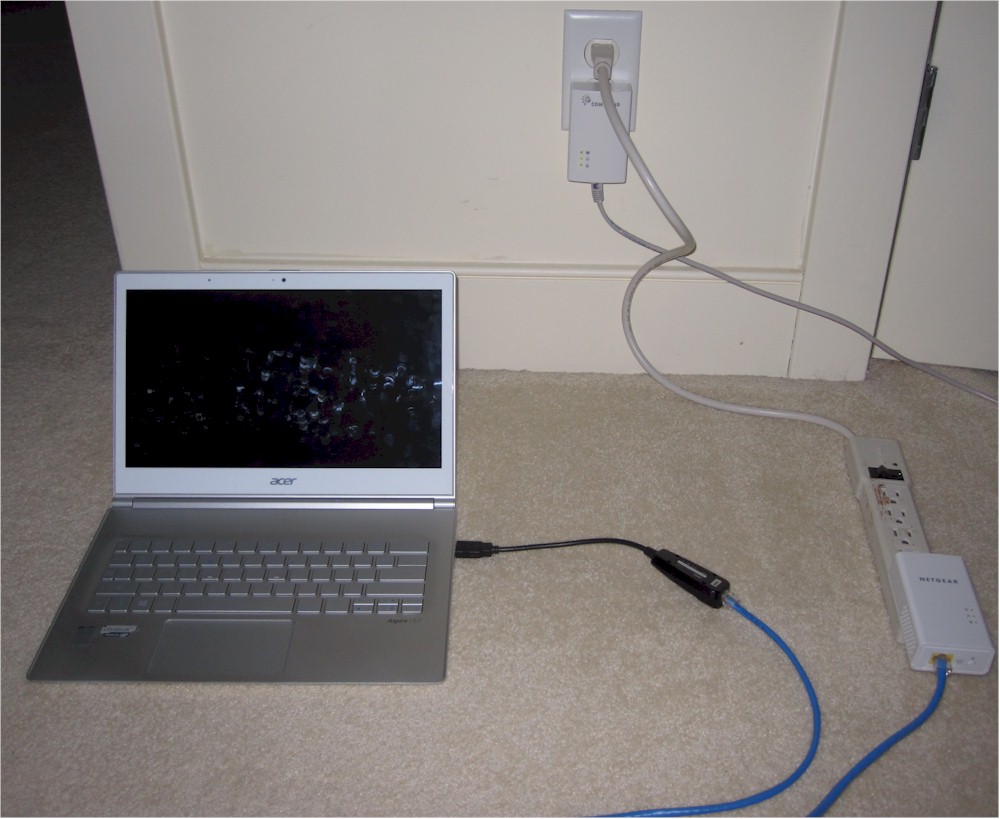 Coexistence test setup
The result in this case was that I had to unplug the AV2 adapters to get G.hn pair to link. The AV2 adapters linked with no problems. Once things were linked, I started a single IxChariot test between each pair of adapters and found the G.hn pair unlinked as soon as traffic started on the AV2 pair. I got the same result on multiple attempts.
My second try put the same adapter types in each outlet, one still wall-plugged and the other on the outlet strip. This time both G.hn and AV2 adapter pairs linked and were able to run the 1 minute IxChariot test. The plot below shows G.hn throughput drops to about a third of its solo throughput, while HomePlug throughput is held to under 20 Mbps.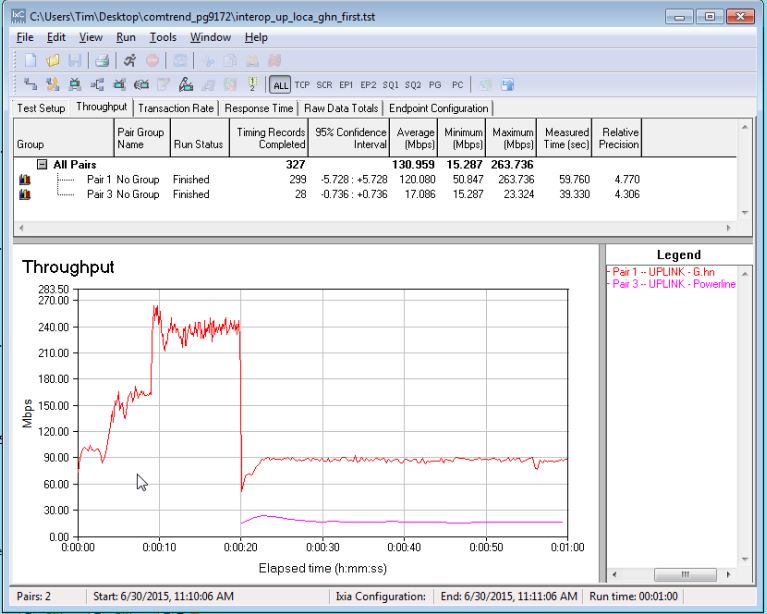 Coexistence test – G.hn first
Starting the HomePlug AV2 pair first shows its throughput gets stomped down below 20 Mbps—about an eighth of its peak. G.hn's throughput is also reduced, but only to around 100 Mbps.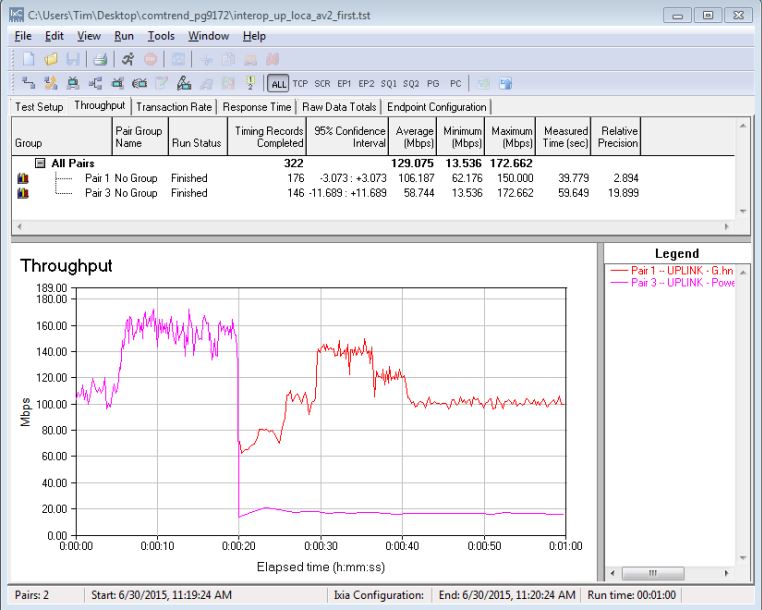 Coexistence test – HomePlug AV2 first
I draw two conclusions from this:
If you're going to use both G.hn and HomePlug adapters, physically separate them as much as possible.
When G.hn and HomePlug AV2 adapters collide, both networks will suffer throughput loss, but HomePlug AV2 will suffer more than G.hn
Closing Thoughts
As noted earlier, I'm treating G.hn as a different powerline class, so it stands alone in the Powerline Ranker. But if you filter the Powerline Charts to show only G.hn and AV2 MIMO products, you'll find the Comtrend's average performance smack in the middle for both down and uplink.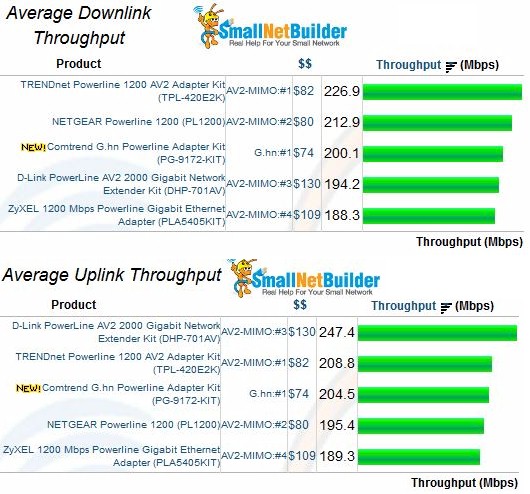 Coexistence test – HomePlug AV2 first
As noted earlier, G.hn's strength, at least in the form of Comtrend's PG-9172, is at long distances. It produced almost 150 Mbps of usable throughput compared to the best AV2 MIMO product that yielded only 125 Mbps. So if you haven't had luck getting decent throughput with HomePlug AV2 in a far away room, you might see if G.hn can do the job. But a few caveats are in order.
First, G.hn's place in the consumer home networking universe is not assured, especially since Homeplug performance has caught up with AV2 MIMO. Instead, G.hn looks focused mainly on service providers, much as MoCA is. This LightReading article from January 2014 notes multiple field trials by service providers and Googling for g.hn deployment brings up the most recent news of only one actual G.hn deployment—using Comtrend devices—by Jazztel in Spain.
Second, larger consumer networking players like NETGEAR and Linksys and even smaller ones like TRENDnet and ZyXEL have not yet produced consumer G.hn adapters and I see no sign of plans to do so. So if you're going to go for it, be aware you could be heading down a lonely path.
Finally, Comtrend needs to step up its game on customer support. Its current website, has no support information for the PG-9172. No downloadable quick start or user manuals, no FAQ and not even a user forum. The footer links (Home | About | Contacts | Feedback | Help | Site Map) on product pages are malformed and just bring you to the top of the product page, so you can access them only from the site home page. The good news is that the Help and Contact Us links bring you to the Contact Us page, which has U.S. phone and physical address information. And there's also a 2 year warranty.
Comtrend said its website is currently being upgraded and the new one will address many of the problems. But I think I'd feel better about suggesting you even consider trying a pair of G.hn adapters if the Comtrend PG-9172 wasn't the only one you can buy.
Buy G.hn Powerline Adapter Kit from Amazon