Introduction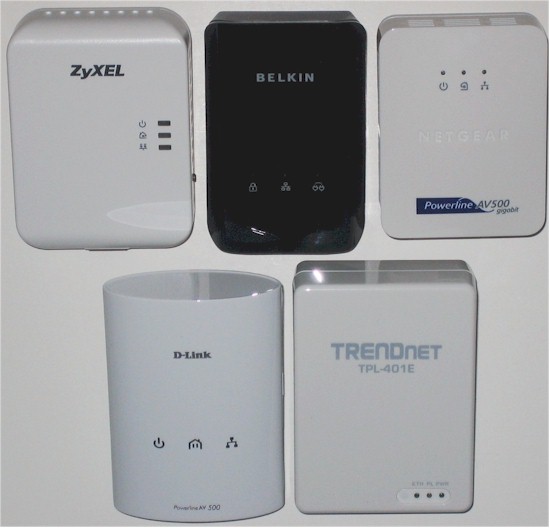 There finally seems to be more interest in powerline networking from folks here in the U.S. As with all things networking, everyone likes bigger numbers (oooh! Bigger!). So buyers are bypassing the more mature 200 Mbps HomePlug AV adapters, a group of which we reviewed last year, for the newer 500 Mbps models.
I've previously reviewed NETGEAR's XAVB5001 and TRENDnet's TPL-401E2K 500 Mbps adapter kits. I'll be testing three more products that have appeared since then and gathering all the data into one place for easy comparison.
500 Mbps Powerline Technology
All the products in this roundup use Qualcomm Atheros' AR1500/AR7400 chipset. (The AR1500 is an Analog Front End, the AR7400 a MAC/Phy/Controller.) 500 Mbps powerline achieves its higher bandwidth primarily by using a wider spectrum (2 to 68 MHz) than the 2 to 30 MHz spectrum that standard HomePlug AV uses (Figure 1).

Figure 1: HomePlug AV Frequency Use
At any rate, as we've all learned the hard way, maximum link rates touted by networking product manufacturers bear little resemblance to actual usable throughput. And to cut to the chase, Qualcomm Atheros' "500 Mbps" technology is no exception, especially when handing data between a single pair of clients.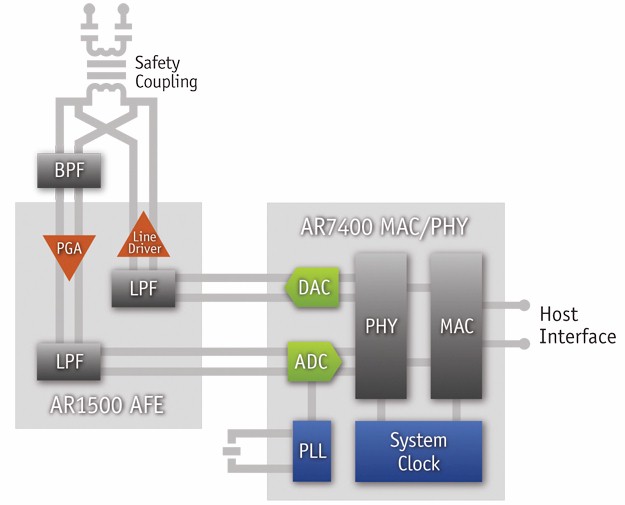 Figure 2: Qualcomm Atheros AR7400/AR1500 block diagram
The HomePlug Alliance doesn't have an official 500 Mbps device spec. Qualcomm Atheros' technology is an unofficial extension of the HomePlug AV (200 Mbps) spec, much like Intellon's 85 Mbps "Turbo" technology was an extension of the original HomePlug 1.0. So, for lack of a better (or standard) term, I'll be using "HomePlug AV 500" to refer to the technology.
The Products
This roundup includes six HomePlug AV 500 products shown in Table 1. I originally intended to test only single port adapters. But since ZyXEL sent its four-port PLA4225, I decided to test it, too.
Table 1: The Products
There are no Cisco / Linksys products in this roundup because the company doesn't have any 500 Mbps powerline products right now.
The table shows that three of the products are HomePlug AV certified. Belkin says their product is Certified. But it's not listed in the HomePlug Certified Products database, so I'm considering it not certified.
All of the products are rated for 100 – 240 VAC operation except the TRENDnet, which has a 110 – 240 VAC rating—an insignificant difference. All have pushbuttons for reset-to-factory-defaults and for changing the default security code.
Ethernet ports are all 10/100/1000 Mbps and Indicator lights are provided for power, Ethernet link / activity and Powerline Link / Activity on all adapters.
Figure 3 shows an example summary from the NETGEAR's manual of the indicators used on all the adapters. The three color "Pick-A-Plug" feature is standard for the Qualcomm Atheros chipset, so is present on all the products reviewed. Remember, these are Link rates, not actual throughput, so your mileage may vary from the "Good for…" application notes in the Figure. Note also the 10 minute power save mode described in the Power light section, which all adapters have.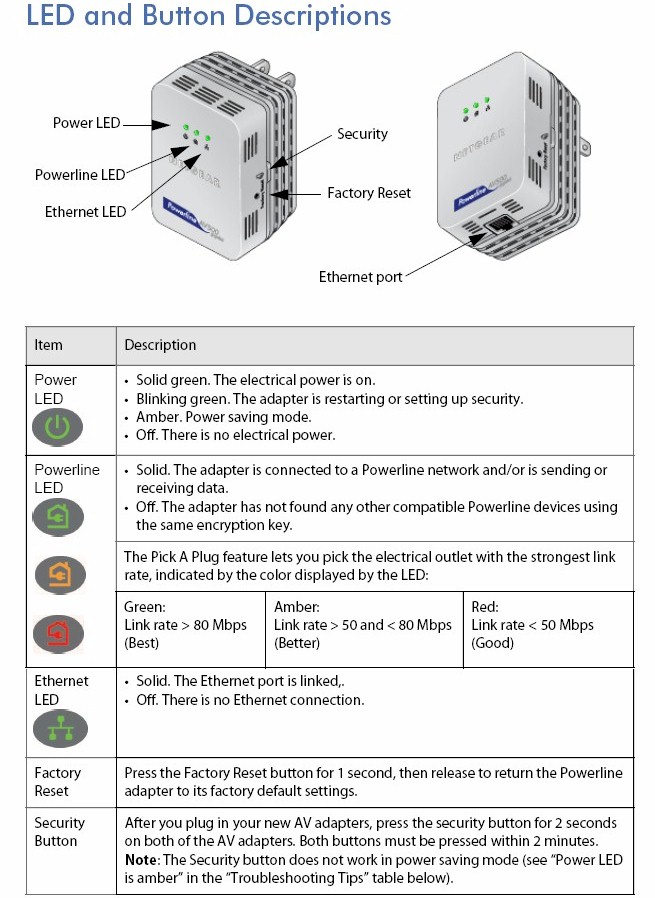 Figure 3: XAV5001 ports and indicators
I'm not going to describe each product, because the opening group shot shows that, aside from packaging, they are very similar. All use a wall-wart form factor and don't differ much in size.
All have the Ethernet port on the bottom, except for the D-Link, which has it on the right side. The Belkin and TRENDnet have their reset and security buttons on the bottom; the others have them on the right side.
Inside Details
Given that the adapters are so compact, it was difficult to take them completely apart to get a positive ID on all components. And in some cases, the heatsink covering the Qualcomm Atheros parts was not easily removable. Still, the internal pictures provide some good information about complexity and parts count.
As noted earlier, all use the AR1500/AR7400 powerline chipset. They also, however, all use a Qualcomm Atheros AR8021 Gigabit Ethernet PHY and have 16 MB of RAM. As the following photos show, however, all have different physical designs.
Belkin F5D4085
Opening up the Belkin adapter provided the view in Figure 4 that isn't very illuminating. But the company assures me that the AR7400/AR1500 chips lie underneath.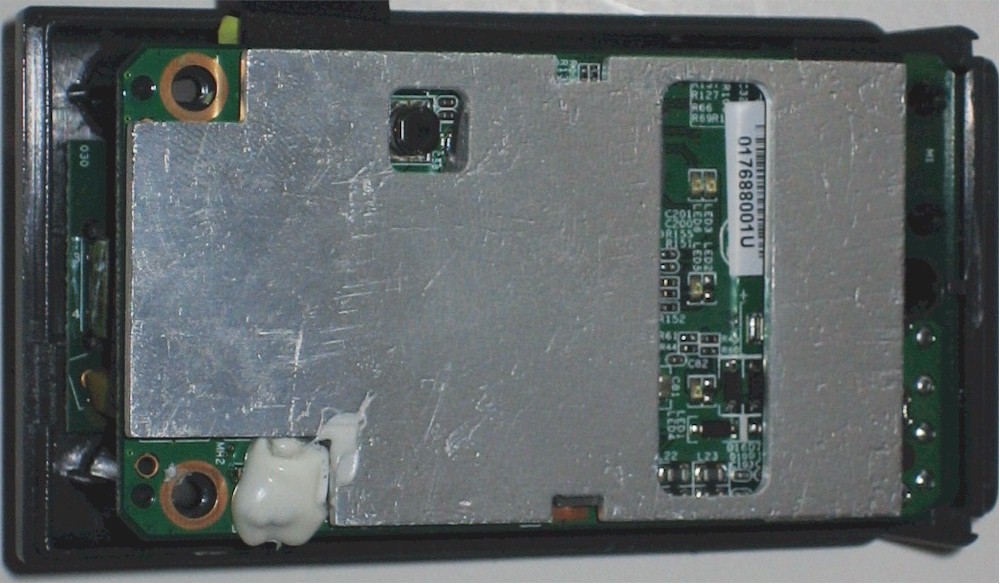 Figure 4: Belkin F5D4085 inside top view
The side view in Figure 5 shows a two-board format with lots of power related components that we'll also see in NETGEAR's design.
Figure 5: Belkin F5D4085 inside side view
D-Link DHP-500AV
D-Link's adapter is a single-board design. The powerline and Ethernet devices are on the bottom of the board, covered by a thin soldered-on metal heatsink. The single 16 MB EtronTech RAM chip sits up on top of the board.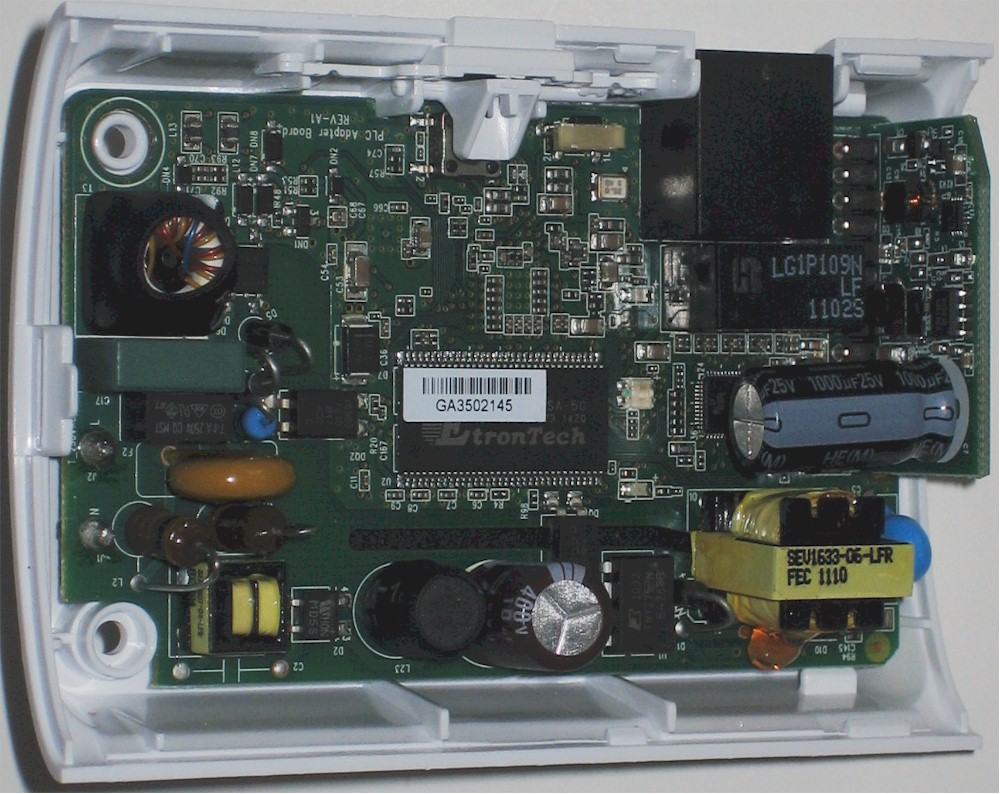 Figure 6: D-Link DHP-500AV inside
NETGEAR XAV5001
The inside photo in Figure 7 of the XAV5001 adapter, shows a thick heatsink that's coupled to the main devices via a thick thermal pad. The heatsink isn't tied down; it is held in place only by the top cover.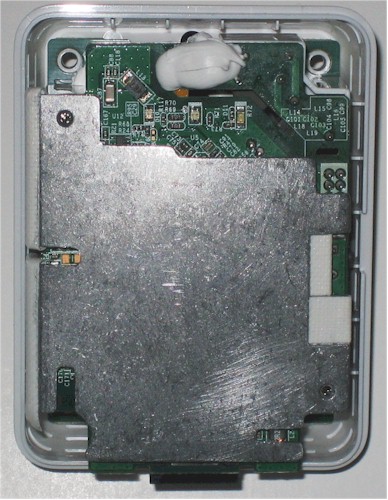 Figure 7: Inside the XAV5001
Removing the heatsink (Figure 8) reveals the AR7400/AR1500 chipset and Qualcomm Atheros AR8021 Gigabit Ethernet PHY to the lower left. RAM and flash are somewhere on the bottom of the board.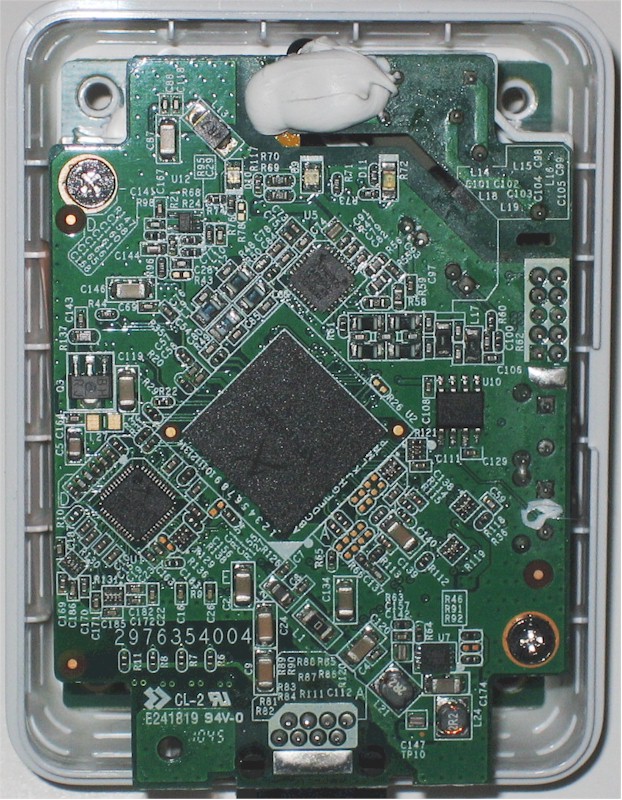 Figure 8: XAV5001 board detail
There is another board on the very bottom of the package, connected to this top board by a 10 pin connector, similar to the Belkin design. The bottom board is where a lot of the AC line coupling and power conversion circuitry sits.
TRENDnet TPL-401E
The board photo in Figure 9 shows another single-board design, similar to D-Link's. It uses the AR7400/AR1500 chipset, AR8021 Gigabit Ethernet PHY, 16 MB of RAM (EtronTech EM6A9160TSA) and flash squirreled away somewhere. Note that only the AR7400 has a heatsink.
Figure 9: TPL-401E board
ZyXEL PLA4205
ZyXEL's adapter is another single board design, this time with separate heatsinks on both powerline and the Ethernet devices (Figure 10).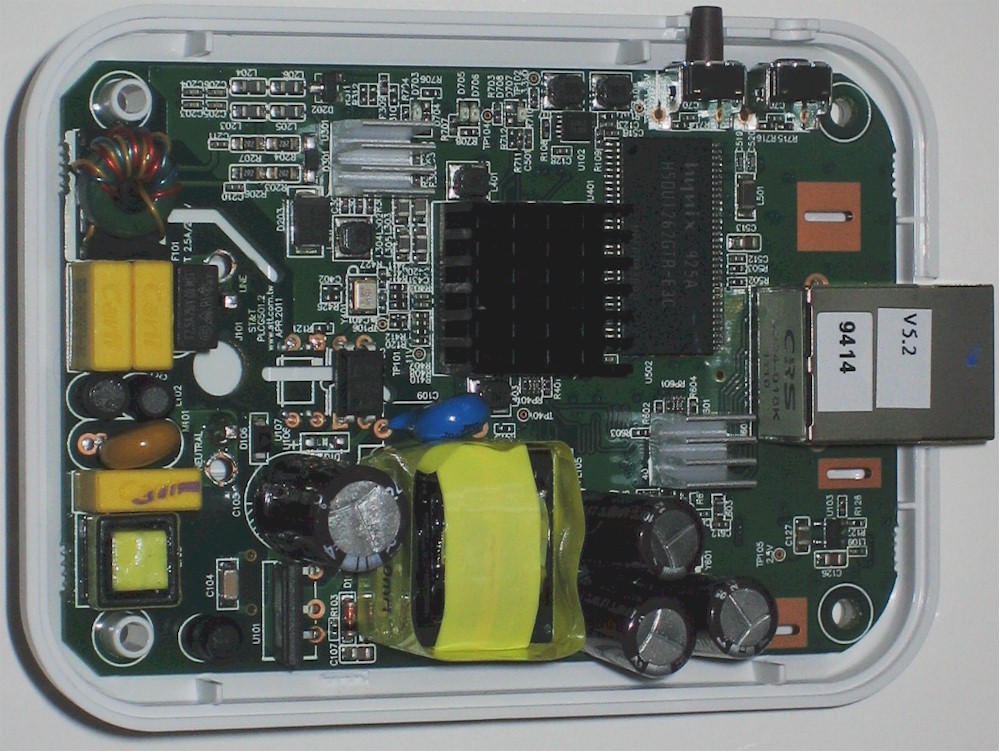 Figure 10: ZyXEL PLA4205 inside
Sorry, but due to the last minute addition of the PLA4225, I didn't open it up for a picture.
Admin
Like HomePlug AV, 500 Mbps devices are protected with 128 bit AES encryption. All HomePlug AV 500 devices come set with the same default key, so you can just plug and play.
As noted earlier, all devices in this roundup have buttons that can be used to set the security code. Setting the code works like setting up a Wi-Fi WPS connection. You press the button on one device until a LED starts blinking. You then have two minutes to press the button on a second adapter to complete the setting.
Each product, except the Belkin, comes with a utility (Windows only) that also can be used to set the security code and provides some other optional administration features. All the utilities rely on WinPCap, which they will automatically install if your system doesn't already have it.
Each of the utilities detected adapters from other manufacturers and mostly provide the same features. They differ mainly in presentation format. So if you don't like the utility that came with your adapter, hit the product support page for another product, download and install its utility and enjoy!
Figure 11 shows one of the screens from the NETGEAR utility, which I think is the best of the bunch.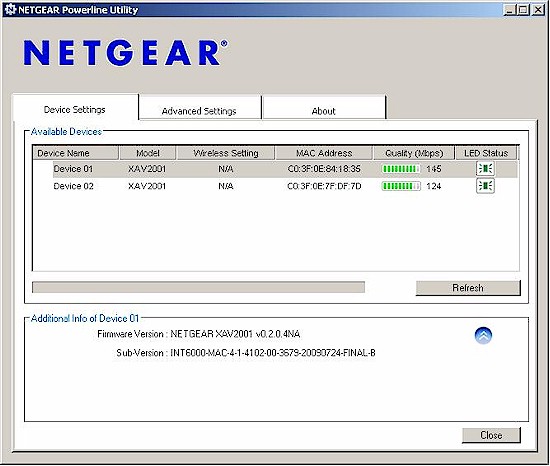 Figure 11: NETGEAR utility – settings screen
You can click through the gallery to see what each utility has to offer.
The D-Link utility is barebones. But it shows you all the important info on this Main screen.
Here's the screen for changing adapter security codes. There is no access to adapter QoS settings.
Right-clicking on an adapter icon brings up the utility menu items.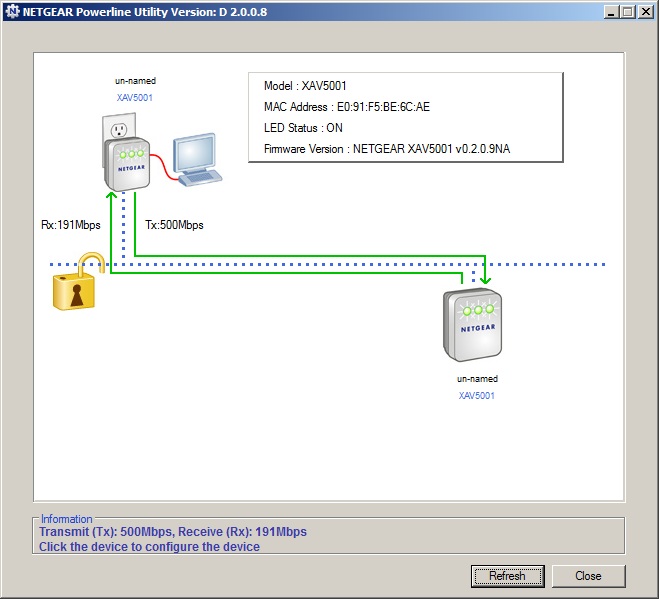 Mousing over a device pops up information about it. Transmit and receive link rates are shown next to the lines connecting the devices.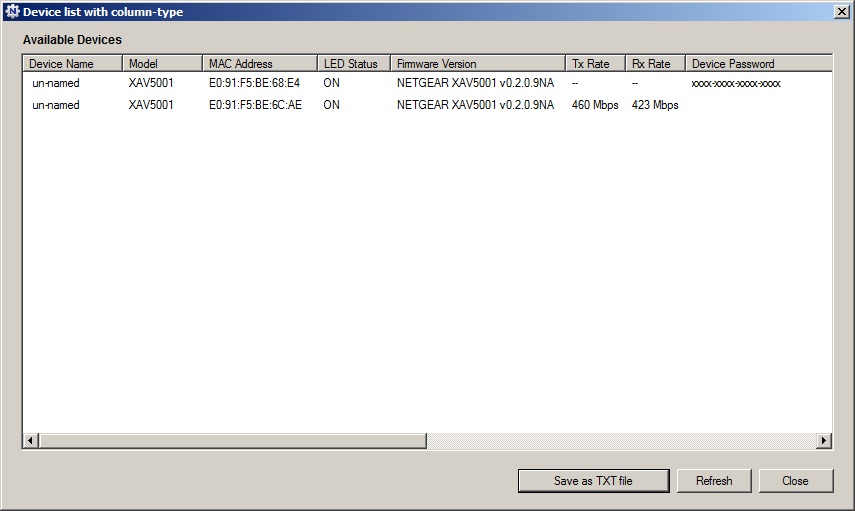 This is what the device list looks like.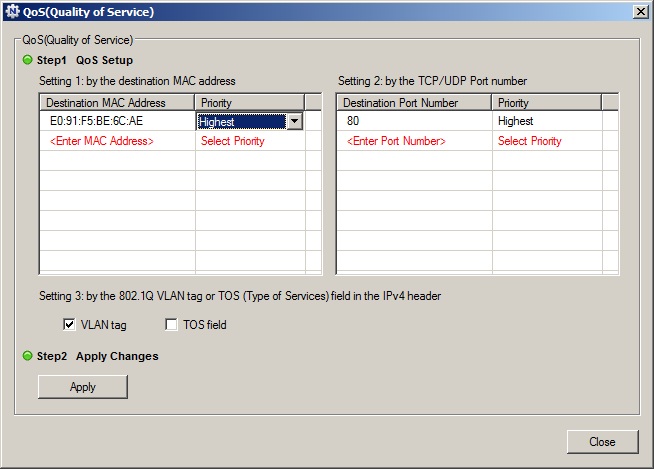 The XAV5001's QoS settings are relatively understandable. You can set four levels of relative priority (Highest, High, Normal, Low) for all traffic destined for a specific adapter and / or specific services by their TCP / UDP port number. Note also the options for 802.1Q VLAN or TOS header tags.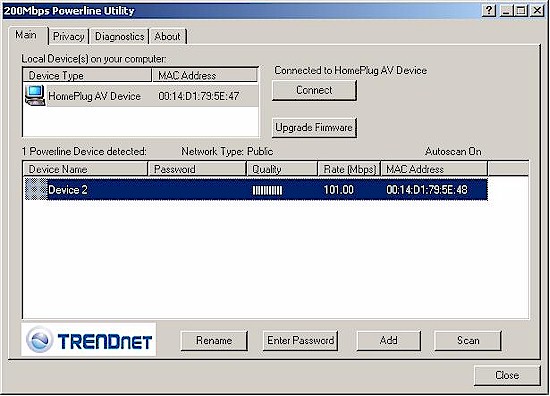 The main screen shows device info and lets you upgrade firmware.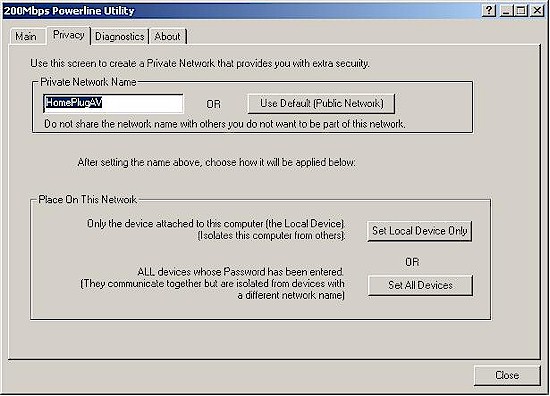 The usual security key change page
Get some device details here. You can't seem to delete information about adapters that are no longer connected, however.
Here's where the license info is.
ZyXEL's utility is the least user-friendly. You need to set the top selector to the proper network interface first. This screen is for security key changes.
Not a super helpful screen.
Just the link rates, folks.
You set QoS priority for each adapter here.
Performance
I tested all the adapters at three locations in my home using this newly-documented procedure. Since I am testing kits, I tested pairs of the same make/model adapters that came in each kit. The exception is the four-port ZyXEL PLA4225, which I tested with one of the single-port adapters in the PLA4205 kit.
I ran separate up and downlink tests at each of three test locations. I also ran simultaneous up/downlink and four-stream tests at Location A. All results have been entered into our newly-created Powerline Performance Charts.
Although I have previously tested the TRENDnet TPL-401E2K and NETGEAR XAVB5001, I decided to test them again, to have a fresh data set. I checked for updated firmware for each device, and only updated the TRENDnet with the 5.0.1.02 firmware found on its download page.
Figure 12 shows average uplink throughput for all three test locations and Figure 13 shows downlink. Both the current crop of 500 Mbps adapters and data for 200 Mbps adapters from the previous roundup are shown.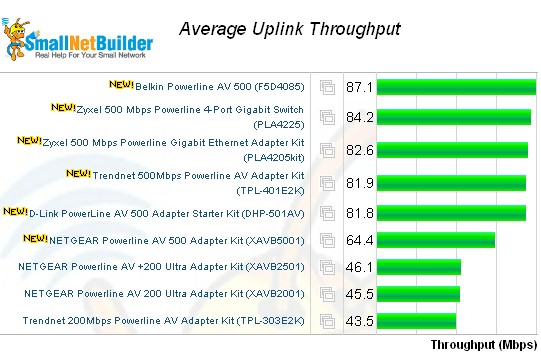 Figure 12: Average uplink throughput
Most of the 500 Mbps adapters look similar. But the NETGEAR XAVB5001 pair is significantly lower than the ZyXEL, TRENDnet and D-Link products, with up and downlink throughput averaging in the mid 60 Mbps range.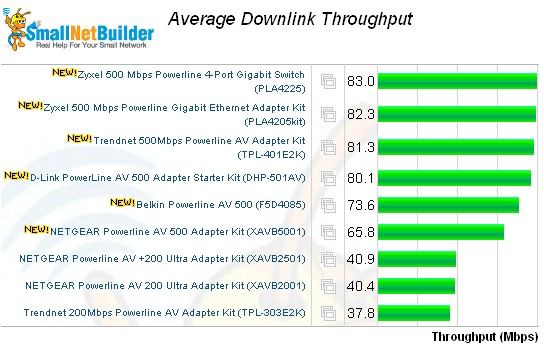 Figure 12: Average uplink throughput
The average plots don't show the real story behind 500 Mbps powerline adapter performance, however. For that, we need to compare performance in each location. Figure 13 does just that for four adapters running downlink. (I'm showing only four because that's the most that the chart tool can show at once.)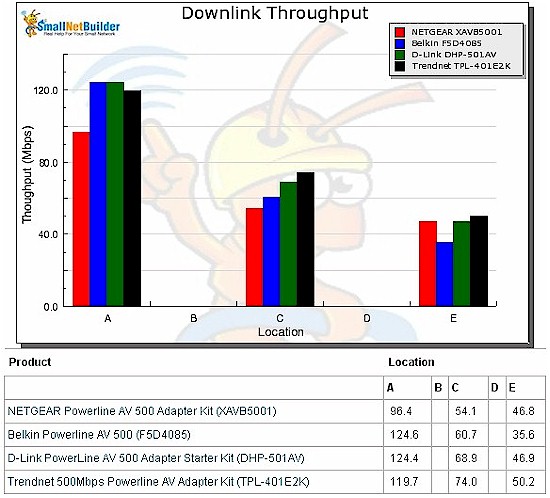 Figure 13: Downlink throughput vs. location – 500 Mbps adapters
It's clear that throughput drops off significantly—more than 70% worst case for the Belkin adapters—when you move from outlet to outlet with AV 500 adapters. The results can be correlated to distance, since Location A is at one end of my home, Location C in the middle, and Location E at the opposite end.
In contrast, AV 200 adapters don't reach the lofty 100+ Mbps peaks that the AV 500's do. But their throughput remains relatively constant across the test locations.
Figure 14: Downlink throughput vs. location – 200 Mbps adapters
You can have fun with the new Powerline Charts and run comparisons to your heart's content.
Like 200 Mbps HomePlug, the 500 Mbps flavor also has more bandwidth than it will give to a single network stream. Running simultaneous up and downlink tests produced total throughput close to 200 Mbps for the best adapters (D-Link, Belkin, ZyXEL) down to 123 Mbps for the NETGEAR. This effect tops out at around four simultaneous tests, as shown by the Four Stream chart in Figure 15.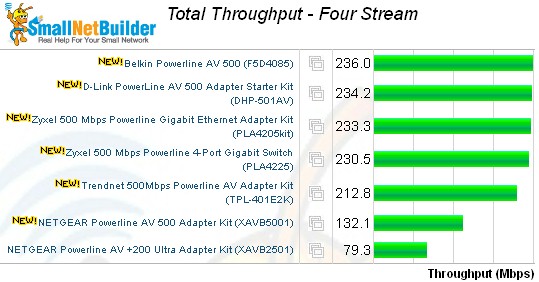 Figure 15: Total Throughput – Four Stream test
Four streams eked out a bit more throughput than two for highs topping 230 Mbps. Note the much lower results for the NETGEAR adapter pair and the one set of 200 Mbps powerline adapter results for the NETGEAR XAVB2501 pair at the bottom of the chart. Keep in mind that both the simultaneous up/dn and four-stream tests were performed only at Location A (same outlet). So you'd get much lower total results in real-world use.
Closing Thoughts
The good news is that, like its 200 Mbps predecessors, 500 Mbps HomePlug AV compatible powerline products produce much more consistent throughput than you'll get from any wireless networking technology. They also won't produce 500 Mbps of throughput any more than "200 Mbps" adapters produce close to that number, either.
If you're lucky, you might get more throughput out of "500 Mbps" powerline adapters than you will from their "200 Mbps" cousins. But, given the significant price difference, I'd first try a pair of 200 Mbps adapters and bump up to 500 Mbps if they don't produce the speed that you need. Of course, if you like to overpay for bandwidth, you can always go directly to 500 Mbps…