Introduction

At a Glance
Product
NETGEAR ProSafe 8-port Gigabit PoE Smart Switch with 2 Gigabit Fiber SFP (GS110TP)
Summary
Full-featured 8-port Gigabit smart switch with PoE on all ports, but 46W maximum capacity.
Pros
• Four 802.3ad Link Aggregated Groups (LAG)
• 802.1x/RADIUS/TACACS+ authentication
• Spanning Tree support
• VoIP-specific features
• No fan
• Jumbo Frame support
Cons
• No port Ingress rate
• Can't provide max PoE power on all ports simultaneously
• Enabling HTTPS is a hassle
If you're a fan of NETGEAR's GS108T, but have bemoaned the fact that it doesn't support Power over Etherent (PoE), then rejoice. The newly-birthed GS110TP takes all the GS108T's "smart" switching features, adds 802.3af PoE on all 8 ports, throws in two SFP ports for optional fiber interconnect and does it all for around $260, street.
Actually, I should say that the 110TP takes the GS108T-200's feature set. Because there are a few changes between how the now-discontinued 108T and the T-200 do things, which I'll get to shortly. But first, let's cover the basics.
The GS110TP comes in a handsome metal case with charcoal and blue color theme. Port numbers are highlighted in yellow and all are PoE enabled. Like all ProSafe switches, it comes with a lifetime warranty.
Power is provided by an outboard laptop-style 100 – 240 VAC power brick that puts out 48 VDC @ 1.25A. It plugs into a non-locking socket on the back and there is no strain relief or other feature to provide protection against accidental plug disconnects. There is no power switch.
Given the GS110TP's target business user, it adopts the everything-on-the-front-panel configuration of bigger-boy switches. While this may frustrate desktop users, it's the only way to go for rackmount use.
Figure 1 provides the lowdown on what you'll find on the front panel. The two SFP ports come without modules installed. But you should be able to throw any SFP module you desire in there.
Figure 1: GS110TP front panel
Note you'll find both a soft reset button on the left—equivalent to power cycling the unit—and a factory reset switch on the right.
Figure 2 summarizes the functions of all the indicator lights. Each port has both Speed / Link / Activity and PoE Status lights built right into each RJ45 connector. There is also a PoE Max light, which is handy for seeing when you're running out of PoE power.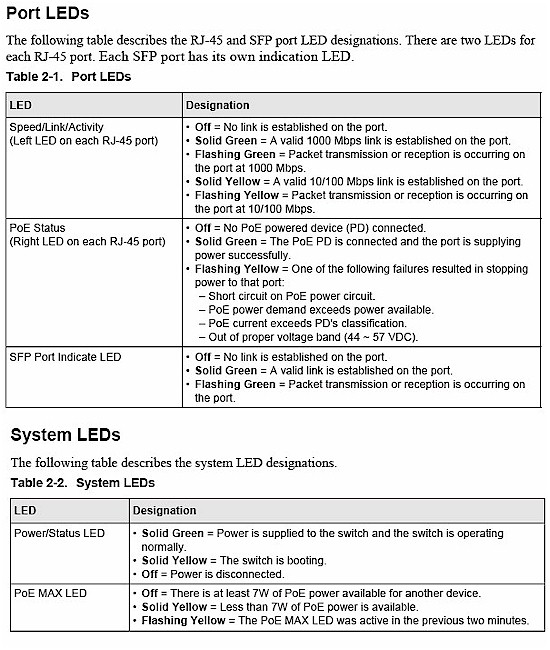 Figure 2: GS110TP LED summary
Inside Details
A look inside the GS110TP reveals how NETGEAR manages to provide so many features for relatively little cost. The main switch device is under a firmly-attached heatsink, which is coupled to the metal case by the pink thermal pad on top of it.
The only identifiable devices are two Broadcom BCM59101 Quad Integrated IEEE 802.3af-Compliant Controllers and Nanya NT5DS32M16BS 64 MB DDR SDRAM. Somewhere in there, at least according to NETGEAR's spec is 16 MB of flash.
Figure 3: GS110TP Interior
Given the many references to the GS108T-200 (also referred to as "V2") in NETGEAR documentation, the two products might use the same device. I'm guessing a BCM53312 – 8-Port GbE + 4-Port GbE Highly Integrated Multilayer Switch SoC.
A final important construction point—no fans! This is a pretty impressive feat, considering the combination of Gigabit Ethernet and PoE.
Features
NETGEAR has been moving toward standardizing the web interface on at least its entry-level smart switches. So if you're familar with the GS108T interface (before it got seriously broken when viewed with Firefox somewhere around version 3.5 or so), Figure 4 will look familiar.
Figure 4: GS110TP System Info page
I've already done a pretty complete survey of the GS110TP's GUI in the slideshow, so I won't repeat that information here. Instead, I'll provide some commentary of things I found in my time with the switch.
I'll take a bold leap and say that the switch probably has all the features that anyone could want in their first smart / managed switch. Most folks move into smart switches looking for VLAN and QoS features, which the GS110TP has plenty of. But for the detail-oriented among you, take a gander at the management features listed below.
IEEE 802.1Q static VLAN (64 groups, static)
Protected ports
IEEE 802.1p Class of Service (CoS)
Port-based QoS
DSCP-based QoS
DiffServ
IEEE 802.3ad Link Aggregation (manual or LACP)
IEEE 802.1w Rapid Spanning Tree Protocol (RSTP)
IEEE 802.1s Multiple Spanning Trees Protocol (MSTP)
IEEE 802.1ab Link Layer Discovery Protocol (LLDP)
LLDP-MED
SNMP v1, v2c, v3
RFC 1213 MIB II
RFC 1643 Ethernet Interface MIB
RFC 1493 Bridge MIB
RMON group 1, 2, 3, 9
Auto voice VLAN
DHCP Filtering
Auto denial-of-service (DoS) protection
HTTP and HTTPS
Ping and traceroute
Green features: Power saving by cable length (<10 m)
Power saving when link down
RFC 2131 DHCP client
IEEE 802.1x with Guest VLAN
Jumbo frame support (up to 9K)
Port-based security by locked MAC addresses
MAC and IP-based ACL
Storm control for broadcast, multicast and unknown unicast packets
IGMP snooping v1/v2
Port-based egress rate limiting
SNTP
Port mirroring support (many-to-one)
Password access control
TACACS+ and RADIUS support
Syslog
Firmware upgradeable (two images)
The switch works as an unmanaged 10/100/1000 switch out of the box. But to get to any of the fun stuff you need to access the web GUI. You can either install and run the Windows-based Smart Control Center Utility or configure a computer to the 192.168.0.X subnet and aim it at the GS110TP's default 192.168.0.239 IP address.
The switch connects via HTTP by default, but there is an HTTPS option. First, however, you'll need to generate and install an SSL certificate. Why NETGEAR makes you do this, when even some consumer routers offer the option of switching to HTTPS without such a hassle, I don't know. You can optionally manage the switch via SNMP, but there is no SSL or Telnet access for command line control.
The browser interface includes built in context-sensitive help, which was helpful to consult as I made my way through the screens. Clicking on the question mark icon on each page opens a relevant help page in a separate browser window.
Features are organized logically, which means minimal jumping from screen to screen. The Java-based Device View (Figure 5) is very handy, providing not only a picture (literally) of port status, but jump menus to all port configuration options.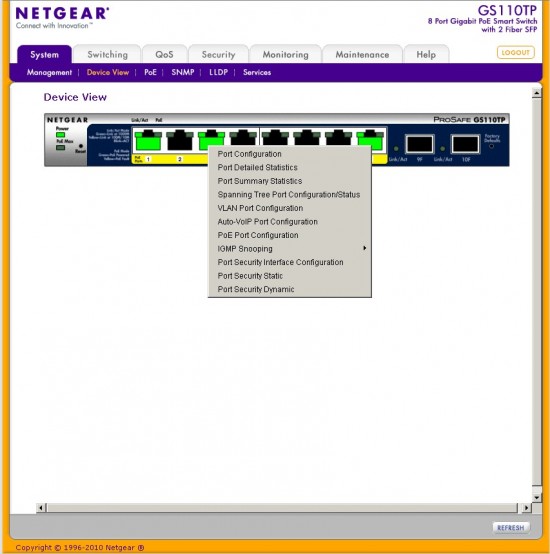 Figure 5: GS110TP Device View
If Java's not your thing, you can disable this view. But you'll need to hunt for it. I don't know why they chose to bury it in the Security > Access > HTTP Configuration menu.
PoE
The only reason you'd want to spend almost three times the cost of the GS108T-200 is for the 110TP's PoE features. Although all ports are PoE-enabled, the switch can't provide the 802.3af maximum 15.4 W to all ports simultaneously. There is only 46W of power available in total, which is probably plenty for one of its target markets—VoIP. Fancy VoIP feature-phones with big color LCD screens might push up past the 5+ W that can be supplied on each port simultaneously. But there are plenty of simpler SIP phones that draw much less power.
Figure 6: GS110TP PoE Port Configuration
The GS110TP also has a few features that help efficiently spread that power around (Figure 6), including per-port power limit, priority and class (power range). You also can schedule power on / off periods using the Timer Schedule feature and assign schedules to individual ports.
QoS
Besides VLANs, the other thing that pushes folks to smart switches is the need for QoS. I think the GS108T-200 and GS110TP take a bit of a step back here. Configuring queues and priorities is probably fun for real switch geeks. But most of us just want a quick-and-dirty way to choke down the pipe for our favorite bandwidth hogs. Figure 7 shows the simple per-port Ingress / egress rates that can be set on the original GS108T that allow doing just that.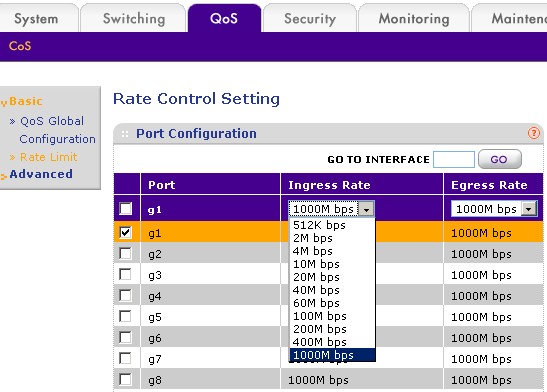 Figure 7: GS108T (original) QoS Rate Control
All you need to do is decide whether you want to control the rate of traffic coming into (Ingress Rate) or out of (Egress Rate) a port, select the desired rate from the dropdown and save the settings. The main limitation of the GS108T's rate control is that it may not be much help for limiting Internet traffic because there aren't a lot of "clicks" below 10 Mbps and only one below 1 Mbps. But if you need to limit traffic on your LAN, the settings are probably fine.
In contrast, Figure 8 shows the GS108T-200 and GS110TP's equivalent function, the Interface Shaping Rate.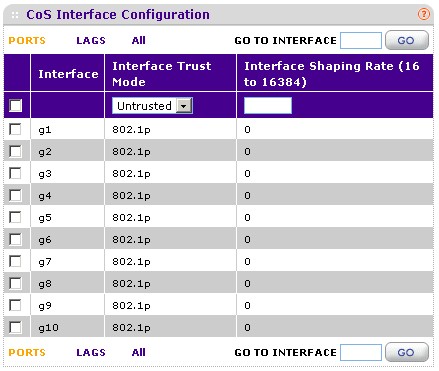 Figure 8: GS110TP CoS configuration
Instead of a simple bandwidth pick list, the Interface Shaping Rate field is used to set the maximum port or LAG egress bandwidth, in increments of 64 kbps. A value of 0 means no bandwidth limit is applied. I don't know why the allowable range is 16 to 16384. A pick list like the old GS108T would have been much simpler and clearer.
Another gotcha is that there is no ingress limiting. When I raised this issue with NETGEAR, they said the ingress rate limit is not as useful because it isn't as accurate as egress rate, especially with TCP/IP traffic. According to NETGEAR, the bursty nature of Ethernet traffic can cause packets to be dropped (over a long time period) even if the overall traffic rate is under the rate limit. Egress rate, on the other hand, can be controlled by buffering packets until the set buffer size is met. And if you really want ingress limiting, you can do it with Diffserv policies.
I don't know about you, but even looking at the DiffServ screens is daunting. So until NETGEAR provides some sort of DiffServ wizard, I'll have to forego simple ingress bandwidth limiting on the GS108T-200 and GS110TP.
Performance
I don't test switches for performance because any test I can do with two computers is going to test the computers' throughput more than the switch under test. But for those of you (and you know who you are) who are convinced that you can detect a performance difference among low port count Gigabit switches based on their specs, well, here you go:
| Spec | Value |
| --- | --- |
| Switching Capacity | Non-Blocking Full WireSpeed on all packet sizes |
| Forwarding method | Store and forward |
| Bandwidth | 20 Gbps full duplex |
| Buffer memory | 512 KB |
| Address database size: (MAC) addresses per system | 4K |
| Latency | Less than 4 us for 64-byte frames |
Table 1: GS110TP Performance Spec Summary
Closing Thoughts
It's too bad that the GS110TP's $260 price is such a jump up from the $100 or so that the GS108T-200 will set you back. But if you're looking for a cheaper PoE alternative, there's always the unmanaged GS108P. For around $150, you get eight unmanaged Gigabit ports and 50W of 802.3af PoE on four of them.
But if your wallet is fatter and you want all the hours of fun and enjoyment that a "smart" switch can bring, plus the convenience of PoE, the GS110TP will provide it all in abundance. And the lifetime warranty is just icing on the cake.

Check out the slideshow for a detailed admin interface tour of the GS110TP.