At a glance
Product
Zyxel 8-Port Web Managed PoE Gigabit Switch (GS1200-8HP) [Website]
Summary
8-port Web Managed Gigabit Small Network Switch with 802.3at PoE support.
Pros
• Simple configuration
• 802.3az power saving
• Loop Detection/Prevention
Cons
• Inefficient port-based VLAN configuration
• No port mirroring
Typical Price: $60 Buy From Amazon
Introduction
ZyXEL has two new switches it calls the "Extensive Featured Switch for Small Business." The GS1200-5HP is a five-port Gigabit switch and the GS1200-8HP is an eight-port Gigabit switch. Both switches have four Power over Ethernet (PoE) ports. Both switches also support 802.3az energy saving by reducing power consumption during low utilization. This review examines the GS1200-8HP.
Here's a quick summary of the GS1200 switch family features, based on ZyXEL's product page.
1 Gigabit Ethernet port and 4 Gigabit Ethernet PoE ports (GS1200-5HP)
4 Gigabit Ethernet ports and 4 Gigabit Ethernet PoE ports (GS1200-8HP)
Switching capacity = 10 Gbps (GS1200-5HP) and 16 Gbps (GS1200-8HP)
Maximum MAC addresses = 4,000
9K Jumbo Frame support
Power, Per Port, and PoE Status LEDs
Up to 60W PoE power (802.3af and 802.3at)
802.3az Energy Efficiency
802.1Q VLAN (8 VLANs max)
Port-based VLAN (4 VLANs max)
802.1p CoS
Broadcast Storm Control
Loop Detection
Weighted Round Robin QoS
IGMP Snooping
Inside
The GS1200-5HP uses a Broadcom BCM53125 chipset, while the GS1200-8HP uses the Broadcom BCM53128KQLEG chipset. Both use an IC Plus IP210W CPU. Below is a screenshot of the board in the GS1200-8HP.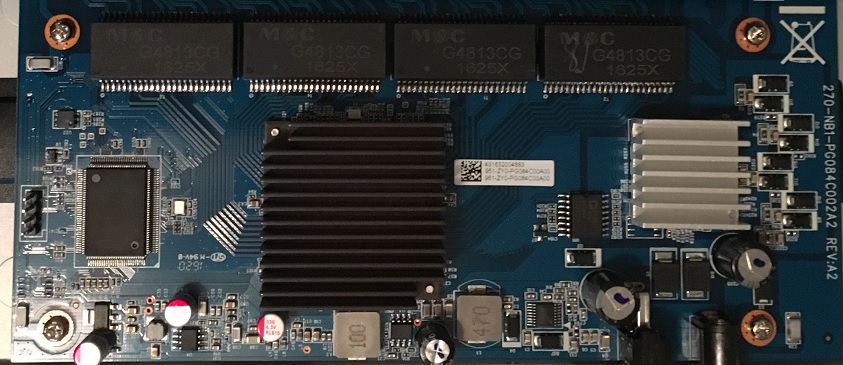 GS1200-8HP Mainboard
The GS1200-8HP is housed in a gray metal case measuring 9.4″ long x 4.1″ deep x 1″ high. It has no fan. The RJ45 ports and LEDs are on the front of the device, shown below.

GS1200-8HP Front Panel
The rear of the switch has the power port that connects to an external power supply, as well as an on/off switch, which is a nice feature. A lot of small network switches I've used don't have on/off switches.

GS1200-8HP Rear Panel
Feature Tour
The GS1200-8HP has seven menus with well laid out screens for applying configurations. I ran through all of the menu options in my testing of the GS1200-8HP.
In the system menu, you can configure the GS1200-8HP's IP address and device name. The default is for the switch to have an IP address of 192.168.1.3, which you can change as desired, but only static IP addresses are allowed; DHCP is not an option. The other option in the system menu is to enable flow control on each port to enable the GS1200-8HP to send a signal to the upstream device to stop sending frames when the ingress buffer is full.
The GS1200-8HP has loop detection/prevention options in the Storm Control menu which I'll discuss shortly. If loop prevention is enabled and a loop is detected, the port will be disabled and display "Loop" in the system menu port status display. Otherwise it will display "Normal." You can click on "Loop Unlock" to re-enable a port where a loop was detected.
The below screenshot shows the port status display from the system menu.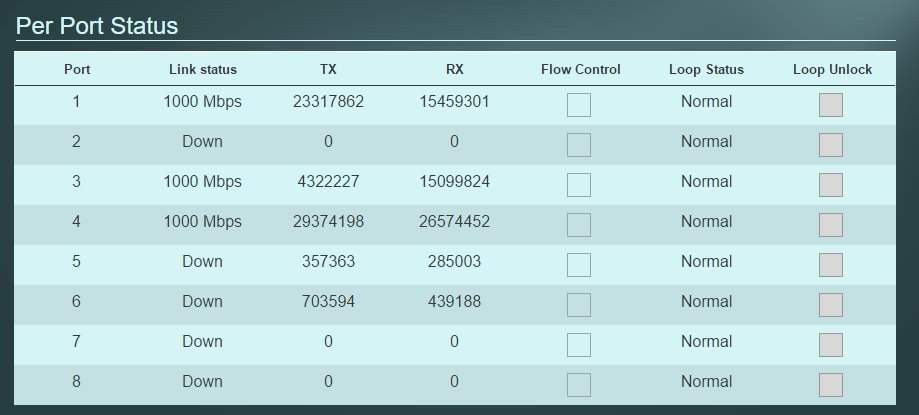 Port Status Display
A useful part of this menu shows the transmitted (TX) and received (RX) frames on each port, providing an idea of the amount of traffic on each port of the switch. There is simple point and click button to clear the counters at any time in order to measure traffic through the switch over a period of time.
Switch management configuration options are standard, allowing you to reset or reboot the switch, backup or restore switch configurations, and upgrade firmware.
VLANs
The GS1200-8HP supports both 802.1Q and port-based VLANs. You can configure up to eight VLANs in 802.1Q mode and up to four VLANs in port-based mode.
In 802.1Q mode, each port is assigned a Port VLAN ID (PVID) and can be a non-member, tagged member, or untagged member of one or more VLANs. I ran a simple test where I created VLAN 2 on the GS1200-8HP, made port 1 a VLAN trunk as an untagged member of VLAN 1 and a tagged member of VLAN 2, ports 2-7 untagged members of VLAN 1, and port 8 an untagged member of VLAN 2. Port 1 was connected back to another 802.1Q capable switch. PCs connected to ports 2-7 got an IP address from the DHCP server on VLAN 1 and PC2 connected to port 8 get an IP address from a DHCP server on VLAN 2, validating the 802.1Q VLAN tagging capability on the GS1200-8HP.
Setting up 802.1Q VLANs on the GS1200-8HP is done by simply clicking on a box next to each port until its color matches the desired setting for non-member, tagged, or untagged. Below is a screenshot of my configurations.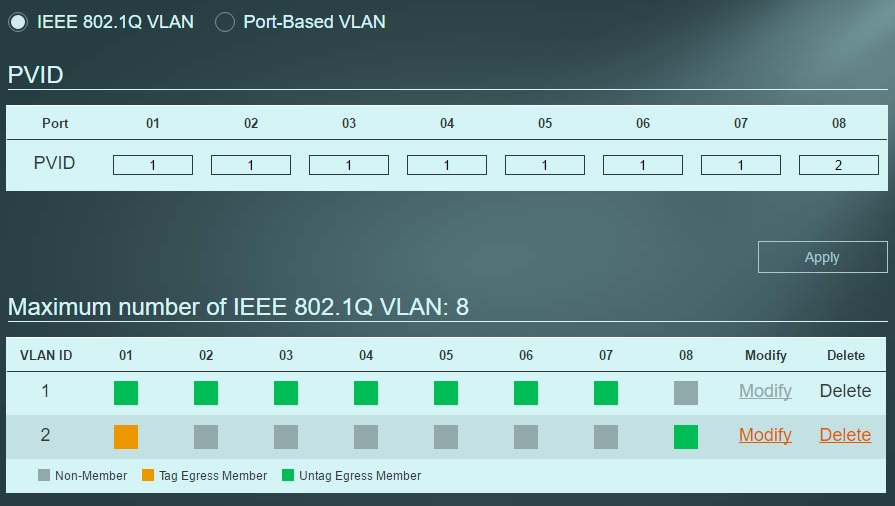 802.1Q VLAN Configs
The GS1200-8HP also supports port-based VLANs, but functionality is limited. In port-based mode, each port can only be assigned to one VLAN. In other switches I've tested, such as the NETGEAR GS108T, switch ports can be members of multiple port-based VLANs. With the GS108T and port-based VLANs, the port to the router is a member of all VLANs, and ports to PCs and other devices are members of the router's VLAN and their individual VLAN. This is efficient as it only requires one connection to the router. With the GS1200-8HP, you'll need a separate physical connection to your router for each VLAN, which seems to be a waste of switch and router ports.
QoS
Quality of Service (QoS) options on the GS1200-8HP are port-based prioritization and 802.1p prioritization. The GS1200-8HP has four queues, numbered 0-3, and processes frames with Weighted Round Robin (WRR) queuing. When QoS is enabled, the GS1200-8HP during periods of congestion will forward a percentage of frames in each egress queue based on the weight assigned to that queue.
The default settings, which are adjustable, are for Queue 0 to have a weight of 1, Queue 1 to have a weight of 2, Queue 2 to have a weight of 4, and Queue 3 to have a weight of 8. Queue 3 is the highest priority queue. That means the GS1200-8HP with QoS enabled and either port-based or 802.1p prioritization selected, will forward 8 of the buffered frames assigned to Queue 3, then 4 of the buffered frames assigned to Queue 2, then 2 of the buffered frames assigned to Queue 1, then 1 of the buffered frames assigned to Queue 0, and repeat.
With all that said, it is point and click to configure QoS on the GS1200-8HP. QoS on the GS1200-8HP is disabled by default. In the screenshot below, I've enabled port based QoS and assigned ports 1 and 8 to Queue 3, ports 6-7 to Queue 2, ports 4-5 to Queue 1, and port 2-3 to Queue 0. In this scenario, port 1 is connected to my router and port 8 to a VoIP device, ports 6-7 are connected to video and gaming devices, ports 4-5 to storage devices, and ports 2-3 are connected to PCs.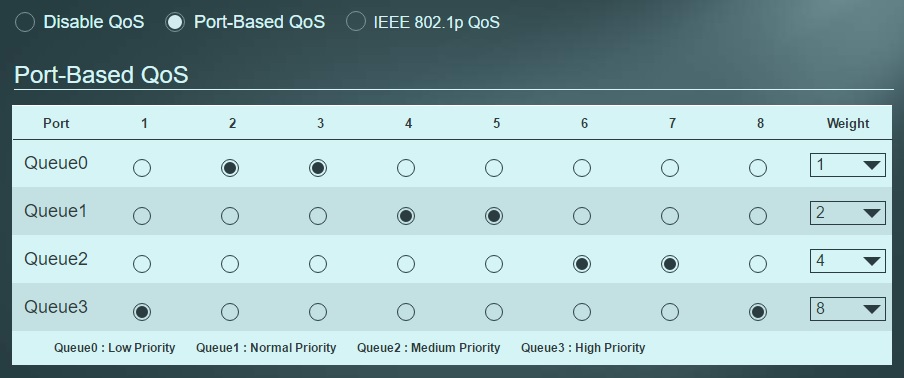 QoS Configs
Traffic Control
The GS1200-8HP's storm control menu allows you to limit broadcast traffic on your network, protecting against possible broadcast storms caused by a defective or infected device. Storm control is applied to the entire switch, not per port. Broadcast traffic limits are off by default and can be set from 512 Kbps to 512 Mbps.
A useful option in the Storm Control menu is the Loop Detection/Prevention option. With loop detection enabled, the GS1200-8HP will automatically disable a port when a loop is detected, and automatically re-enable it when the loop is removed. With loop prevention enabled, the GS1200-8HP will automatically disable a port when a loop is detected and you'll need to manually re-enable that port in the system menu, discussed earlier.
I enabled loop detection on the GS1200-8HP and created a loop by plugging a single Ethernet cable into ports 7 and 8. The GS1200-8HP detected the loop, the LEDs on ports 7 and 8 flashed and then went out, indicating the ports were shut down. The system menu, shown below, indicated a loop was detected. The rest of the ports continued to function on the switch, although the system LED on the front of the switch continued to blink. When I removed the loop, the system menu showed the loop was no longer present and the system LED on the front of the switch went back to solid.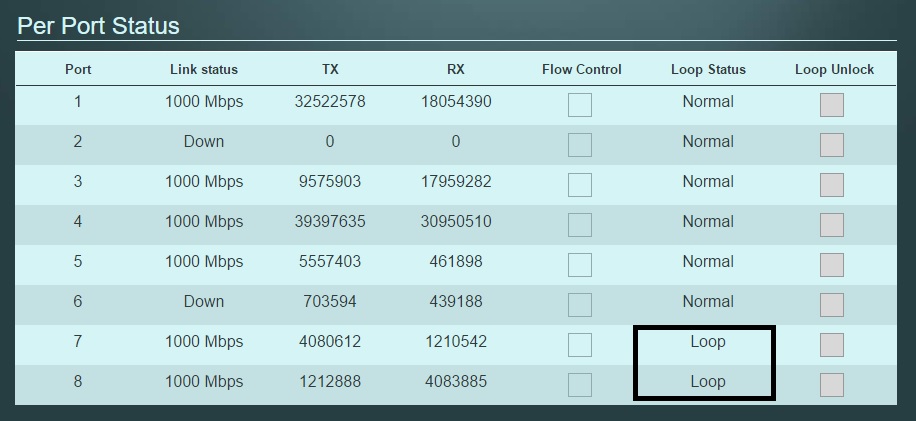 Loop Detection
The GS1200-8HP can also manage multicast traffic by blocking unknown multicast traffic and limiting desired multicasts only to ports participating in that multicast. Internet Group Management Protocol (IGMP) is used for limiting multicast traffic. Configuring the multicast options are two check boxes and a drop down to identify which port on the switch is connected to your routers, shown below.

Multicast Options
PoE
Ports 1-4 on the GS1200-8HP support both 802.3af and 802.3at Power over Ethernet (PoE) standards to power PoE capable devices such as IP cameras, WI-Fi access points, and IP phones. The switch is rated to provide up to 60W of total power, with maximum per-port power of 30W for 802.3at compliant devices. By default, PoE is enabled on ports 1-4, but can be disabled if desired.
I left PoE enabled, connected a PoE device to port 2, and verified the device received power. The PoE menu, shown below, is displaying a device on port 2 receiving 15W of power.

PoE Menu
Closing Thoughts
Although ZyXEL calls the GS1200 switches "Extensive Featured" switches, the GS1200-8HP seemed pretty basic to me. For a small network, though, it has virtually all of the features you'll need. The only feature I'd like for my small network that is not on the GS1200-8HP is port-mirroring.
Comparable PoE switches to the ZyXEL GS1200-8HP ($89.65) are the NETGEAR GS108PE ($89.95) and TP-Link SG108PE ($87.95). I haven't tested NETGEAR and TP-Link's PoE 8-port switches, but I have tested their non-PoE 8-port switches. Based on my experience, I would say all three of these switches are similar in functionality, and obviously nearly identical in price.
I was immediately impressed with how clear and simple the configurations are on the ZyXEL GS1200-8HP. I found the menus surprisingly intuitive and easy to use. Virtually all configurations are point and click with either large check boxes or drop down menus.
Based on SNBForum questions I've seen regarding VLANs, it is apparent to me that VLAN configuration can be challenging. In my opinion, ZyXEL has done a nice job with the GS1200-8HP, simplifying small network switch configuration.