This article is sponsored by TRENDnet.
---
Video surveillance is becoming more common in homes and small businesses. Video cameras can provide a live view of a room, entry way, and other areas of interest. But surveillance usually requires video recording and playback.
Setting up a multi-camera video surveillance system involves selecting and placing cameras, powering and connecting them to your network and determining where hours of video recordings will be stored. For wired cameras, Power over Ethernet (PoE) is a good way to minimize cabling hassles. For storage, you have the option of using a NAS, many of which now come with built-in video surveillance features. While this sounds easy, it can be overwhelming for busy business owners who have plenty of other things to do besides becoming a networking expert.
TRENDnet's TV-NVR104K 4-Channel 1080p HD PoE NVR Kit is an integrated video surveillance solution, including cameras, networking and video recording and playback. The Network Video Recorder (NVR) module includes 1 TB of storage and four 802.3af PoE enabled 10/100 Ethernet ports for camera connection. Monitor and mouse can be directly attached for playback and control via USB, VGA and HDMI ports. It also includes two outdoor-ready HD video cameras and is compatible with 15 other TRENDnet video cameras. Even all cabling is included!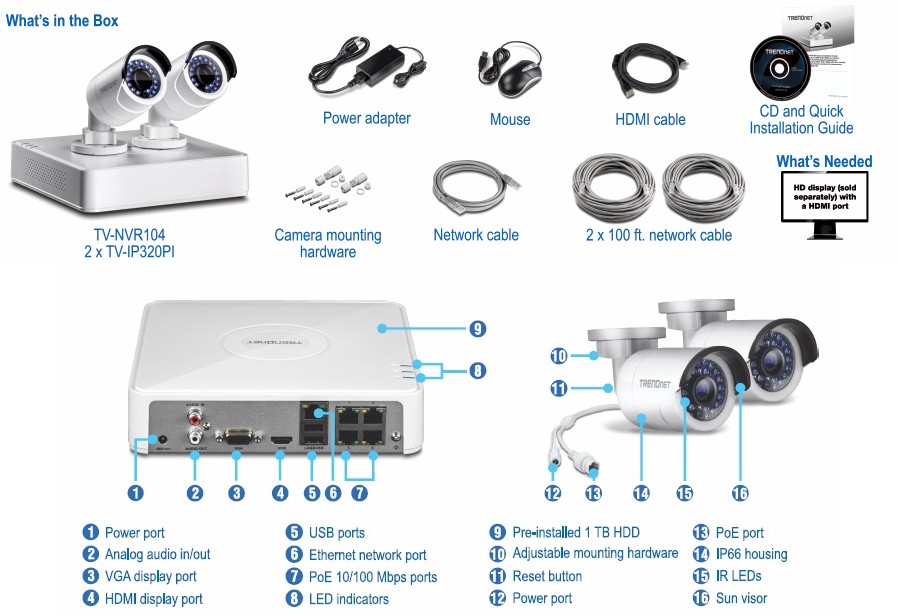 So what are the three ways an NVR beats a NAS?
1) Easy Setup
An NVR is a function-specific appliance for video surveillance video cameras and storing video. You set up the NVR and cameras as a standalone video network, using the provided mouse and your own HDMI or VGA monitor to input your configurations. A keyboard isn't even needed. A setup wizard walks you through setting the admin password, time of day, time zone and date and enabling video recording.
Once initial setup is complete, you can optionaly enable remote management and connect the NVR to your main network if desired, and manage the NVR and video cameras via the NVR's Web GUI. The below screenshots show the steps from the initial setup wizard.
Configuration Wizard for Initial Setup
Set the Admin Password
Select Time Settings
Enable Video Recording
2) Integrated Networking With PoE
The NVR has five Ethernet ports, one for connecting to your main network. The other four ports are 802.3af PoE enabled, designed to connect and power the video cameras. In addition, the NVR has two USB ports that can be used for file copy operations to / from the NVR.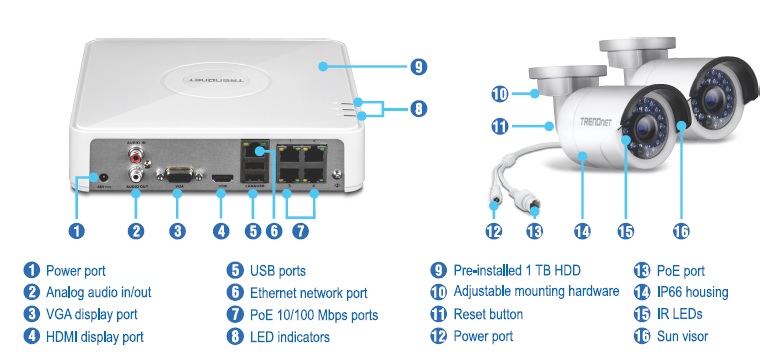 Ports and Components for TV-NVR104K
As mentioned, the NVR104 supports 17 different models of TRENDnet video cameras. 14 of those video cameras are PoE, while three require a PoE injector. Eight of the supported cameras are plug and play. Just plug them in and start recording right away.
3) Seamless recording and playback
The NVR104 has powerful live view and playback features. You can view live video from a single video camera, as well as a split-screen live view from all four video cameras directly from the NVR, a function typically not included in a NAS. Its 1 TB storage capacity supports 6.5 days of recording per camera with four cameras recording continuously at 1280 x 960 at 30 fps.
TRENDnet provides a demo system to explore the NVR's menus. The gallery shows split-screen live video (all four cameras in the demo system were pointed at the ceiling) and key menu screens showing configuration options on the NVR.
Configuration Wizard for Initial Setup
Set the Admin Password
Select Time Settings
Enable Video Recording
TRENDnet's TV-NVR104K is designed to provide an all-in-one video surveillance solution, eliminating the need for a PoE switch, NAS and individual video camera management, with multiple options for managing live video, storage, and playback. Be sure to check out it and TRENDnet's other surveillance products.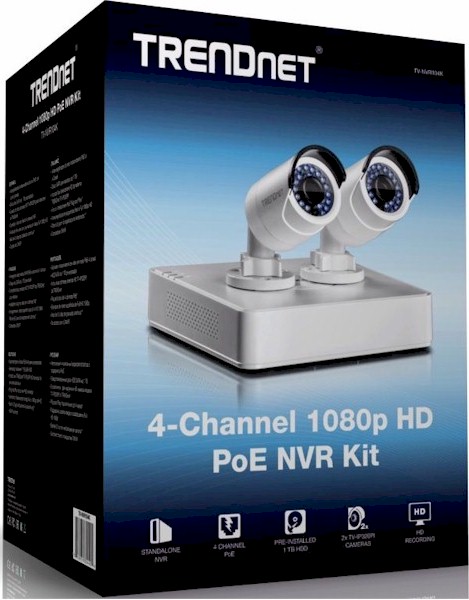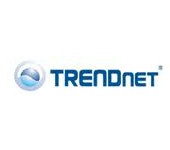 Read more about TRENDnet.